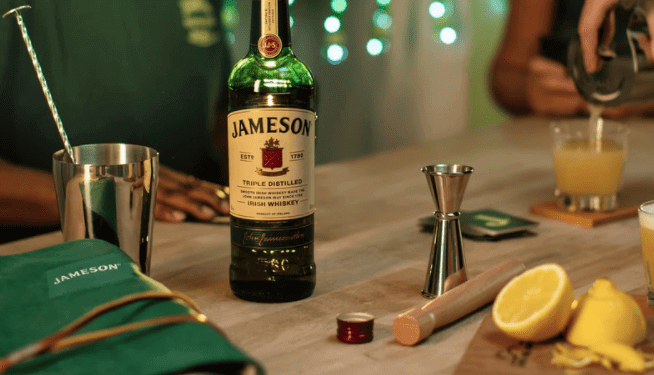 Jameson Irish Whiskey launches it's first ready-to-drink cocktail just in time for St. Patrick's Day
The Jameson Ginger & Lime cocktail in a can finally arrives, just in time for St. Patrick's Day
---
Advertisement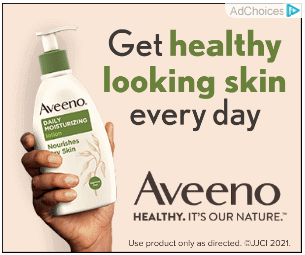 ---
Jameson Irish Whiskey officially announces the debut of their first-ever U.S. ready-to-drink offering, Jameso Ginger & Lime. A premium, carbonated cocktail in a can made with our smooth triple-distilled Irish Whiskey, the Jameson Ginger & Lime ready-to-drink cocktail arrives just as Jameson declared St. Patrick's Day a two-day holiday in 2022.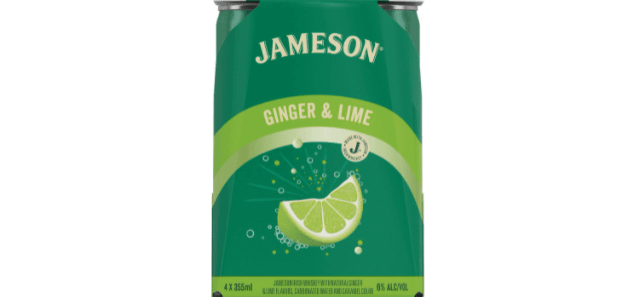 The ready-to-drink category has experienced massive growth in recent years, and Whiskey-based ready-to-drink cocktails are a driving force behind the category expansion*. The new Jameson Ginger & Lime ready-to-drink cocktail in a can is made with natural ginger and lime flavors and our smooth Irish Whiskey to create a tasty, convenient offering that can be enjoyed by a wide range of whiskey fans, including whiskey-curious consumers.
---
Related:
---
"The Jameson Ginger & Lime

ready-to-drink cocktail

was inspired by one of our all-time fan-favorite recipes,

"said Kate Pomeroy, Head of Innovation at Pernod Ricard North America.
"Our goal was simple – to create a cocktail experience that is easy and delicious."
The new offering has an ABV of 6% and is now available at retailers nationwide and on Drizly as a 4-pack of 12oz sleek cans for an SRP of $14.99. Best served chilled right out of the can, the Jameson Ginger & Lime ready-to-drink cocktail is perfect for barbecues, rooftop get-togethers, music and sporting events, or simply connecting with friends and family.
---
Related:  One Republic's "Never Ending Summer Tour" lands in SoCal this summer
---
"We're exceptionally excited

to announce this new offering just in time for St. Patrick's Day,"

said Sona Bajaria, Vice President of Marketing, Jameson at Pernod Ricard USA.
"The past two years have underscored the mandate to provide consumers with quality products in a convenient way. With 9 out of 10 consumers interested in purchasing a Jameson Ginger & Lime ready-to-drink**, this expansion was a natural next step."
The Jameson Ginger & Lime cocktail in a can follows the debut of Jameson Orange, which first hit U.S. shelves in January 2022.  Made with our finest triple-distilled Irish Whiskey and natural orange flavor, Jameson Orange has an ABV of 30% and introduces a whiskey-forward, differentiated liquid, with a subtle sweetness, that continues to fuel the growing flavored spirits category.
---
Related:   Country Super Superstars The Chicks head on tour this summer
---
"After two years of canceled plans, consumers deserve to celebrate with something extra special this St. Patrick's Day," Pamela Forbus, Chief Marketing Officer at Pernod Ricard North America. "Driven by the overwhelming demand for products that can be consumed outdoor and on-the-go***, our Jameson Ginger & Lime cocktail in a can is a new and exciting chapter for Jameson in the U.S. – and just in time for Irish whiskey's biggest day of the year."
To learn more about Jameson Ginger & Lime cocktail a can, visit Jameson.com and follow @jameson_us on Instagram, Twitter and Facebook.
Pernod Ricard USA is the premium spirits and wine company in the U.S., and the largest subsidiary of Paris, France-based Pernod Ricard SA., the world's second-largest spirits and wine company. Pernod Ricard employs approximately 19,000 people worldwide, is listed on Euronext (Ticker: RI) and is part of the CAC 40 index. Pernod Ricard USA is headquartered in New York, New York, and has more than 800 employees across the country. The company's leading spirits include such prestigious brands as Absolut® Vodka,  Avión® Tequila, Chivas Regal® Scotch Whisky, The Glenlivet® Single Malt Scotch Whisky, Jameson® Irish Whiskey, Kahlúa® Liqueur, Malibu®, Martell® Cognac, Olmeca Altos® Tequila , Beefeater® Gin, Del Maguey® Single Village Mezcal, Monkey 47® Gin, Plymouth® Gin, Seagram's® Extra Dry Gin, Malfy® Gin, Hiram Walker® Liqueurs, Midleton® Irish Whiskey, Powers® Irish Whiskey, Redbreast® Irish Whiskey, Aberlour® Single Malt Scotch Whisky; Lillet®; Smithworks® Vodka, Jefferson's® Bourbon, Smooth Ambler® Whiskey, Rabbit Hole® Whiskey, Pernod® and Ricard®; such superior wines as Jacob's Creek®, Kenwood® Vineyards, Campo Viejo® and Brancott Estate®; and such exquisite champagnes and sparkling wines as Perrier-Jouët® Champagne, G.H. Mumm™ Champagne and Mumm Napa® sparkling wines.