Revi Winery and Letrari Winery among Trentodoc's Best Sparkling Wines Bubbling at NYC's Manhatta May 9 
Italy's Trentodoc is no longer a hidden secret for sparkling wine lovers as every season more of the world discovers them one sip at a time.
Discover the taste that is quickly growing around the world.
The Trentodoc Appalachian represents 67 sparkling producers from the Trentino region in Northern italy.
Surrounded by the breathtaking Dolomites, the Appalachian has grown steadily since the beginning of the 20th century as an area known for its pristine land and high quality wines.
The Trentodoc denomination was established in 1993 and is the first Italian DOC to produce solely Classic Method sparkling wines, one of the first worldwide.  
Tradition, territory climate and winemakers expertise –  which all play a key role in classic method production –  are the secrets to Trentodoc's success.   Grapes suitable to become Trentodoc are Chardonnay, Pinot Noir, Pinot Blanc and Mounier and Vineyardsthat  are located at an altitude between 200 and 800 meters above sea level.
Sparkling wine's popularity is growing internationally, especially in the United States over the last few years.  
In October 2022, Trentodoc was the most awarded Italian sparkling wine at the Champagne and Sparkling Wine World Championships.   Since 2015 Trentodoc is a proud supporter of The Institute of Masters of Wine, the most prestigious International academic wine Institution in London and since 2016 is partner of the association Italiana sommelier organizing the best sommelier in Italy championships,   Trentodoc award 
Today Trentodoc comes to Manhattan.
Revi Winery
Revì produces sparkling, Metodo Classico, Trento DOC wines. The region's alpine setting ensures pure, clean air and water, excellent soil, and a wide temperature variation between warm days (phenolic ripeness) and cool nights which preserve acidity (freshness, structure, character in the bottle). 
Trentodoc Cantina d'Isera 1907 Collezione 14
Intense straw yellow, fine and persistent perlage.  Nose presents fruity and mineral notes mixed with bread crusts supported by a fine, light, continuous ball.  On the mouth, deep and persistent.  Pairs as an aperitif and with soft cheeses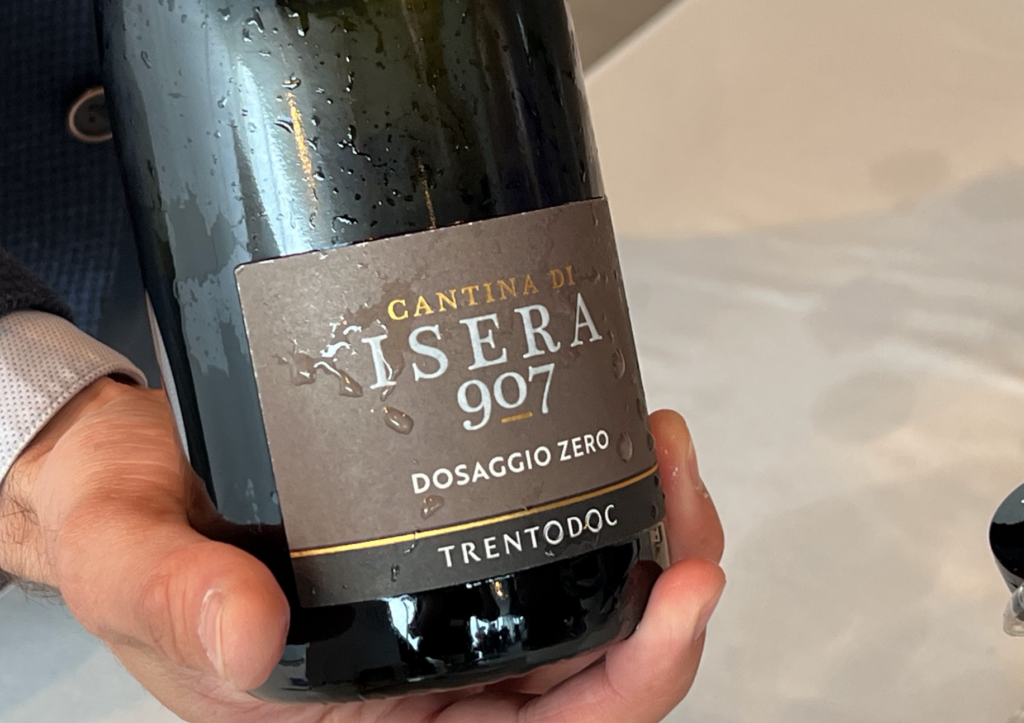 Trentodoc Cantina d'Isera 907 Dosaggio Zero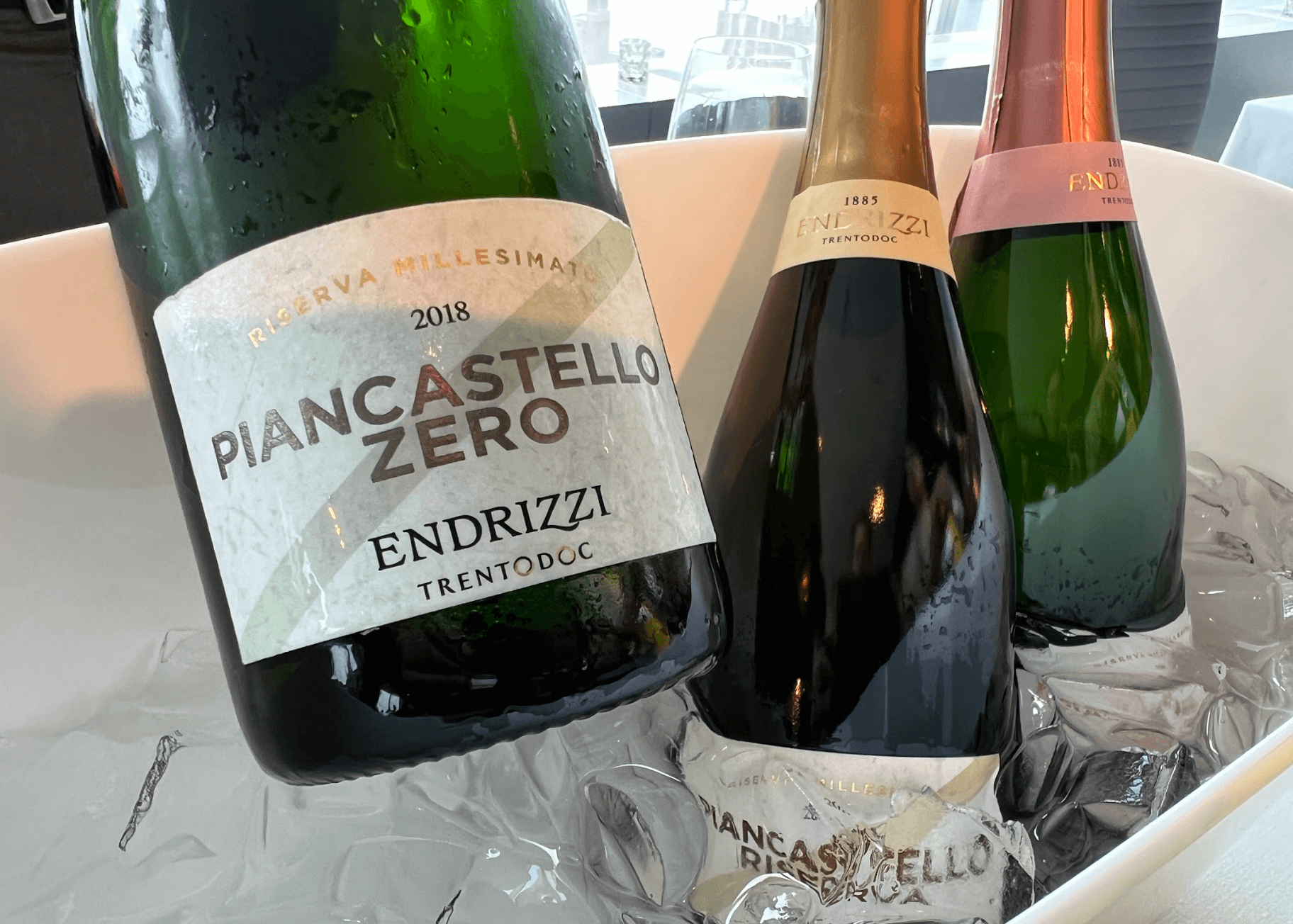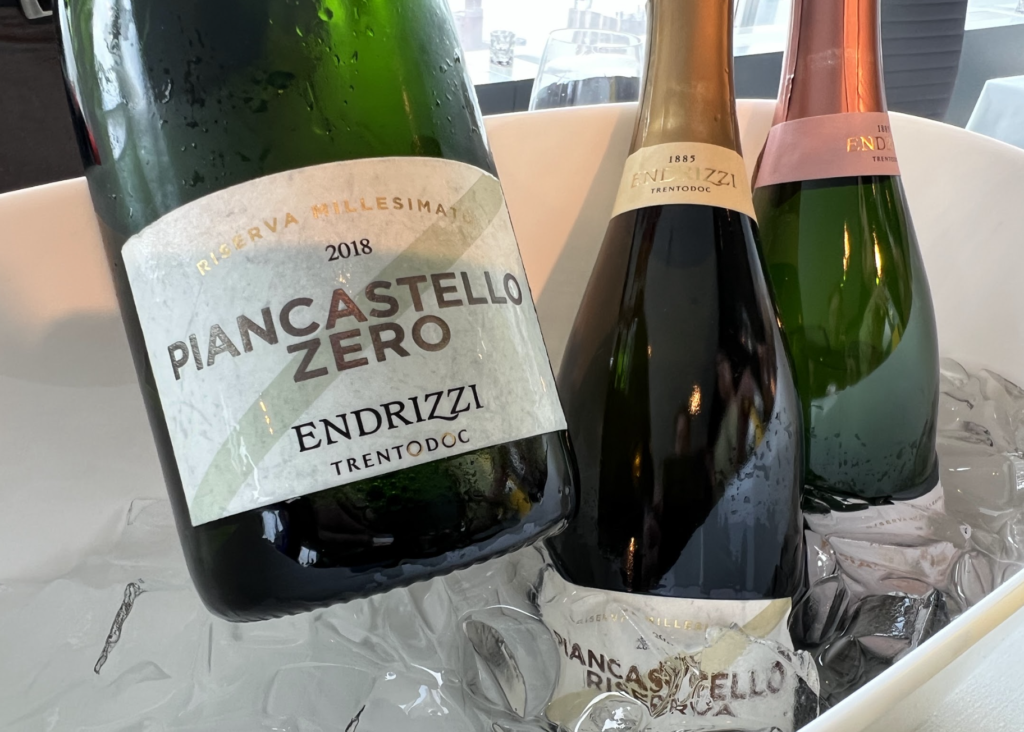 Trentodoc Endrizzi Piancastello Sero
Blend of Chardonnay and Pinot Noir. Maturation on the lees for at least 48 months. Continuous perlage. 
Dry, clean, elegant on the mouth with persistent freshness. No "dosage" is added to the disgorgement.  The natural characteristics are deliberately not altered, allowing environmental factors of the Pian di Castello vineyard.
An excellent aperitif with a neutral palette paired well throughout the meal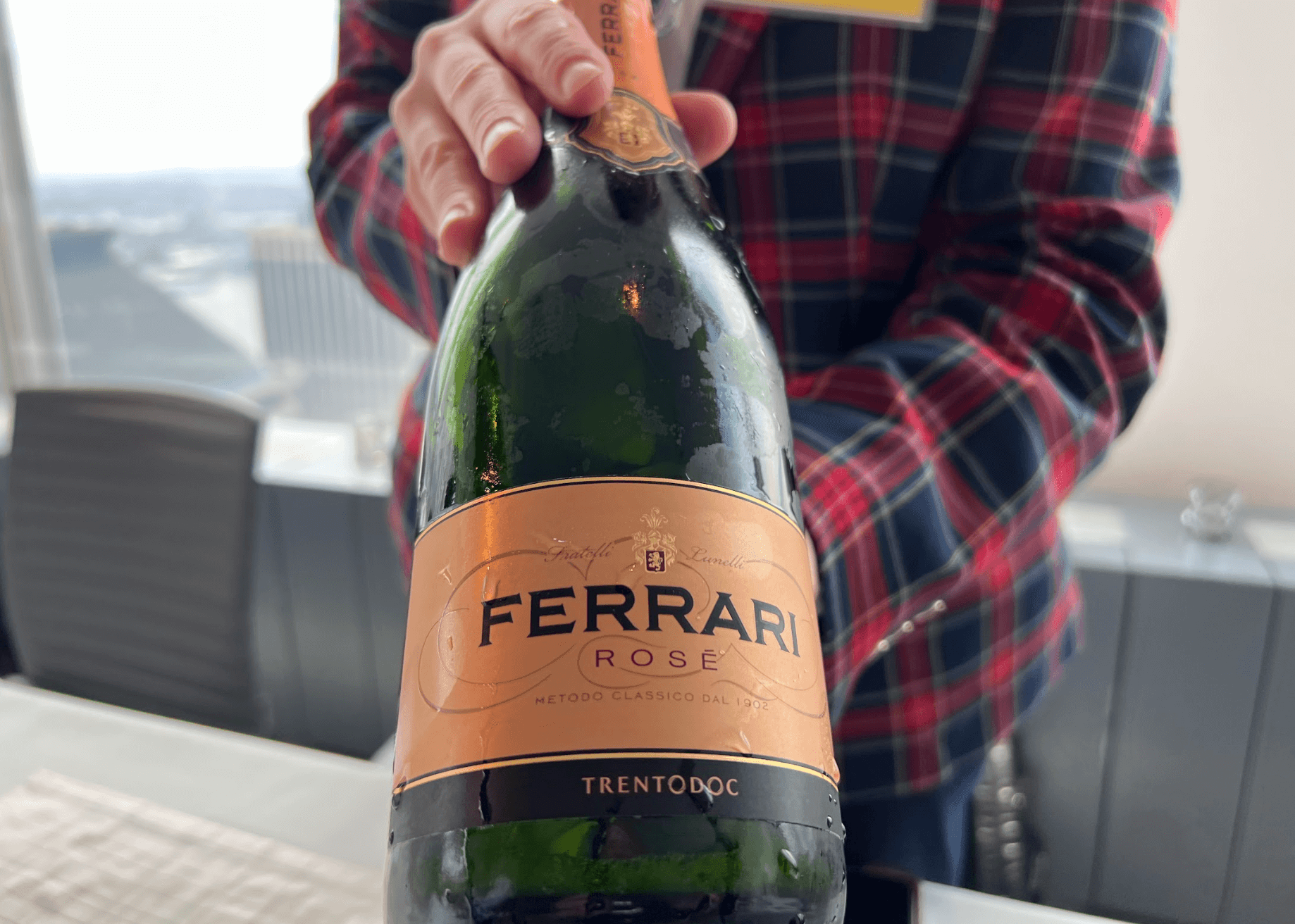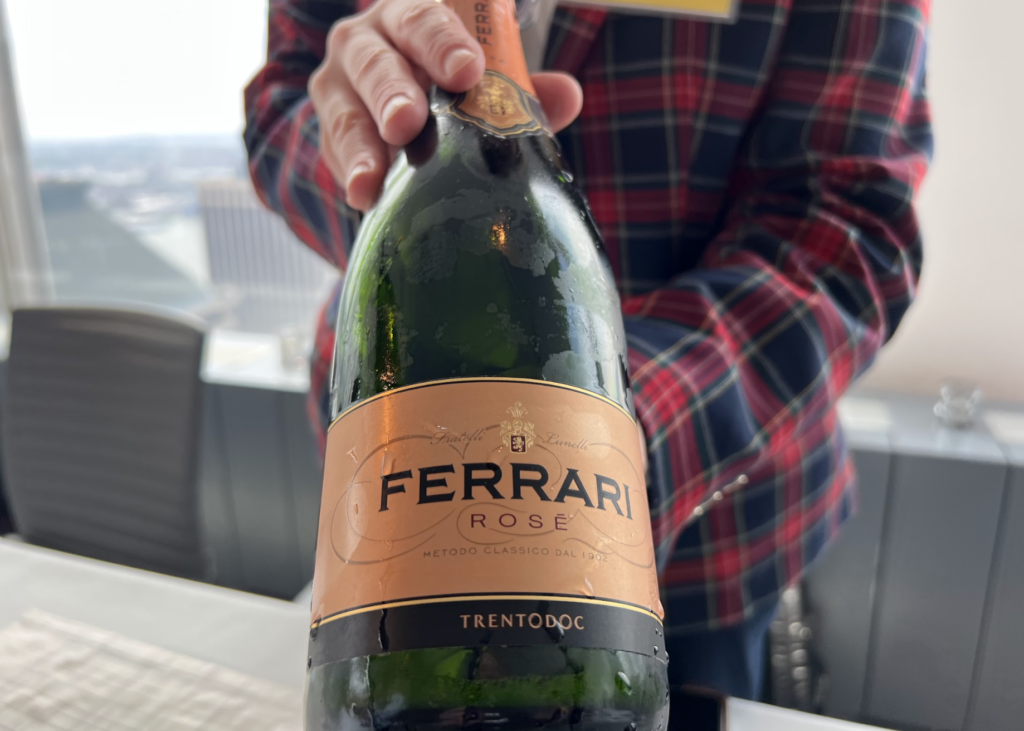 Trentodoc Ferrari Rose, Brut Rose
Located so close to mountain viticulture (the Dolomites), Trentino is an area well-suited to the production of sparkling wines of great elegance and complexity. Large diurnal temperature range and high altitudes ensures high acidity and freshness in the grapes. Ferrari's 300 acres of vineyards, represents the largest estate in the Trentino region.
Ferrari Rosé is made using the traditional Metodo Classico. Hand harvested in September, the wine undergoes a gentle pressing and macerates with the skins for a brief time to extract subtle salmon pink color. Distinct on the nose, with hawthorne flowers, red currants, and wild strawberries. Dry  and elegant palate, with an almond finish. Served as an aperitif and with lighter seafood dishes, such as mussels, shrimp, crab.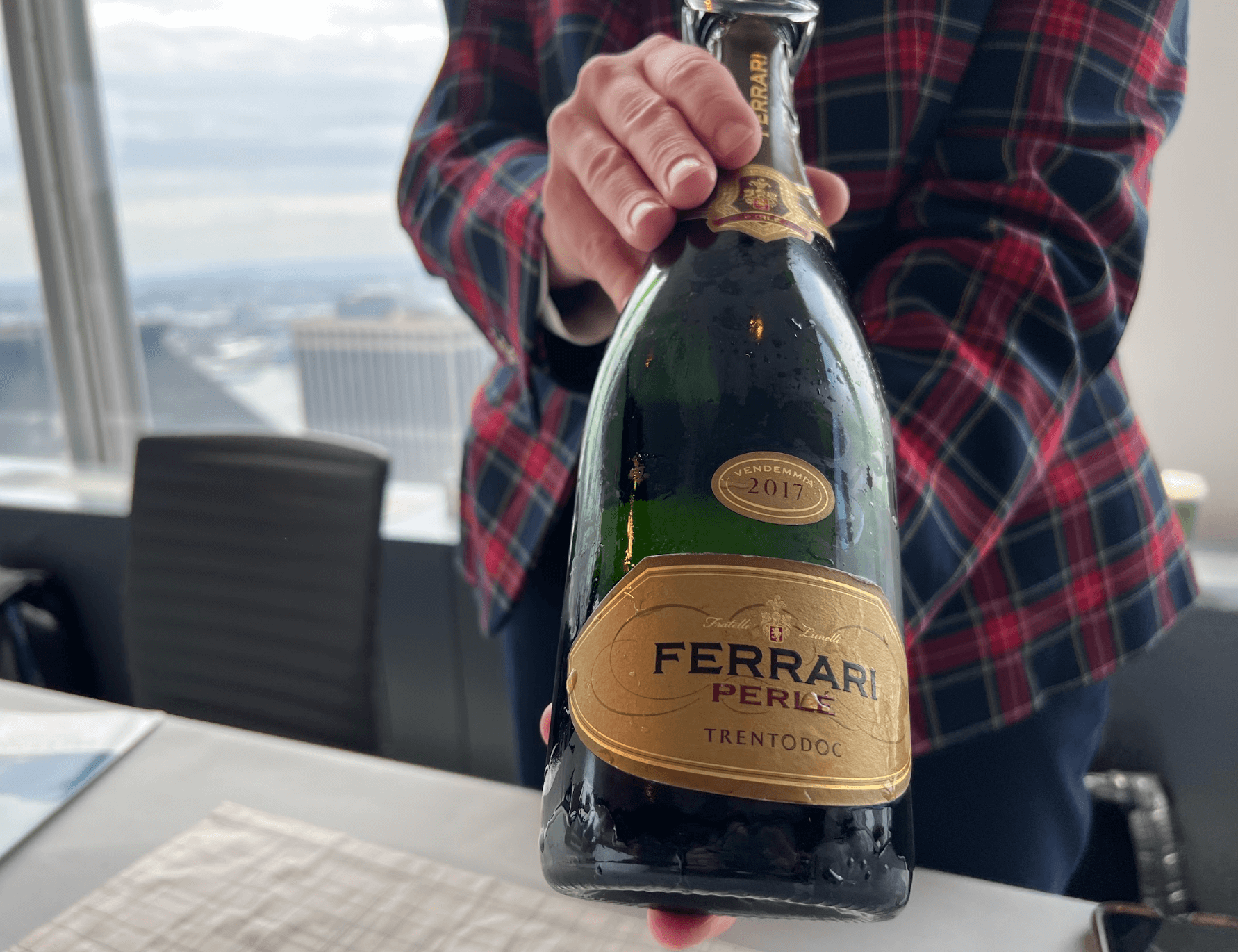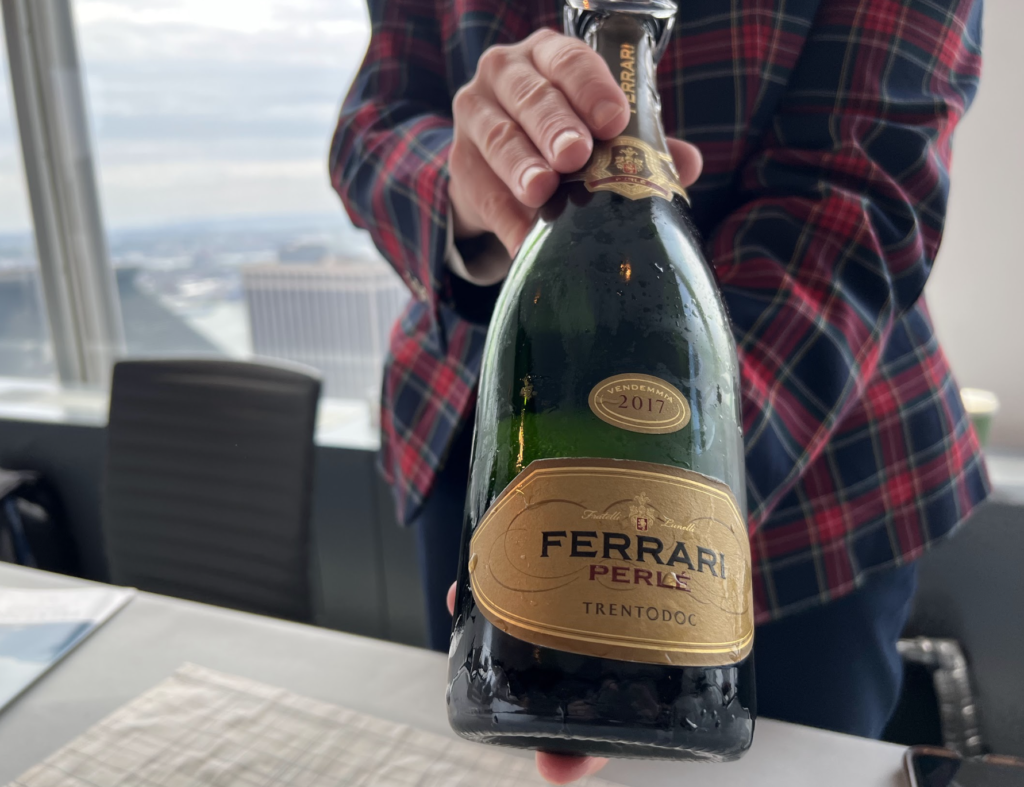 Trentodoc Ferrari Perle
Ferrari Perlé is made using the traditional metodo classico. With hand harvest in September, the wine undergoes a gentle pressing and first fermentation in tanks. Bottling and a second fermentation occurs with selected yeasts. After at least 4.5 years on the yeasts, selected from Ferrari's own strains.
Deep yellow with golden highlights. The perlage is extremely fine and persistent.
Nose is pronounced with hints of almond, green apples; baking spices and with a soft hint of bread crust.  Seductively, medium body with velvety mouthfeel.  Ripe apples, yeast, almonds, long finish.  A very pleasant sip that makes you want more.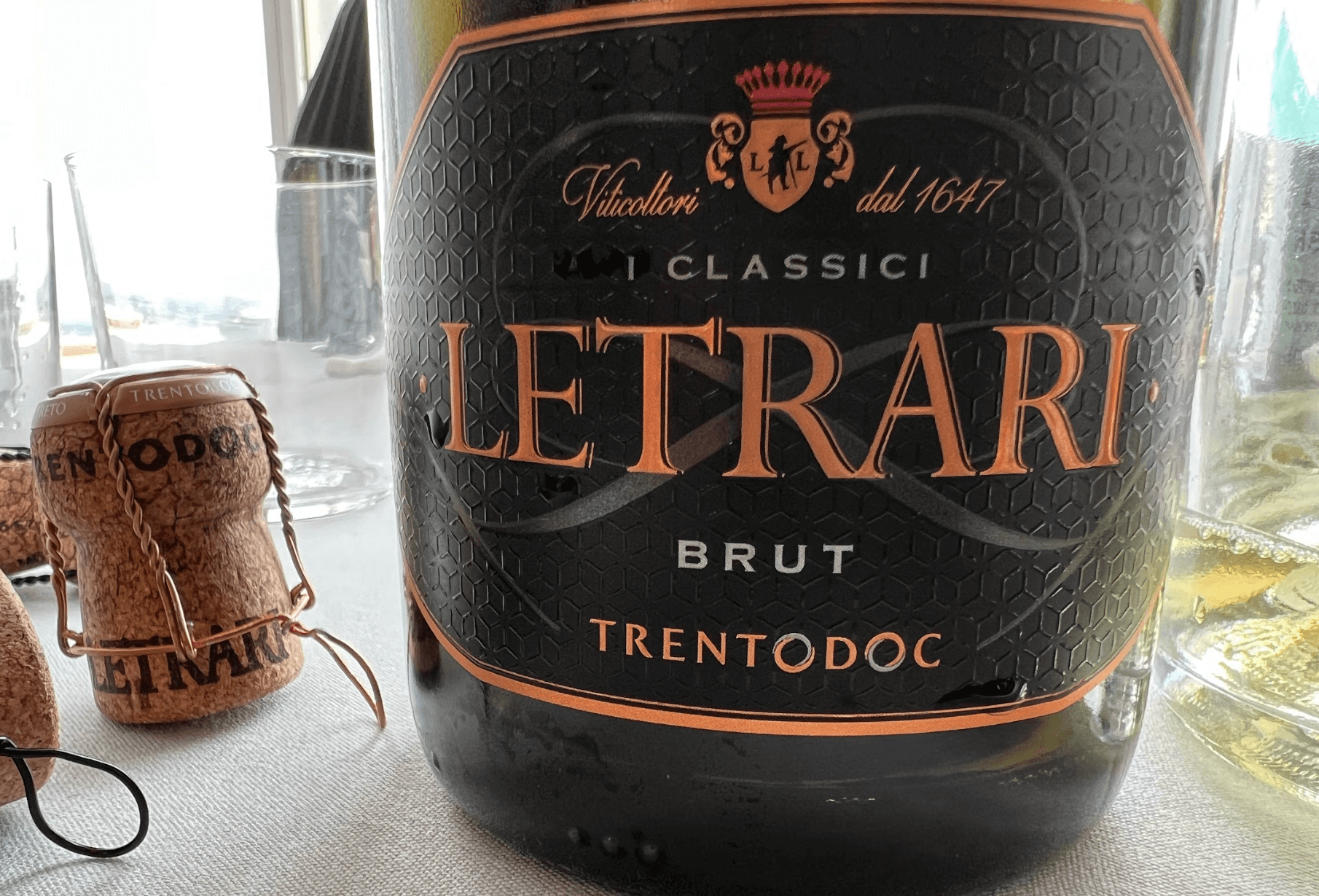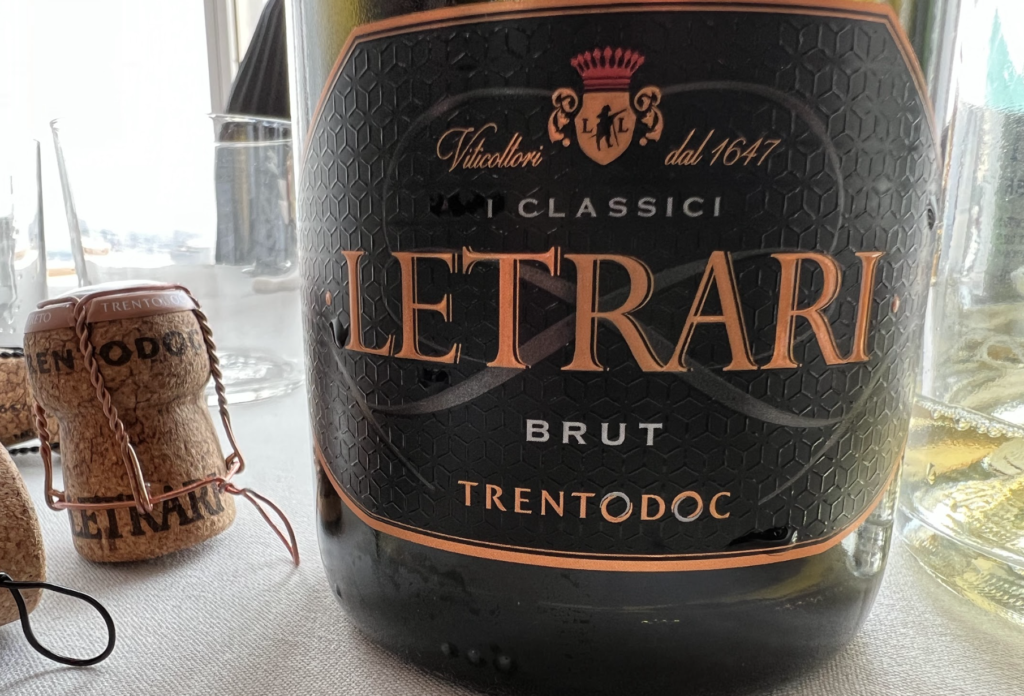 Trentodoc Brut Letrari
This Spumante Trentodoc from Letrari winery is produced with Chardonnay and Pinot Noir grapes.  Haarvested by hand and then left on the lees for at least 24 months. 
Letrari winery, founded in 1976 by Leonello Letrari and his wife Vittoria, has its origins in the territory of Vallagarina, Trentino Alto Adige.  
The grapes grow on hills facing south, well-ventilated, giving balance and roundness.
The sparkling wine Trentodoc Brut is fresh, ready to drink, straw yellow, fine and persistent bubbles.  Apple, pineapple and bread crust on the nose. Balanced mouthfeel with a medium body.  Pair it with light fish dishes

Trentodoc Quore Riserva Letrari
Quore Riserva Letrari is a vintage Trentodoc sparkling wine produced by the Letrari company with Chardonnay grapes. 
This flagship, the Riserva Letrari, is aged on the lees for at least 48 months, following the Classic Method. 
The Vallagarina soil is rocky and mineral with a temperate microclimate which favors the correct ripening of the grapes. 
Bright golden yellow in the glass. Fine, numerous very long bubbles. The nose offers crusty bread, sweet vanilla, hints of dried fruit and a note of honey.  The mouth is full and creamy, Pairs with fish appetizers, white meat, Fried Fish, Steamed crustaceans, mussels.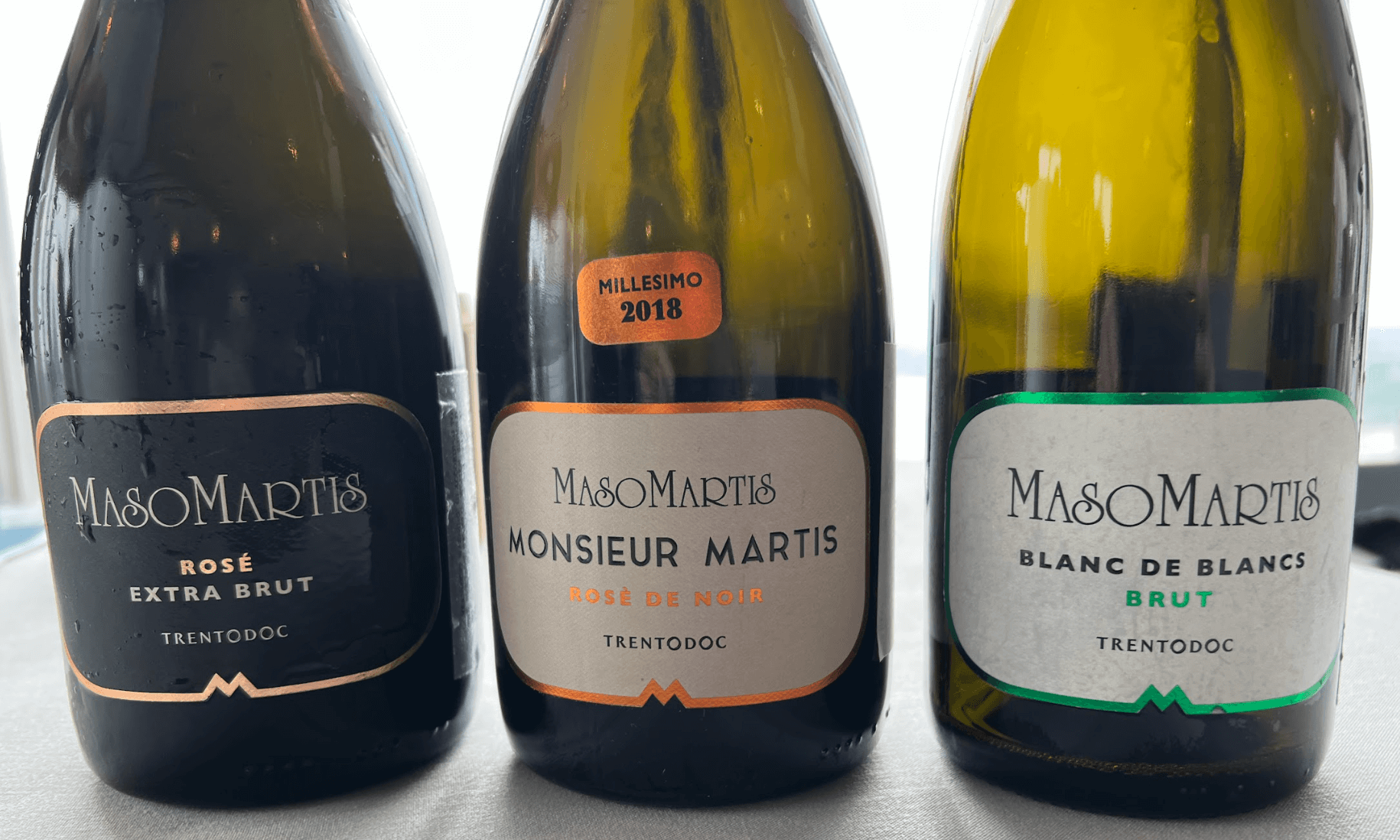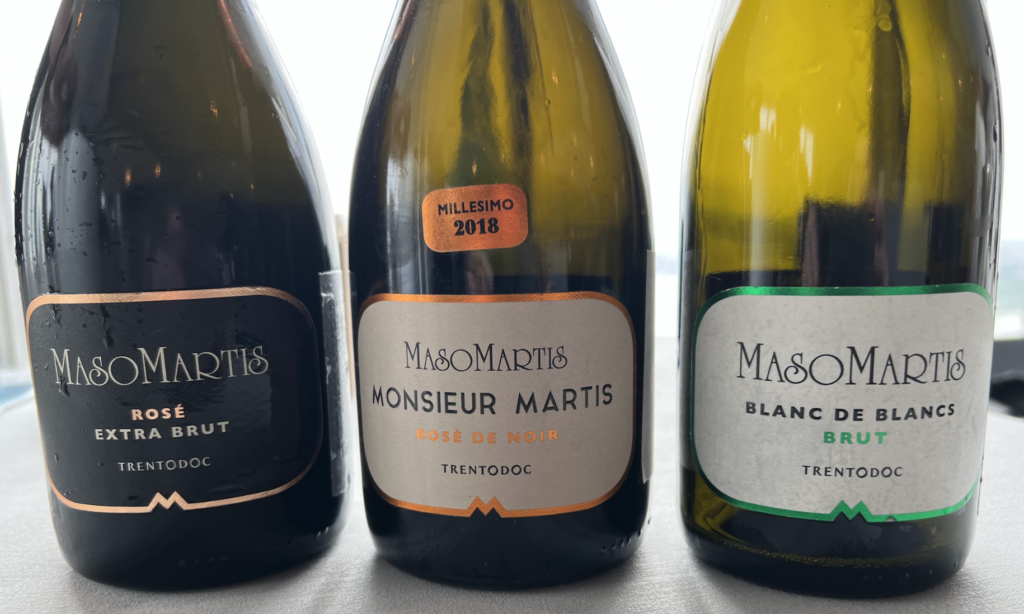 Trentodoc Maso Martis Blanc de Blanc Brut bio
Chardonnay clusters are hand-picked into shallow boxes, then the two types of grapes are gently crushed separately. After fermentation the wine is drawn off the gross lees. The wine is then stored in steel tanks and bottled the following spring, and cultured yeasts added. After at least 18 months on the lees, the bottles are manually riddled, and the wine is disgorged and bottled.
Light straw in the glass.  White stone fruit and a subtle hint of brioche on the nose. Crisp, dry, ripe yellow apple, Bartlett pear on the mouth. Fresh acidity and creamy perlage.  Pairs well with light fish, mediterranean, risotto

Trentodoc Maso Martis Extra Brut Rose'
Pale pink in the glass, aromas of red currants, raspberries and strawberries.  A delicate hint of sweet almond, full bodied and velvety mouthfeel. Intense, fruit forward, with a hint of yeastiness It's luxurious and extravagant.  I want this poured at my next celebration.  A wonderful aperitif or with fish.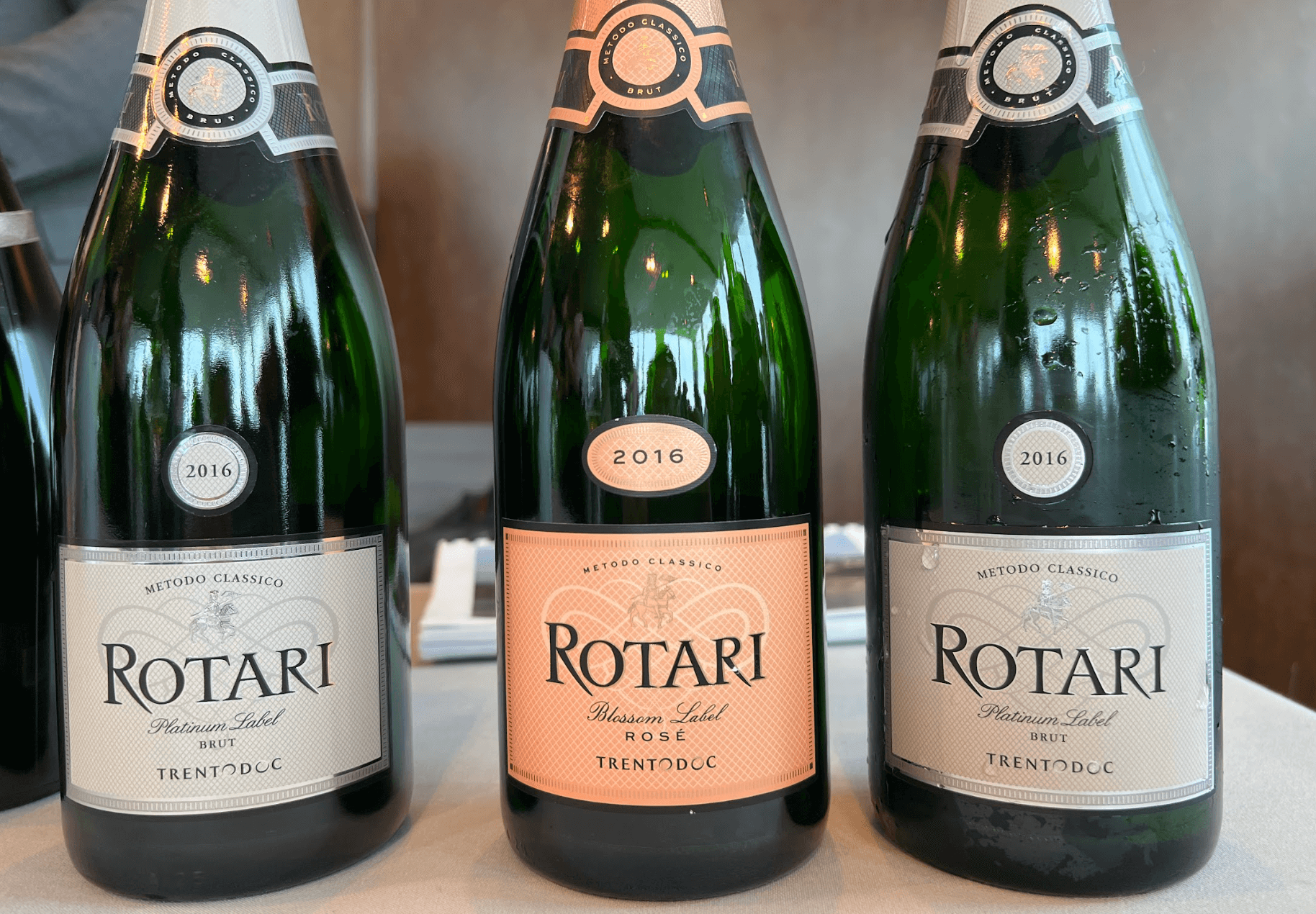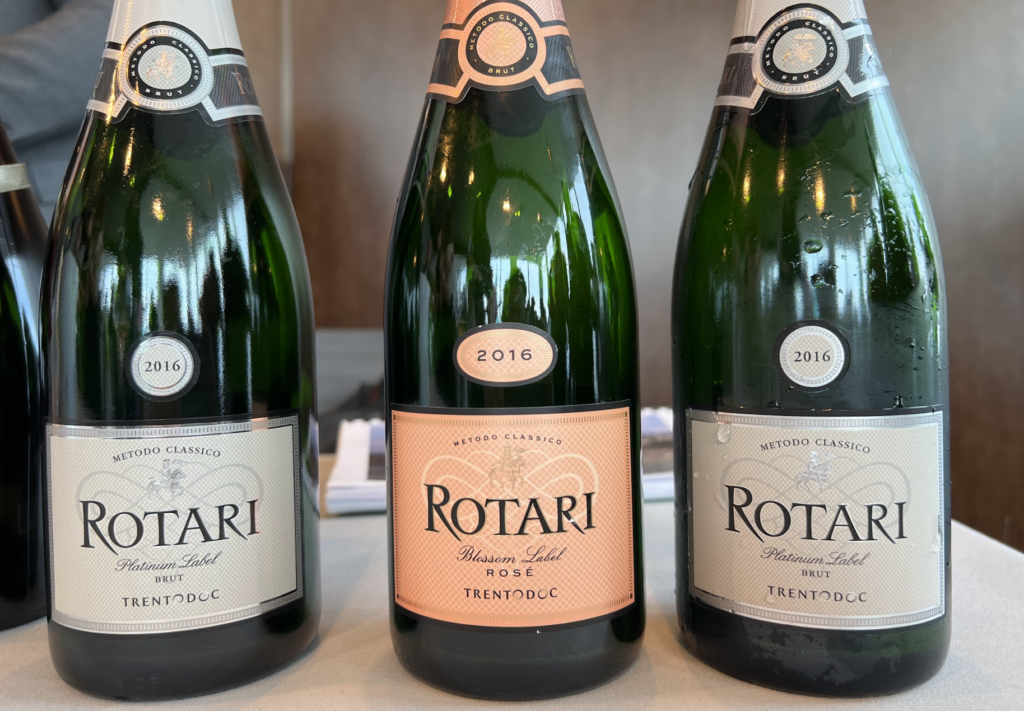 Made in the traditional method.  Pale lemon in the glass with vibrant bubbles and a delicate mousse. On the nose, pear, rising sourdough.  On the palette, green apples, salinity and crisp pomelo citrus. Pair with rind cheeses, king crab, lobster tail.
Trentodoc Rotari Rose Blossom
Grapes are hand selected and processed quickly.  Vinified only in steel with selected yeasts and without any aging in oak wood, to respect the terrioir's rich aroma of red fruit from the Pinot Noir and Chardonnay.
The wines are aged in steel until February, then processed according to the champagne method with a maturation on the lees in bottle for at least 24 months. The Chardonnay wines are subjected to malolactic fermentation to smooth down the acidity of the Pinot Noir and increase the roundness.
Pale pink with light copper reflections in the glass.  Blackberry, cherry and raspberry on the nose with subtle white fruit, pineapple, yeasty notes. On the palate, medium body, delicate and fragrant, with an elegant and soft structure and lively acidity and minerality. Perlage is persistent, fine and elegant.  An ideal aperitif or paired with fished dishes.
Trentodoc Rotari Flavio Riserva
Rotari's Flavio is in the heights of the Dolomites.  100% Chardonnay and aged for five years on the lees 
The nose is a freshly baked apple pie, a touch of cinnamon and flaky croissant. The palate is balanced, with fresh and bright acidity and a hint of minerality.