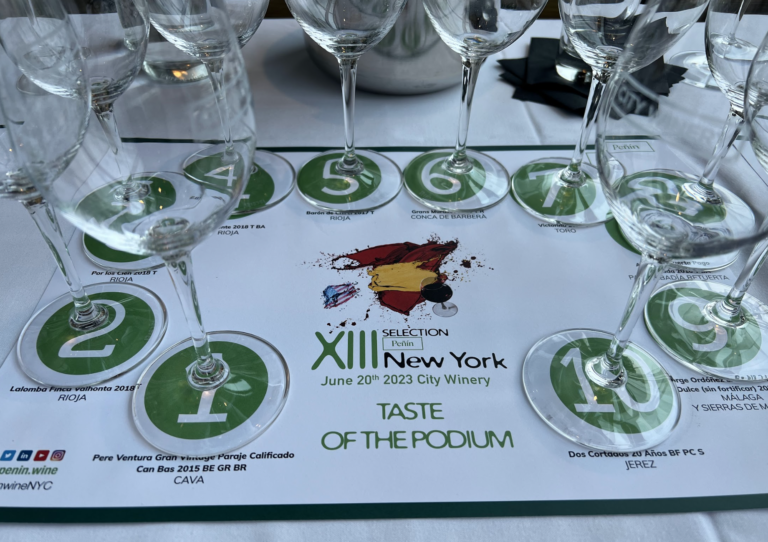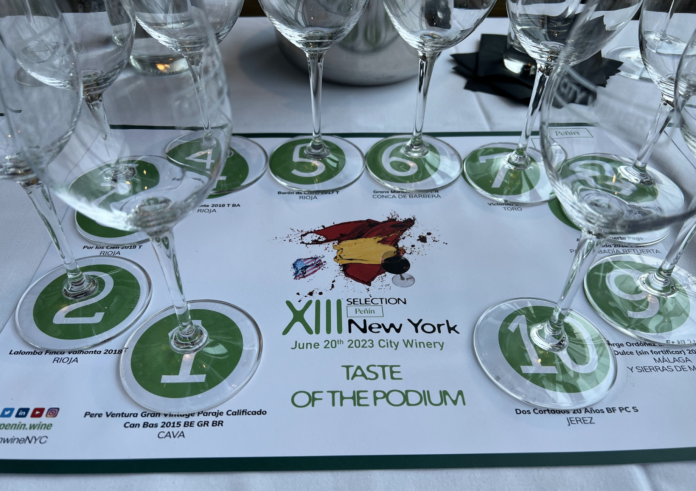 Taste of the Podium XIII offers Penin Guide 2023 Tasting at City Winery NYC
It was a proud day for Spain's Penin Guide as they're showcasing hundreds of their best wines for NYC's wine and food elite: sommeliers, wine shop retail and wine critics.
What makes it extra special is their afternoon 'Taste of the Podium XIII' tasting where a select group will receive the privilege of a hosted tasting through the Penin Guide 2023 highest rated wines moderated by.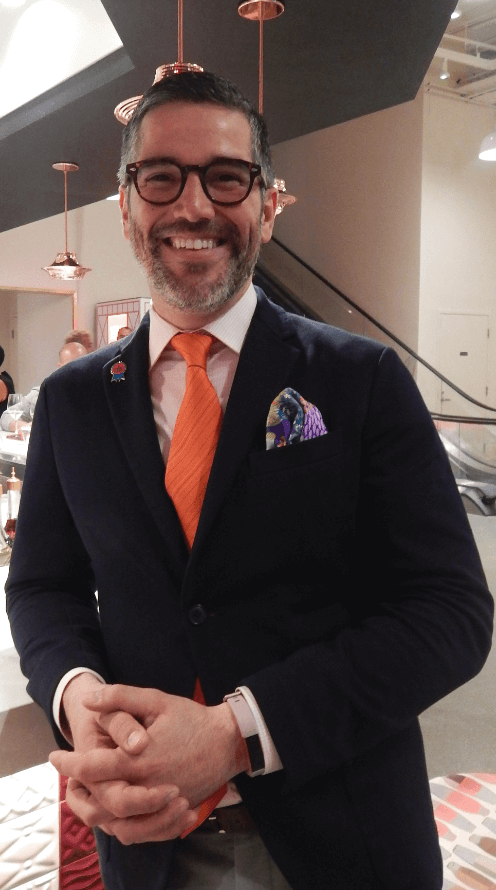 For those who haven't experienced an A.J. Ojeda – Pons led tasting, it's incredible and highly-recommended.  Try your best to attend his future event.
What is the Penin Guide?
First published in 1990 under the name of Vinos y Bodegas de España, and edited by José Peñín, the current honorary president of the company.
The Peñín Guide to Spanish wines is the most comprehensive Spanish wine guide in the world.
With editions in Spanish, English, German and Chinese, it is the most widely used tool for amateurs and professionals to make purchasing decisions on Spanish wine.
It's a must-have resource for restaurants, wine shops and critics.
What is Penin Guide's Taste of the Podium
To make it even clearer, at City Winery NYC we're tasting through wines that achieved Penin Guide's highest marks of 2023.
What we're about to taste with the Taste of the Podium event, is the best of the best.  Wines rated 95 points or more in the new edition of the guide, known as "Podium" wines of the Penin Guide.
If your restaurant serves Spanish wines,  your shop sells Spanish wines, or you write about Spanish wines, you want to be at this overall event and squeeze in to this afternoon's Podium tasting.
A.J. Ojeda – Pons Doesn't Disappoint
From the moment AJ walks in the room, the energy changes.  He's excited.  He knows what we're tasting today and he's eager to share and get reactions.

Pere Ventura Grand Vintage Paraje Calificada Can Bas 2015 BE GR BR 
Cava
Creamy smooth palate with lemon and ripe melon flavors balanced by toasty character. Elegant and persistent. 

Lalomba Finca Valhonta 2018 
Rioja
Tempranillo
Deep purple in the glass.  On the nose, blueberry, black berry, black currant. A seductive ripe round mouthful, complex and persistent. It fills your heart with young romance.  Good structure, good body, medium finish.
Por los Cien 2018 T
Bodegas Fos
Rioja
Tempranillo
Bright medium ruby in the glass with gentle hints of garnet around the rim.  An orchestra of blackberry, plums, violet that "sings" with aroma if you're listening. Gorgeous.  Evolving into spice, cedar, black pepper, balsamic.  Complicated and expressive, with body, medium tannin and a lingering finish. Food pairings back for stews, spicy dishes, blue cheese gamey meats.

San Vicente 2018 T BA
Senorio de San Vicente
Rioja
Tempranillo
Inky deep purple in the glass.  A powerful gush of blackberry, blueberry, black plum.  It fills your mouth with a then velvet layer of liquorice, oak, cherry cola, tobacco, chocolate.  Full body with a long, confident finish.  Pairs well with manchego, a hefty burger, well-seasoned roasted lamb. 

Baron de Chirel 2017 T
Bodegas de los Herederos del Marques de Riscol; 
Rioja
Tempranillo
Medium ruby in the glass.  Pronounced aromas of black currant, black plum almost reach out and kiss you.  In your mouth it's deep, dense and full.  Graphite, minerality, mushroom, earth.  Full body.  Medium tannin that seems to keep growing.  A finish that keeps lingering.  Pair with ribeye, bbq. 

Grans Muralles 2018 T R
Familia Torres
Conca De Barbera
Garnacha carinena querol monastree garro
Medium ruby in the glass. Black berry, black currant, raspberry on the nose.  Black plum, chocolate, tobacco, building to a complex, medium tannin, slight oak, full body.
Victorino 2019 T
Teso la Monja
Toro
Tino de Toro
Deep, inky purple in the glass.  Pronounced nose of black currant, black plum, rip fruit, black pepper.  The mouth is velvety and full-bodied, medium tannin, raspberry, cloves, chocolate  The finish was smooth and lingering.
Abadia  Retuerta Pago Negralada 2016 T BA
Abadia Retuerta
Pago Abadia Retuerta
Tempranillo
Deep ruby in the glass.  Pronounced red currant, fresh berry on the nose.  Medium body, medium tannin with a balanced ensemble of vanilla, clove, cedar with a slight pastry hint.
Jorge Ordonez & Co No 2 Victoria Dulce
(sin fortificar) 2021nB D
Jorge Ordonez Malaga
Y Sierra de Malaga 
Moscate
The nose is gorgeous with white peaches, pineapple, gooseberries and green apples,  orange peel, honey.   A decadent, sensual mouth keeps building with honey, caramel, candied apple, and cantaloupe.  Plush, full–bodied, medium acid, hint of bitter altogether brinds balance.
Doc Cortados 20 Anos BF PC S
Bodegas Williams & Humbert
Jerez
Palominno
Medium amber in the glass. Nose of fig, dried fruit. Medium body with churned butter, caramel, toasted almonds, butter, vanilla, baking spice with a medium finish that lingered just long enough.
An excellent showing by Spain's Penin Guide and truly a showcase of their Taste of the Podium
Speaking of well-balanced, our leader A.J. Ojeda – Pons did an excellent job of sharing knowledge, balancing but never overpowering some formidable flavors, keeping the conversation light, but intriguing and pacing our short time quite well.  Not too hurried, but never lagging.  
Kudos and cheers to Mr. Ojeda – Pons and the entire Penin team.  Thank you Morgan Perry and Sicily Cronin.