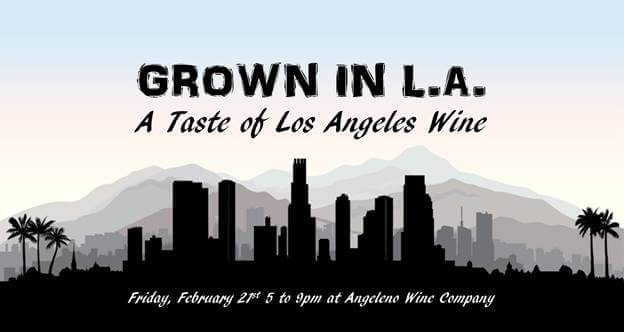 The recently formed Los Angeles Vintners Association will put LA wine front and center at Angeleno Wine Company on Friday, February 21st from 5 – 9pm.
Angeleno, the first winery and tasting room in downtown Los Angeles to open its doors since prohibition, couldn't be a more fitting venue to host this group of wineries and winemakers, all there to show off their locally grown, Los Angeles wines. The event will feature Angeleno Wine Company, Byron Blatty Wines, Cavaletti Vineyards, and Acri Wine Co.
---
Advertisement

---
Tickets are $20 per person, and include a mixed flight of 10 wines.
Local favorite Guerrilla Tacos will join the fun, serving up gourmet Mexican fare.
Tickets for the event found here: https://www.eventbrite.com/e/grown-in-la-a-taste-of-los-angeles-wines-tickets-92379598867
"For most of the 19th century, California wine meant wine grown and produced in Los Angeles,"
…says Jasper Dickson, winemaker and co-founder of Angeleno…
"So many people think Los Angeles is a new, up and coming wine region, but it's actually California's original wine country,"…
….referring to the city's little known wine history, "and this event gives us and our fellow LA Vintners a chance to show angelenos the incredible diversity and true potential of Los Angeles terroir."
---
Complimentary subscription enters you into weekly luxury giveaways

---
Event: Grown in LA: A Taste of Los Angeles Wine
Date: Friday, February 21st
Time: 5pm – 9pm
Location: Angeleno Wine Company. 1646 North Spring St. Los Angeles, CA 90012
About The Los Angeles Vintners Association
The Los Angeles Vintners Association is dedicated to reviving and revitalizing the rich history of Los Angeles winemaking, and highlighting the true potential of Los Angeles terroir. Through our events, campaigns and fundraisers, LA Vintners works to bring Los Angeles wine, and the region's extensive wine history to Angelenos throughout the area. This includes preservation efforts of significant historical sites, protection of natural resources, and the overall sharing and enjoyment of Los Angeles wine culture.
 About Angeleno Wine Company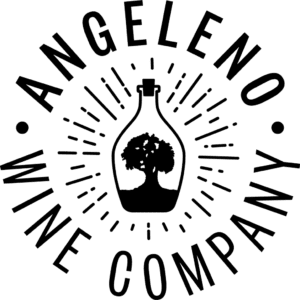 With a focus on unique varietals, Angeleno Wine Co aims to push the boundaries of what Southern California wine growing can be.  We work with small vineyards in the beautiful, remote corners of Los Angeles County such as Agua Dulce and the Antelope Valley. We only work with vineyards that farm sustainably and we source our grapes from land that is special for different reasons.  Tannat, Graciano, Godello, Loureiro, Treixadura and Alicante Bouschet are some of the unique varietals that Angeleno makes into wine every year. We harvest early to preserve natural acidity in the fruit. Our wines are naturally made and 100% vegan. We strive to make wines that are elegant, balanced and that express Los Angeles' unique character: a growing region where the desert meets the sea.
About Byron Blatty Wines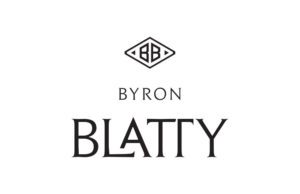 Byron Blatty produces limited-edition, handcrafted red wines that feature sustainably farmed, family-owned vineyards in Los Angeles County. With an annual production of 800 cases, the winery works with small lots of as many as fourteen different varietals from vineyards all over Los Angeles, to create complex red blends, as well as a rosé, and its first white wine which is scheduled for release in fall 2020. Byron Blatty is available through the winery's website, select restaurants and wine bars, and boutique wine shops in the greater Los Angeles area. If terroir is a sense of place and the expression of its character, Los Angeles has never been expressed this way before.
About Cavaletti Vineyards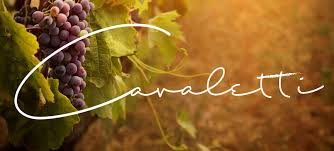 Cavaletti Vineyards was founded in 2016 to focus on farming and expressing unique vineyard sites in Los Angeles and Ventura Counties. Our "hands-on in the vineyard and hands-off in the winery" philosophy creates classically styled wines that reflect the dramatic beauty of Southern California. Cavaletti Vineyards produces 1200 cases per year and their wines are available at restaurants, wine bars, and wine shops through Los Angeles and Ventura Counties. Cavaletti Vineyards' winery is located near historic downtown Moorpark.
https://www.cavalettivineyards.com/
About Acri Wine Co.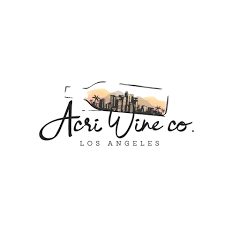 Ben and Katy are a husband and wife team creating small production wines in Los Angeles. We source our grapes from family-owned vineyards from Los Angeles to San Diego. We work with varietals that we thoroughly enjoy drinking, and that also grow well in the high desert, mountains, and valleys of Southern California. First release in 2021.