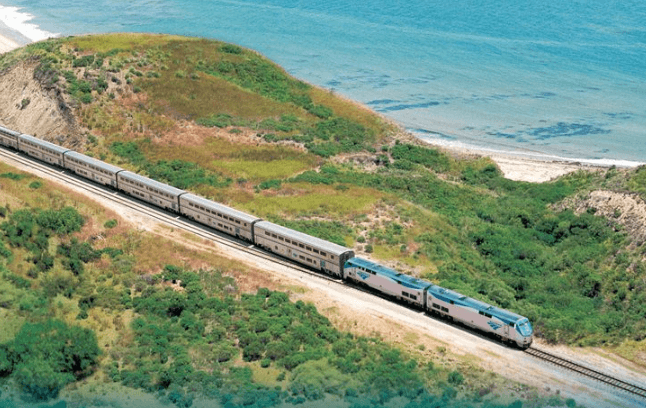 It's an incredible time for traveling, especially in the United States.  Easily, one of the best (and most affordable) ways to see our country's vast beauty is by train. Don't believe it? Check out Amtrak's Coast Starlight, which has been referred to as "one of America's most beautiful train rides" since the 1940s.
Along on the West Coast, starting in Seattle and ending in Los Angeles, the Coast Starlight train trip takes its passengers through Washington, Oregon, and California, allowing them to see stunning views of the West Coast's mountains, forests, valleys, and Pacific Ocean.
Passengers can take in the sights from the observation car, featuring floor to ceiling windows and comfortable swivel chairs. And here's the best part — tickets for this impressive slice of Americana starts at only $97.
---
Advertisement

---
The entire West Coast route takes just over 35 hours and takes you through 30 destinations, including Olympia-Lacey, Portland, Sacramento, the San Francisco Bay area, and Santa Barbara.
On the trip, riders see the Cascade Range, Mount Shasta, the Santa Barbara Channel, several national parks and forests, and, of course, the Pacific coastline.
When you're booking the trip, consider all the options:
You can opt for the $325 "Superliner Roomette" tickets, which come with a bed for overnight travels and your very own sightseeing window in your cabin.
Business class tickets also come with amenities like on-board wine and cheese tastings.
And everyone over 62 should take advantage of the special discount for seniors — you can save 15% on your next adventure!