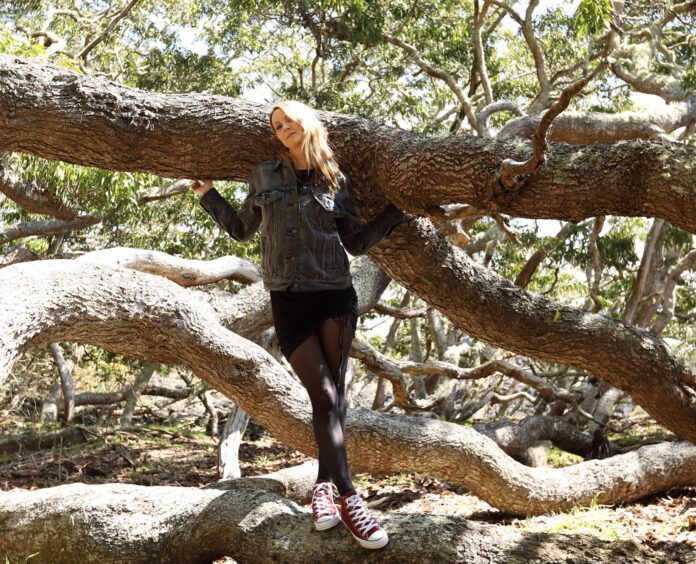 Hawaiian Resident/Indie Artist Kailee Spark is set to release her new song "Passageways" in In Early May, 2021, and Music-News.com – premiered the music video on April 19th, 2021.  Indie artist – Spark's music is original, with a voice of a songbird; singer, songwriter Kailee Spark will take you to her enchanted world and never let you go.
Whether her subject matter is other worldly or everyday experiences, she is a true poet. She weaves her lyrics masterfully, way beyond her years; her songs are filled with life lessons and wisdom. Kailee Spark's voice is pure, like nothing you've ever heard before. The listener will be forever changed by the distinctive saturated hues of her imagery. She has been compared to Taylor Swift and Jewel; but Spark's beautiful words, will put an original spin on the trails these great artists have blazed.
With many accolades, Kailee Spark's debut album, "Savor This" is due to be released in June 2021. Kailee has a lot of insight, she says, "The best advice I have ever gotten – don't take yourself too seriously, the fun really is in the journey, not the destination, that's where my idea for the Album name came, "Savor This", to savor the moment. Right now, is where all the fun is – the destination is fun too, for a little while, but then I'll want the next thing, happiness is an inside job!"
With nearly 200K followers, Kailee Spark has come a long way, since losing her house to the last Volcano eruption outside of Hilo Hawaii, she has also had some near-death experiences, and overcame many obstacles to get where she is today.
Kailee says:
"I have seen a lot in my young life, but my music is my everything,

my songwriting style is quirky, uplifting and unique while touching on a broad range of topics, and emotions, I love what I do".
Kailee Spark grew up in the Bay Area – Silicon Valley, raised Mormon, and left the church at age 22. A child of the '80s, her musical career started at 8 years young, she wrote her first song at 12, raised on classic rock music, she was gifted a guitar at 13 and the rest is history. Learning to play by ear and always challenging herself by writing songs in every genre in her journey as a singer/songwriter.
Kailee Spark chooses to express her thoughts and sensations through her visceral music; and she has a lot to say, about her emotions, spirituality, travels, and her deepest feelings of love. Well educated, Kailee has a bachelor's degree in anthropology, and a MA in cultural anthropology, but her street smarts are prevalent in every offering of her soul.
Lockdown has been a creative bridge for Kailee, and she has made the best of it with many new songs waiting to be performed. Kailee Spark recently performed two of those songs on the local podcast – at the historic Palace Theater in Hilo – on the music series called "Live at the Empty Palace".
https://www.youtube.com/watch?v=Ui41IuMSe6M
Bold and beautiful, Kailee Spark's music is here to stay, she is a quick-moving train, and you are going to want to jump on board.
YouTube link for Passageways: https://youtu.be/CybVvpQhm6E
Music-News.com: https://www.music-news.com/news/Underground/139748/Kailee-Spark-Passageways-video-premiere
www.allmylinks.com/kaileesparkmusic
Prerelease "Savor This": kaileespark.bandcamp.com/album/savor-this