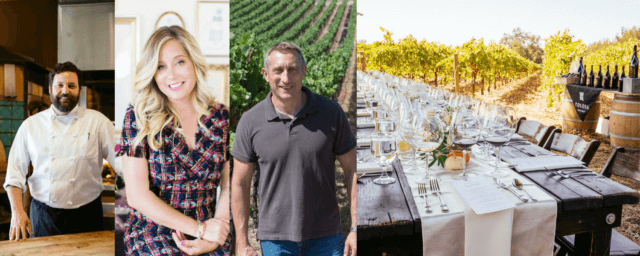 In celebration of California Wine Month
a curated gastronomical experience available to culinary and wine enthusiasts in the intimacy of their own homes.
Wine and food devotees across the country can order an event kit and prepare excellent three course meals paired with select Tolosa wines, all included in the kit.
Acclaimed Tolosa Winemaker Frederic Delivert, Ember Chef/Owner Brian Collins, and Amber Karson, co-owner of Karson Butler Events, will provide the guidance needed to host a true wine country dinner.
Tolosa Tonight premieres September 25 and is available on demand through October 2020, at the price of $250 for Tolosa wine club members and $290 for general access.
To reserve a kit, please visit Tolosa Tonight.
"We want wine and food enthusiasts to experience our amazing wine country lifestyle,

which is especially exciting during harvest, regardless of any restrictions on travel or gatherings.

So we curated a virtual experience that consumers can replicate at home with their loved ones," said President & CEO, June McIvor.
Delivert will share his coveted single vineyard wines paired with Collins' recipes. The first course, Bacon Wrapped Scallop Skewer, Sweet Italian Peppers and Stone Fruit Mostarda, will be enjoyed with a bottle of Poletti-Edna Ranch Chardonnay Edna Valley 2018. The main course, perfect for a fall dinner, is Coq au Vin, Shell Bean Heirloom Tomato Panzanella, Grilled Leeks, and Lardons paired with Tolosa's flagship wine, Primera 2018. Dessert will include Red Wine Poached Figs, Goat Cheese Panna Cotta with Almond Cookie, paired with the Solomon Hills Vineyard Pinot Noir Santa Maria Valley 2018.
Chef Collins will help enthusiasts prepare the elegant meal by providing a shopping list, recipes and a step-by-step cooking demonstration video of Coq au Vin.
The package includes the full pairing menu, shopping list and recipes. Revered Event Designer Butler will demonstrate how to create stunning tablescapes with insider recommendations via video link. And Winemaker Delivert will guide dinner guests through each wine virtually, on demand.