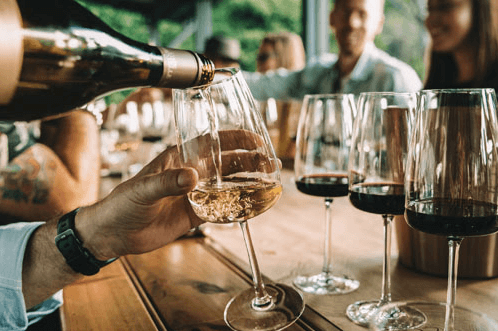 Enjoy Santa Barbara Culinary Experience at the five-star Hotel Californian by celebrating Santa Barbara Wine Country.
Featuring hors d'oeuvres from Executive Chef Travis Watson and pours from almost 2 dozen Santa Barbara County wineries.
Click here for info and tickets
20 years of award-winning culinary experience
After his career led him all over the world, including France where he served as an apprentice to Chef Georges Paccard of Michelin-starred La Ciboulette.
More than a dozen wineries

with a unique display of Santa Barbara qualities
Different expressions of terroir across the County, and in some cases, exclusivity (some don't have tasting rooms, or are small, boutique wineries).
The list includes:
Alma Rosa Winery, Ampelos Cellars, Barden Wines,
Bien Nacido and Solomon Hills Estate Wines,
Buttonwood Farm & Winery
Brewer-Clifton, Cambria Wines, Dragonette Cellars,
Foxen Vineyard & Winery
Jonata, Lieu Dit Winery, Margerum Wines, Nielson Wines,
Pence Vineyards & Winery, Riverbench Vineyard & Winery
Sandhi Wines, Tyler Winery
and more to be announced.
Santa Barbara Culinary Experience
The inaugural Santa Barbara Culinary Experience (SBCE) is a world-class three-day event celebrated throughout greater Santa Barbara from March 13-15, 2020.
In partnership with The Julia Child Foundation for Gastronomy and the Culinary Arts, the event brings together local and national talent to celebrate Santa Barbara – Julia Child's final home – with its dynamic food and wine scene.
Participating restaurants, bars and hotels across the city and harbor will offer new twists on classic Julia Child dishes, signature Julia and Paul Child cocktails, educational programming, memorable stays, tours, talks and other creative programming.