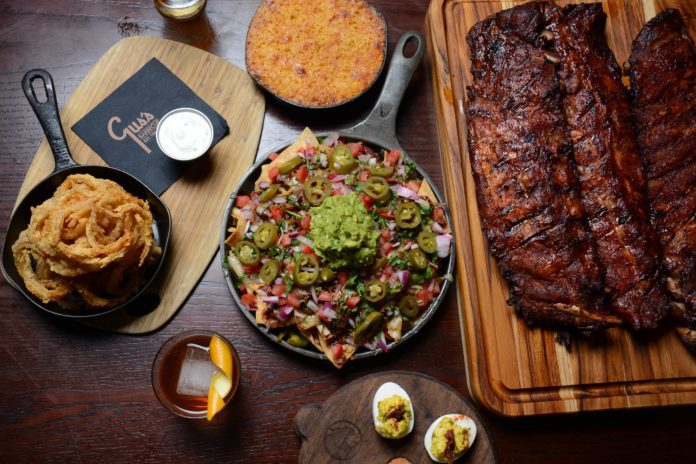 Gus's Barbecue, Los Angeles's most historical barbecue restaurant, is celebrating the official
Grand Opening of their third new location at The Vineyards in Porter Ranch
with Giveaways, Games, Live Entertainment, and much more, on
Saturday, February 8th, 2020 from 11:00 am to 11:00 pm!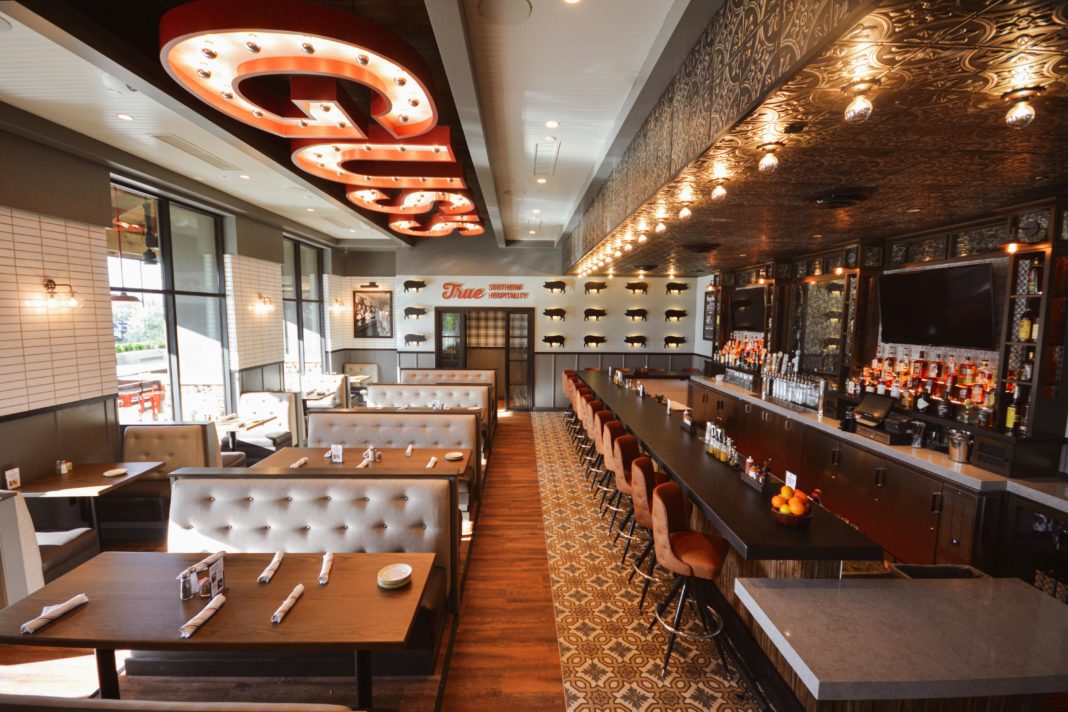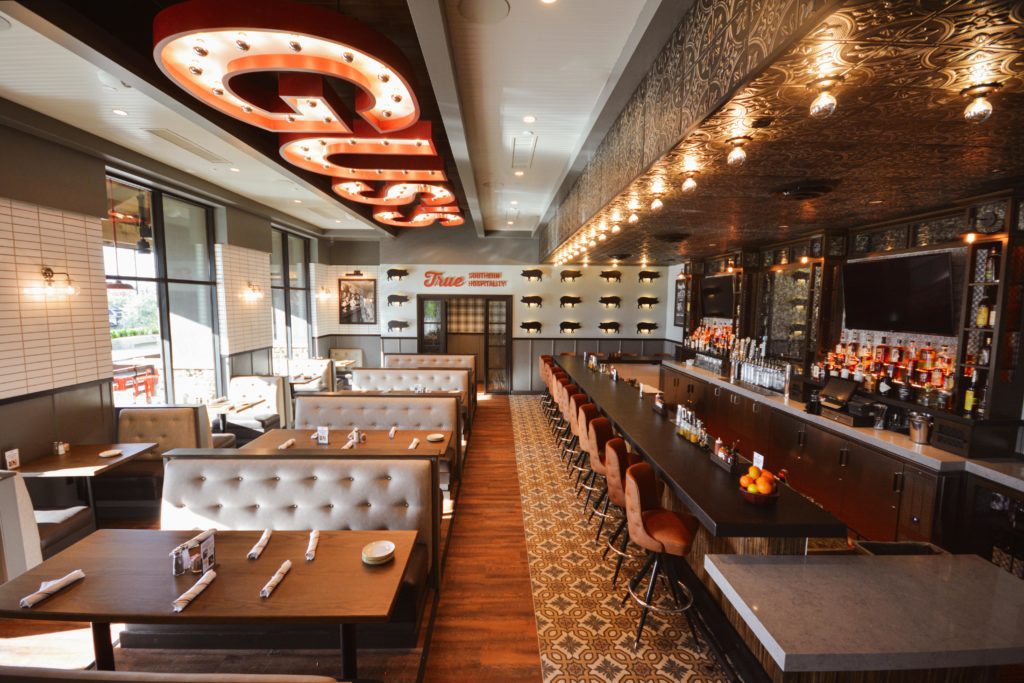 Inspired by the many regions of the South
Gus's Barbecue has been serving real pit BBQ and true Southern hospitality since 1946
in its original South Pasadena location. The Gus's Barbecue story began when a band of pioneering relatives, Gus, Jack, and Mike, left their family-owned bar in Cleveland and headed west on Route 66, sampling some of the best flavors that the American South and Midwest had to offer. The trio ended up in a little town called South Pasadena, where they bought a diner called Hamburger Mac's and launched their dream of bringing proper BBQ to the West Coast.
---
Advertisement

---
Today Gus's Barbecue remains a tribute to Southern life, where family, tradition and celebration are of the utmost importance. In 2007 Brothers and Co-Owners Chris and John Bicos (Magnolia House, Tacocita) practically raised in the kitchen, having grown up in their family restaurant (Pasadena's The Original Tops), purchased the restaurant and using their restaurant heritage and know-how, reopened it after a full renovation in April 2008.
In June of 2018, the Bicos Brothers expanded and opened a second location in Claremont, and they are very much looking forward to this coming weekend as they officially introduce their third location in Porter Ranch.
"We wanted to preserve the legacy of Gus's and…
decided we wanted to expand and bring it to small, tight-knit communities similar to South Pasadena, where it can become an authentic part of the community, as Southern comfort food offers something for everyone," says John Bicos.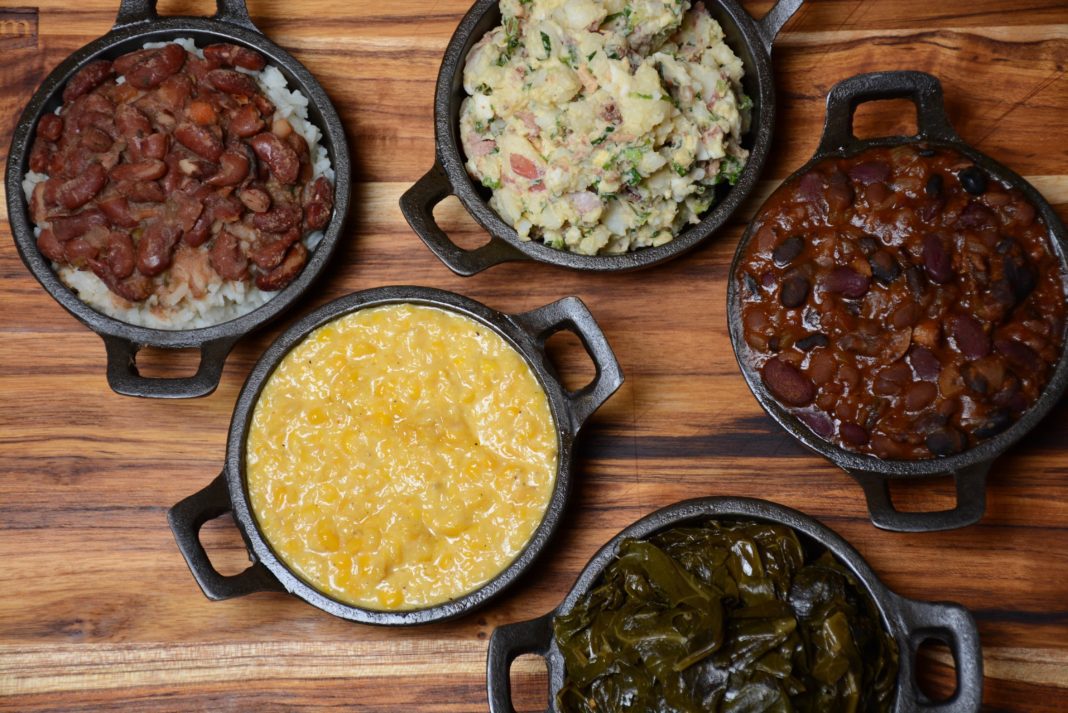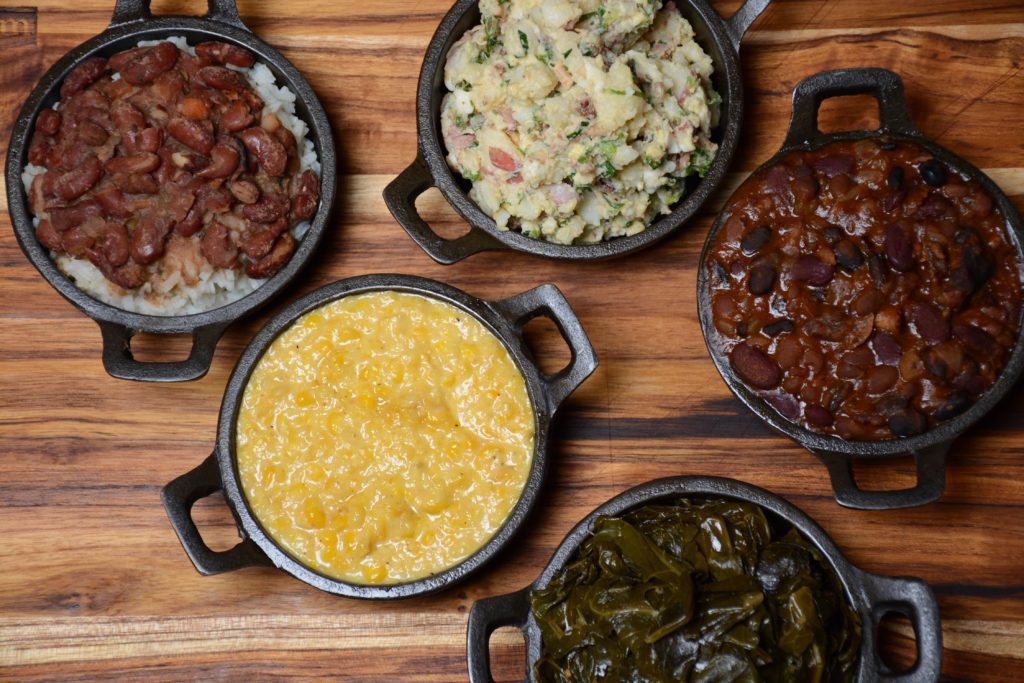 The Gus's Barbecue Menu kicks-off with the Appetizers
featuring their famous Cast Iron Cornbread served with jalapeño jelly and honey butter; Spicy Smothered Hot Wings with a fiery homemade wing sauce, blue cheese crumbles and a jicama slaw; a Smoky Guacamole served with house-made tortilla chips and charred salsa, and the Pulled Pork Nachos with a three cheese sauce, BBQ baked beans, smoked mozzarella, jack cheese, tomato, red onion, smoky guacamole, pickled jalapeños and Gus's Original BBQ Sauce, just to name a few.
---
Receive your complimentary subscription and enter our weekly luxury sweepstakes

---
Guests craving something hot and hearty can enjoy the Smokehouse Chili prepared with Nebraska ground beef, cheddar cheese, red onion and pickled jalapeños, while others opting for
something a little lighter can go for one of Gus's Greens
such as the House Salad, Iceberg Wedge, Caesar Salad, Smoked Salmon Salad, Pulled Pork Tostada, Gus's Old Fashioned Cobb,Smoke Portobello Salad or BBQ Seared Steak.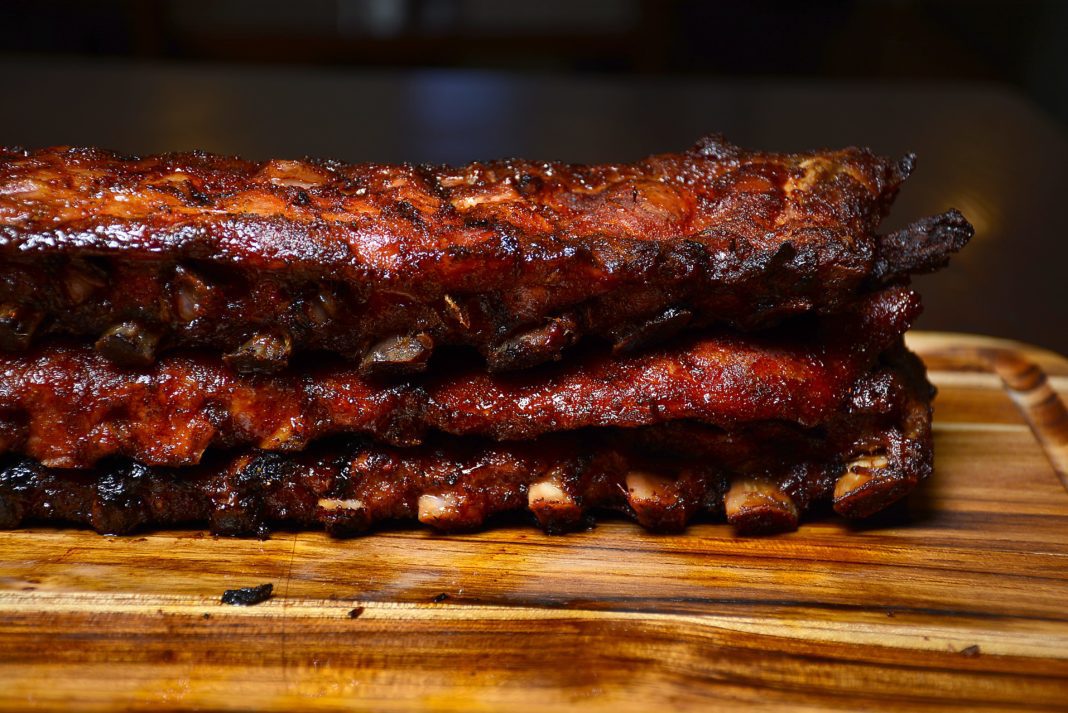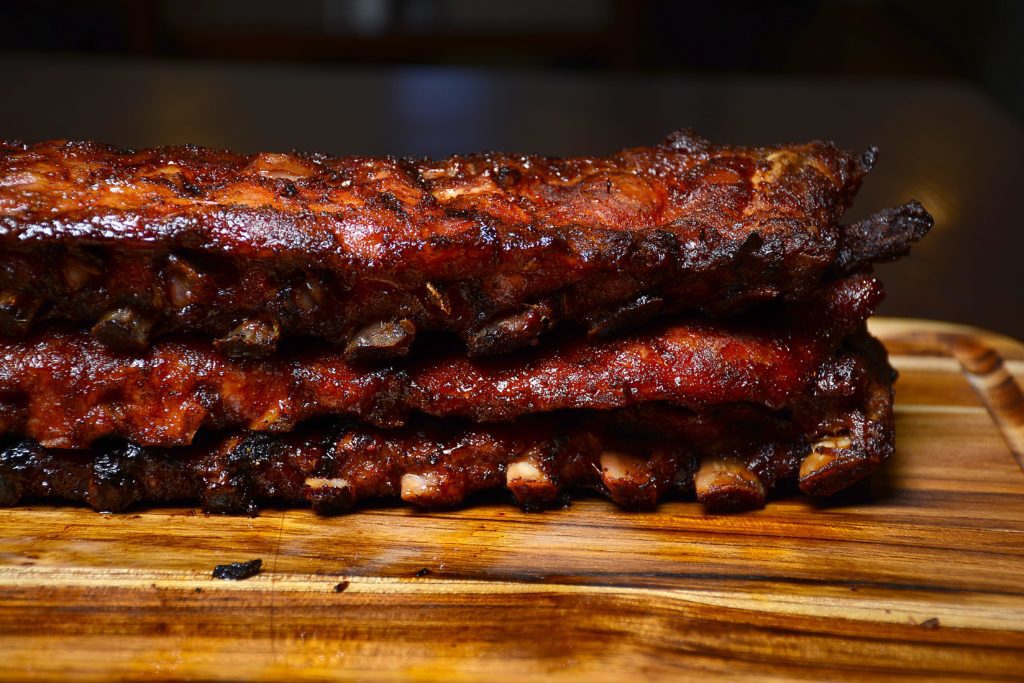 Gus's Real Pit BBQ is everything a BBQ lover dreams of
including delectable selections such as Memphis Baby Back Ribs, BBQ Brick Chicken, Texas Beef Brisket, St. Louis Spare Ribs,Peppercorn Crusted Tri-Tip, Smoked Sausage, and Carolina Style Pulled Pork, each seasoned overnight and then smoked low and slow for up to fourteen hours over whole pecan logs in order to create Gus's signature smoke flavor.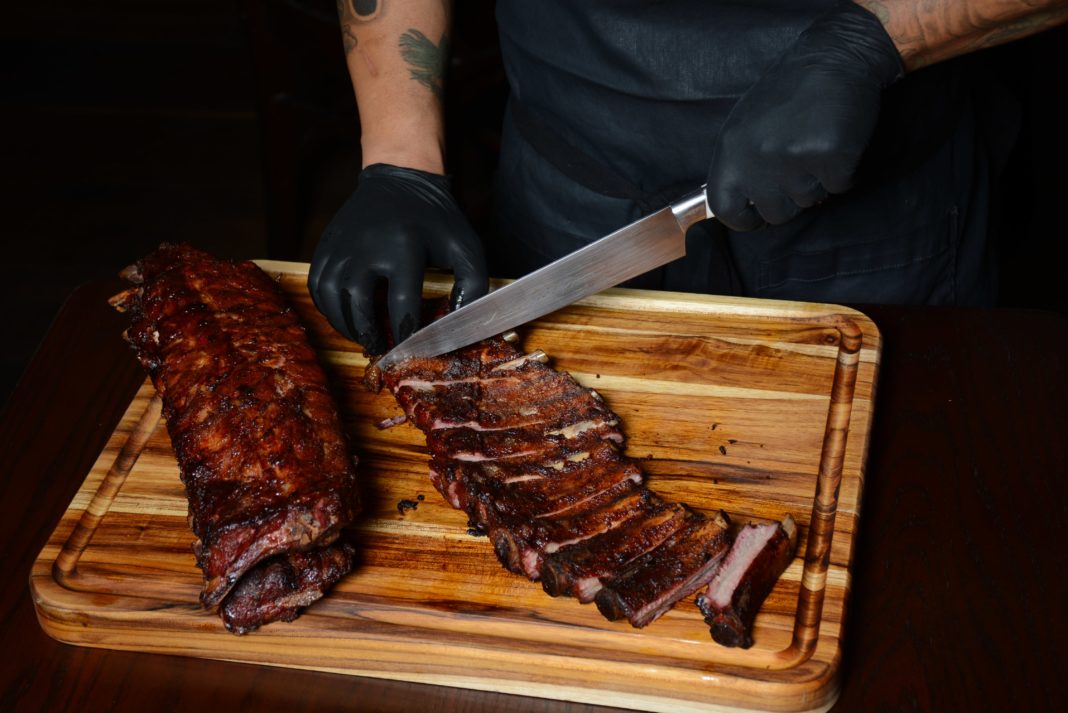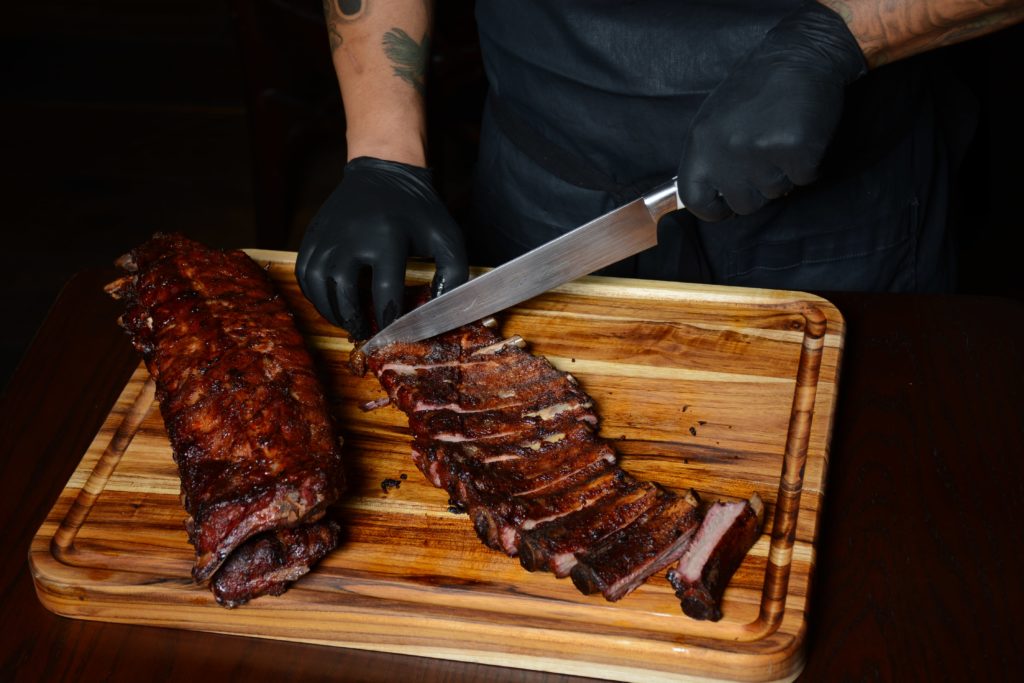 Guests will rejoice as each of these BBQ specialties come with a choice of
Two Sides featuring Gus's signature favorites:
French Fries, Sweet Potato Fries, Cole Slaw, Dirty Rice, Mac N' Cheese, BBQ Baked Beans, Creamed Corn, Braised Southern Greens, Roasted Garlic Mashed Potatoes, Red Skin Potato Salad, Jalapeño Cheddar Grits, Louisiana Red Beans & Rice, and Seasonal Vegetables. The Southern Kitchen offers up time-honored Southern staples such as Southern Fried Chicken, Jack's Mac and Cheese, Nashville Hot Chicken, Fried Catfish & Chips, Chicken Fried Steak, Gumbo, Shrimp & Grits, and everyone's favorite Fried Chicken and Waffles.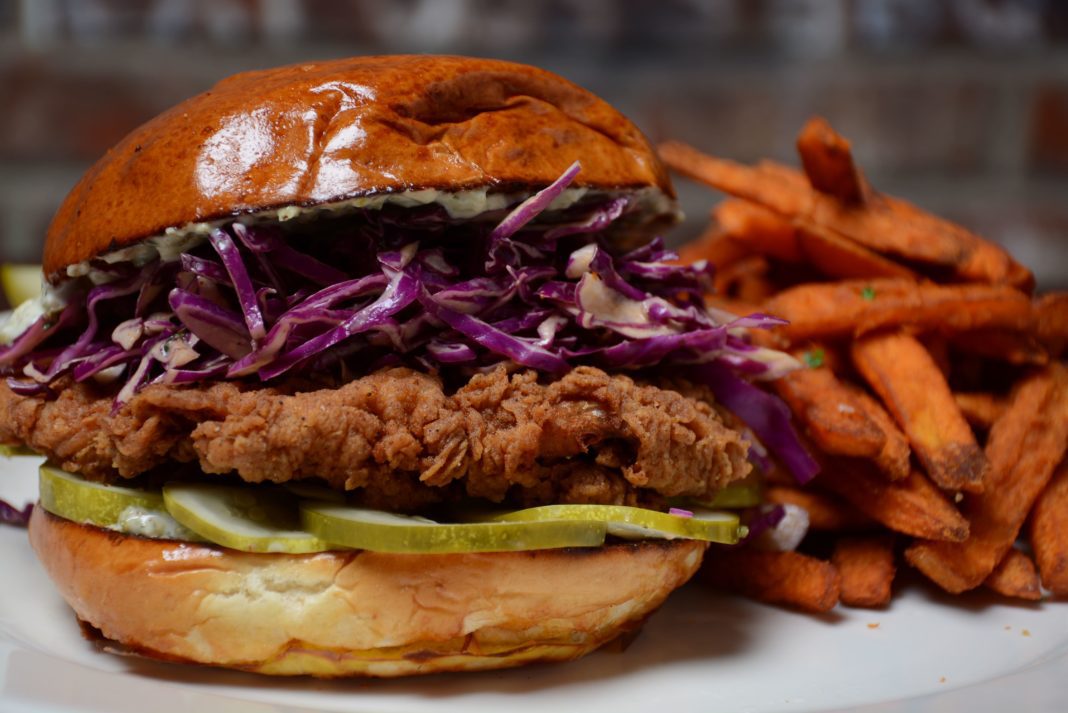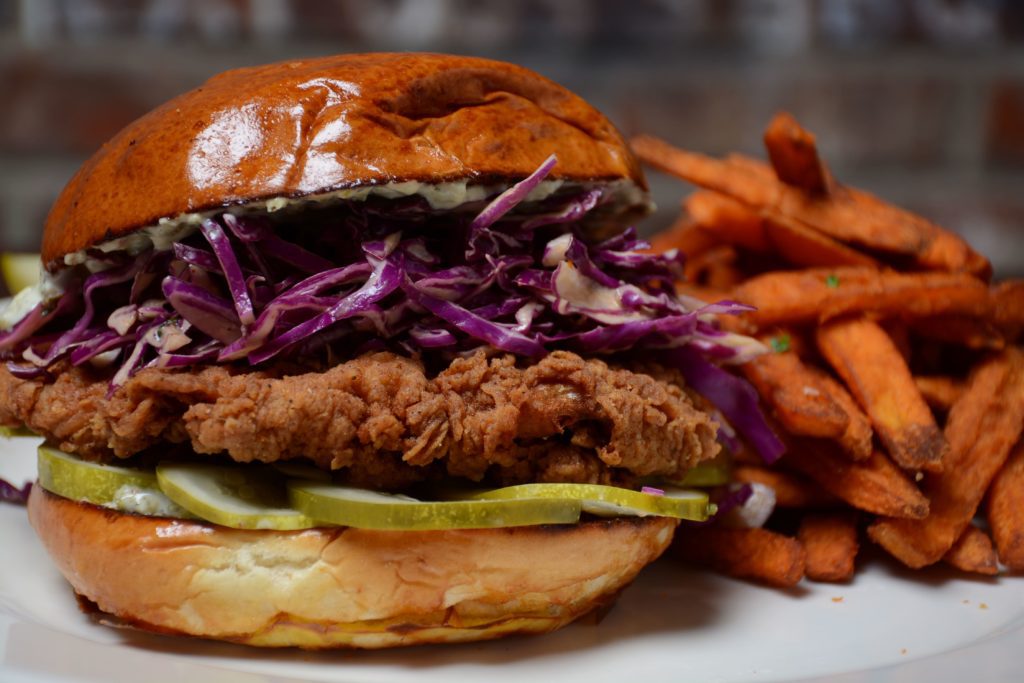 Gus's Sandwiches
are definitely something to savor with selections like the Carolina Style Pulled Pork, Texas Beef Brisket, Rib Sandwich, Smoked Pastrami Sandwich, Smoked Tri-Tip Caprese, BBQ Chicken Sandwich, Gus's Fried Chicken Sandwich, Cajun Catfish Sandwich, Smoked Turkey Sandwich, and Smoked Turkey Melt.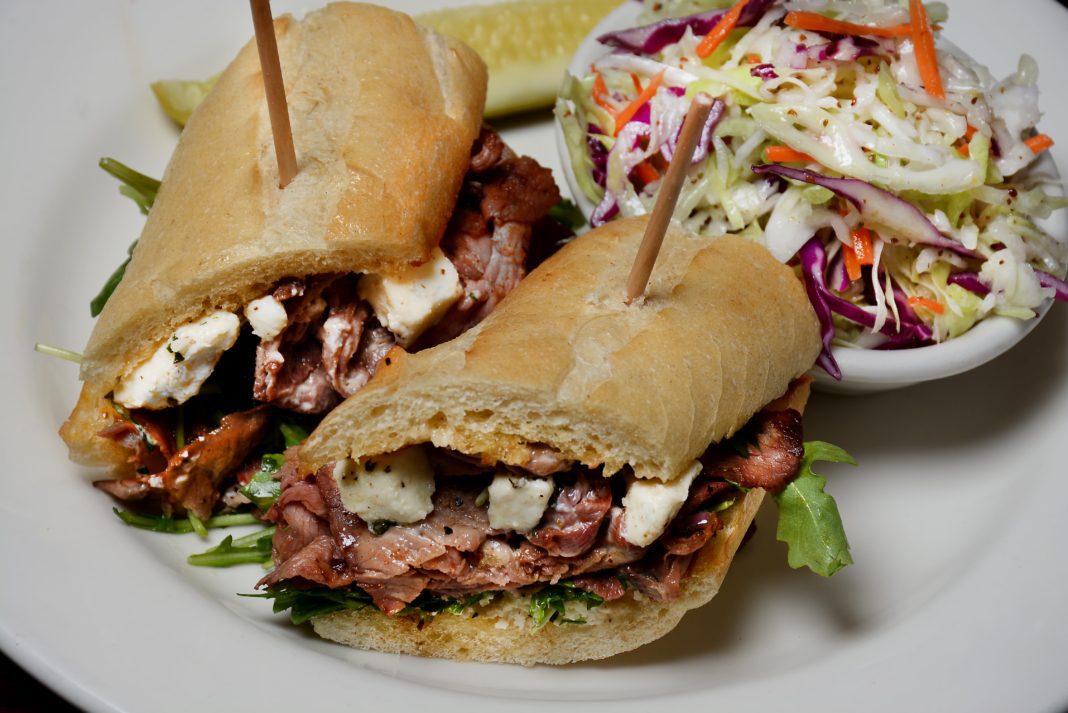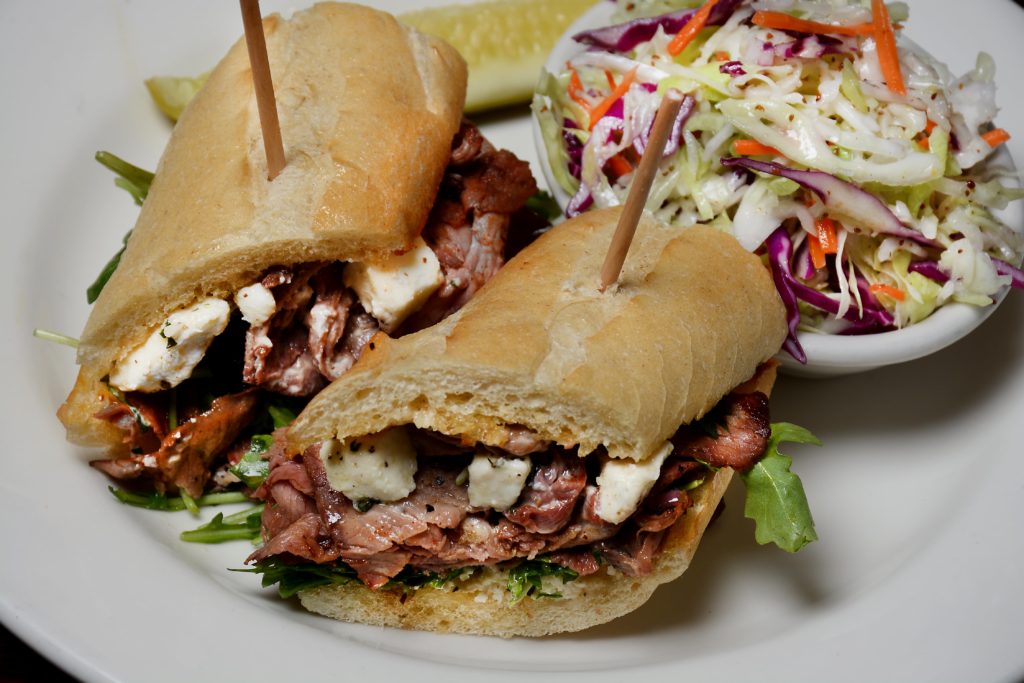 The Burgers are a meat-lovers paradise
as Gus's Barbecue offers Gus's Famous Burger, The All American and the Brisket Burnt End Burger, each made with the highest quality Nebraska chuck served on a freshly baked bun with a sliced pickle and choice of French Fries, Sweet Potato Fries, Potato Salad, Cole Slaw, or BBQ Baked Beans.
For those that want to forego meat,
Gus's Barbecue has got it covered with The Vegetarian burger
served with the same choice of Sides.
Lastly, Desserts are a must at Gus's Barbecue
so save some room for an irresistible Southern sweet such as the Orange Bourbon Pecan Bar, Warm Chocolate Brownie, Red Velvet Cake, Blueberry Biscuit Cobbler, Old School Sundae, two scoops of Fosselman's Ice Cream, or sip one of Gus's Root Beer Floats, Hand Scooped Shakes, or Malts.
There are libations for every palate at Gus's Barbecue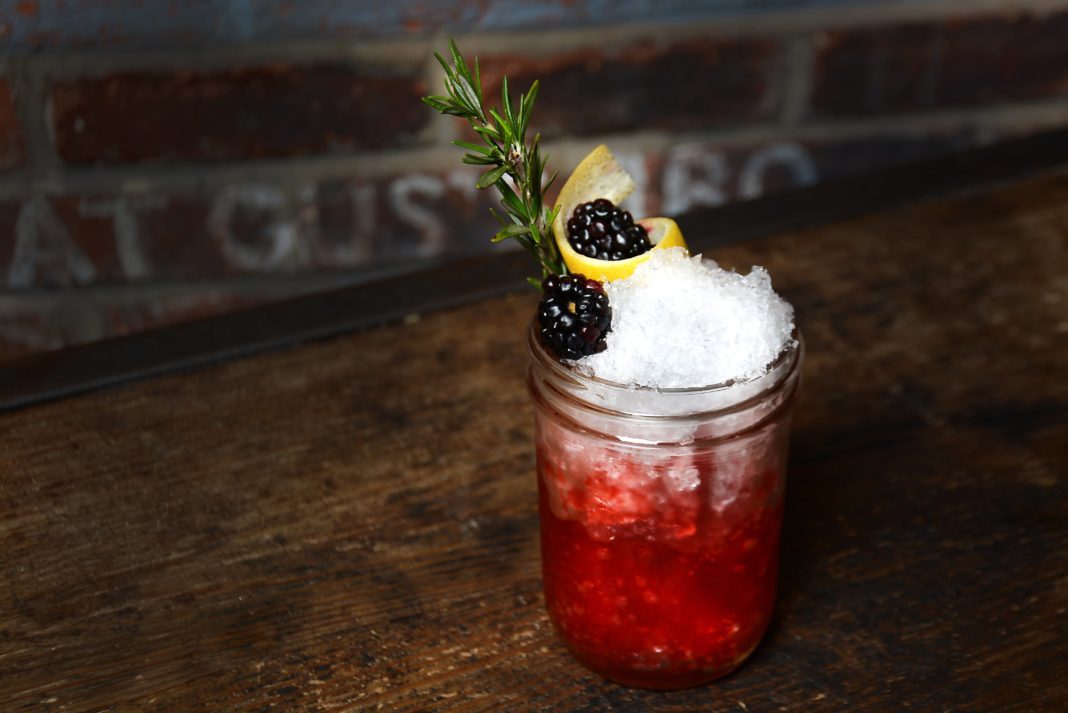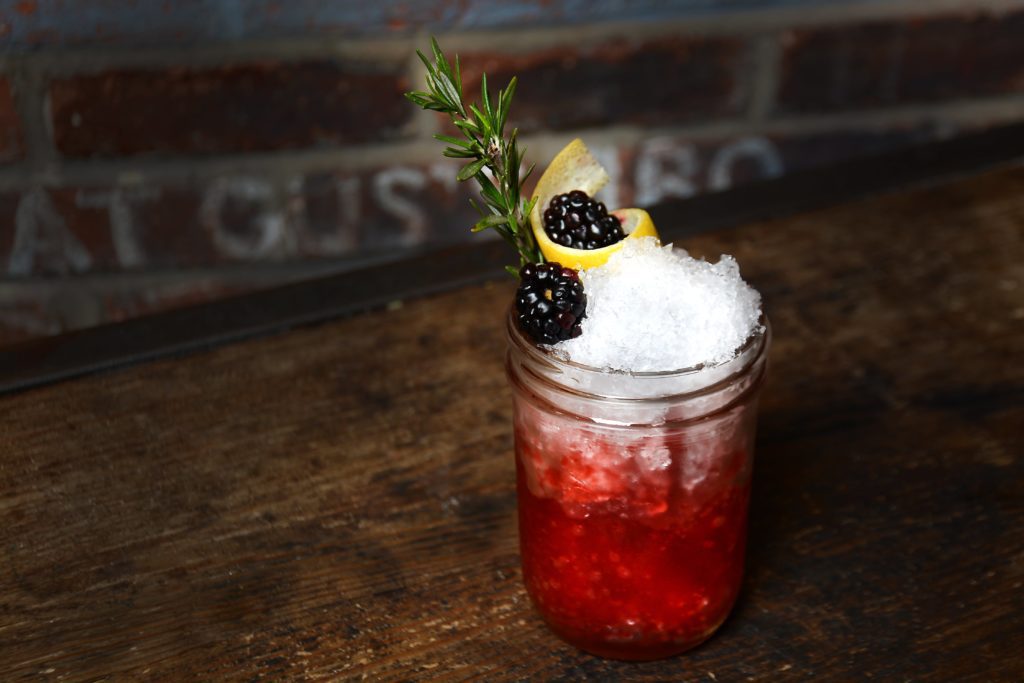 like the West Coast Old Fashioned comprised of Breaking & Entering American Whiskey, scotch ale reduction, dry cherry, Angostura and orange bitters; the Smoker In The Rye made with El Silencio Mezcal, Rittenhouse Rye, Aperol, and Amaro, and On The Porch prepared with vodka, watermelon shrub, honey, ginger beer, lemon, and mint. The Southern Sangria prepared with red wine, peach liqueur, and bourbon is refreshing while the Fix'n For Blackberries made with Buffalo Trace Bourbon, lemon juice, rosemary, mesquite BBQ, smoked ginger, and blackberry is savory and unique. There is nothing as delightful as Bourbon & Peaches made with bourbon, Crème de Pêche, black tea, lemon, and honey.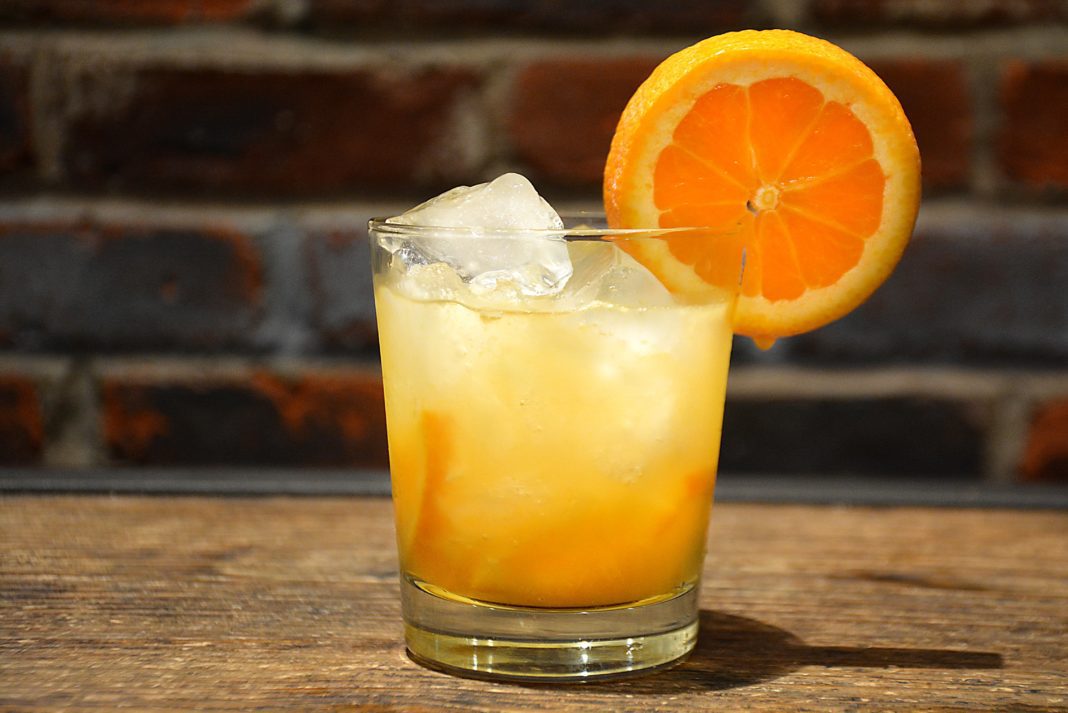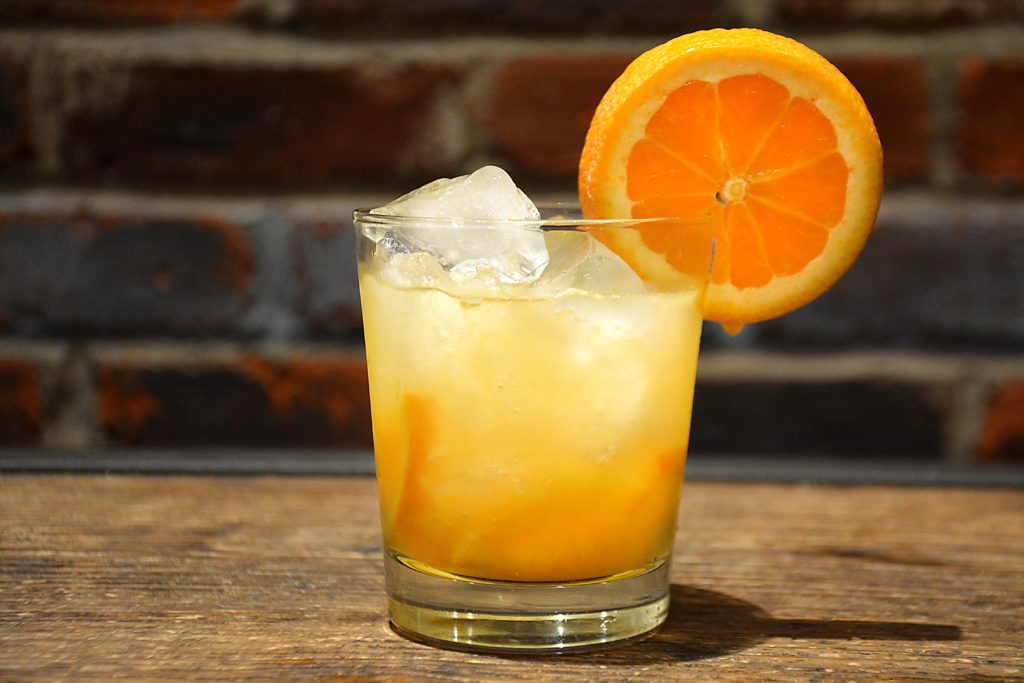 As a tribute to this new third location, the Gus's Barbecue Bar Team have created the Porter Ranch Sour prepared with Gus's Private Reserve Bourbon, rye, lemon, egg white, and a red wine float and for guests searching for something stronger are sure to find the perfect sip with Gus's impressive range of whiskies. Wine aficionados can savor a selection of varietals, including Sparkling & Rosé, White and Red Wine, and a list of local Craft Beers for every bite of BBQ.
Happy Hour
Gus's Barbecue offers an unprecedented Happy Hour every Monday through Friday from 3:00 pm to 6:00 pm with special beverage offerings such as $7 Well Drinks, $6 House Red or White Wine, $5 Select Draft Beers, $3 Canned Beer, $7 House Old Fashioned, $6 Southern Sangria, and $7 The American Mule. Gus's Barbecue also offers an abundant, appetizing, and affordable selection of Happy Hour Food including $3 Fried Pickles, $3 Spiced Pork Rinds, $4 Nashville Hot Tots, $4 Mini Carolina Pulled Pork or Texas Brisket Sandwich, $7 1/3 Rack of Memphis Baby Back Ribs or St. Louis Spare Ribs, $4 Brisket & Potato Taquitos, $6 Pulled Pork Nachos, $4 ¼ Wedge Salad, and $3 Deviled Eggs.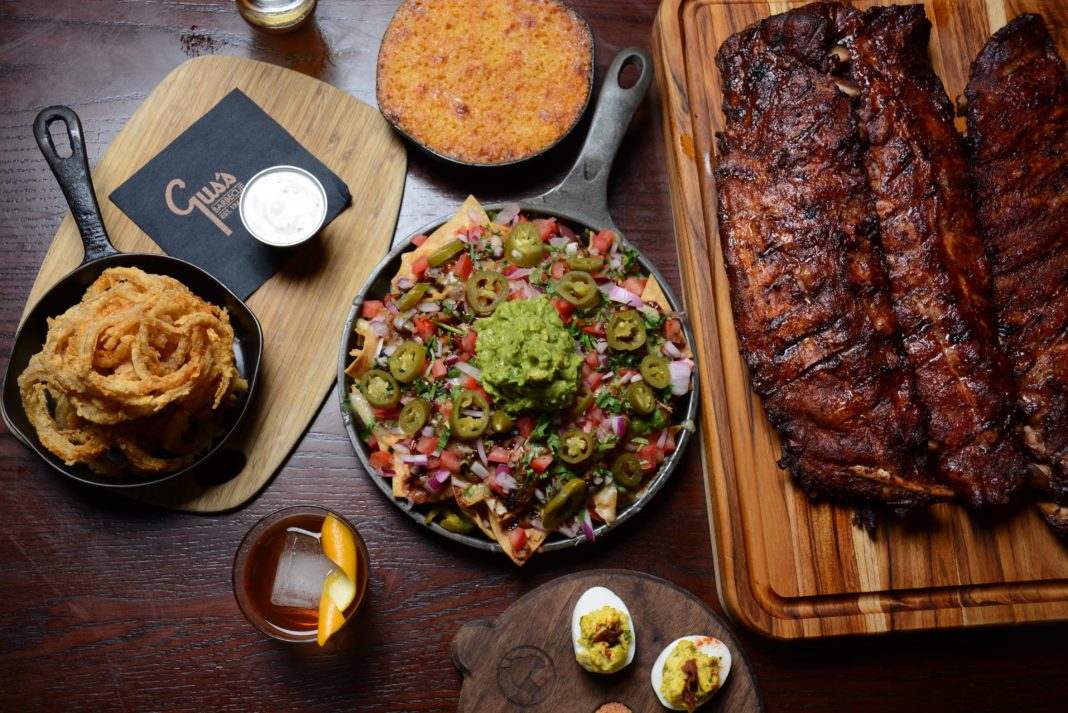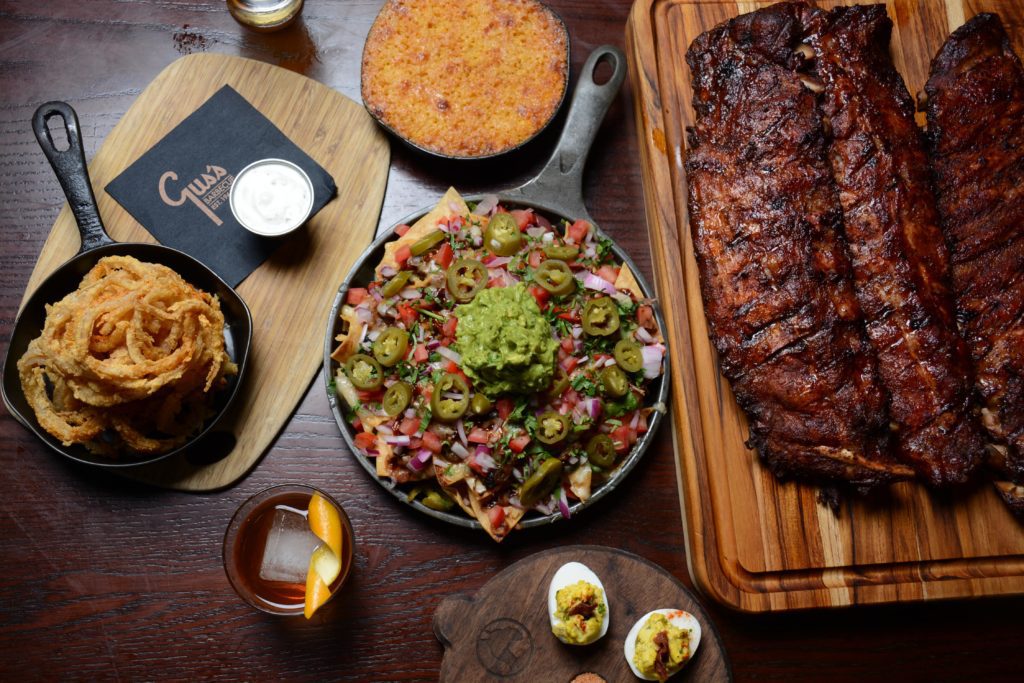 Gus's Barbecue's contemporary new Southern home at The Vineyards in Porter Ranch was designed by Kelly Architects, a Los Angeles interior architectural design studio specializing in restaurant, bar and nightlife projects.
Building on the success of the Gus's Barbecue design in Claremont, the challenge was to emulate the best of Claremont while adding interesting details, finishes, and graphic elements to enhance the Southern Hospitality feel all throughout the space.
The Kelly Architects team was able to rise to the occasion and achieve their goals by featuring the entry casework enclosed by large log cages, installing a specially designed large "GUS'S red channel exposed bulb fixture installed prominently over a center row of booths in the bar, adding double hung seeded glass windows encasing the display kitchen, and a pink neon piggy face flush in the dining room.
The Bar Patio takes advantage of the Southern exposure with a more relaxed feel and extended wood overhang, wood railing & timbers. The Dining Patio is designed as a screened dining porch with large plantation shutters.
So, come one come all and enjoy as Gus's Barbecue introduces authentic Southern BBQ and sincere Southern hospitality, all while celebrating their new community at Gus's Barbecue at The Vineyards in Porter Ranch!
Gus's Barbecue at The Vineyards in Porter Ranch will be celebrating their official Grand Opening on Saturday, February 8th, 2020 with Giveaways and Live Entertainment from 11:00 am to 2:00 pm, and Games (Corn Hole, Jenga, and Contact Four) from 11:00 am to 11:00 pm.
Gus's Barbecue at The Vineyards in Porter Ranch will be open every Monday through Thursday from 11:00 am to 11:00 pm; every Friday and Saturday from 11:00 am to 12:00 Midnight, and every Sunday from 11:00 am to 10:00 pm. Gus's Barbecue will also offer Happy Hour every Monday through Friday from 3:00 pm to 6:00 pm.
For information or reservations, please visit www.GussBBQ.com or call Gus's Barbecue at The Vineyards in Porter Ranch directly at 818.341.3000.