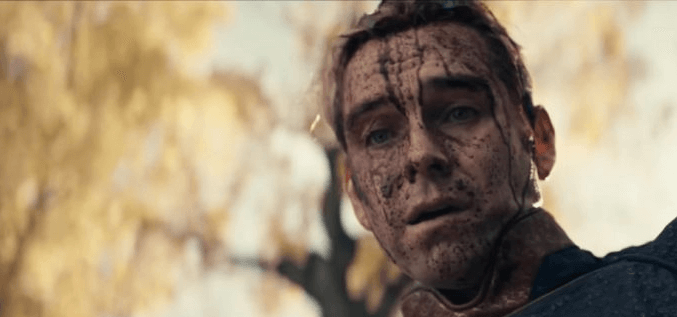 The first trailer for the second season of Eric Kripke's "The Boys" debuted at CCXP in Sao Paulo during the Amazon Prime Video board that included stars Erin Moriarty who plays Starlight; Karen Fukuhara who plays the Female; Jessie T. Usher who plays A Train and Antony Starr who plays Homelander.
The talk began with a live rock band presenting the performers and Starr turning out last like a rockstar, showering the group with a smoke gun.
The cast discussed their characters and thinking about season one and doing whatever it takes not to ruin season two. After their superhero talk, the audience went bananas as they introduced the new trailer which started with a bleeding Homelander flying in and taking a gander at something with a look of warmth and concern. The blood is no doubt from the finish of last season when he gave a fiery (and sad) goodbye to Madelyn Stillwell (Elisabeth Shue).
---
---
From that point, the trailer slices to a bunch of new content including A Train on life support and another with Starlight before a fan group, taking in paparazzi flashbulbs. We additionally get the opportunity to see flashes of The Female, Giancarlo Esposito's Mr. Edgar, Chace Crawford's The Deep, Jack Quaid's Hughie, Dominique McElligott's Queen Maeve lastly, Karl Urban firing firearms as Billy Butcher. At that point it just turns into an embroidered artwork of blood, savagery and R-crazed fun — which is basically on brand for The Boys. Missing from the preview are new characters including Patton Oswalt's secret role and Goran Visnjic as Alistair Adana, Aya Cash as Stormfront and Claudia Doumit as Victoria Neuman.
The Boys is set to make a big launch on a yet-to-be-declared date in 2020. It is co-created by Amazon Studios and Sony Pictures Television Studios with Point Gray Pictures, Kripke Enterprises and Original Film.