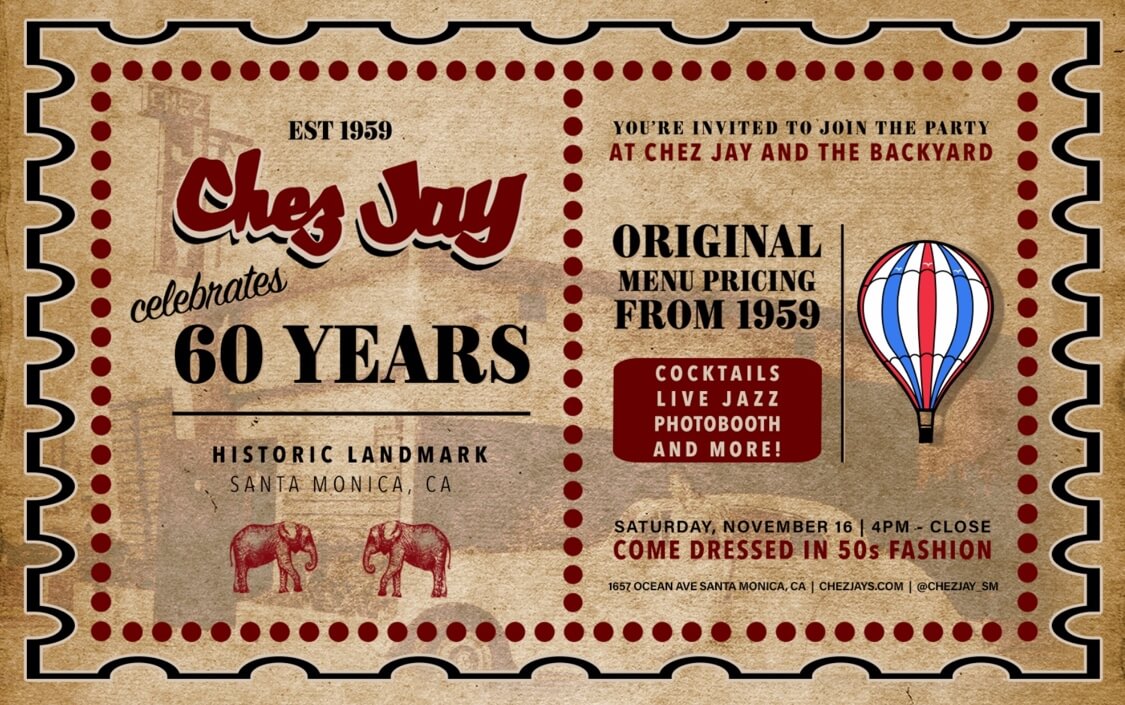 Santa Monica's legendary restaurant, Chez Jay, welcomes visitors to don their dapper 1950s duds and join the merriments as Chez Jay Celebrates 60 Years on Saturday, November 16, 2019 from 4:00 pm until Closing!
Chez Jay, situated in the center of Santa Monica on Ocean Avenue, is owned by Michael Anderson and now operated by his son, Owner Chris Anderson. Anderson joined his dad at Chez Jay roughly two years back as the General Manager where he had the pleasure of watching his dad in his ideal setting.
"There was definitely a steep learning curve when I first came on board," says C. Anderson, "but my dad is an excellent mentor and I learned about the importance of engaging with our guests."
The evolution of C. Anderson's job was consistent in the fact that he continues the quality and hospitality that Chez Jay is known for.
As the most recent leader of Chez Jay's legacy, C. Anderson thinks of it as his commitment to embrace both Chez Jay regulars and newcomers helping everyone feel welcome.
States C. Anderson, "Chez Jay is not just a restaurant, it is an experience:
it is in the stories, in the walls, in the service, and the interaction between staff and guests. Chez Jay is not a place where people sit on their phone; it is a second home where everyone is present and engaged with the people around them."
Along with his dad M. Anderson, C. Anderson is glad to invite visitors back to 1959 to observe Chez Jay's unbelievable 60-year history, with a 1950s Specially Priced 60th Anniversary Throwback Menu, Live Jazz, Featured Cocktails, Photo Booth, and more!
Having been in the kitchen at Chez Jay for more than 27 years, Chef Juan "Tony" De Arcos Sr. is the unique ingredient at Chez Jay, next to his cousin Chef Guillermo "Memo" De Arcos and now his next generation Tony De Arcos Jr. cooking inches away, making this a genuine family undertaking as father and child get ready for the Chez Jay's huge 6-0!
For one extraordinary night
visitors will have the chance to appreciate Chez Jay's 1950s Specially Priced 60th Anniversary Throwback Menu, which highlights select Entrees at their unique 1959 prices! Visitors can dive into a succulent steak like the New York Cut Steak ($5.95), Filet Mignon Béarnaise ($5.95), and Grenadine of Beef with Mushroom Sauce ($4.50), or appreciate some swimmingly flavorful seafood like the Shrimp Curry A L'indienne Rice Pilaf ($3.95), and Broiled Catalina Swordfish Béarnaise ($3.75), or have the best of the two universes with the Surf 'N' Turf, highlighting top sirloin and lobster tail ($6.95). Signature Sides will likewise be accessible to go with the throwback Entree, and remember to grin and say Cheesecake! This retro pastry never goes out of style, so leave space for a bite.
Live Jazz will play outside in The Backyard at Chez Jay, organized by Chris Anderson and Nataly Lopez with the insightful strategy to make a comfortable get-together for family, companions and long-time visitors of Chez Jay. The outdoor tables, love seats, Adirondack seats, fire pit, wine barrels, hanging vintage lanterns and string lights, huge canopy, and brilliant blue fence that backs up to Santa Monica's Tongva Park. Relax and swap stories from a period when cell phones were not around to catch each sizzling minute while appreciating the night's Featured Cocktails: Old Fashioned, Dirty Martini, Margarita, Gimlet, Cuba Libre, and the Manhattan, alongside an assortment of Wines, with special selections of Red, White, Rosé, Champagne and Sparkling.
Michael Anderson is very excited to share the secret of Chez Jay's prosperity:
"Chez Jay's success is three-fold: One, consistency in food and hospitality. Two, a lot of personality, and three, a lot of history." M. Anderson further expresses his gratitude for the integral relationship between Chez Jay and their guests in one succinct quote from the late, great Bob Hope: "Thanks for the memories!"
Chez Jay will celebrate their Chez Jay 60th Anniversary on Saturday, November 16, 2019 from 4:00 pm to Closing. Reservations will be restricted to 90 minutes for each table on this specific night. For more data or to reserve a spot, kindly visit www.ChezJays.com or call Chez Jay directly at 310.395.1741.