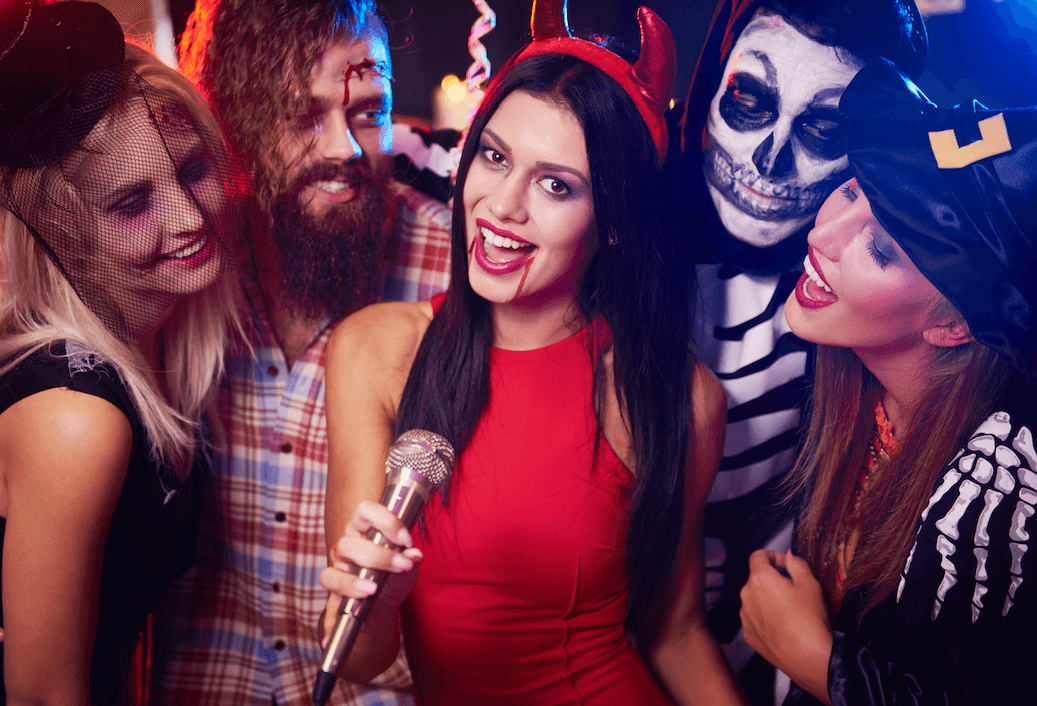 The world's largest Halloween street party, red-hot nightclubs, and costume balls at historic venues!
From the world's largest Halloween street party to theme parties at some of L.A.'s hottest nightclubs, coolest bars and grandest hotels, guys and ghouls can expect a scary good time on Halloween night.
All events are 21 and over unless otherwise noted.
West Hollywood Halloween Carnaval
santa monica and la cienega, West Hollywood 90069
The largest Halloween street party in the world happens in West Hollywood! Every year on Oct. 31, 500,000 people take to the streets of Santa Monica Boulevard to enjoy the wild costumes and uninhibited crowds at the West Hollywood Halloween Carnaval. The Carnaval features live entertainment on multiple stages, food vendors, and photo stations; and the bars along Santa Monica Boulevard feature drink specials and patio parties. Each year, the West Hollywood Halloween Carnaval culminates with the crowning of the Carnaval's Queen. Previous Queens of the Carnaval include Rihanna, Queen Latifah and WeHo businesswoman Lisa Vanderpump.
The West Hollywood Halloween Carnaval is an all-ages event. No alcohol will be served, but drinks will be available at participating bars lining Santa Monica. The Carnaval runs from 6-11 p.m. After the official party is over, most nearby bars and restaurants continue with the festivities until closing.
Voodoo Child – Upstairs at Ace Hotel
929 S. Broadway, Los Angeles 90015
213-623-3233
Free your mind with the spirit of Jimi Hendrix for a Halloween get down like no other! Taking place at Upstairs at the Ace Hotel, Voodoo Child features a stunning live performance by J Mozee and the funky sounds of the revolution with support by Novena Carmel, Frankie Muscles and Eddie Bermuda. Costumes are encouraged but not mandatory.
Cabaret de L'Enfer – The Edison
108 W. 2nd St., Los Angeles 90012
213-613-0000
Prepare to experience "the unique, the unusual and the wondrous" when The Edison resurrects the Dark Spirit of Halloween Past at the annual Cabaret de L'Enfer costume ball. The spectacular DTLA underground venue will will gather diabolical attractions and apparitions from across the globe, including aerialists, stilt walkers, tarot readers, dancers and more. Enter the famous costume contest and compete for cash prizes and Edison gift cards in four categories: Scariest Costume, Best Group, Most Inventive, and Funniest Costume. Must be present to win, audience applause will be a factor! Pre-sale General Admission tickets are $30, $35 at the door for guests in costume, and $40 without. Doors open at 7 p.m. To reserve your "plot," call (213) 613-0000 or email info@edisondowntown.com.
KSHMR – Exchange LA
618 S. Spring St., Los Angeles 90014
213-627-8070
Acclaimed DJ/producer KSHMR will be at Exchange LA as part of his North American Giant Tour. Support by Grlskout and Brian Matrix. Tickets at Eventbrite. Dress code is strictly enforced. No sandals or flip-flops, no shorts or baggy jeans, no plain white t-shirts or tanks and no sleeveless shirts. No hooded sweatshirts or jerseys. No baseballs hats or beanies. Jeans and tennis shoes are OK.
Haunted Hearts – Belasco Theatre
1050 S. Hill St., Los Angeles 90015
213-746-5670
On Halloween Night, the Desert Hearts family welcomes famed British DJ and producer Damian Lazarus to the Belasco Theatre for Haunted Hearts Los Angeles. This will be an unforgettable Halloween event revolving around the label's core values of house, techno, and love. Lazarus will be supported by Desert Hearts residents, Mikey Lion, Lee Reynolds, Marbs and Porky. The landmark venue will be completely transformed for this specially designed Haunted Hearts production. Tickets are now on sale at Resident Advisor.
Willy Wonka + Costume Ball – Los Angeles Theatre
615 S. Broadway, Los Angeles 90014
213-220-7708
Cinespia presents a "Scrumdiddlyumptious" Halloween Costume Ball! On Oct. 31, the Los Angeles Theatre in Downtown L.A. will be transformed into a candy palace full of luscious treats and lavish wonders, spun sugar figurines, and a chocolate factory in honor of Willy Wonka! Live music, a DJ dance party and sumptuous sights bring a sugar rush to DTLA with tricks and treats around every corner. Full bars on every level, a custom photobooth and special surprises will make this a Halloween bash to remember. Fabulous prizes await the winner of the costume contest, so get creative and grab your golden ticket today! Costume is required for entry.
The Curse of the Tiki – Clifton's Republic
648 S Broadway, Los Angeles 90014
213-627-1673
The gods of Tiki descend upon Clifton's Republic on Halloween night with a uniquely enchanting Zombie Tiki takeover! Don't miss The Curse of the Tiki as ghosts of the most haunting Pacific Seas adventurers possess Clifton's for a night of exotic spirits, entertainment from the Hula Girls, and a host of fiendish wonders. Let the Sirens lure you to their luscious playground to experience a dark land of mystery and Tiki mayhem. Tickets on sale at Nightout.
The Varnish
118 East 6th Street, Los Angeles 90014
Hidden inside Cole's French Dip, The Varnish is celebrating Halloween with a Friday the 13th theme on Halloween night. Come dressed as your favorite bloodied camp counselor and sip on a "Kill For Mommy" or a "Sex in the Woods." The sound system will be cranking a totally awesome 80s playlist – stay sexy and try not get to murdered by "Jason"!
"Thriller" Halloween Party – El Dorado
416 S Spring St, Los Angeles 90013
213-621-7710
One of Downtown L.A.'s favorite underground bars, El Dorado is hosting a "Thriller" themed Halloween party. Music by Lani Love, Dyanamix and Von Kiss. Doors at 8pm, free entry before 10:30pm with RSVP at Eventbrite.
Seven Grand
515 West 7th Street, Los Angeles 90014
213-614-0736
On Halloween night, Seven Grand is offering a special menu of Buffalo Trace cocktails, including the I'll Be Your Blackberry (Buffalo Trace Bourbon, Lemon, Simple Syrup, Blackberries) and the Resting Witch Face, made with Buffalo Trace Bourbon, Pumpkin Spice and Cold Brew Coffee. The Western-themed party also has a photobooth, saloon style games, and live music by the Debutantes. 3pm-2am, no cover.
Monster Hop – Resident
428 S Hewitt St, Los Angeles 90013
213-628-7503
The Arts District's popular live music venue and beer garden, Resident presents Monster Hop on Halloween Night. Hosted by Curtis Lundersmith, Monster Hop features a wicked night of cover bands: 13th Floor Elevators performed by members of Mystic Braves & The Creation Factory; Motörhead performed by Fauxtörhead; The Kinks performed by The Premonitions; and Gun Club performed by Moonlight Motel. "Haunted records" by Roger Mars and Rick Barzell. Best costume wins special prizes. $5 cover, presale tickets at Ticketfly.
Halloween Night with Guy Gerber – TAO Los Angeles
6421 Selma Ave, Los Angeles 90028
323-593-7888
For the first time in Los Angeles, TAO Restaurant transforms into a nightlife experience on Halloween Night, featuring a very special set by legendary techno DJ Guy Gerber. Be prepared to see TAO in a completely new way as he takes over the venue for a one of a kind Halloween show. Event is from 9pm-2am. There will be no food during the event. There will be bottle service and drinks at the bar. Costumes are encouraged with the exception of masks or fake weapons. Limited tickets and tables are available for purchase.
Masquerade & Costume Party – W HOLLYWOOD
6250 Hollywood Blvd., Hollywood 90028
323-798-1300
The W Hollywood Rooftop is hosting a Masquerade & Costume Party on Halloween Night. The party features DJs playing Open Format, House and Top 40 hits; haunting decor, and two areas to mingle – the Loft with spectacular views of Downtown L.A., and the Wet Deck featuring poolside cabanas and daybeds. There are numerous ticket options, including bottle service and group rates. For more info and to purchase tickets, visit whollywoodhalloween.com.
DRACULA DISCO ROYAL – THE SPARE ROOM
7000 Hollywood Blvd., Los Angeles 90028
323-469-7296
Located on the Mezzanine of the Hollywood Roosevelt, The Spare Room presents Dracula Disco Royal on Halloween night. Featuring groovy music by Lola Langusta, Haute Mobile Disco and friends. Nocturna, the granddaughter of Dracula, has returned to the public eye after she took over the Big Apple in 1979. After 39 years of beauty rest, she's back and has her heart set on making Hollywood forever young! Come dressed in your best costume yet to join Nocturna and her friends as they dance the night away. Doors at 10pm, RSVP at: rsvp@spareroomhollywood.com
Scary Monastery – THE ABBEY
692 N Robertson Blvd, West Hollywood 90069-5088
310-855-9977
On Halloween Night, enter the Scary Monastery at the world-famous Abbey in West Hollywood. General Admission tickets are $20 and include entry to The Abbey and The Chapel at The Abbey. Featuring DJ sets by Mickey C and Dawna Montell in The Abbey, and The Perry Twins at The Chapel. To avoid long lines on Halloween Night, buy your tickets online at The Abbey website and pick up your wristbands at The Abbey beginning Oct. 18 Tuesday-Friday from 11am – 6pm.
A Night To Dismember – Golden Road Brewing
5410 West San Fernando Road, Los Angeles 90039
Golden Road Brewing presents A Night to Dismember, a Halloween bash with food, beer, and scares. Featuring live music by Teenage Werewolves and Moving Units, psychic readings (tarot & palm), an exclusive haunt designed by Albert Reyes, and specialty brews. Costumes required. Rideshare is encouraged.
Free admission with Eventbrite RSVP + bring in one of these items: non-perishable food items, diapers, or feminine hygiene products. Alternately, pay $15 at the door and all proceeds go towards purchasing the above products. Collected goods will be donated to the Elizabeth House and LA Food Bank.