Cult-favorite Georgia's Restaurant has been serving up Southern "soul-delicious" cuisine for the past five years in Anaheim, while reimagining and redefining the public's perception of Southern Soul Food. Now, Georgia's Restaurant is extending their family and celebrating their fifth anniversary with the Grand Opening of their second location at the new Long Beach Exchange (LBX) on Thursday, July 18th, 2019 starting at 4:00 pm!
Georgia's Restaurant does not stem from the deep south, but instead a suburb of Philadelphia where high school sweethearts Gretchen and George Shoemaker decided to leave the Keystone State and head west, settling in Lake Forest, CA.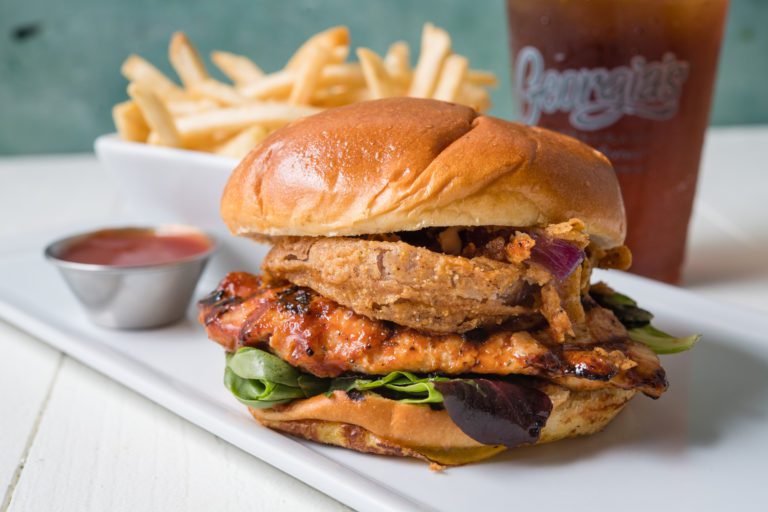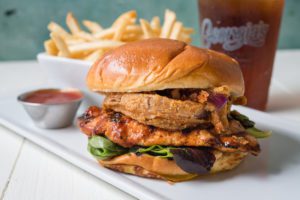 ---
---
---
---
It was in their home, where George and Gretchen raised their three daughters, that Gretchen began her successful catering business built on family recipes that delivered a true home-cooked experience. Early every morning, Gretchen would rise to get a start in the kitchen with George by her side playing sous chef, as tunes of Teddy Pendergrass wafted through the air, harmonizing with the sweet and savory aromatics of Gretchen's Southern soul cuisine. Then, after the untimely passing of George Shoemaker in the early 1990s, everything came to an abrupt halt as the Shoemaker family rallied around one another and Gretchen's catering business was put on hold.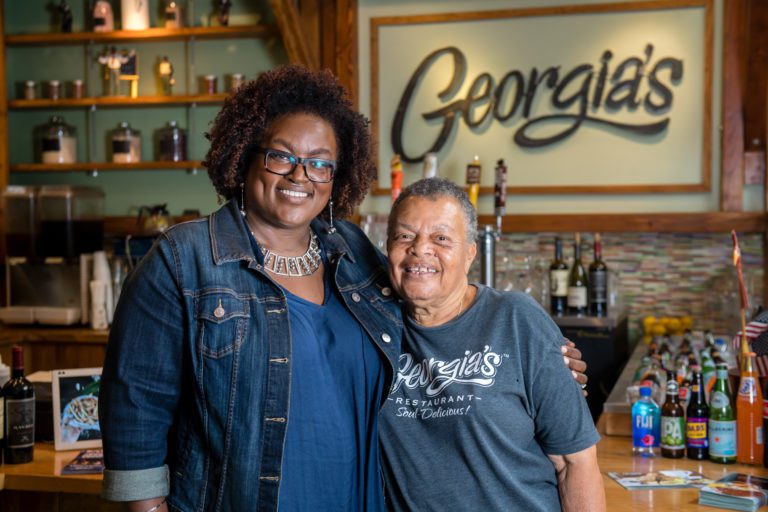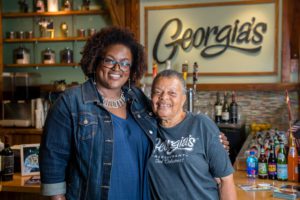 Twenty years later, with all three daughters grown, second daughter Nika Shoemaker-Machado and her husband Marlon Machado approached Gretchen, now known to most as Nana, to all come together and fulfill her lifelong dream of sharing her food on a much grander scale than ever before and they introduced Georgia's Restaurant, a Southern Restaurant that celebrates authentic Soul Food, while sharing Nana Gretchen and the Shoemaker family's story of survival, community and love.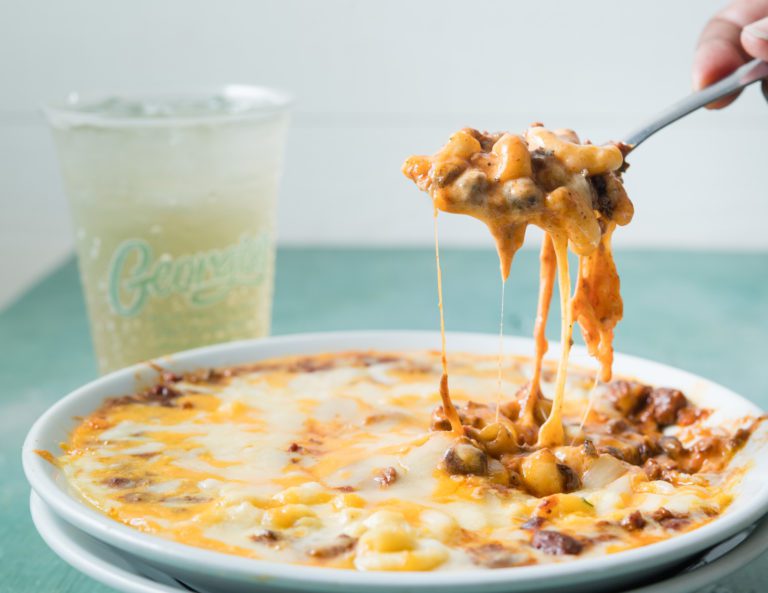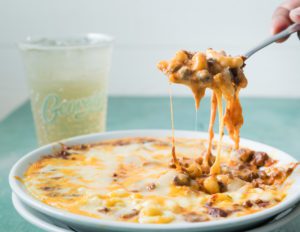 Named in loving memory of patriarch George with the addition of a single letter from each daughter's name, the first Georgia's Restaurant in the Anaheim Packing District became a fast-casual restaurant specializing in Southern comfort food for the soul. "Georgia's Restaurant has given my mother a whole new zest for life," says Co-Owner Nika Shoemaker-Machado. "Over the last five years, I got to know my mom all over again as she blossomed and reacquainted herself with the joy of sharing her food with new and returning guests." Mother and daughter both firmly believe that it is the little touches that keep their dedicated guests returning for another helping, like the real tableware and cutlery used for dine-in guests, and the authentic conversations generated when any or all of the three owners are at the restaurant, particularly Nana Gretchen, whose affection has earned her the nickname, The Hugger. "We are committed to ensuring that Georgia's Restaurant captures the feeling of having a meal in our home," adds Nika. Now, Georgia's Restaurant makes Long Beach their second home at the new burgeoning Long Beach Exchange (LBX) where they will be offering guests new opportunities such as dining al fresco on the new patio, and much more.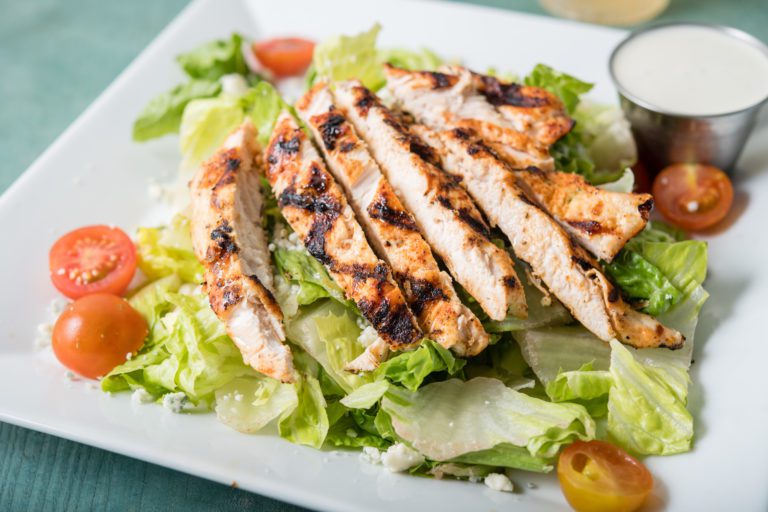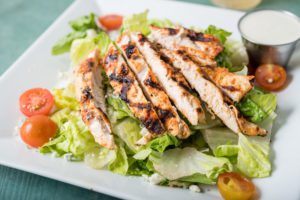 The Georgia's Restaurant Menu is undoubtedly a family affair with recipes originating from generations past, adapted, and updated by the present. Guests can start their fabulous feast with an array of Small Bites such as the Piggy Cheese Fries, comprised of crispy fries loaded with slow roasted BBQ pork; Nana Gretchen's Fried Green Tomatoes made of crispy coated fresh green tomatoes with a lemon aioli, or the finger-licking Chicken Wings, served with a choice of lemon pepper, spicy, mild, crispy, or Georgia's Restaurant's signature BBQ seasoning. For those that love their greens, there is a selection of four bountiful and beautiful Salads starting with the vegetarian friendly Georgia's House served with spring mix, red onions, tomatoes, and candied pecans; Seafood lovers can rejoice with the Shrimp Salad served with spring mix, roasted corn, red peppers, red onions, tomatoes and a mango sauce; the Tri-Tip Salad bridges the best an omnivore can eat, made with grilled-to-order 1855 Premium Black Angus Choice tri-tip, spring mix, blue cheese, red onions, tomatoes, red peppers and Mandarin oranges, or stay healthy without sacrificing any flavor with the Georgia's Blue featuring grilled blackened chicken, blue cheese crumbles, romaine lettuce and tomatoes.
For something a little more substantial, Southern Soul Food lovers can Plate-Up with Georgia's Restaurant signature Fried Chicken, a marriage of cultures which begins with Co-Owner Marlon Machado's Brazilian buttermilk brine and ends up with a seasoned crispy cornmeal crust courtesy of Nana Gretchen's very own grandmother. A personal favorite of Nika, the succulent Smothered Pork Chops are hand-tossed, pan fried, and covered in bacon gravy. "Most people are compelled to lick the plate clean," says Nika. Satisfy the inner carnivore with dishes such as the St. Louis BBQ Ribs, a half rack of slow roasted pork ribs in Georgia's Restaurant signature house-made BBQ sauce, or the grilled-to-order 8 oz 1855 Premium Black Angus Choice Tri-Tip, or the swimmingly delicious Fried Catfish which is farm raised and prepared with a Creole seasoned cornmeal crust. Additionally, each plate is served with a choice of two of Georgia's Restaurant delectable Soulful Sides featuring Southern favorites: Red Beans & Rice, Collard Greens, Black-Eyed Peas, Baked Beans, Coleslaw, Potato Salad, Mac & Cheese, Mashed Potatoes, Garlic Rice, Corn on the Cob, French Fries, and Nana Gretchen's famous Cornbread served with house-made honey butter.
Fans of Georgia's Restaurant and newcomers alike can also order up and enjoy one of Georgia's Specialties such as Gretchen's Jambalaya cooked to order with shrimp, andouille sausage and chicken, served over pasta or rice, or the Louisiana Tilapia & Shrimp made of spicy grilled tilapia and shrimp, with tomato Creole sauce served over rice. For the best of both worlds, the Chicken & Waffle is sweet and savory, featuring Georgia's Restaurant signature Fried Chicken on a Belgian Waffle, served with maple syrup and creamy honey butter.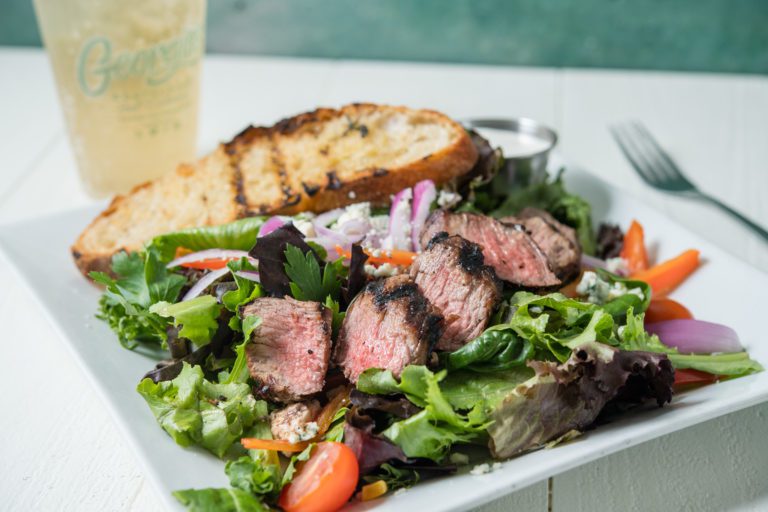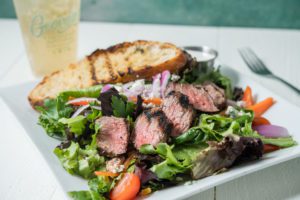 True Southern aficionados can dig right into one of the delicious tried and true Bowls such as the Hoppin' John served with slow simmered black-eyed peas and deboned smoked turkey neck, or the sinfully delectable Chili Mac featuring golden creamy mac and cheese, and homemade chili. Or, guests can get their hands on one of Georgia's RestaurantSandwiches such as the Spicy Andouille Po'Boy, with shredded lettuce, tomatoes, dill pickles, garlic mayo and Dijon mustard, served on a French roll. Do not be afraid to lick your fingers after enjoying the Pulled Pork made with slow-roasted, gently pulled pork, signature house-made BBQ sauce, and coleslaw on organic brioche, or savor the BBQ Chicken on organic brioche with signature house-made BBQ sauce, onion straws, spring mix, and sliced tomatoes.
Guests can also wet their whistles with a selection of Soda, Iced Tea, Signature Peach and Seasonal Sangria, Red Wine and White Wine by the glass or the bottle, and craft bottledBeer to complement each and every dish.
Lastly, Desserts are not to be missed at Georgia's Restaurant and guests will be able to choose from selection of Nana Gretchen's "soul-delicious" sweet endings such as the Peach Cobbler, Sweet Potato Pie, Lemon Cake, or Pound Cake with a side of house-made à la Mode upon request.
So, come join Nana Gretchen, Nika Shoemaker-Machado and Marlon Machado at the Grand Opening of  Georgia's Restaurant at the Long Beach Exchange (LBX) this coming Thursday, July 18th, 2019 from 4:00 pm to 9:00 pm, where they will be serving up their Pulled Pork Sliders for just $2.25 each (limit three per person), and guests can dig into Nana Gretchen's Southern "soul-delicious" cuisine where her philosophy is as earnest and welcoming as her famous hugs: "So long as there is love put into what you're cooking, anything can be soul food!"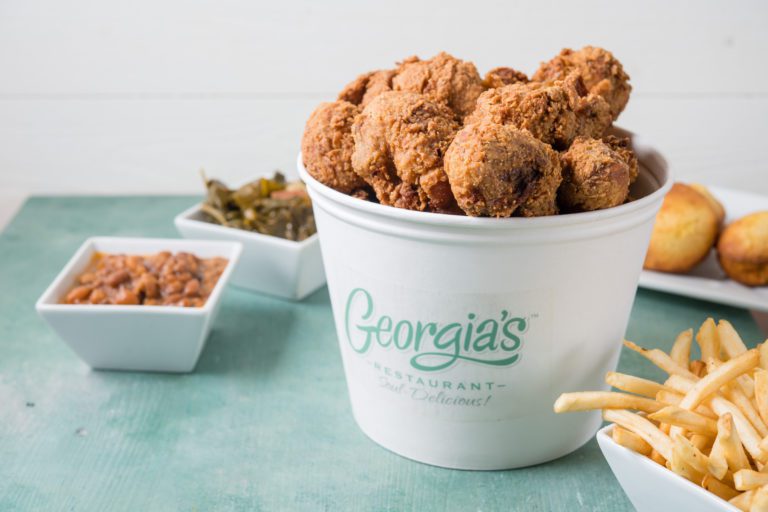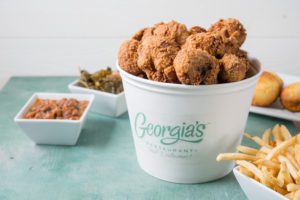 The Georgia's Restaurant Grand Opening will be on Thursday, July 18th, 2019 from 4:00 pm to 9:00 pm. Starting on Friday, July 19th, 2019, Georgia's Restaurant will be open every Monday through Thursday from 11:00 am to 9:00 pm; every Friday from 11:00 am to 10:00 pm; every Saturday from 9:00 am to 10:00 pm, and every Sunday from 10:30 am to 9:00 pm. For more information, please visit www.Georgias-Restaurant.com or call Georgia's Restaurant directly at 562.420.5637