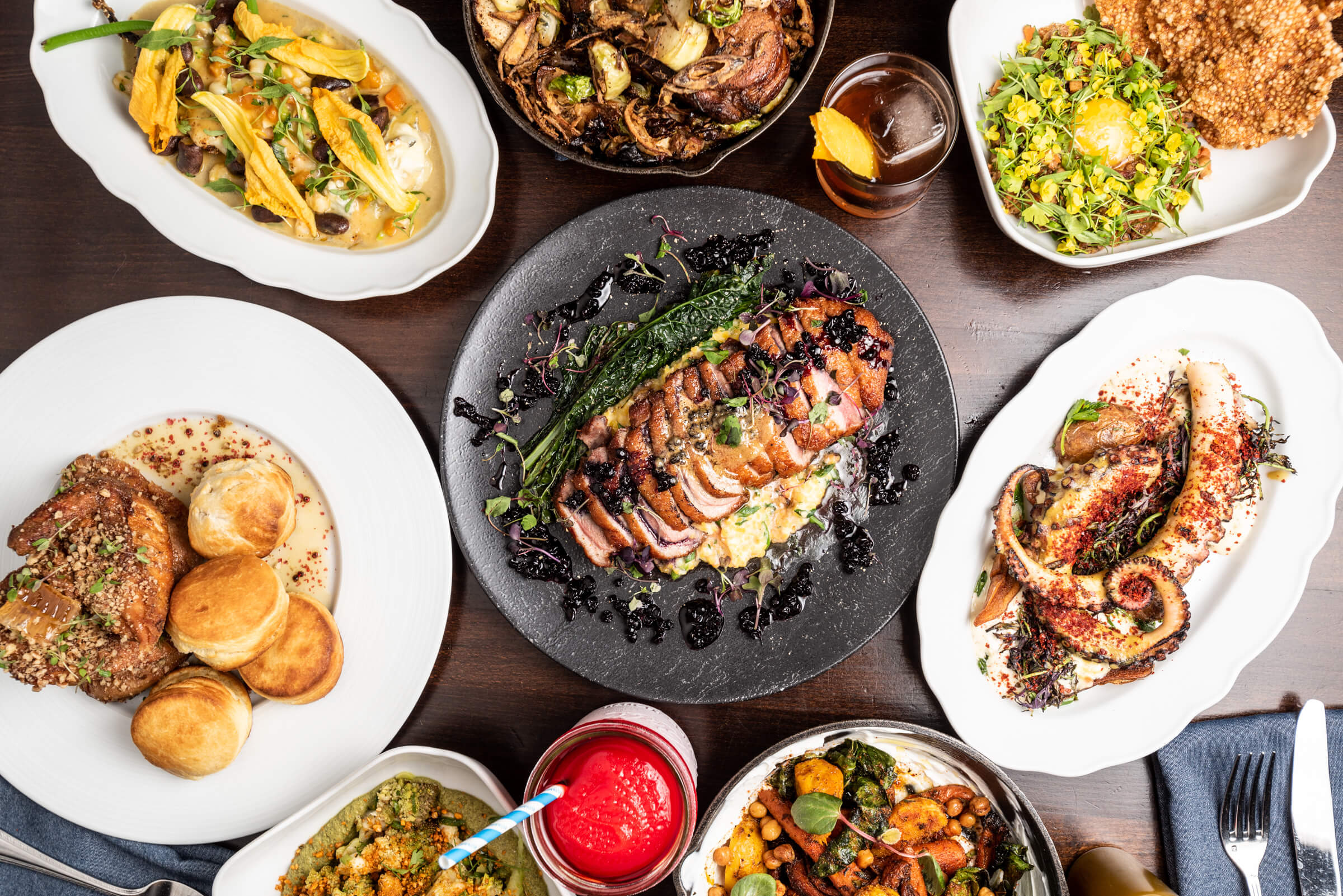 Get a jump start on Summer 2019 at Preux & Proper, L.A.'s preeminent Southern house, where guests can taste the rich tapestry of the South as Preux & Proper presents "Sammy's Cookout" every Thursday Evening officially starting Thursday, June 6th, 2019 running all Summer long!
Executive Chef Sammy Monsour entreats guests to delve into one (or more!) of his time-honored Funky Treats for the Table with offerings such as the Spam Fries featuring a whole can of Spam with pineapple chipotle ketchup, or the Candied Yams with cinnamon-churro marshmallow, crushed pecans, grate nutmeg and butter.
The Picnic Salads offer guests the opportunity to stay green without sacrificing flavor as they enjoy the Watermelon Cucumber dressed in mint, basil, lime, cilantro, extra virgin olive oil  and smoked Maldon sea salt, or Pop's Wedge Salad comprised of baby iceberg, bacon ends, scallions, heirloom tomatoes, Humboldt Fog and buttermilk dressing.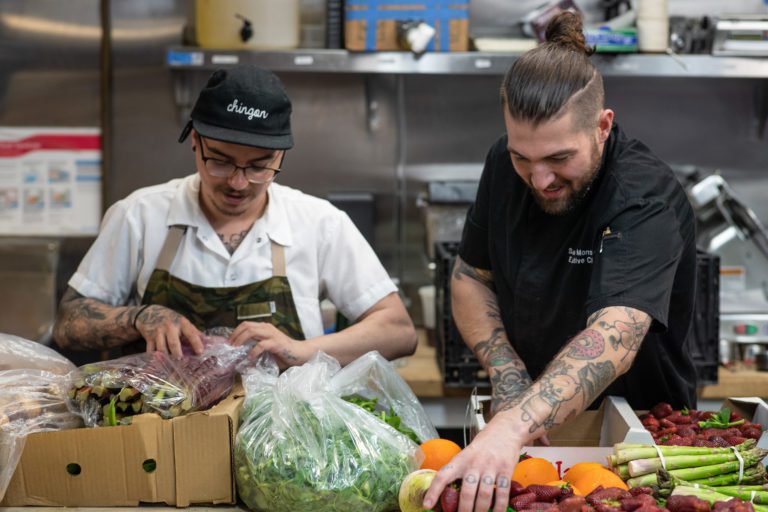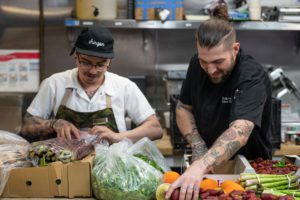 The Sandwiches are each served on a buttered bun with cookout slaw and pickles, with savory selections like the Nashville Hot Chicken; the Eastern NC Style Pulled Pork, BBQ Beef Rib Ends, or the Fried Wild Gulf Rock Shrimp. Each of Tone's Fried Seafood Baskets including the Black Tiger Shrimp, Willapa Bay Oysters or Mississippi Catfish are cornmeal crusted and crab boil seasoned, and served with Fries, Slaw, red remoulade and spicy ketchup. Can't decide which pond to fish from? Go for all three with the Big Dog Platter plus the Dungeness Crab Hushpuppies and all the fixins.
Hankerin' for some stick-to-your ribs comfort food? Look no further than the Meat & Poultry section with offerings such as the Colorado Lamb Ribs with Jamaican jerk rub, passionfruit, BBQ and Nate's pickled watermelon rind; the Fried Game Hen with Lowcountry seasoning, buttermilk dressing and garden herbs, or Nate's Nashville Hot Rabbit featuring brioche, house pickles, celery root and fennel slaw. Serving 8 to 12 guests, the succulent 18-Hour Bone-In Pork Shoulder is large enough for the whole kith and kin, so don't be shy to saddle up. No Sammy's Cookout is complete without Que Side Joints like the Lowcountry Baked Beans with Sea Island reds, smoked meat scraps, holy trinity and blackstrap molasses; the Braised Collards with allium stock, jalapeño, garlic confit and butter, or the Baked Mac Cheese, comprised of orecchiette pasta, scallions, Turbodog Ale and Cabot extra sharp cheddar.
Lastly, y'all better save room for Dessert and make way for some Banana Puddin' featuring candied walnuts, Nilla wafers, toasted coconut, bananas, banana pudding and banana rum dulce de leche, or Maria's Strawberry Shortcake served with angel biscuits, homemade strawberry rhubarb jam, brown butter solids, Fosselman's vanilla ice cream and lemon verbena.
There is also a lovely libation for every palate featuring Beverage Director Kassday Wiggins' House Cocktails like the Punk Evans comprised of Effen Vodka, lemongrass, ginger, and frozen watermelon balls. So delicious it is criminal, the Alabama Slammer features Buffalo Trace Bourbon, Sipsmith Gin, yellow chartreuse, lemon, lavender, and grape soda; while the Texas Two-Timer is made with P&P El Tesoro Reposado, lime, cane sugar, and mint.
Heaven has nothing as delightful as the Hells Bells made with Real Mccoy Rum, ginger peach tea, and lemon. At a 115-proof, the P&P Old Fashioned is not for the weak and is comprised of P&P Knob Creek Single Barrel Rye, cane sugar and bitters.
Guests preferring Wine will have an array of vintages to unwind with, beginning with Bubbles & Rosés such as the Cava Brut Rosé Campo Viejo Rioja, NV or Chateau La Gordonne, Provence, 2016. The Whites begin with California selections like The Whip, Murrieta's Well, Livermore Valley, 2014 or the Sauvignon Blanc Charles Krug, Napa Valley, 2017 and round off with the Spanish Albarino Ramon Bilbao, Rias Baixas, 2017.
There is nothing like a bold glass of Red, with choices such as the Petit Sirah True Grit, Mendocino, 2015, or the Malbec Diseno, Mendoza Argentina, 2016, or the Pinot Noir, Sokol Blosser "Evolution," Willamette, 2017. The range of Ice-Cold Beer proves there are cold craft suds for every BBQ, while the Whisky Flight is for guests looking to make their Thursday evenings incredibly special as Preux & Proper features four special select 1 oz. pours including P&P Makers Mark Private Select, Pappy Van Winkle 12 YR, the P&P Knob Creek Single Barrel Rye, and Bookers 30 YR.
Summer has officially begun at Preux & Proper, so come savor their brand spankin' new "Sammy's Cookout" every Thursday evening, all Summer long!
"Sammy's Cookout" will be held at Preux & Proper every Thursday evening all Summer long from 5:30 pm to 10:00 pm. For more information on "Sammy's Cookout" or for reservations, please visit www.PreuxandProper.com or call Preux & Proper directly at 213.896.0090.