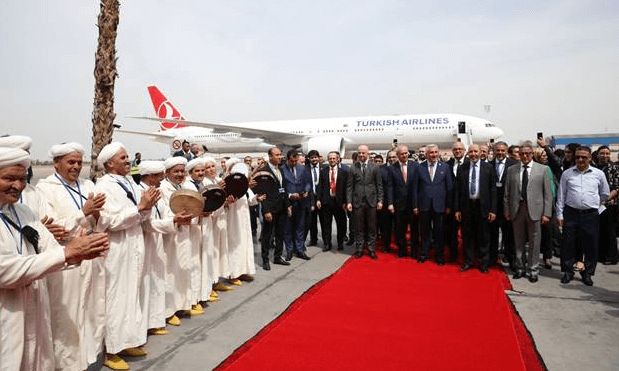 Successfully completing its "Great Move" process of transferring all passenger operations to its new hub, Istanbul Airport, Turkish Airlines now adds Marrakesh, the tourist city of Morocco, to its flight network. As the national flag carrier's first inaugural flight from its new home, Marrakesh became Turkish Airlines' second destination in Morocco as well as its 308th destination globally.
Starting April 15th, Istanbul–Marrakesh–Istanbul direct flights will be available five days a week as Turkish Airlines reinforces its title of flying to more international destinations than any other airline in the world.
The inaugural flight from Istanbul Airport to Marrakesh Menara Airport was welcomed by the customary water cannon salute in a formal ceremony attended by executives from both the global carrier and Marrakesh Menara Airport, as well as members of the press.
Commenting on this inaugural flight, Turkish Airlines' Chief Marketing Officer (CMO), Ahmet Olmustur stated, "With Istanbul Airport, a new era in global aviation has begun. Our new operation center offers an important opportunity for us to develop our globally unparalleled flight network performance even further. Thus, we are working on new strategies to capitalize on this opportunity. Marrakesh will always hold a special place for us as it is the first destination we added from our new home. We are happy to carry our passengers to this crimson city with our privileged travel experience."
Known as the "Crimson City" due to the color of its soil, Marrakesh offers tourists and travelers the opportunity to experience the entire allure of North Africa in a single location. Bringing historical buildings, famous mosques and colorful flower gardens together at the foothills of Atlas Mountains, Marrakesh is well on its way to becoming one of the favorite tourism centers of the world. As the first capital of Morocco, whose name means "Land of God" in the Berber language, Marrakesh's streets are teeming with the historical heritage of various cultures.
Passengers traveling to Marrakesh with the privileged travel experience of Turkish Airlines will be able to visit various significant locations for cultural tourism while experiencing different activities such as nature and wildlife tours.
Istanbul – Marrakesh – Istanbul scheduled flight times as of April 15, 2019:
Flight No.
Days
Departure
Arrival
TK 619
Monday, Wednesday, Friday, Saturday, Sunday
IST
11:30
RAK
14:30
TK 620
Monday, Wednesday, Friday, Saturday, Sunday
RAK
15:25
IST
22:05
*All times are in LMT.
To view the full flight schedules and additional information, please visit www.turkishairlines.com