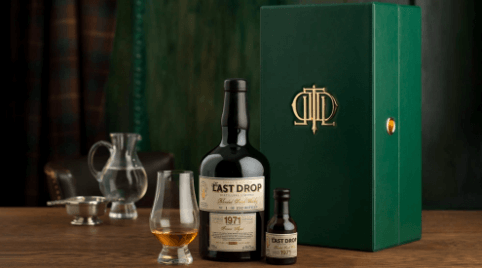 If you're a lover of fine and fascinating whiskies and other esteemed spirits (which seems highly likely, given the fact that you're reading this blog), then getting up close and personal with drams of some of the world's most legendary bottles is surely the very stuff that dreams are made of. As such, it should come as no real surprise that there's a huge amount of excitement surrounding the Super Pours at this year's Nth showcase in Las Vegas; an event which promises to delight and amaze in equal measures, and which is set to be filled to the brim with some of the most exquisite whiskies and spirits the world has ever seen.
At the Nth 2019 Super Pours, you'll have the chance to learn about and savour some truly extraordinary spirits: bottles which demonstrate the headiest heights of the ancient craft of distillation, and which have the ability to take the lucky attendees on a journey of sensory discovery unlike any they will have experienced before. Every whisky has a story which is entirely its own… but the whiskies on show at Nth 2019 demonstrate that some of those stories are ones which will stay with you for a lifetime.
Let's take a closer look at some of the star attractions at this year's exhibition, and delve a little deeper into the most fascinating bottles being opened for your pleasure.
The Last Drop 1971 Blended Scotch
Ask any dedicated fan of high quality Scotch whisky about The Last Drop, and you can rest assured that their eyes will mist over with a faraway look, and they'll start regaling you with tales of taste sensations, deeply involving and complex bouquets, and nights gazing wistfully into their glasses. This label has demonstrated without fail that blended Scotch can be every bit as intriguing and alluring as single malt, and the 1971 blended Scotch which will be opened at Nth 2019 is possibly the perfect example of this.
They say every whisky has a tale to tell, and this is most certainly the case with this particular bottle. The Last Drop 1971 Blended Scotch was initially blended as a 12yo release way back in 1983, with the excess whisky held back to be further aged in 11 prime Sherry butts, almost as an experiment in what was set to be a major trend in barrel aged whiskies. Nine years followed, and some more of the now somewhat fruitier whisky was transferred over to American Oak barrels, while another portion was once again bottled and released. The whisky which was put into American Oak was aged for a further 24 years, resulting in a truly fascinating blended whisky which demonstrates the complexity and wonder of wood, and the fruits of a long and innovative journey towards sheer perfection. Expect honey and vanilla on the nose, giving way to notes of citrus peel, stewed apples, and toasted nuts. On the palate, this Scotch reveals a fruity sweetness, with plenty of oak character and chocolate orange.
Glencadam 25yo
The Scottish Highlands have always been associated with Single Malts of the highest order, and there's understandably plenty of excitement and anticipation surrounding the Super Pour of the Glencadam 25yo, an utterly delectable bottle which showcases the finest of Scottish craftsmanship and dedication to excellence. Limited to just 1,600 bottles, the Nth 2019 Super Pour of this incredible whisky will allow you to experience first-hand why it has been nicknamed 'The Remarkable', and why there's little doubt that this is one bottle predicted to go down in history as one of the most collectible and sought-after ever released by this premium distillery.
Rich, complex, and boasting a beautiful golden colour, the Glencadam 25yo bursts with notes of tropical fruits, before revealing an enticing peppery and spicy finish of ginger and toasted nuts.
Glenfiddich Super Pour 1975 European Oak Sherry Cask
Of all the current 'mainstream' Scotch single malt distilleries, there's a special place in the hearts of whisky drinkers for Glenfiddich. After all, this is one Scottish distillery which manages to appease both the casual whisky fan and the dedicated connoisseur in equal measures, and which is clearly committed to approaching both its high-end releases and more accessible bottles with the same degree of excellence, tradition, and attention to detail. The Glenfiddich 1975 European Oak Sherry Cask bottle being uncorked at Nth 2019 definitely falls in to the 'high end' of the Glenfiddich spectrum, being one of a relatively small handful of bottles released from this seminal year. Indeed, the team at Glenfiddich so highly valued this particular whisky, they used it as their showcase bottle for the distillery visitor centre's prestigious 40th anniversary celebrations, where it was invariably met with gasps of wonder and delight.
For this particular pour, drinkers can anticipate a beautiful subtlety in the Sherry characteristics (Glenfiddich are known for their delicate hand when it comes to use of wood), with a fruitiness and vibrancy which results in this being a genuinely fascinating dram. Orange oil, vanilla, and dates are all present on the nose, with the palate revealing a spiced marmalade flavour, complete with nutmeg, cinnamon, pepper, and a long finish of liquorice and dark chocolate. All in all, it's an absolutely fascinating whisky, and one which is sure to make a significant impact.
The Balvenie, DCS Compendium Chapter 2 Release, 19yo European Oak Port Puncheon
The art of distillation is one which requires a lifetime of dedication and craftsmanship, and which – when mastered across the decades – reveals secrets, stories, and innovations which push the industry to new and exciting heights. David C Stewart MBE is the perfect embodiment of this, and with over fifty years at the helm of The Balvenie, arguably one of the greatest Scotch distilleries in the world, what he doesn't know about whisky is – quite simply – not worth knowing. As such, as he began contemplating retirement, the concept of the DCS Compendium manifested itself: an exhibition of whisky crafting, displayed through a series of unique releases which highlight different styles of Scotch, perfect for laying the groundwork for those who will tread in his mighty footsteps.
The Balvenie DCS Compendium Chapter 2 is all about the influence of oak, and the journey that fine whisky goes on as it spends time in the company of this exquisite wood. The bottle being showcased at Nth 2019 – the European Oak Port Puncheon – is undoubtedly one of the stars of this compendium release. Not only is it utterly delicious, bursting with elegant notes of fruit and spice, it also acts as a guide regarding what happens to whisky when matured in Port oak barrels… and the results are, as one might expect, utterly phenomenal.
That Boutique-y Whisky, Islay #2 25yo
Whisky – and especially fine Scotch single malt whisky – has long since revelled in its sense of mystery, of the unknown, and of the journey of discovery which awaits in every bottle. As such, it's no real surprise that fine whisky fans have fallen head over heels in love with That Boutique-y Whisky, a label which approaches that sense of mystery with a refreshingly fun and rebellious spirit. With their cultish, modern, and graphic novel-inspired labels, obscure origins, and spirit of originality, these are top-end single malts for a new and enlivened generation… and it's a real delight to have this bottle on show at Nth 2019 for visitors to explore and enjoy.
Matured for 25 years and coming from the misty valleys of Islay, this release ticks all the right boxes for those who adore this particular spirit style. However, the precise origins of the bottle are kept tightly under wraps, leaving drinkers playing a game of cat-and-mouse in trying to identify just where it comes from. Will you be able to locate those rich and enticing flavours, or will you be happy to remain in the dark as you savour its delicious character? It's not long now until you can find out for yourselves…!