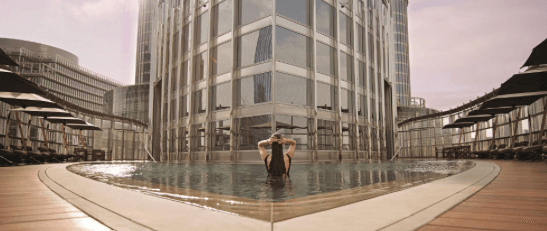 World Spa Awards – the global initiative to recognize and reward excellence in the spa and wellness sector – has revealed that its Gala Ceremony 2019 will be hosted at Armani Hotel Dubai on 21st October 2019. The announcement follows Armani Hotel Dubai being voted "World's Leading Hotel 2018" at World Travel Awards, and Armani/Spa named "World's Best Spa 2018" at World Spa Awards.
The red-carpet evening will bring together the global leaders of the spa and wellness industry as they celebrate their achievements, and exchange knowledge and innovations.
Launched in 2015, World Spa Awards aims to drive up standards in spa and wellness tourism and foster growth by rewarding the leading organizations in their respective fields.
Rebecca Cohen, Managing Director, World Spa Awards, says: "I am honoured that World Spa Awards will host its 5th annual gala ceremony at the iconic Armani Hotel Dubai. Giorgio Armani has created an exceptional lifestyle experience in one of the world's most exciting cities, making it the perfect setting for the pioneers and influencers of the global spa and wellness industry."
Armani Hotel Dubai is situated in the incredible Burj Khalifa, the world's tallest tower. As the first hotel designed and developed by Giorgio Armani, it reflects the pure elegance, simplicity and sophisticated comfort that define the global fashion icon's signature style.
An oasis of peace and tranquility, the 12,000 sq ft Armani/SPA offers tailor-made sensory therapies designed to meet individual wellness needs. In embracing the Armani lifestyle philosophy, the Armani/SPA encompasses a series of unique spaces and facilities with sequential thermal bathing, personal fitness, creative spa cuisine and calming relaxation areas.
The red-carpet World Spa Awards Gala Ceremony 2019 will represent the highlight of a three-day networking programm, with attendees given the opportunity to participate in an exclusive spa and wellness itinerary.
Organizations wishing to enter the World Spa Awards 2019 can submit their applications from 14th January 2019. Voting will then open on 29th April and conclude on 19th August 2019.
For more information on how to participate, visit worldspaawards.com