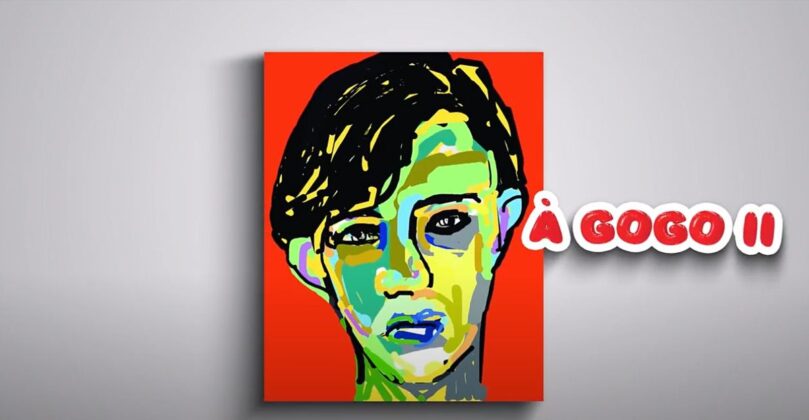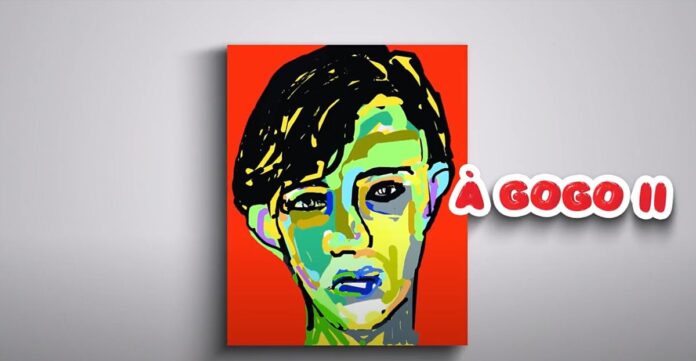 Haleh Mashian returns with A GOGO II exhibit which debuted Feb 17 at W Hotel Hollywood in conjunction with Frieze LA, runs until March 26 at Mash Gallery, 1325 Palmetto St Ste 130, Los Angeles, CA 90013
Artist-Entrepreneur Haleh Mashian, the prolific painter and owner of MASH Gallery, returns for her second incredible exhibit at the W Hotel Hollywood in conjunction with Frieze LA. 
The A GOGO II exhibit debuted Thursday Feb 17th, 2022 at the exclusive W Hotel in Hollywood and runs until March 26 at Mash Gallery, 1325 Palmetto St Ste 130, Los Angeles, CA 90013
---
Advertisement

---
The much-anticipated exhibit is a continuation of Mashian's outstanding 2020 show which was raved about, receiving record attendance and industry acclaim. 
Mashian is becoming a rising creative force in the Los Angeles art community as an artist and philanthropist based on the risks she bravely takes and the inspiration of her vision as she continues to curate innovative exhibitions. 
With she herself an accomplished artist, Mashian has a unique double talent for encouraging new and emerging artists while simultaneously luring established artists to her present at her shows.
When her 2021 exhibit was originally postponed due to the pandemic, Mashian used the extra time to investigate and discover inspiring work with special unique artists.
The Debut Night
Stepping into the W Hotel's Penthouse was like walking into a dream.  The colors, the clothing, the laughs, the smiles.  Southern California's artist community is alive, thriving and were all in this room celebrating.
Throughout the gallery, along the pool and the cityscape view.  It was an enchanting night with every detail inspired by the vision of Haleh Mashian.
Meet the Artists
---
ANDY MOSES
Andy Moses is an artist who lives and works in Venice, California. Moses is interested in pushing the physical properties of paint through chemical reactions, viscosity interference, and gravity dispersion to create elaborate compositions that mimic nature and its forces. Today he continues to refine and expand the vocabulary of his specific painting processes, imagery, and interrelationships with the technical and natural world.
---
Related:  Rock Hall of Famer Rod Stewart returns to Los Angeles for one-night only.  
---
LUIS SANCHEZ
Luis is best known for his realistic paintings of beautiful subjects (his friends) set in somewhat surreal circumstances, painted on his signature highly-textured canvases that resemble degraded stucco. This recreation of the walls he remembers from his childhood in Mexico City gives his work a most unusual quality – melding the ancient past with present day fashionable participants, and a question about what the future holds in the mysterious scenes he paints.
---
HALEH MASHIAN
---
KENNY NGUYEN
Nguyen creates what he calls "deconstructed paintings," large, bold works that are comprised of hundreds of silk strips, which he cuts, paints, and meticulously applies onto canvas. The pieces may be hung in different iterations: sculpturally on the wall with undulations or flat, stretched like a painting on bars or behind glass. Born in Vietnam, Kenny moved to the states in 2010.
After art school, he spent his early career in fashion. Working with silk has ties for the artist not only to dressmaking and patterns, but also long-standing associations to the material through his culture. The idea of cutting a fabric revered for its symbol of wealth, its beauty and delicacy in clothing, and its century-long ties to trade and status in Asia was a breakthrough for Nguyen. By taking something from tradition and reconstructing it, he was maintaining an association with his past while also making it his own.
The process itself is like the artist himself- a hybrid, blending cultures and ideas, bringing to light the idea of how identity is constantly changing or being reevaluated over time, creating beauty, authenticity, and versatility.
---
TREW LOVE
Trew works deeply with the element of surprise, whether that be an unexpected material or a shocking message. Trew envisions a world where art bonds us, celebrating our similarities and providing a light-hearted take on our differences. Trew creates to inspire and uplift, incorporating elements of dry humor, bright colors, and neon light to brighten our spaces and our spirits.
.
.
.
---
Related:  The Hollywood Bowl returns for 2022! Billie Eilish, Ricky Martin, and more!
---

MOISES ORTIZ
Ortiz developed examining the masterpieces of the muralist forefathers. His work is deeply influenced by the global achievements of the many cubist artists that came before him. However, it was until his time at UNAM that he truly became a proponent of analytical and critical aesthetic theory, and thus began to innovate from within his own canvas.
---
WILLIAM S. DUTTERER
William S. Dutterer (1943–2007) was a Washington artist who moved to New York City in 1979 and continued making innovative work until his death in January 2007. An artist's artist, teacher; oeuvre that echoes the world and explores what lies beyond the surface, color, scale.
---
AMAN SHEKARCHI
Aman's art is a unique representation of how art can create the bridge to protection to the spiritual world. As a child, Aman was fascinated with the unknown and found that his paintbrush was the key to tapping into his visions. Aman began painting at a very young age. His paintings are unlike any other paintings ever seen before. Aman's paintings represent Middle Eastern, Egyptian, and Indian history through his uncanny talent of creating sculptures on canvas. Every painting Aman has created tells a story about the fortification of the spiritual realm that creates the path to live a full and prosperous life.
---
SARAH BEREZA
Bereza's work is inspired by her experience to Chernobyl where she witnessed the disappearance of a society and painted the absence of humans and abandoned buildings and trash. This led to her creating creatures that live more within the natural world instead of fighting against it. Bereza employs materials that allow her to be in control with tight detail, and then pouring mediums like expandable foam over it in order to lose it.
---
ISABELL BEYEL
Beyel like her work to be ambiguous, puzzling. She enjoys the conundrum that you'll never know the Artists' motivation. You can decide how to view the work – from afar, close up or you can go straight to the title, see it in the round. Beyel hopes that there's a degree of openness in relation to interpretation or self-recognition.
---
LERONE WILSON
A sculptor and painter living and working in New York, LeRone Wilson's primary medium is beeswax, the oldest form of painting, used by the ancient Kemetic people to create art, among other things. His sculpted encaustic paintings explore the complexities of the historical and cultural inferences of spirituality, history and identity.
---
RACHEL NELSON
Rachel Nelson is a self taught artist, curator and political economist who is based in Brooklyn, New York. Her Paintings, while criticizing capitalism and its contribution to almost every social ill, display how she grapples with her own personal relationship with consumption. Finding herself drawn to packaging, and the overall idea of more, her art then, is a push and pull between desire and nature, and aims to show the complex relationship between comprehending a problem and also being complicit in perpetuating it.
The subject matter, usually homes, household products and a near obsession with products that simulate suburban normalcy, offers a humorous but cynical and dystopian outlook on the present and future state of human and political affairs. She uses neon colors, flowers, pop culture absurdism and advertisements to portray the human condition.
---
HALEH MASHIAN
Haleh Mashian is an expressionist painter who works in a variety of media. In a state of constant exploration, she maintains a commitment to an established series of large scale paintings. Her large scale figurative expressionist collages are painted from live models but reflect universal themes of the feminine sublime and its energy in shaping environments.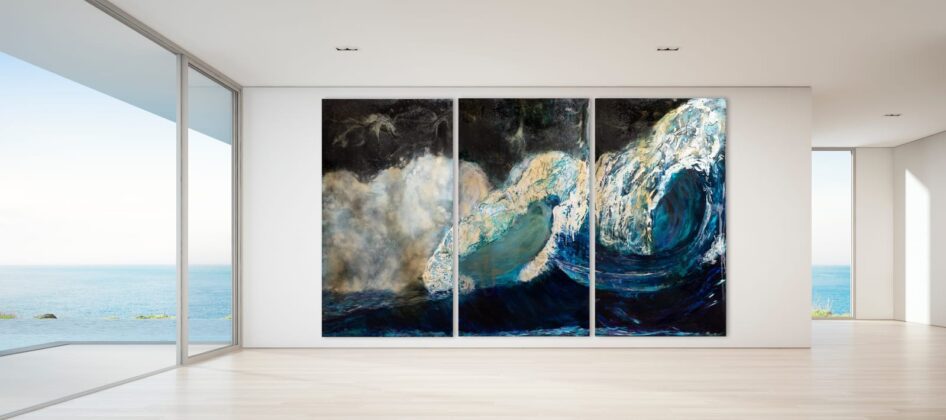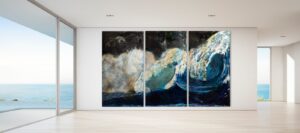 ---
JOHN MONN
This body of work is born from the trash of making and shipping art in Los Angeles. The Masks are built from trash cardboard that was used as one- time packaging to ship artworks from Europe to LA to be exhibited and traded as a cultural commodity. The Flowers are the spent mixers from preparing the epoxy components while creating the Masks.
cleats.
---
Haleh Mashian returns with A GOGO II exhibit which debuted Feb 17 at W Hotel Hollywood in conjunction with Frieze LA, runs until March 26 at Mash Gallery, 1325 Palmetto St Ste 130, Los Angeles, CA 90013