Good comedy in North Hollywood – The Shindig Show – with Darrell Hammond, Jay Mohr & Jamie Kennedy proves there's good comedy in The Valley!
Over and over again, two thoughts were repeated throughout the night by so many people.  "It's so good to be out of the house" and "who knew there was good comedy in the Valley".
On Friday June 11, North Hollywood's Comedy Chateau hosted a lineup including Darrell Hammond, Jay Mohr and headliner Jamie Kennedy.
---
Advertisement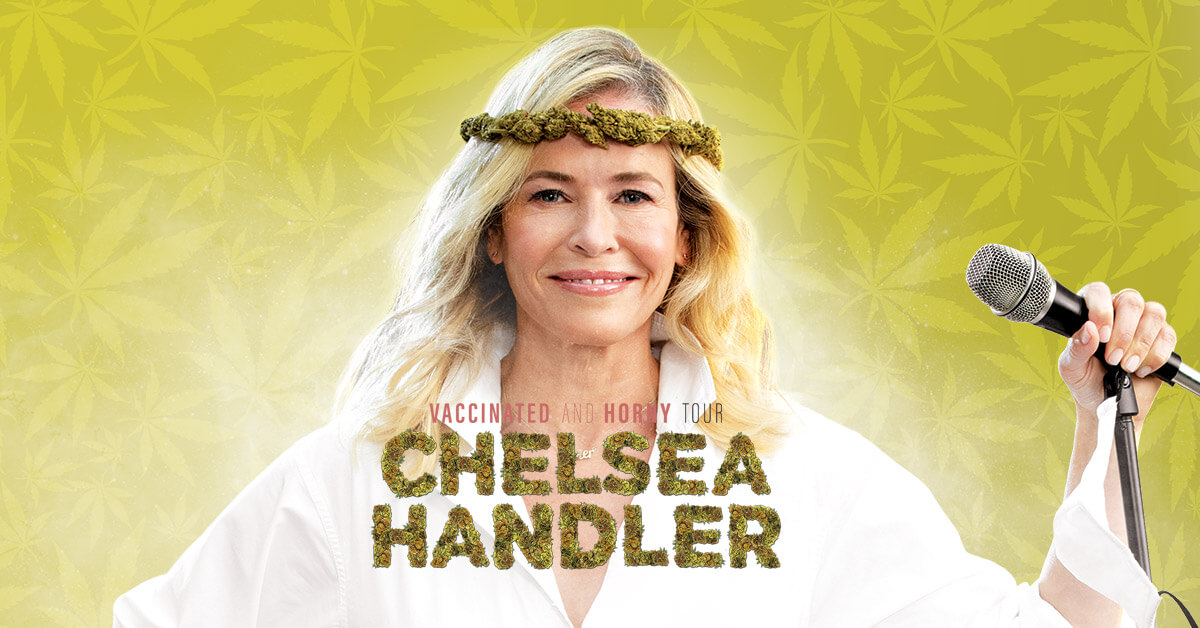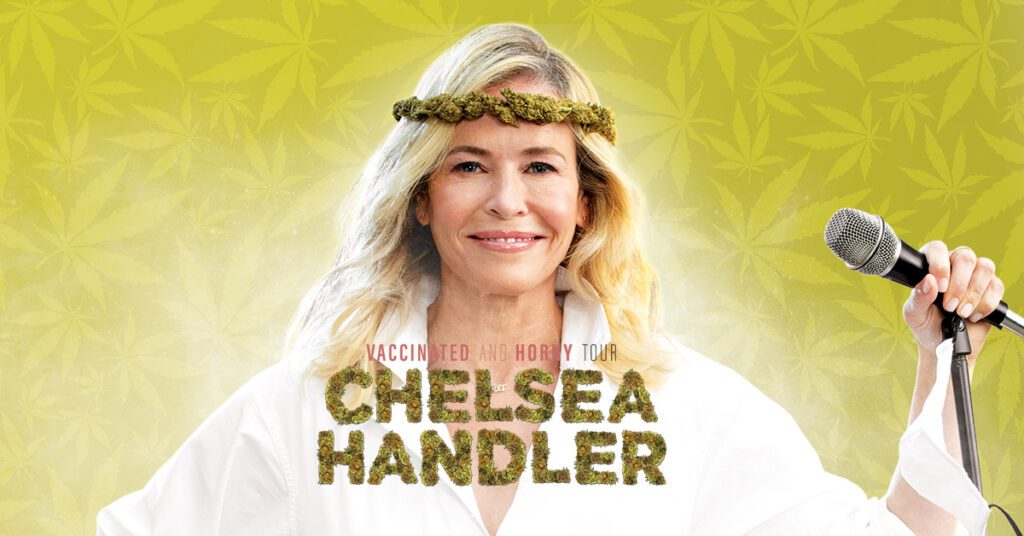 ---
The night was hosted by everyone's favorite British Publicist-turned-outrageous comic Christine Peake of PeakPRGroup.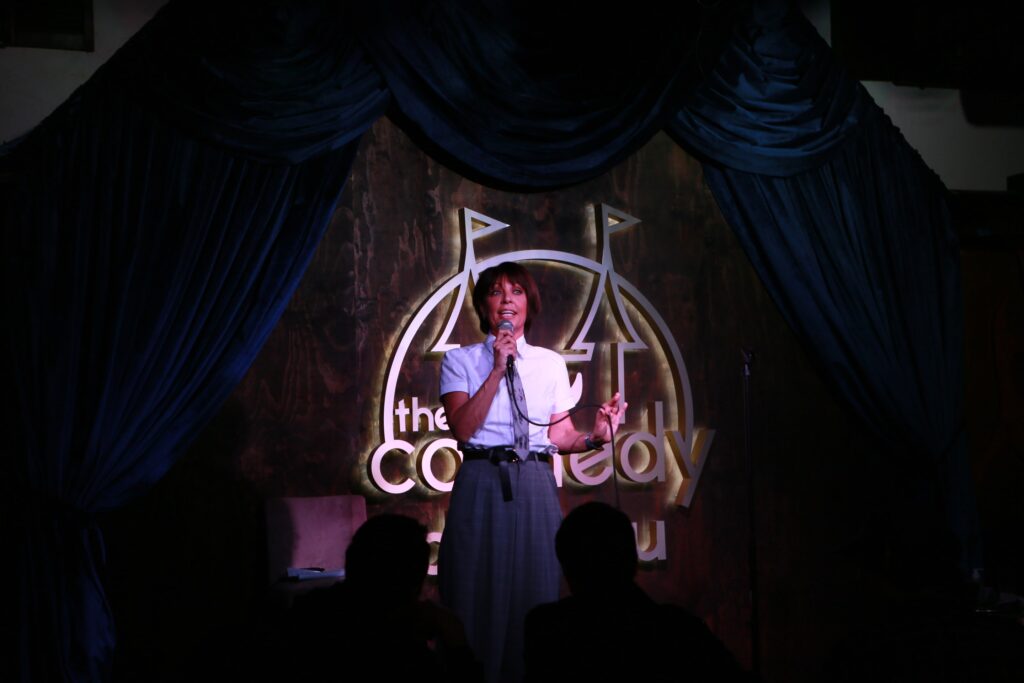 I love live comedy, but I can't do a 6-hour night of jokes.  And sometimes, that's what a night of comedy feels like.  The last time (pre-pandemic) I was at a certain Sunset Strip show, it was great.  But it went on and on.  I was loving it until I wasn't. No one's fault, and it's odd to complain about too much comedy and yet that's what it was.  
That's why this Shindig Show was Special
Jimmy Shin, one of the producers of the Shindig curates a fast-moving night. A mix of comedy styles, a mix of famous and lesser-known comics. 
Christine Peake was our host and set the tone for the night bravely swan diving right into un-PC hedonism.  If you're looking for a polite time, go home now.   She had the crowd roaring within seconds.  
But the fun part was, the night wasn't just a night of roaring.  As you'll see in a sec, the whispers were just as funny.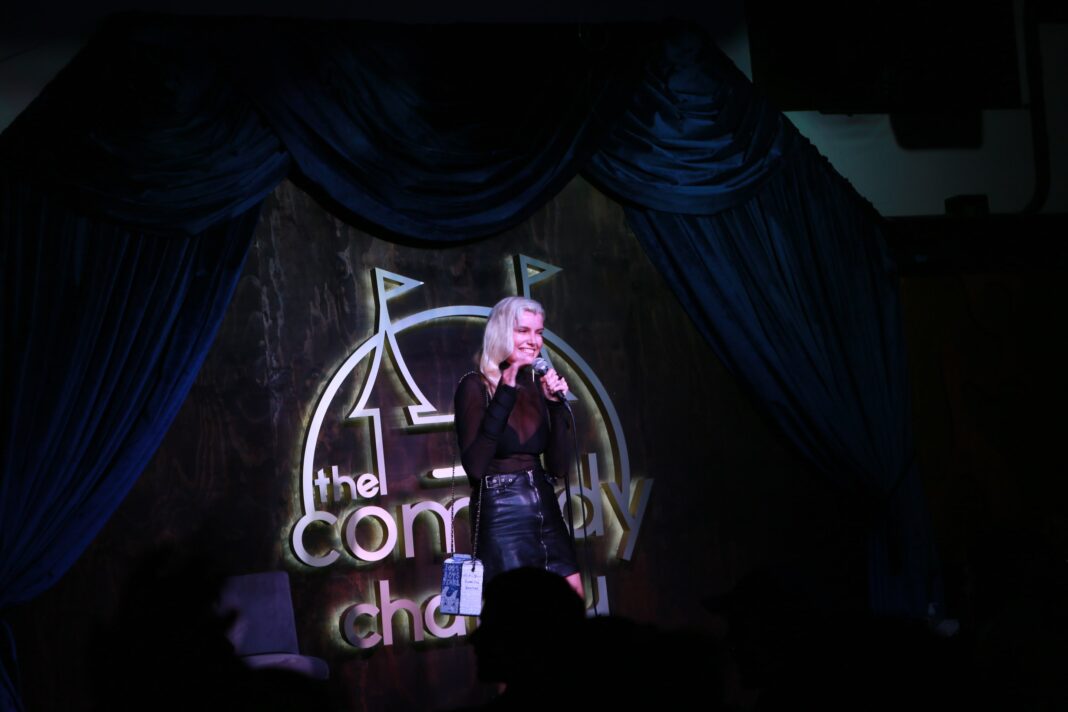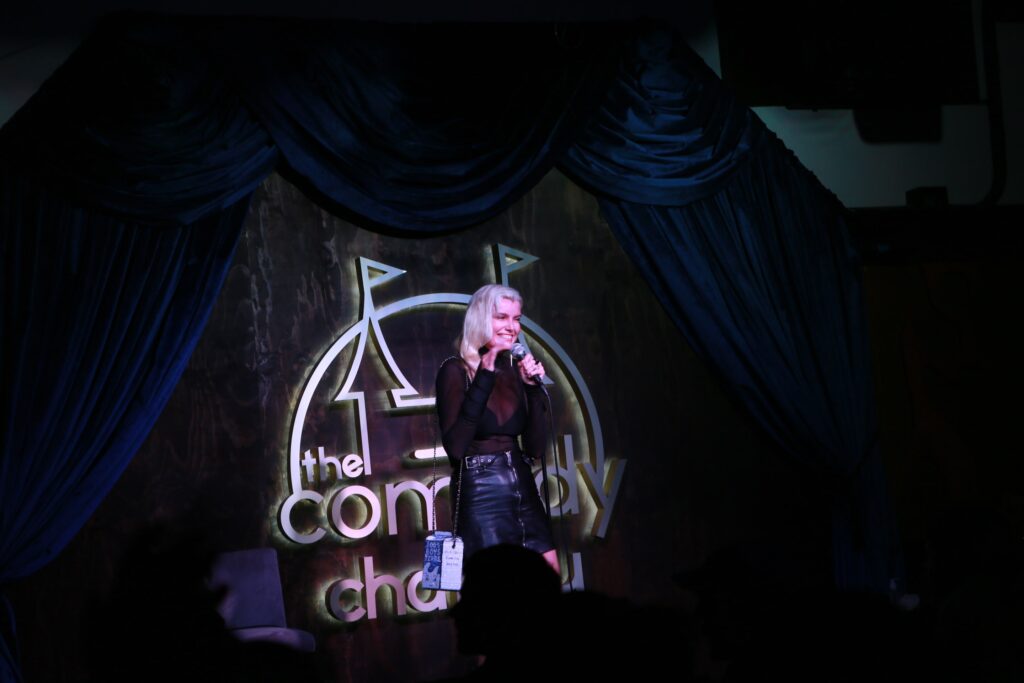 Actress / comedian Eugenia Kuzmina is brave.  I've seen her perform a few times.  Sometimes she does a dead-ringer for Melania Trump that works well.  Her act often feels uniquely experimental. She plays with the audience, She teases us.  She plays off her looks (an international model) with a sly sense of humor.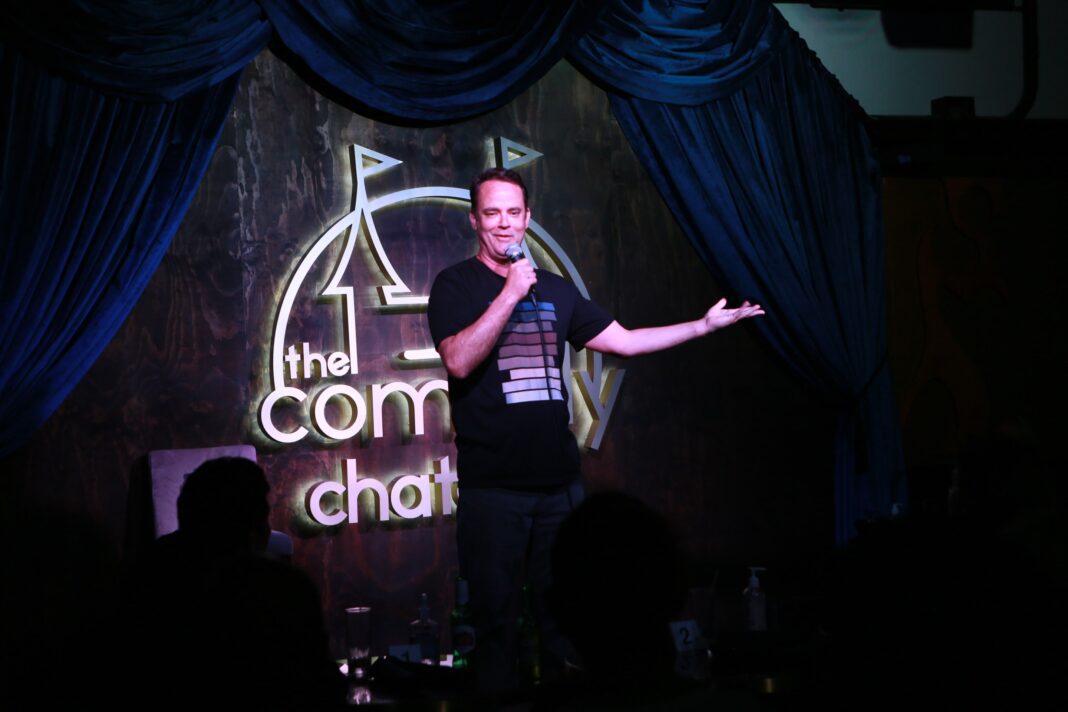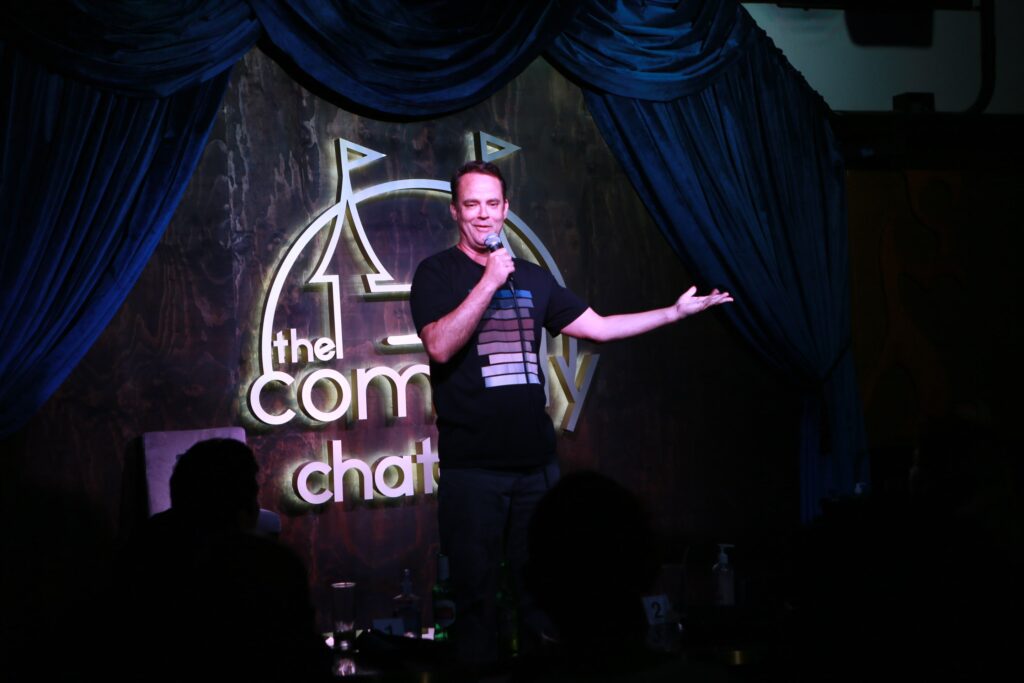 Greg Baldwin has a heart of gold.  His first line on stage had me laughing.  He's ridiculous in a silly, goofy way until he starts to reveal himself.  He's comfortable getting uncomfortably vulnerable and three seconds later, he's silly again.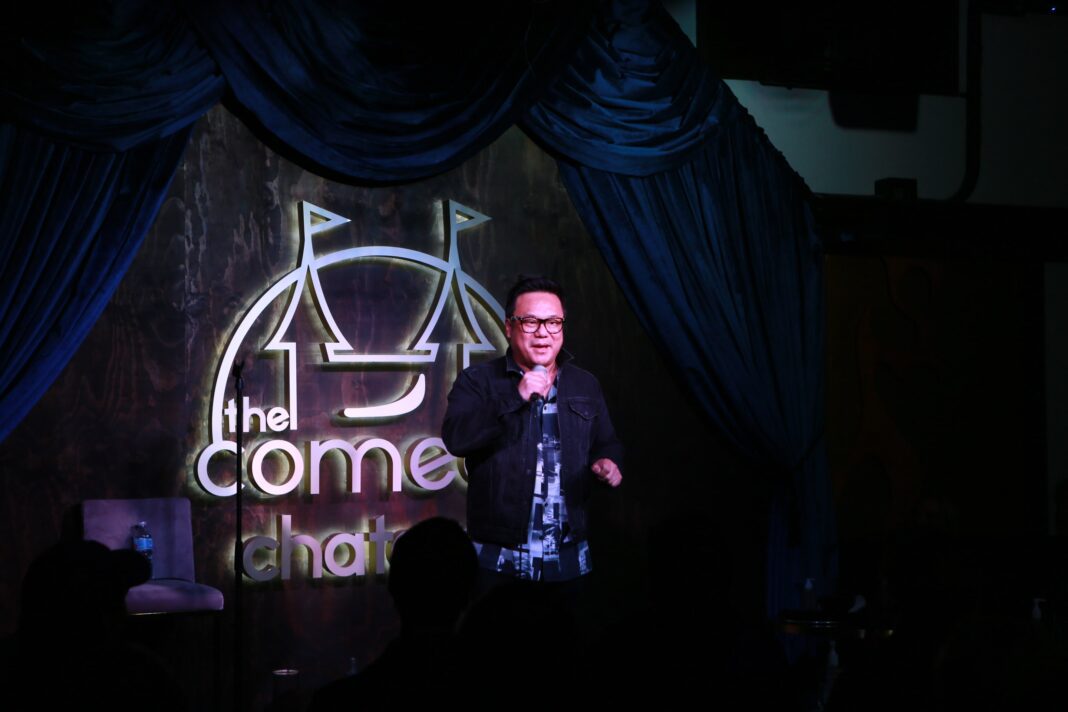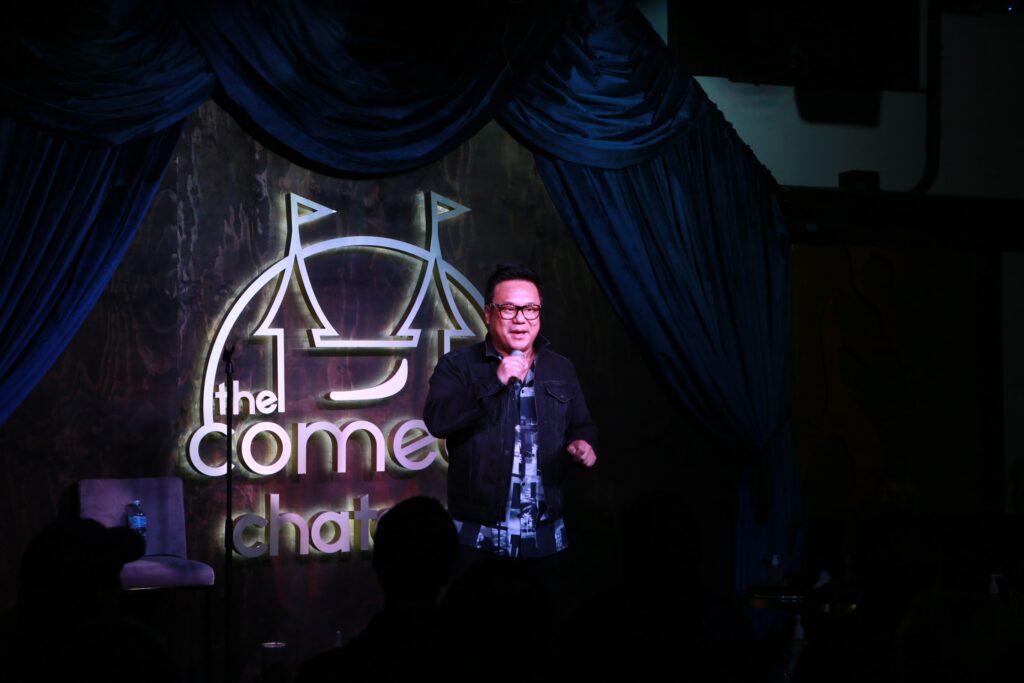 Jimmy Shin is an instant party.  Much like Baldwin, he's as comfortable getting vulnerable as he is getting silly.  His rat-a-tat-tat energy is infectious, the whole room gets a cardio workout.  His comedy touches on race, family and being an immigrant.  It's no wonder his Amazon special "Wok of Shame" is so popular.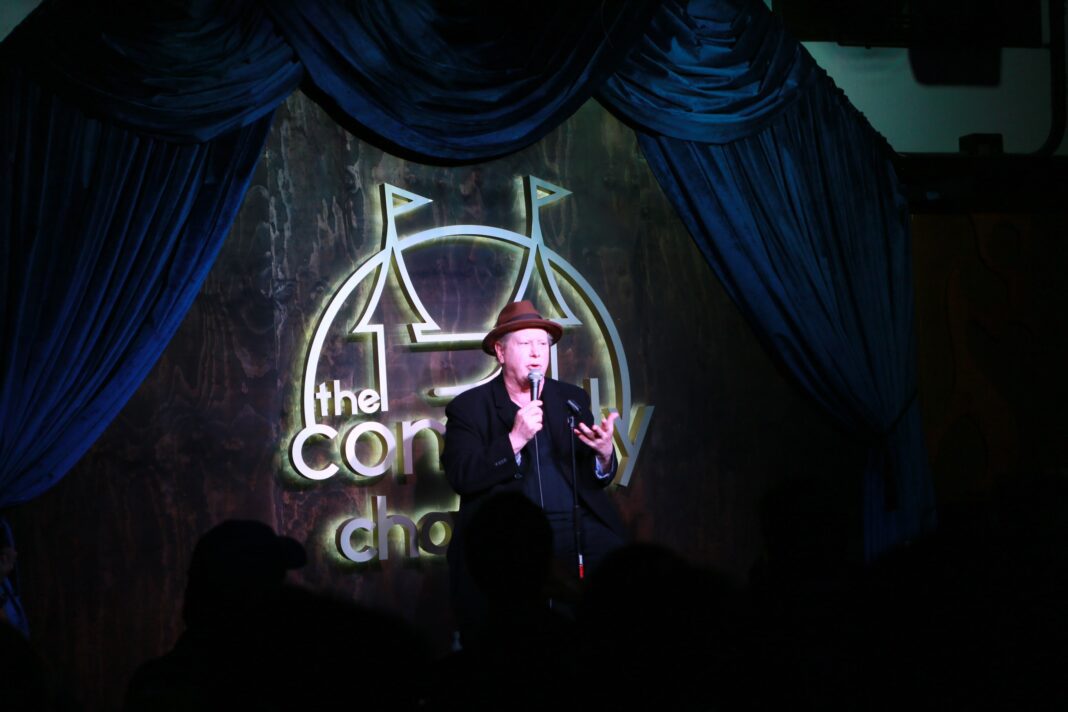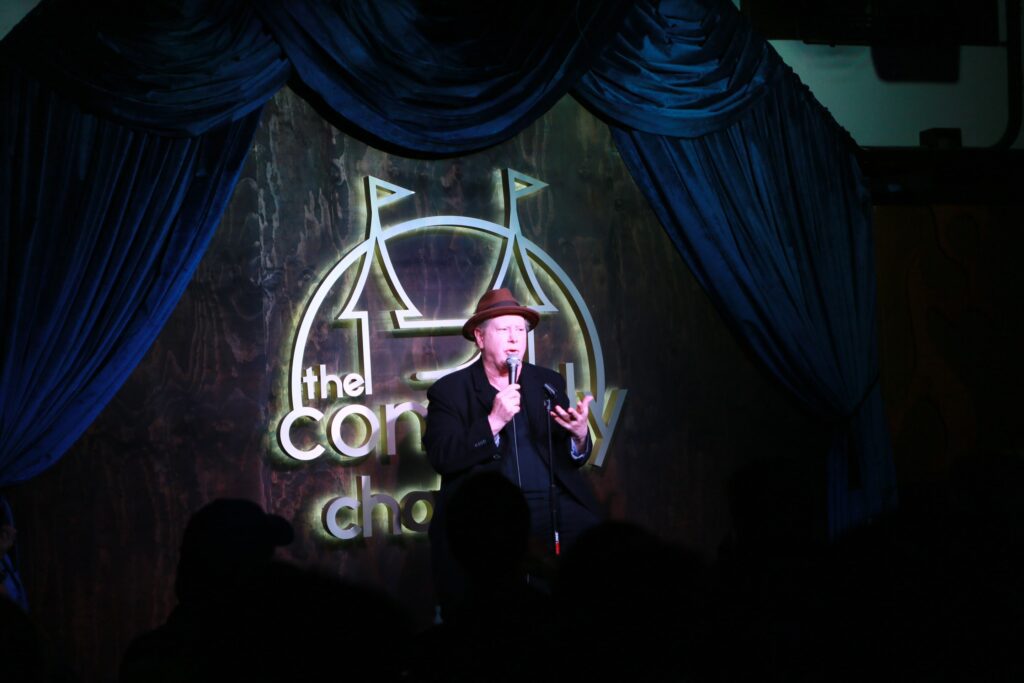 Everyone loves SNL's Darrell Hammond
I've never seen Darrell Hammond live before.  I'm a fan of his SNL work, so I was curious what he'd sample for us tonight.  His performance wasn't a setup / punchline pattern, but more long-form funny stories with huge payoffs.  Long, quiet moments where literally the room could hear a pin drop, and 6 seconds later, huge applause.  He took the crowd on a comedic rollercoaster and we loved every moment of it.  
---
Advertisement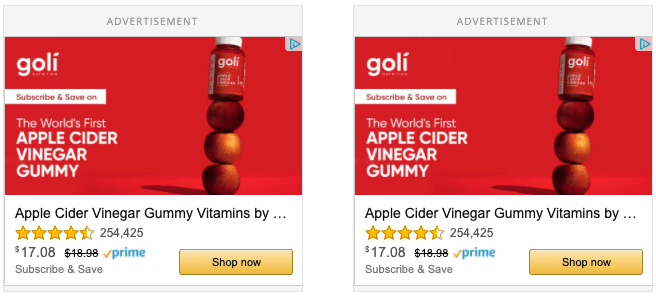 ---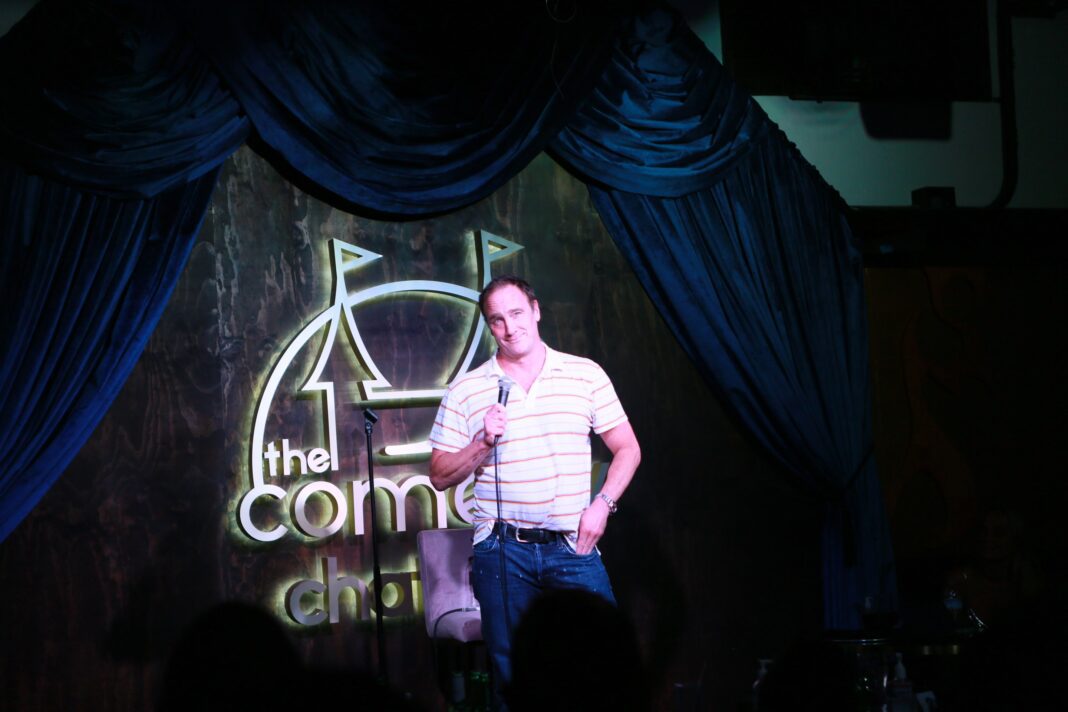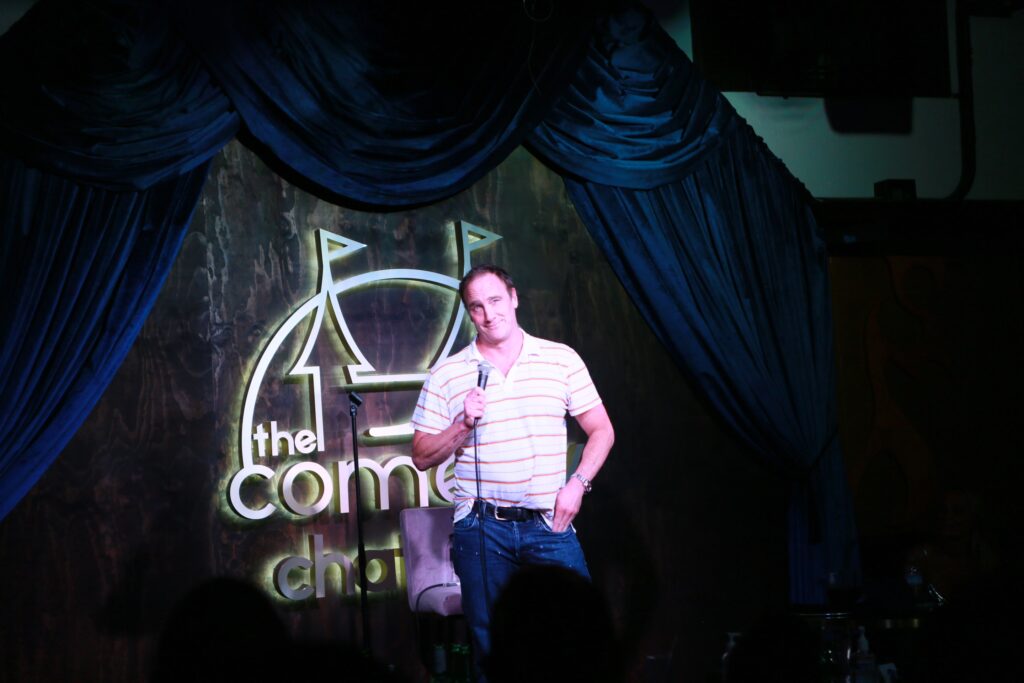 Jay Mohr Deserves More (bad pun, sorry)
I forgot how much I love Jay Mohr and within a few seconds of him getting on stage, everyone else also remembered all the reasons why they love him too.  His voice, his energy, his confidence.  And he was just getting warmed up.  He's always had a slight "f*ck you" tone, and as he ages, that tone is ripening into a fine wine.   He's telling celebrity stories from his Hollywood adventures, single Dad sex, climbing on chairs.  By the end of his set he got a standing ovation from several folks in the front row.  Not only was the ovation earned, but when Mohr saw it, for just a moment, it was sincere appreciation.
Here's my random prediction – Jay Mohr has got a Bob Odenkirk future.  He's in line for his own character actor transformation ala Breaking Bad, Better Call Saul, Nobody and more.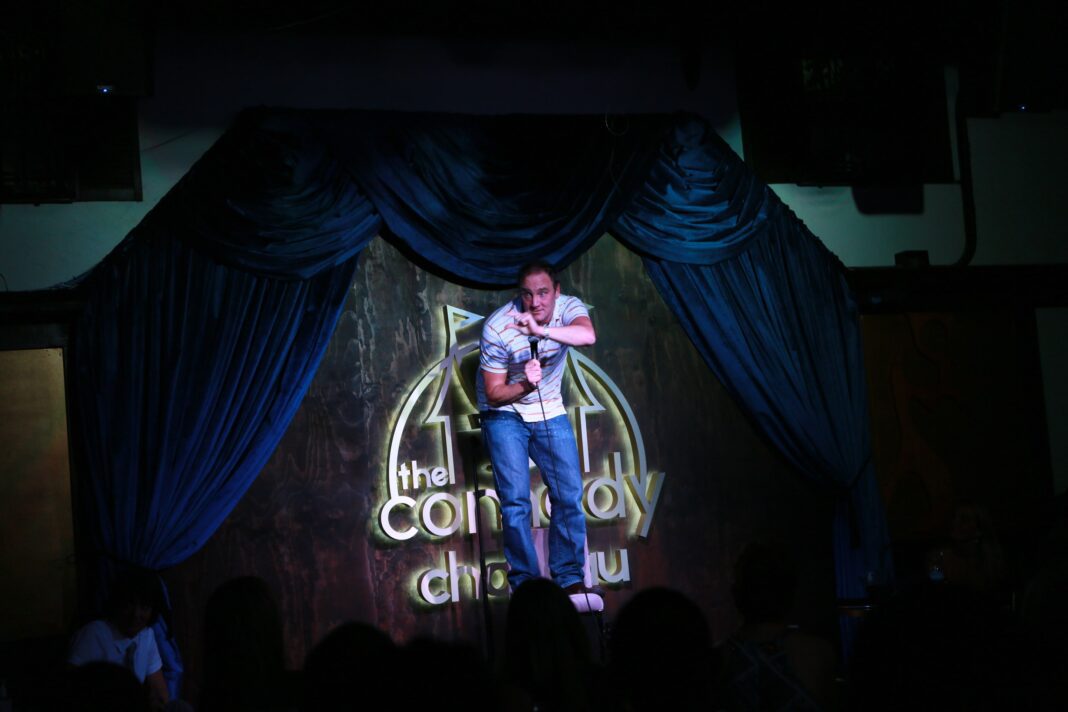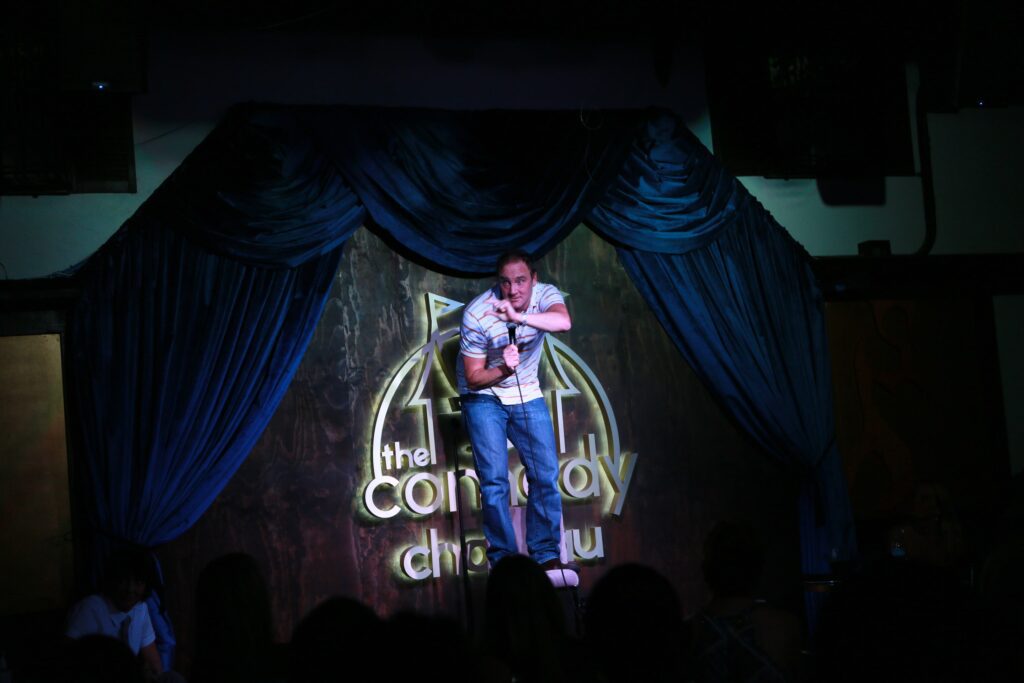 Jamie and Peakey
These two should get a room.  Or maybe a TV series? Headliner Jamie Kennedy and our host Christine Peake have an on-going jokey, fake feud that's been going on since Summer of 2020.  No one is quite sure how it started (they know, they just don't tell).  They tease and torment each other. Their kink seems to be hilariously humiliating each other on stage.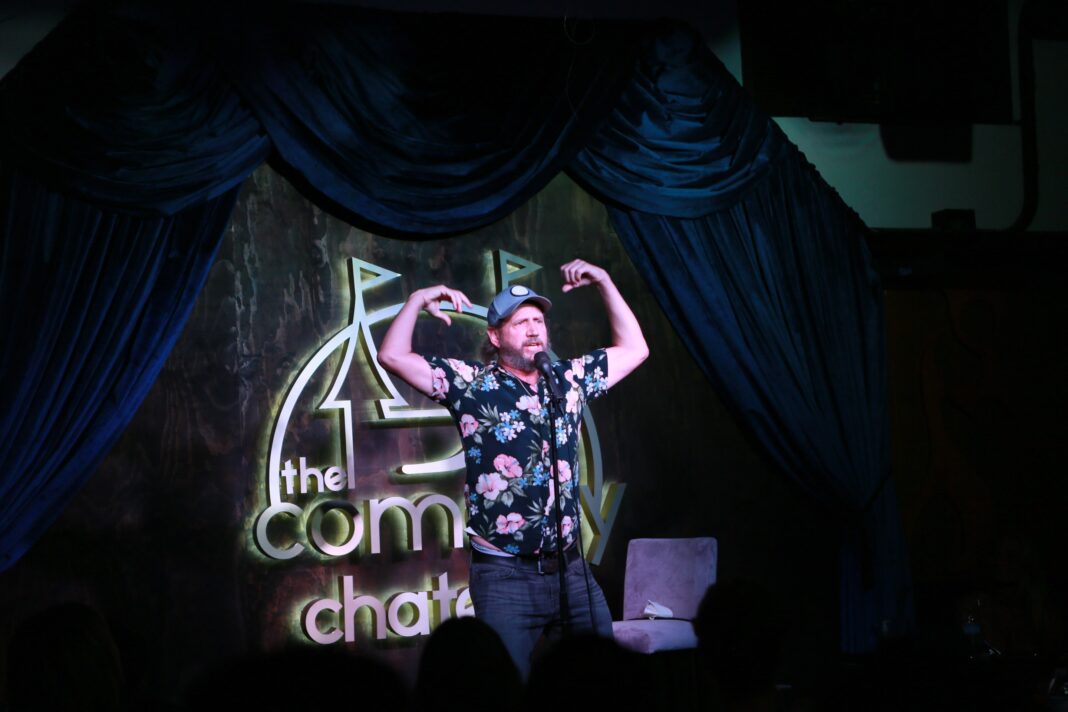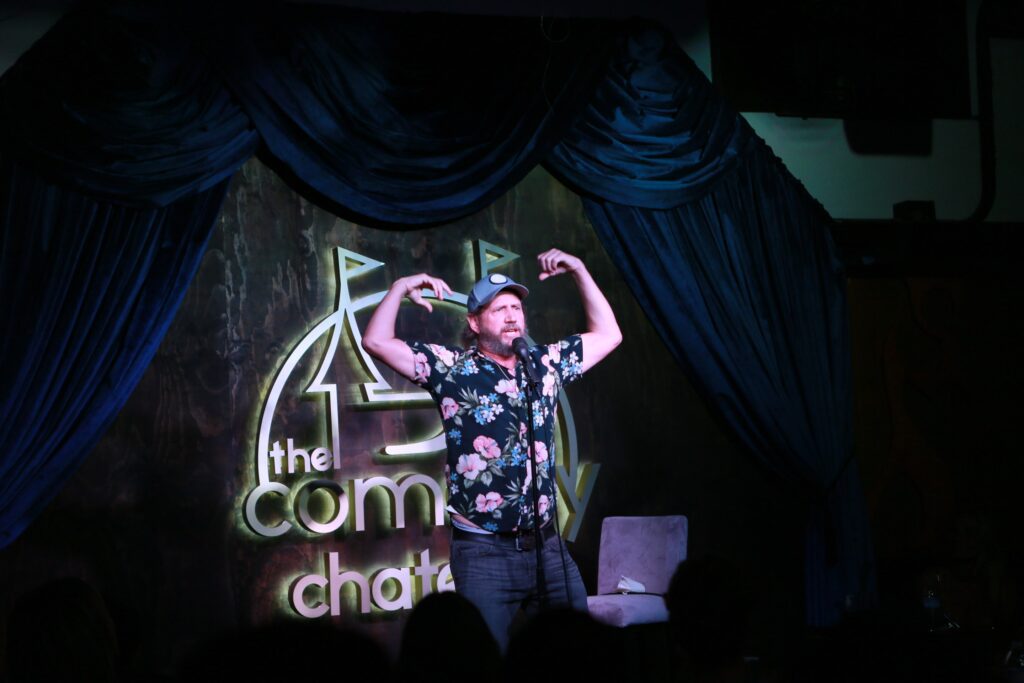 And that brings us to our headliner…  Jamie Kennedy
I've seen Jamie several times and last night was my favorite.  He continued Christine Peake's bawdy theme going and reminded everyone, even during cancel culture, this is a comedy show.  Comedy is here to tease, taunt and explore.  It's not here to play polite.  This crowd agreed loudly with that message.
Jamie is a renaissance performer.  He's as comfortable as a comedic movie star, as he is as a podcaster, as he is sharing observations on-stage.  Just like Hammond, Kennedy was more long-form. 
North Hollywood's The Comedy Chateau works hard to bring you a great night.  The lineup was hot- all praise due to producer Jimmy Shin. His hard work and comic relationships ensure a first-class "Shintastic show", which can be found all over Los Angeles. 
The food menu was affordable.  The parking was easy (yes, that's important). 
Perhaps the best way to end is with a quote from Jay Mohr: "What a surprisingly great place.  I'll be back here again soon." 
For more good live comedy, check out Trevor Noah and Ali Wong later this year.