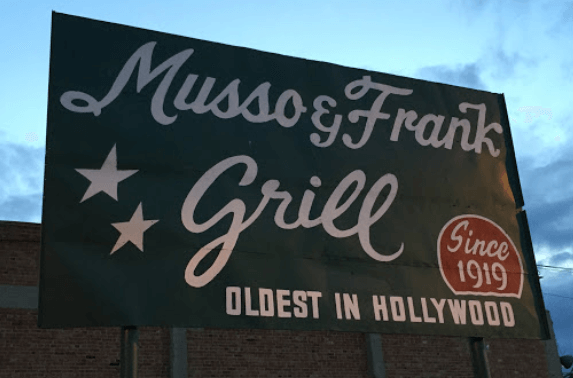 As the pandemic slowly fades to black, Hollywood is ready to jump cut back into action.
Hollywood's legendary Musso & Frank Grill will reopen on Thursday, May 6.
Like so many businesses in Los Angeles, Musso & Frank has had its door closed for the last year following a Los Angeles countywide public health order.
The Musso & Frank Grill celebrated its 100th anniversary to much well-deserved attention in September 2019.
The restaurant has been featured in dozens of films and TV shows over the years, including the George Clooney-version of Ocean's 11, The Kominsky Method, Swingers, Ed Wood, Mad Men, and most recently Quentin Tarantino's feature film Once Upon A Time in Hollywood.  
Mark Echeverria, fourth-generation member of the family of owners, emphasized that current Covid-19 safety precautions will be upheld, along with the restaurant's vibe. 
"With our reopening, we're being very careful to ensure that our 100-plus years of tradition won't change at all,"

Echeverria said.
"For instance, our menu will remain as intact as possible – we want to keep all of our original offerings."
Enhanced guidelines are in place. An assisted parking system will be added instead of their traditional valet service.
Inside, the host will ensure a distance of six feet continues, and masks will be be worn at all times except when seated at tables.
Diners will also be asked to clean their hands upon their arrival with sanitizer stations provided provided throughout the restaurant.
The restaurant will operate at 50% occupancy, adhering to LA County's "Orange Tier" reopening guidelines. As the tier assignment changes in the near future, the restaurant occupancy will also change.