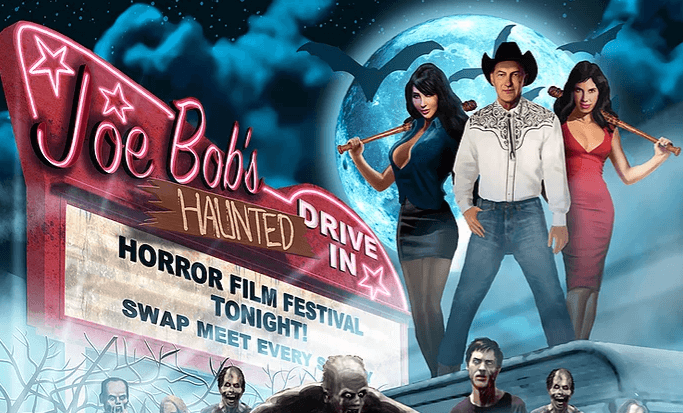 This October, Joe Bob Briggs is bringing immersive Halloween scares to the drive-in!
A brand-new Halloween haunt experience:
Joe Bob's Haunted Drive-In
blends a film festival of horror short films with a live zombie invasion. As drive-in expert/horror host Joe Bob Briggs and his friends appear on screen to present the films, real zombies will take over the drive-in, interacting with the crowd and on-screen entertainment to create a scary, fun, and immersive night unlike any other!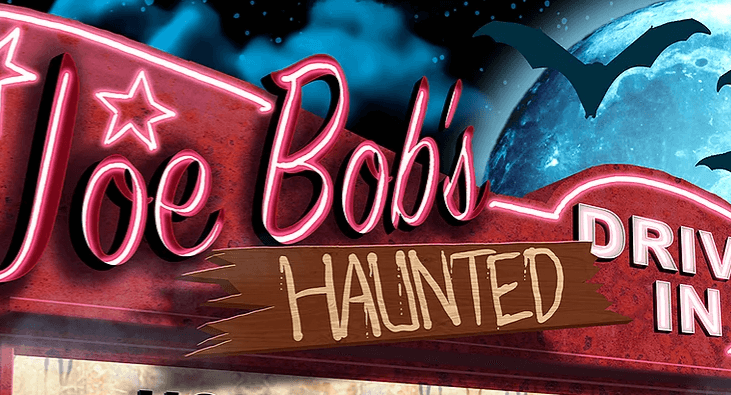 THE EXPERIENCE
Not much ever happens in the small town of Shock City. But when you find out your favorite horror host Joe Bob Briggs is bringing his film festival of some of the world's best horror shorts to your local drive-in, you're in.
You pick up your best friends and arrive to the warm neon glow of the Shock City Drive-In sign. The atmosphere is electric. Even the local DJ at K-SHOCK Radio is playing classic Halloween music to get you in the mood. Although the folks at the entrance are a little strange, you find your favorite spot in the theater and settle in with your popcorn.
The trailers for upcoming horror films are amazing, then Joe Bob and his co-hosts Darcy the Mail Girl and Felissa Rose hilariously burst onto the screen from the drive-in's projection booth to present the films they selected to play. The films are awesome, but as the night goes on, you get an uneasy feeling. People keep stopping and staring at your car for a little too long. You see others mysteriously running. Soon enough, a pair of teens disrupt Joe Bob in the projection booth to say that some crazy rabid dude just turned their entire nearby Halloween party into zombies…and now they're heading for the drive-in and hungry for flesh.
Since nothing will stop Joe Bob from putting on his festival, you roll up the windows and brave the invasion of zombies that you may not survive!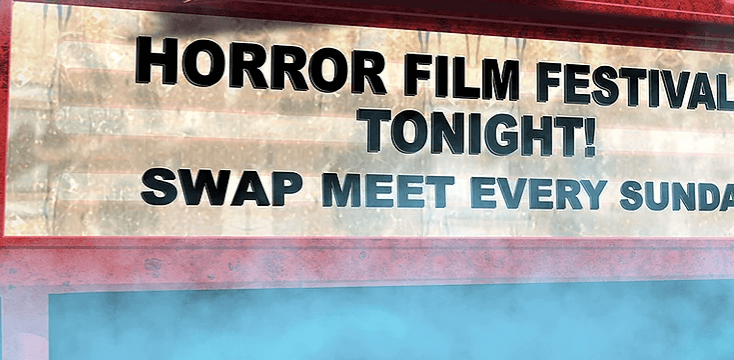 THE FILM FESTIVAL
They received over 900 submissions from 50 different countries and are selecting only the creepiest and wildest entries for the audience to sink their teeth into!
Expect to see some craziness you've never quite seen before!
CAST SIGNING APPEARANCES
Joe Bob Briggs, Darcy the Mail Girl, Felissa Rose, and the cast will appear at select nights for autograph signings.
Make sure to sign up for our email list to find out when they'll appear!
Tickets start at $99 per car!
The event will be up from mid-October to November 1, so make sure to sign up for our email list to be the first find out our dates, locations, and to snatch up discounted early bird tickets! We'll also have great merch to satisfy your spine-tingling needs!
Dates so far:
October 27 & 28, 7pm Each Night
The Roadium Drive-In
2500 W. Redondo Beach Blvd.
Torrance, CA 90504