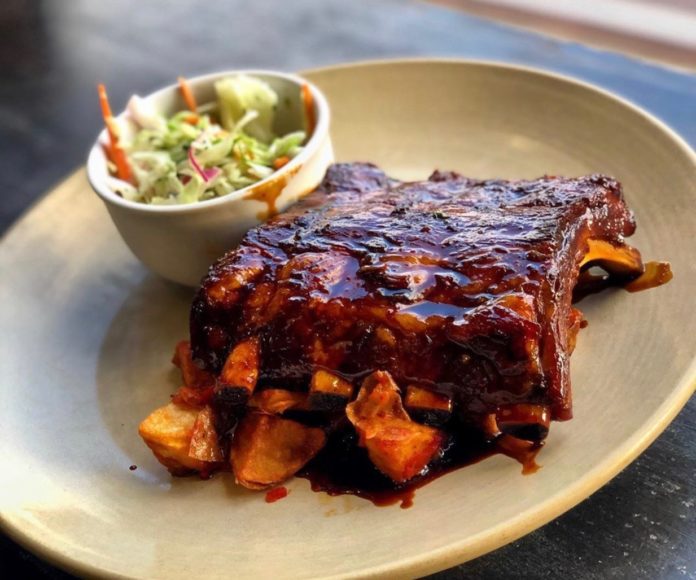 Akasha Richmond and Partner Alan Schulman present
Friday, July 3, and July 4, 2020, with menus and cocktails for take-out, ready to prepare and plate at home.
July 4th Weekend Menu features a  half rack of ready-to-heat St. Louis BBQ Pork Ribs, Bourbon Barbeque Sauce & Slaw; ready-to-heat Gluten-Free Fried Chicken Thighs with Pickles, Honey-Mustard, & Slaw; ready-to-cook Beyond Meat Burger Kit or Spiked Turkey Burger Kit for two – with all the fixings.
---
Advertisement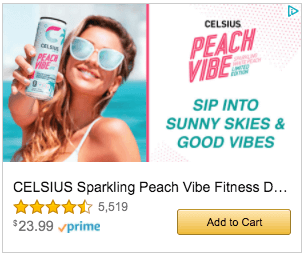 ---
À la carte sides include Red White & Blue Potato Salad; Heirloom Tomatoes with Feta, Cucumber, Baby Spinach & Red Wine Dressing; Creamed White Corn (no cream, just butter!); and Summer Fruit Salad.
Add some sweets – Rieger Farm's Peach Pie; gluten-free Dark Chocolate Cake with Chocolate Ganache, Market Berry Compote & Whipped Cream; and Take & Bake Cookies (1/2 dozen)
Also available are four ready-to-serve 4th of July cocktails by Cocktail Chef Matt Biancaniello –
Fireworks at the Beach –  umi plum & rose seaweed-infused tequila, kalahi coconut liqueur orgeat almond syrup, citrus bitters & lime; American Spirit –  strawberry shrub, cherry, meyer lemon, thyme & vodka; Star-Spangled Gimlet –  gin, fresh blueberry- lavender bitters, lime & agave; and White Peach Old Fashioned. All cocktails are priced from $25-30 and serve two.
---
Advertisement

---
Orders require pre-ordering by phone at 310.845.1700 or online at www.akasharestaurant.com/july4  for pick up on Friday, July 3rd and Saturday, July 4th and can be ordered for up to 8 guests.
AKASHA at HOME JULY 4TH MENU
Friday, July 3 & Saturday, July 4, 2020
mains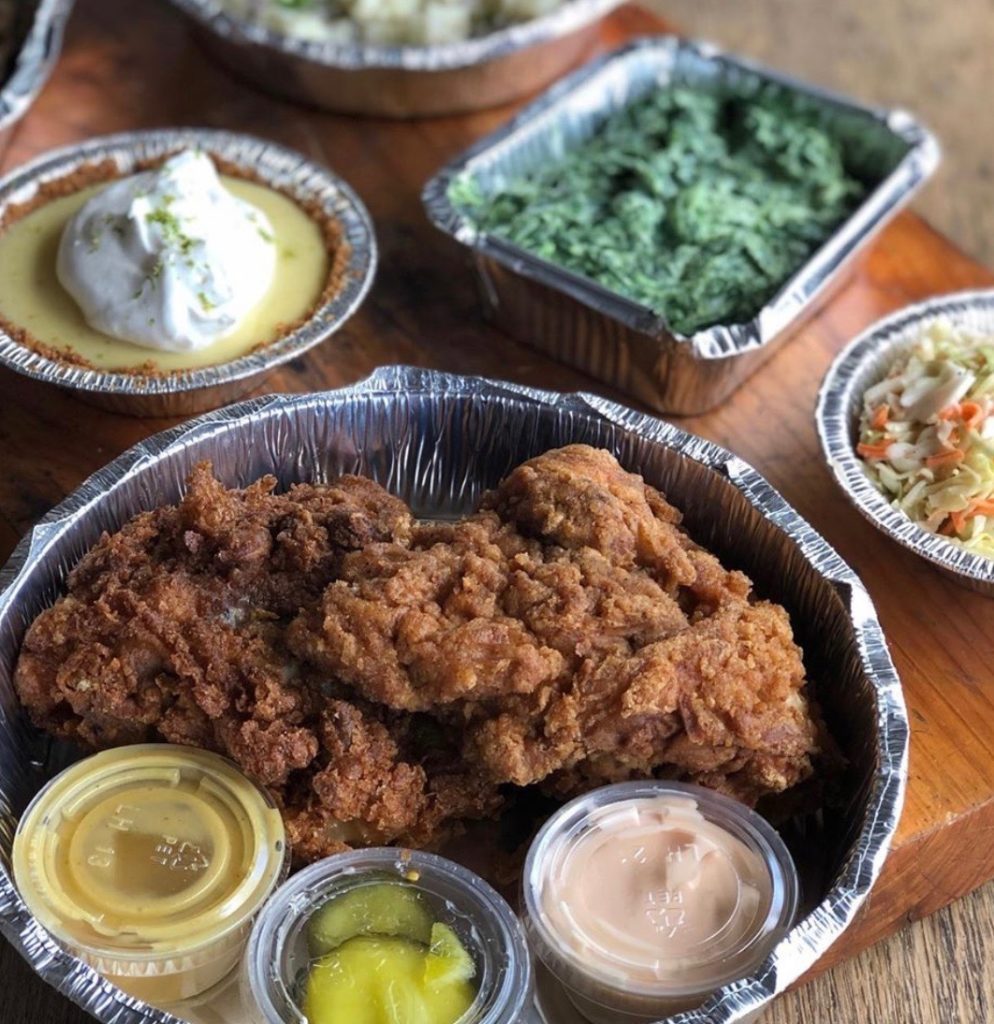 ½ rack (6 ribs) ready-to-heat st. louis bbq pork ribs
bourbon barbeque sauce, slaw 24
fried chicken thighs ready-to-heat (gluten-free)
pickles, honey-mustard, slaw 20
beyond meat ready-to-cook burger kit (2 burgers);
vegan cheese, pickles, tomato, grilled red onion, lettuce,
burger sauce, potato buns 28 (sub gluten-free bun +$2)
spiked turkey burger ready-to-heat burger kit (2 burgers)
cheddar cheese, pickles, tomato, grilled red onion, lettuce,
paprika aioli, potato buns 24 (sub gluten-free bun +$2)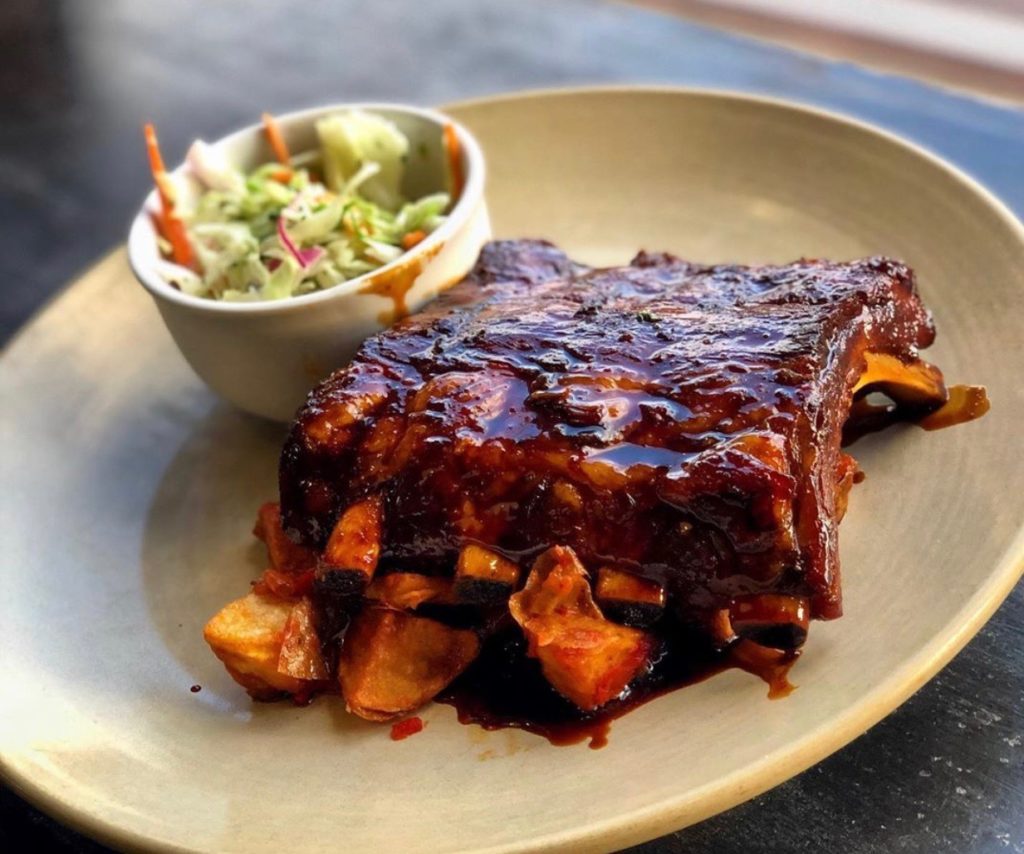 sides (all sides serve 2)
red white & blue potato salad, celery, scallions, dill, dijon dressing 10
heirloom tomato, feta, cucumber, baby spinach, red wine dressing 14
creamed white corn (no cream, just butter!) 10
summer fruit salad 10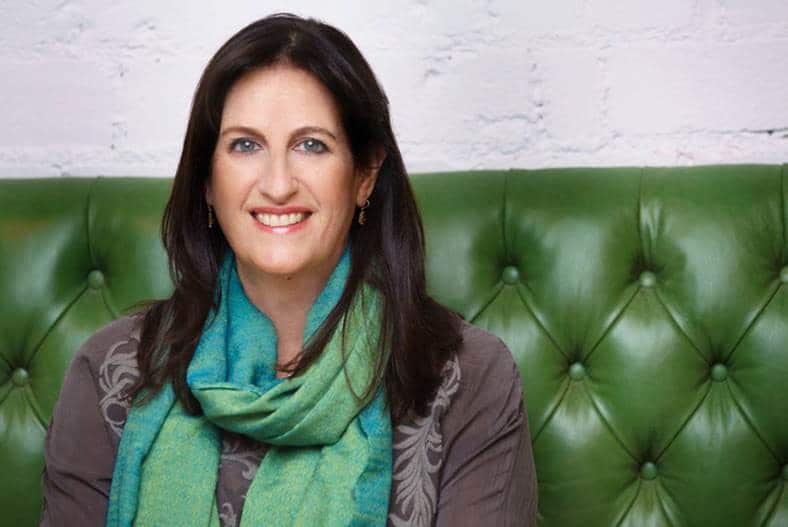 sweets
rieger farm's peach pie (serves 8) 38
gluten-free dark chocolate cake, chocolate ganache,
market berry compote & whipped cream (serves 4) 24
take & bake cookies (1/2 dozen) 12
gluten-free chocolate chip oatmeal & cranberry cookies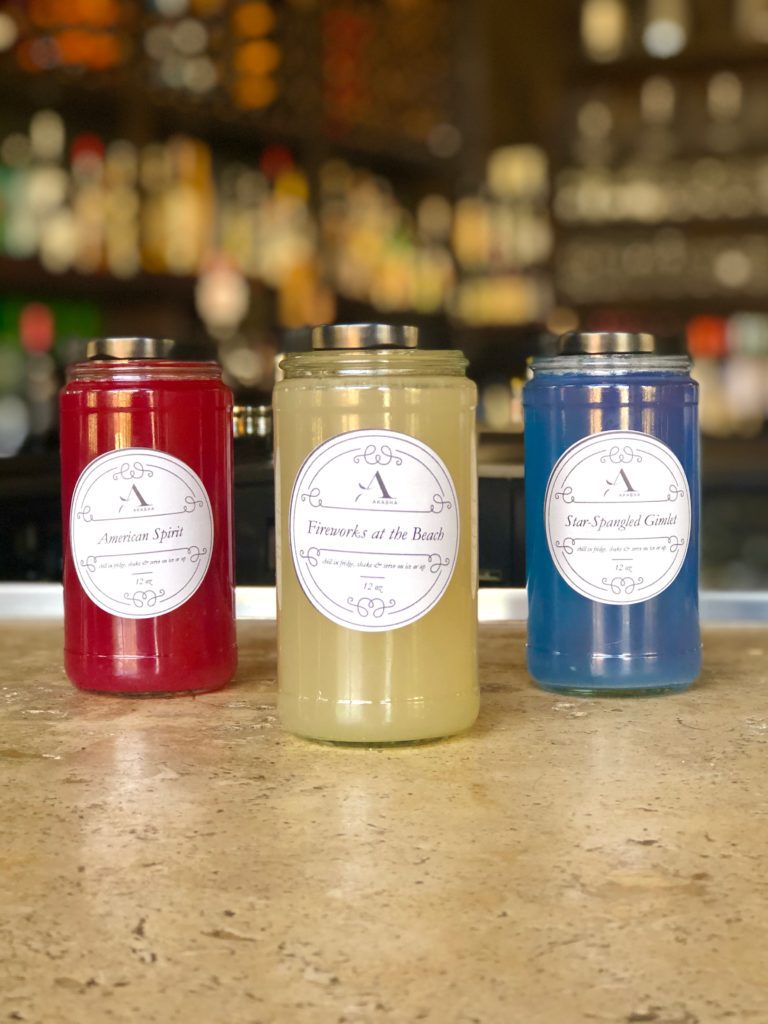 ready-to-serve 4th of July cocktails
created by Cocktail Chef Matt Biancaniello of Eat Your Drink
fireworks at the beach (serves 2) 30
umi plum & rose seaweed-infused tequila, kalahi coconut liqueur
orgeat almond syrup, citrus bitters & lime
american spirit (serves 2) 30
strawberry shrub, cherry, meyer lemon, thyme & vodka
star-spangled gimlet (serves 2) 30
gin, fresh blueberry & lavender bitters, lime & agave
white peach old fashioned (serves 2) 25