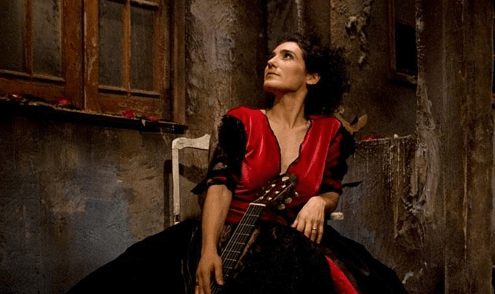 Journey into the happy and vibrant world of Brazilian culture as Wisdome, DTLA's art's and entertainment complex, launches a new series of Brazilian music and culinary events, starting on Jan 25th.
For one night only, legendary Brazilian female guitarist and vocalist, Badi Assad, will bring her beautiful melodies and voice to Los Angeles along with special guests Kahlil Cummings and Bloco Obini (Samba), Fabiano do Nascimento (Brazilian Guitar) and Latin Grammy winner Mario C. (Dj Set).
Enjoy Brazilian Music, Culture, & Food in DTLA
The evening will kick off with a special Brazilian dinner catered by one of LA's top Brazilian chef's followed by the concert and a full on Brazilian Dance Party! Who says you need to fly thousand's of miles to get a taste of Brazil?
Experience an unforgettable night of food, music and dancing!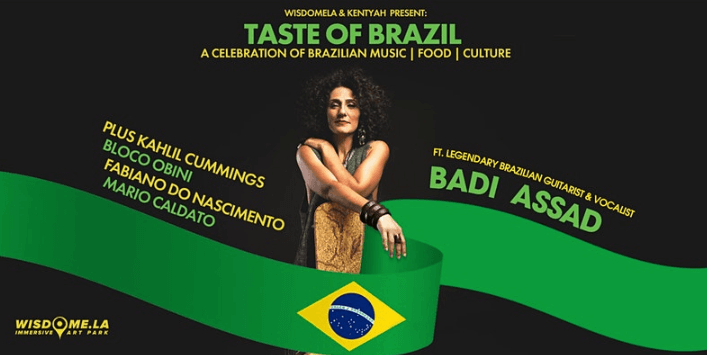 Taste of Brazil – Program Schedule
7-9 PM VIP Brazilian Dinner
9 PM Opening Ritual w/ Fabiano do Nascimento
9:30 PM Badi Assad Concert
10:45 PM Kahil Cummings & Bloco Obini (Olodum style Drum Ensemble)
11:30 PM DJ Mario C. (DJ Set)
World Famous Guitar Virtuoso Badi Assad
joined by Boloco Obini, Fabiano Nascimento, Mario C.
BADI ASSAD
Singer-Songwriter, Guitar Player, Author Based in São Paulo, Brazil, virtuoso guitar player, singer, vocal juggler and songwriter, Badi Assad has emerged as one of the most versatile artists of her generation. With more than 14 albums released worldwide, her 2006 CD Wonderland was selected among the 100 Best from the prestigious BBC London and was also included among the 30 Best on Amazon.com. The US magazine, Guitar Player, selected her from a pool of artists (that included the likes of Ben Harper and Ani DiFranco), as one of the guitar players that would revolutionize the world
Bloco Obini
all Queens drum ensemble, was founded by Kahlil Cummings. Bloco meaning (block or group) and Obini (Yoruba word meaning Women) represents the empowerment of not only women, but an entire generation. Bloco Obini features multi instrumentalist Fabio Santana de Sosa, and world renown vocalist Dandha Da Hora from Bahia's infamous Ilé Aiye. Bloco Obini performs, Afro Brazilian bloco style drumming, "Olodum"with uplifting songs affirming that we are all royalty, and come from Kings, and Queens, by using the drum as a spiritual weapon, to heal, educate, uplift, and serve the community, and abroad.
In a fractured world, we need culture to survive, and thrive. Bloco Obini understands the power of the spirit of the drum "Ayan Agalu", and its healing affects on communities and people, especially kids dealing with trauma in under privilege and under served schools. Bloco Obini sets to serve the people by providing the drum medicine, and raising awareness, to the many issue plaguing our societies. Children are the beginnings of all things, therefore have infinite possibilities, choices, and hope. We are a drum ensemble made up of, educators, nurses, dance instructors, political activist, students, mothers, and healers. All whom dedicate their lives to defend culture. Using art to speak on the times. Bloco Obini is a family. We are civilization's anchor. We are the compass for humanity's conscience.
Fabiano do Nascimento
Born in Rio de Janeiro, Brazil, Fabiano do Nascimento studied classical piano and music theory as a young boy. From the time he played his first notes on the guitar at age ten, he devoted himself to that instrument. Fabiano was born into a musical family, a lineage that goes back to his great-grand-father "Ladario Teixeira". Who was a Blind virtuoso saxophone player, who contributed to the evolution of the instrument itself, adding more keys to the older "Aldolph Sax" version.
Fabiano is known for his stunning Solo guitar performances on multi-string guitars, unique compositions and his latest works are his albums soon to be released "Ykytu" (Solo album) and "Prelúdio" (Duo with percussionist "Tiki" Pasillas of all original music). Also "Tempo dos Mestres", "Dança dos Tempos" and "SUL" accompanied by his long time musical partners, Sam Gendel, and percussionist Ricardo "Tiki" Pasillas. Also featuring the Legendary Airto Moreira under Now again Records.