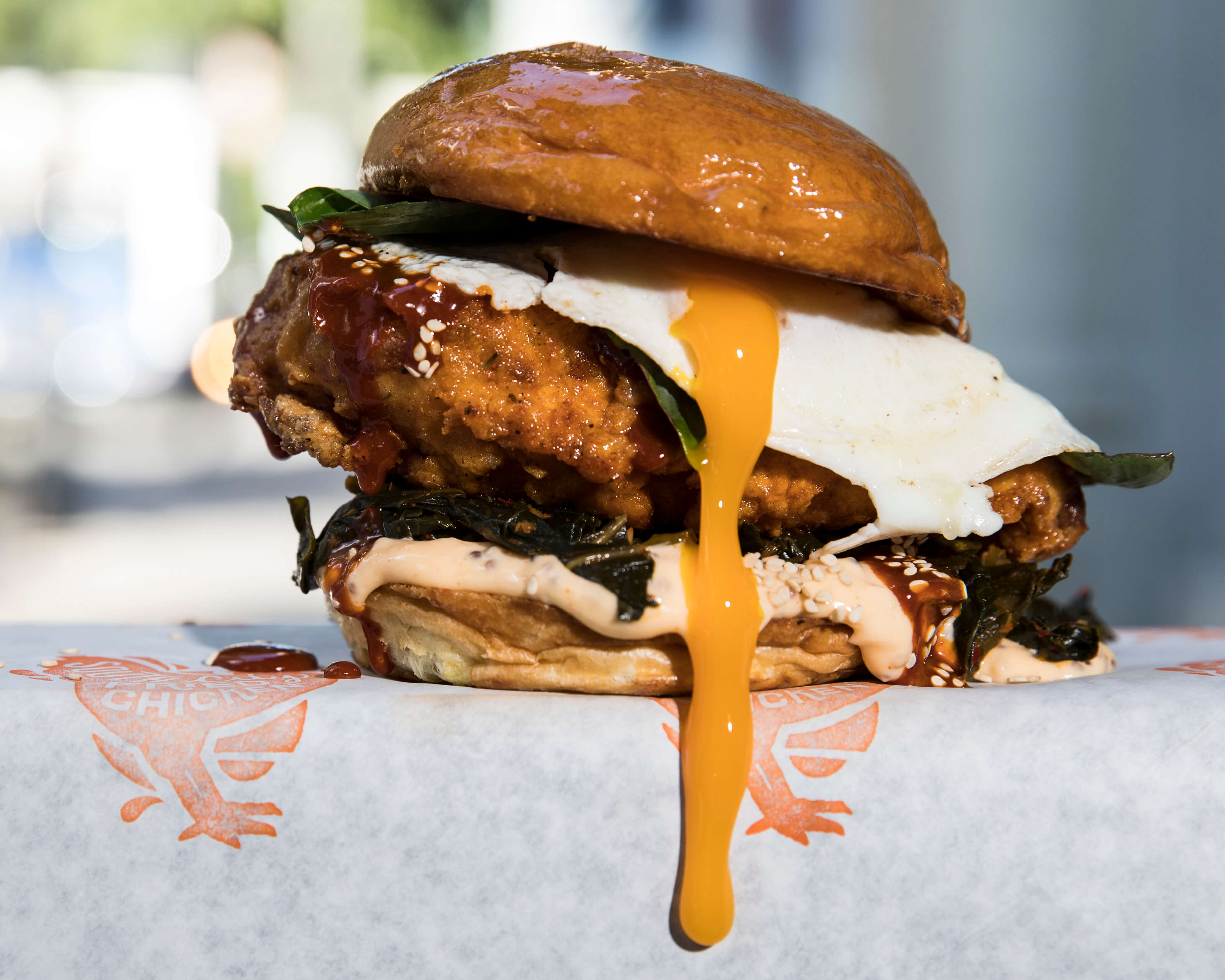 After a year and a half located inside DTLA's Corporation Food Hall, Partners Joshua Kopel and Executive Chef Sammy Monsour closed South City Fried Chicken on Sunday evening, July 28th, and are now bringing it home to Preux & Proper as they introduce their New South City Fried Chicken Lunchtime Pop-Up every Monday through Saturday starting Thursday, August 1st, 2019!
Originally, from the Good Ol' Boys that redefined and refined elevated Southern cuisine at Preux & Proper, South City Fried Chicken was meant to welcome guests the delectable opportunity to get lost in their nuanced mouth-watering, finger-lickin' fried chicken sandwiches prepared with the highest-quality ingredients and packed with the finest flavors the South has to offer. States Kopel, "We decided to close South City Fried Chicken as we realized early on that we were unable to execute the food we wanted, the way we wanted it, in this particular space, so we finally decided to bring it home to Preux & Proper."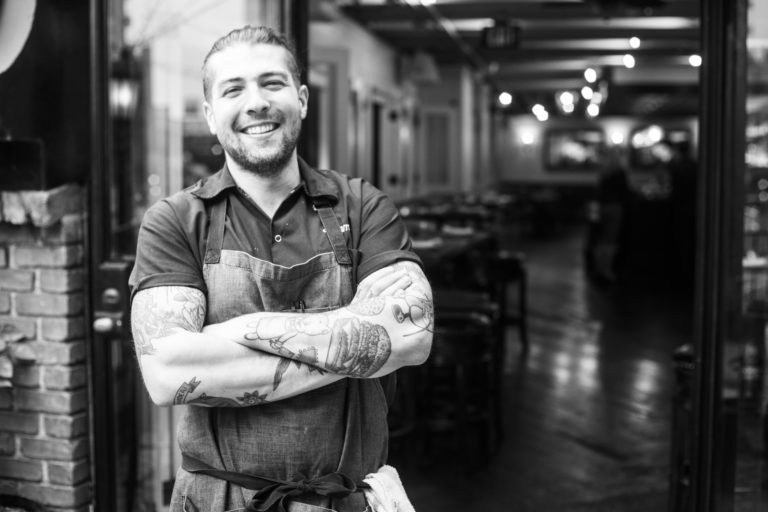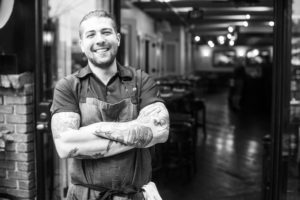 Preux & Proper, the preeminent Southern house on the West Coast where hospitality is a way of life, guests no longer have to wait until dinner during the week to partake in the rich tapestry of the South with Preux & Proper's New South City Fried Chicken Lunchtime Pop-up every Monday through Saturday. "This is a call and response to our longtime guests and our neighborhood," explains Kopel. "We are a community driven restaurant first and foremost, and when the community asked for lunch service, we saw this as an opportunity to showcase South City Fried Chicken the way we had always envisioned it and be able to perform a duty and accommodate our neighbors."
---
---
Executive Chef Sammy Monsour entreats guests to delve into one of his South City Fried Chicken Sandwiches described by Chef Sammy as "A love letter to the South written in flavor," as he highlights five crispy on the outside, succulent on the inside overnight buttermilk brined premium Georgia chicken breast offerings, which are served on a buttered bun.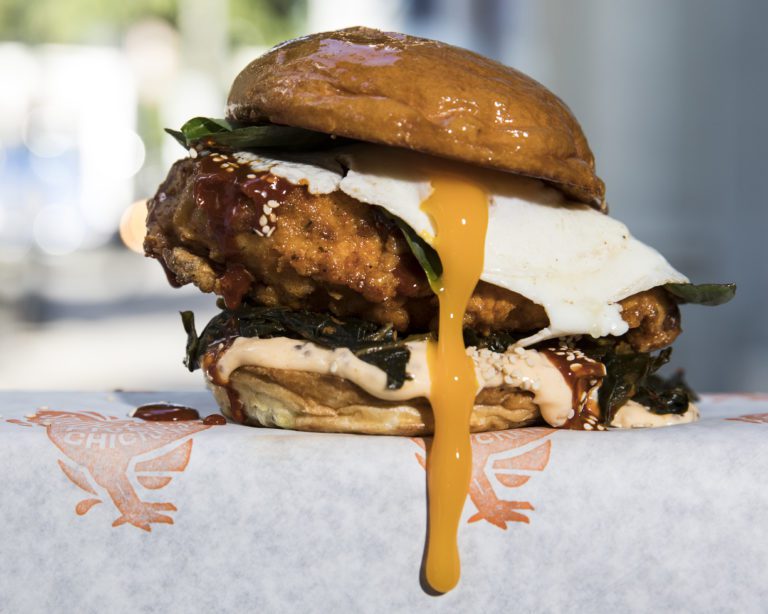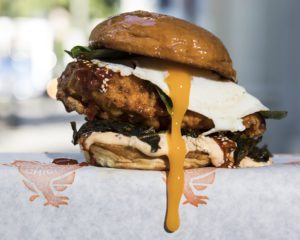 The journey begins as guests take a bite out of Chef Sammy's neck of the woods with the Chapel Hill Sandwich, a true family affair that begins from the recipe box of Chef Sammy's father himself with Pop's Slaw, Jenny's pimento cheese created and shared by Chef Sammy's sister Jenny, house pickles and crispy Tarheel country ham.
Next, head southward and partake in South City Fried Chicken's answer to the Club Sandwich with the Greenville Sandwich. Hickory-smoked chicken bacon begins with chicken thighs cured with salt and sugar and smoked hard with hickory before frying them up to crisped golden brown perfection.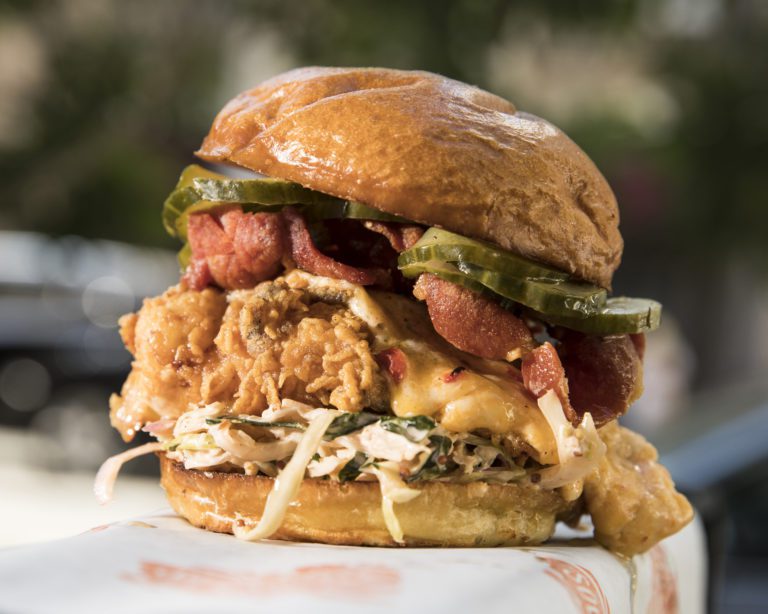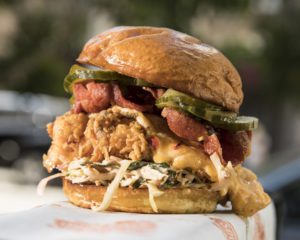 Other accoutrements include house mayo, gruyère, baby iceberg lettuce and heirloom tomato. Head over to the Big Easy with the New Orleans Sandwich, where Chef Sammy pushes the envelope with big, bold flavors on what he refers to as "a funky-ass sandwich to match the energy of NOLA." Comprised of Creole remoulade, Cajun spice, Thai basil, a fried egg, benne seeds, and ginger-miso BBQ.
The Austin Sandwich (Sammy's favorite), is prepared with Rojo bean hummus, Burrata, Javi's Tia's Hot Sauce, pickled riadish, cilantro, blue corn tortilla crumble and heirloom tomato. Lastly, put down the guitar and pick up the Nashville Sandwich, a masterfully executed multidimensional sandwich seasoned with a Nashville rub, chili oil, house pickles and a sweet and tangy Cookout slaw.
For those looking for something a little on the lighter side, Chef Sammy does not disappoint with his Baby Iceberg Salads featuring the Pop's Chop with North Country bacon ends, heirloom tomato, scallion, Humboldt Fog goat's cheese and buttermilk dressing; the Chicken Bacon Cobb served with house chicken bacon, heirloom tomato, cucumber, hard-boiled egg, queso fresco and avocado ranch, or the OGO Caesar prepared with Monterey Bay seaweed, mustard frills, caper berries, Parmigiano and toasted yellow-eyed peas.
Seafood lovers can savor some of Chef Sammy's time-honored house staples with the Sustainable Seafood section of the menu including the Cajun "Popcorn" Rock Shrimp with a buttermilk marinade, cornmeal crust, Creole remoulade and chunky cocktail sauce; the Dungeness Crab Hushpuppies with a Low-Country Boil Spice, charred Poblano butter, house bourbon barrel-aged green hot sauce, or the quintessential Southern Fried Mississippi Catfish comprised of buttermilk marinade, cornmeal crust, house pickles, celery salt, and red remoulade.
---
---
---
---
For fried chicken fans that want to take it to another level, there are the Fried Chicken Plates featuring Chicken & Waffles served with two boneless breasts on cinnamon sugar, cornbread waffles with bourbon-maple, crushed pecans, marjoram and really good butter; Chicken & Biscuit prepared with two boneless breasts and a handmade buttermilk biscuit with charred Poblano butter, Serrano jelly and bourbon barrel-aged green hot; the Nashville Hot served with two boneless breasts, house pickles, Pop's Slaw on thick cut brioche with a choice of Hot, XXX, Reaper, or Hellfire sauce; Whole Fried Game Hen comprised of four quartered bone-in game hen with Low-Country seasoning, buttermilk dressing, parsley, scallions and dill, or the Crispy Braised Dr Pepper Wings which include twelve whole wings served with a pomegranate-habanero BBQ, lime crema and cilantro.
A Southern meal is never complete without some Sides and Chef Sammy offers up some perfect Southern staples such as the Slaw, Kennebec Fries, Watermelon Cucumber Salad, Braised Collards, Low-Country Baked Beans, and Preux & Proper's famous Cast Iron Mac & Cheese that can accompany any dish or be enjoyed on its own.
Lastly, y'all better save room for some Sweets and make way for Preux & Proper's Pâte à Choux Beignets made with "bananas foster" dulce de leche and powdered sugar; Pie Of The Week served with macerated fruit and extra fancy whipped cream; Maria's Strawberry Shortcake served with a house buttermilk biscuit, brown butter solids and crème fraiche vanilla ice cream, or Chef Sammy's Banana Puddin' featuring candied walnuts, bananas, Nilla wafer and toasted coconut.
There is also a selection of lovely lunchtime libations for every palate featuring Beverage Director Kassday Wiggins' Cocktails like the Punk Evans comprised of Effen Vodka, lemongrass, ginger, and frozen watermelon balls. So delicious it is criminal, the Alabama Slammer features Buffalo Trace Bourbon, Sipsmith Gin, yellow chartreuse, lemon, lavender, and grape soda; while the Texas Two-Timer is made with P&P El Tesoro Reposado, lime, cane sugar, and mint. Heaven has nothing as delightful as the Hells Bells made with Real McCoy Rum, ginger peach tea, and lemon, or down the refreshing Green Gullah made with St. George Gin, green chartreuse, pineapple, lime, ginger beer and chipotle.
Guests preferring a perfectly paired Ice Cold Beer can choose between the Three Weavers Kolsch (12 oz), Pizza Port Honey Blonde (16 oz), Golden State Mighty Dry Cider (16 oz), Glutenberg Pale Ale (16 oz), Modern Times Tropical Sour (16 oz), Florida Cracker Belgium White (12 oz), Westfalia Red Ale (12 oz), Stone IPA (16 oz), or Alesmith Speedway Stout (16 oz).
So, come on in and pull up a seat as Preux & Proper spoils their guest's Southern style all week long with their New South City Fried Chicken Lunchtime Pop-Up!
Preux & Proper is NOW OPEN for Lunch every Monday through Saturday from 11:00 am to 4:00 pm. Dinner is served every Monday through Wednesday from 4:00 pm to 10:00 pm, and Friday and Saturday from 4:00 pm to 11:00 pm. Sammy's Cookout is every Thursday from 4:00 pm to 10:00 pm, and Sunday Supper is served every Sunday from 4:00 pm to 9:00 pm. Sunday Brunch is served every Sunday from 11:00 am to 4:00 pm. Preux & Proper also serves Happy Hour every Monday through Saturday from 4:00 pm to 7:00 pm. For more information or reservations, please visit www.preuxandproper.com or call Preux & Proper directly at 213.896.0090.