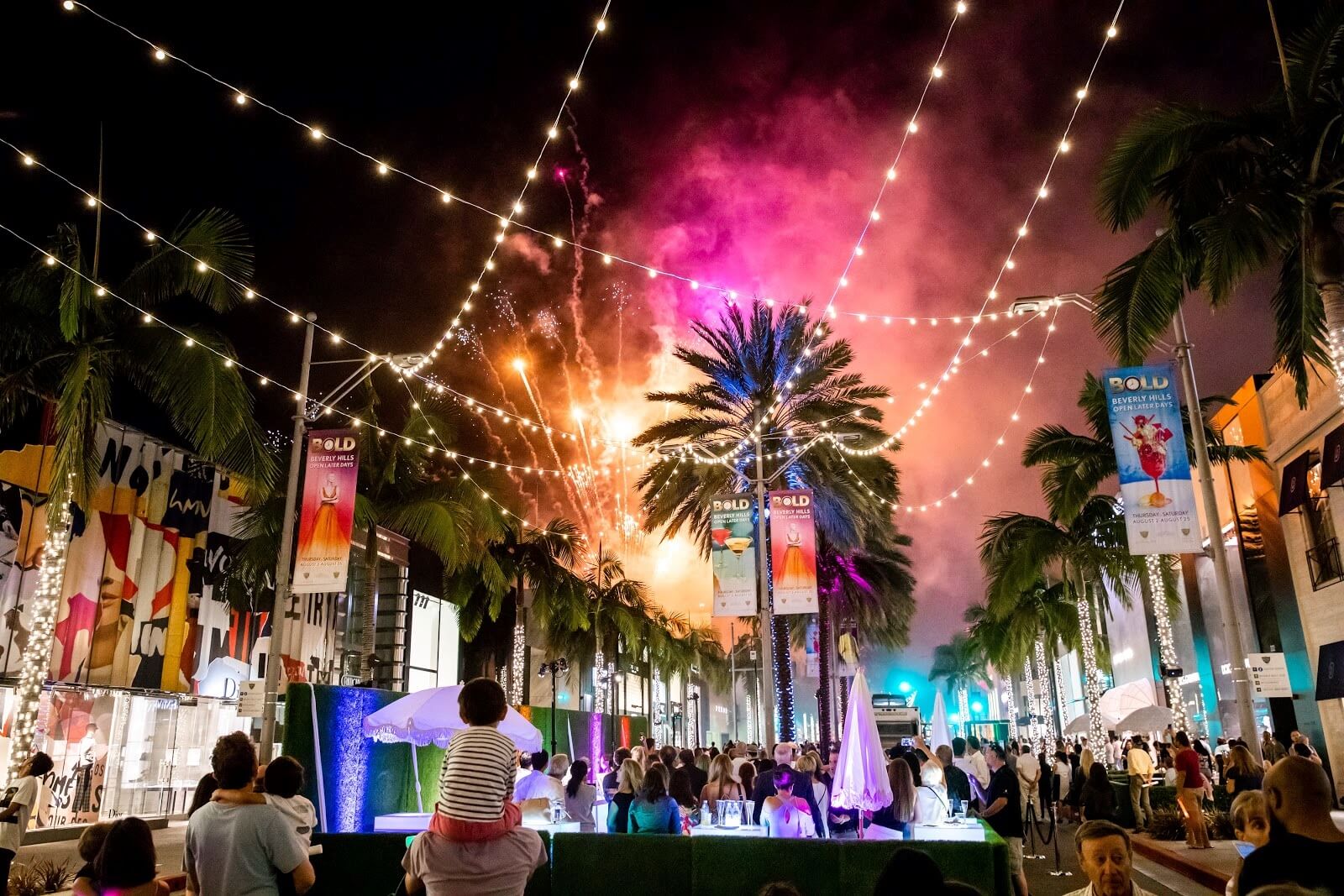 Get ready for summer to be enhanced with #BOLDBH events and a spectacular Kick-Off Celebration
The Rodeo Drive Committee is thrilled to present the BOLD (Beverly Hills Open Later Days) Summer campaign, kicking off Thursday, August 1st from 5:00pm – 9:00pm, with special hosts, Sam Rubin and Jessica Holmes from KTLA Morning News.
This exhilarating event will begin with an unveiling of a one-of-a-kind sculpture by renowned artist, Mr. Brainwash, in front of Louis Vuitton. Guests will enjoy music by MISS DJ BLISS as they arrive on the street for the opening nights' festivities.
---
---
---
---
The celebration will include live music from Spanish Opera and Rock singer, Cristina Ramos, whose acclaimed performance on America's Got Talent: The Champions received more than 1 million views in just one week! Also included will be a dramatic piano duel, where guests will be treated to a custom set-list played on two grand pianos and professional pianists, who will duel with upbeat classic and current music. Rounding out the evening will be a champagne garden, delicious food trucks, a festive fireworks show and more!
The BOLD Summer celebrations will continue every Thursday, Friday and Saturday evening between 5 p.m. -8 p.m., from August 1st thru August 24th on the 200, 300 and 400 blocks of Rodeo Drive as well as throughout the city. The streets will come alive once again with experiential programming, vivid arts and culture, and a great sense of summer joy for all who visit. Guests will be treated to intriguing art sculptures by renowned artist, Mr. Brainwash, who has created two custom sculptures in addition to the one being unveiled on opening night.
The first, entitled, "BEVERLY HILLS IS BEAUTIFUL" can be seen at the Beverly Canon Gardens, and the second, entitled, "BEVERLY HILLS IS LIFE" will be placed outside of Wells Fargo on South Santa Monica Boulevard.
In addition, guests on Rodeo Drive can enjoy later shopping hours from their favorite merchants while experiencing unforgettable cultural experiences and specially-curated playlists, which will debut through enhanced audio played through the medians for the four weeks of BOLD Summer evenings.
"We are thrilled for another successful Summer BOLD on Rodeo Drive. This year we are especially excited to be partnering with world renowned artist Mr. Brainwash for customized sculptures created just for the city of Beverly Hills and the use of his artwork to give even more color and vibrancy to our famous street," said Nicola Cagliata, Rodeo Drive Committee President. "We look forward to the high energy, lively evening activations and shopping on Rodeo Drive for Summer BOLD this August!"
---
---
---
---
Highlights that guests to Rodeo Drive can expect to enjoy during BOLD Summer will include:
Summer Lounge on Rodeo – August 2 – 3
Outside Cartier, Rodeo Drive will have a special space devoted for our guests to sit and take in all that Rodeo Drive has to offer – a sweet treat as you people watch and experience a whole new Rodeo Drive with lively arts and cultural events while simultaneously enjoying the lovely summer nights of Beverly Hills.
Rodeo Luxury on Display – August 8 – 10
During the second weekend of BOLD Summer, highly curated, luxury clothing pieces from multiple talented designers will be showcased within gorgeous displays on the 300 and 400 blocks of Rodeo Drive.
Hashtag Mosaic – August 15 – 17
Outside of Dolce and Gabbana, photos that have the #BOLDsummer will be automatically printed and allow guests to match the number on the back of their photo with the corresponding number seen on the mosaic wall.
Living Mannequins – August 22 – 24
While strolling outside Chanel and Salvatore Ferragamo, guests will be mesmerized by live actors through theatrical and voyeuristic sets.
Architectural Tours – Each Friday evening during BOLD Summer – August 2, 9, 16 & 23
There is a lot of history on Rodeo Drive, and now is your chance to learn about some of it! Public tours will be held highlighting the interesting architecture of some of Rodeo's most unique buildings on all four blocks of the famed street. Public tours will be led by Beverly Hills resident and President of the Beverly Hills historical society, Phil Savenick. Tours will be 45 minutes and begin at 6 p.m. or 7 p.m.
Louis Vuitton X Exhibition – running now through September 15th
Louis Vuitton has staged an exhibit exploring the house's 160-year history of collaborations. Titled Louis Vuitton X, the show will feature over 180 items from the brand's archives, including bags reworked by Karl Lagerfeld, Rei Kawakubo, Cindy Sherman, and Frank Gehry. Original collaborations by artists like Yayoi Kusama, Richard Prince, and Zaha Hadid will also be on display. Additionally, the new Artycapucines collection — a collaboration with leading contemporary artists — will debut at the show. Louis Vuitton X runs from June 28 to September 15 at 468 North Rodeo Drive in Beverly Hills; Open 10am-9pm Monday-Saturday, 11am-7pm Sunday.
For more information on all BOLD Summer 2019 events, please visit our website at http://lovebeverlyhills.com/boldbh.