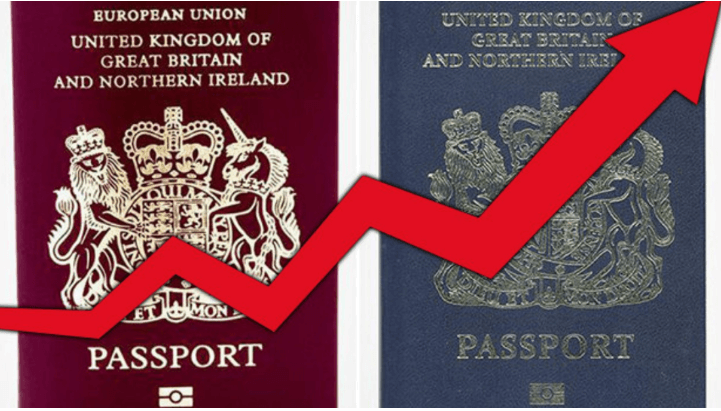 Brexit is due to take place at the end of next month although there's much uncertainty around what will actually happen when the UK leaves the EU. Holidays are one area which could well concern many British travellers hoping to enjoy a trip away after March. The UK Foreign and Commonwealth Office (FCO) has issued its latest travel advice for Britons. Should the UK quit the European Union without a deal, you need to have at least six months left on your passport.
These six months need to be left on your passport on the date of your arrival to an EU country.
The document rule applies to both adult and child passports, said the FCO.
What happens to the months left over on your passport?
However, the FCO also stated: "If you renewed a passport before it expired, up to nine extra months may have been added to your new passport's expiry date.
"Any extra months on your passport over 10 years may not count towards the six months that should be remaining for travel to most countries in Europe."
This means, if you renew your passport before it has actually expired, you no longer get an extra nine months added on there as you did before.
In short, if you had plans for a summer holiday and your passport has 15 months or less left on it, you'll need to start renewing.
Fortunately, if you're confused, the UK Government has published a website tool to check the validity of your passport under these rules.
The new regulations apply to passports issued by the UK, Gibraltar, Guernsey, the Isle of Man and Jersey.
Which countries are you allowed to enter without a passport?
They will apply for travel to and between countries in the Schengen area.
The Schengen zone covers 26 European states, including popular destinations such as France, Germany, Italy and Spain. The states have officially abolished passport and all other types of border control at their mutual borders. They boast a single visa policy and single jurisdiction for international travel purposes.
The 26 Schengen countries are: Austria, Belgium, Czech Republic, Denmark, Estonia, Finland, France, Germany, Greece, Hungary, Iceland, Italy, Latvia, Liechtenstein, Lithuania, Luxembourg, Malta, Netherlands, Norway, Poland, Portugal, Slovakia, Slovenia, Spain, Sweden, and Switzerland.
The rules don't apply to all countries, however. They are not relevant for Ireland, and other non-Schengen states such as Bulgaria, Croatia and Romania.
Will flights to the EU still operate after Brexit?
In the no-deal scenario, the European Commission has advised that UK airlines will still continue to operate flights between the UK and EU.
If flights have been booked through companies protected by ABTA (Association of British Travel Agents), they are fully protected under Package Travel Regulations. This means passengers will be entitled to a full refund if their holiday can no longer go ahead.