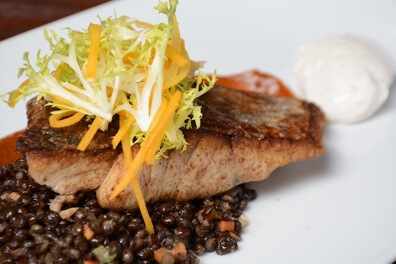 A new year means new changes, new adventures, and new faces, and after well over a decade, The Raymond 1886 introduces New Executive Chef Jon Hung and Pastry Chef Alexa Clark!
Executive Chef Jon Hung is the new secret ingredient at The Raymond 1886, whose brother is none other than Los Angeles based Chef Michael Hung (Traci Des Jardins's James Beard Award-winning Jardinière, Roland Passot's Michelin-starred La Folie, Viviane in the Avalon Hotel, Faith & Flower, and his culinary and hospitality consulting company Ardour Hospitality) proving that talent, culinary ingenuity, and a keen sense of business runs in the family. Before his cross-country move to helm the kitchen at The Raymond 1886, Executive Chef Jon Hung was most recently at the highly collaborative restaurant Common Lot in New Jersey, which was awarded 4 stars by the New York Times. Chef Hung began his career in New Jersey as owner and operator of The Bagel Box, during which time he received his Certificate of Culinary Arts from The Art Institute of New York. These experiences set the foundation for Chef Hung's trek towards a new frontier at The Raymond 1886, where his fifteen years overseeing all aspects of his own business made him cognizant and empathetic of all restaurant operations, while his team work skills at Common Lot gave Hung the training ground to create a collaborative environment in the kitchen. "I consider it a failing of my leadership if I do not support the creativeness of my team." For his all new Dinner Menu at The Raymond 1886, Executive Chef Jon Hung stayed within the parameters of tradition while still coloring just outside the lines in texture and flavor profile.  
The Raymond 1886 new Dinner Menu begins with an unprecedented array of Starters to share, like the Cedar Planked Broccolini, grilled broccolini, lemon dressing, fresh horseradish, and grilled lemon, and the Roasted Cauliflower, Romesco, toasted almonds, and bread crumbs, or the Shishito, with shallots, sweet chili sauce, and crispy garlic. Two salads round out these verdant selections, starting with the Grilled Caesar Salad, charred romaine lettuce, house made dressing, croutons, and shaved parmesan, while the Kale Salad is comprised of Tuscan kale, balsamic vinaigrette, sumac yogurt, candied hazelnuts, and goat cheese. All will bow down and declare their undying fealty to the King Trumpet and Truffle Polenta, comprised of roasted shimeji, mushroom broth, and carrot top chimichurri, while Chef Hung offers two spins on a classic with the Steak Tartare, blood orange soy dressing, sesame seeds, and wasabi powder, served with brioche, and the Salmon Tartare, featuring avocado mousse, white soy, furikake, crispy salmon skin, and salmon roe. A bounty of sea fare is available beginning with the Steamed Blue Mussels, with angry lady sauce, Chinese sausage, Thai chili, and tomato, 
served with toasted bread, or the Miso-Sake Glazed Hamachi Kama, comprised of whole roasted yellowtail collar, blistered shishito peppers, and lemon, or the slurp worthy Micro-Farmed Oysters accompanied with champagne mignonette, and finally, the Grilled Octo, featuring cranberry beans, linguica, baby kale, and black olive gremolata. Go classic with the Artisanal Baguette served with homemade butter, or the Imported and Domestic Cheeses, accompanied by assorted seasonal pickles, fruit and house made focaccia, or the Charcuterie Board, assorted cured meats and pickles served with brioche.
The Entrees section include ten mouthwatering dishes, beginning with the vegetarian friendly Sweet Potato Cavatelli, featuring butternut squash coconut sauce, peas, and arugula. Make a wish on a fish and you will have two pescatarian dishes at the ready, starting with the Seared Salmon, roasted heirloom carrots, carrot puree, Salsa seco, and spiced pepitas, or the moist and flakey Barramundi, featuring black lentils, harissa butternut squash puree, house-pickled butternut squash, and preserved lemon. Prepare to be in a "fowl" mood with the succulent Roasted Chicken, served with truffle polenta, Maitake mushrooms, red peppercorn brandy jus, preserved lemon and fried capers, or the Roasted Duck with warm potato salad and braised red cabbage. A dish near and dear to Chef Hung's heart, the Pan Seared Pork Chop waited until the opportune moment presented itself to develop and share it with the world, with wheat berries, baby fennel, house-pickled fennel, fermented apples, and sage jus. The tender Short Rib begins with a 72-hour braise before plating up crispy pig ear salad, French green beans, and potato-butter emulsion, while the short rib joins forces with pasta for the Strozzapreti, featuring short rib ragu and citrus gremolata. Robust and meaty, the New York Steak, features roasted kombu scalloped potatoes, which Chef Hung describes as "intense flavor that elevates the umami" and pairs beautifully with the accompanying sautéed mushrooms and shitake jus. Be it platonic, familial, or Eros, nothing says "I Love You" like the Dry-Aged Rib Eye For Two, with elephant garlic and family style vegetables.
The sweet to Executive Chef Jon Hung's savory, The Raymond 1886 also introduces Pastry Chef Alexa Clark. Calculated and thoughtful, Clark's career began immediately following her completion in Pastry and Baking Arts at The Institution of Culinary Education in New York, and in New York and New Jersey based kitchens such as TriBeCa Treats, No Nut Nation, and Local Seasonal Kitchen, before gaining recognition for her contributions at Common Lot and Viaggio Ristorante, with whom she was profiled in the April 2018 issue of New Jersey Monthly. Hung and Clark met at Common Lot and quickly discovered a similar work ethic that only strengthens under the same kitchen roof, synergistically playing off one another with their supportive palates. The Owners of The Raymond 1886 were equally impressed with Clark's passion and skill, prompting she and Hung to excitedly make the move across the United States. Clark knew from the get-go that her approach to The Raymond 1886 new Dessert Menu would be about perfecting balance. States Clark, "Guests want something they cannot easily make at home, but something that is also familiar." Clark walks that tightrope with the greatest of ease seen in her four delectable treats, beginning with the Passion Fruit Cacao Tart, featuring blood orange, chocolate coconut mousse, and coconut powder. Creamy and luscious, the Peanut Butter Mousse is comprised of Nutella cremeux, honeycomb, cinnamon condensed milk, and lime gel, while the Hazelnut Linzer Tart offers guests a satisfactory contrast in texture with black currant cranberry preserves, citrus caramel creme, and sugared pepitas. Feeling fancy? Go for the French classique, Chocolate Bavarois, with Tahitian vanilla ice cream, pink peppercorn graham crumble, and caramel. Always seeking new opportunities to expand her prowess, Clark leapt at the chance to get behind the bar and collaborate with the critically acclaimed 1886 bar team for their new 2019 Winter Cocktail Menu. "This was an amazing experience and I am looking forward to more collaborations with the 1886 team," says Clark.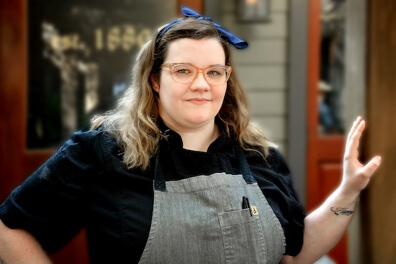 Should auld acquaintance be forgot? Not when there is a tantalizing new year full of delicious beginnings, so head to The Raymond 1886 where the innovation keeps on cooking with Executive Chef Jon Hung and Pastry Chef Alexa Clark's new Dinner and Dessert Menus! 
The Raymond 1886 is open for Lunch every Tuesday through Friday from 11:30 am to 2:30 pm, Dinner every Tuesday through Sunday from 5:30 to 10:00 pm, and for Brunch every Saturday and Sunday from 9:00 am to 2:30 pm. 1886 is open every Sunday, Tuesday through Thursday from 11:30 am to 12:00 Midnight, and every Friday and Saturday from 11:30 am to 2:00 am. 1886 Happy Hour is every Tuesday through Friday from 4:00 pm to 7:00 pm. For more information or reservations, please visit www.TheRaymond.com or call The Raymond 1886 directly at 626.441.3136.