Pacific Palisades's Qué Padre Introduces New Weekend Breakfast & Spicy Mimosa Bar
Qué Padre is excited to introduce their new Weekend Breakfast and Spicy Mimosa Bar at Palisades Village.
Starting this Saturday, April 22nd, and continuing every Saturday and Sunday from 9:00 am to 12:00 noon, Qué Padre will be serving up Executive Chef Isaias Peña's delicious new Weekend Breakfast Menu featuring Steak & Eggs Tacos, Soyrizo Tacos, Chilaquiles, and Churro French Toast.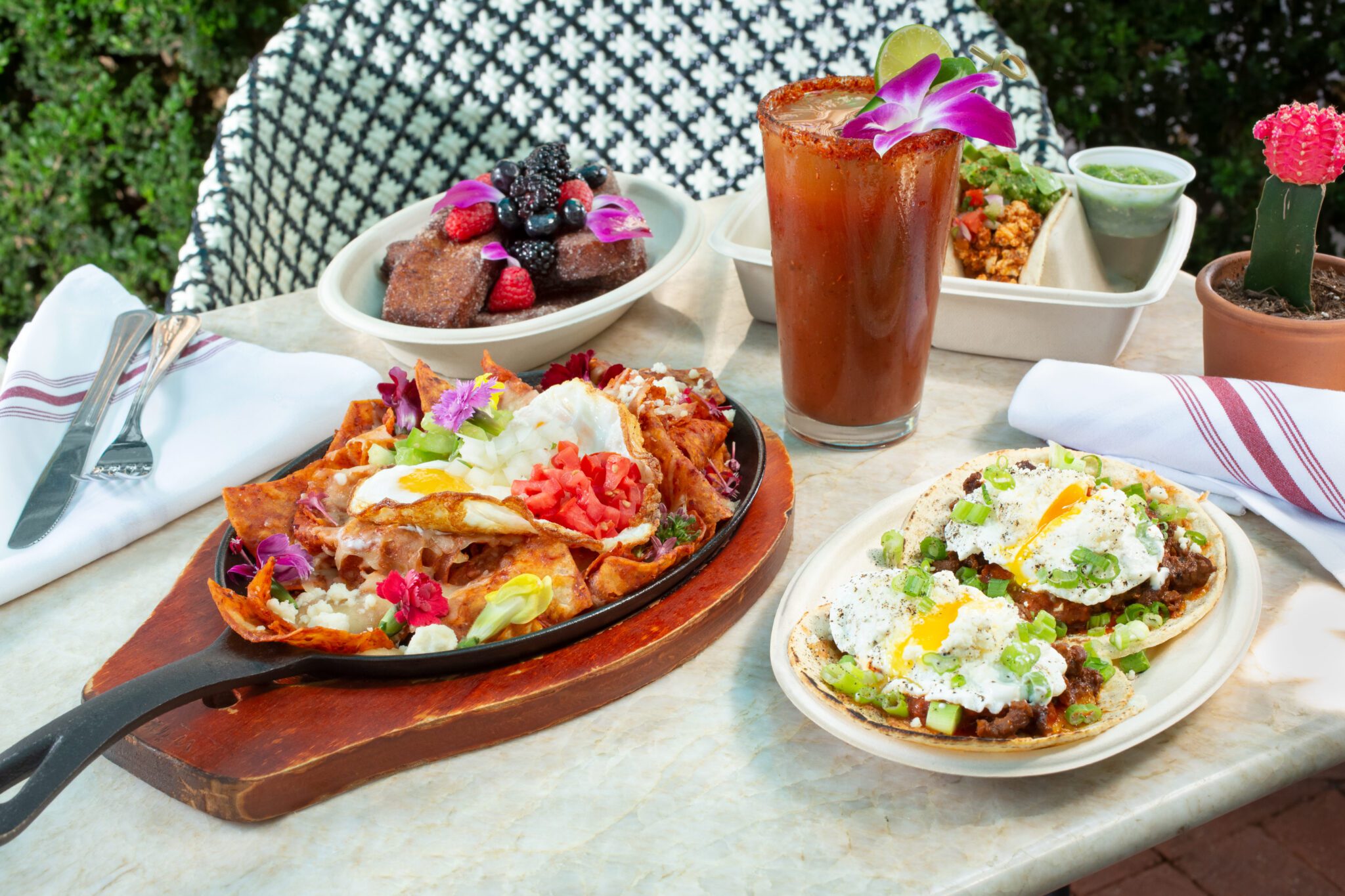 Each item is also served with your choice of a Complimentary Cafe de Olla or Cold Brew, making for the perfect morning pick-me-up!
But that's not all – Qué Padre is also introducing its new Spicy Mimosa Bar every Saturday and Sunday from 9:00 am to 3:00 pm featuringTraditional Orange, Watermelon, Mango, and Guava Mimosas, and each drink comes with a spicy rim of Tajin and Chamoy adding an extra kick to your breakfast or lunch experience.
Whether you're in the mood for a sweet and tangy Orange Mimosa or a refreshing Watermelon Mimosa with a spicy twist, Qué Padre has a perfect Mimosa just for you.
Qué Padre will be serving Weekend Breakfast every Saturday and Sunday from 9:00 am to 12:00 noon and the Spicy Mimosa Bar will be open every Saturday and Sunday from 9:00 am to 3:00 pm.
For more information about Qué Padre or to make reservations, please call 310.461.8226 directly or visit www.QuePadreTacos.com. Walk-in guests are always welcome.
About Qué Padre, a modern Mexican restaurant
Qué Padre is a modern Mexican restaurant located in the heart of Pacific Palisades at Palisades Village. With a focus on modern Mexican cuisine made from fresh, locally sourced ingredients, Qué Padre has become a go-to destination for locals and visitors alike.
In addition to its popular lunch and dinner menus, Qué Padre now offers a delicious weekend breakfast and spicy mimosa bar every Saturday and Sunday.
About the Author
Joe Wehinger (nicknamed Joe Winger) has written for over 20 years about the business of lifestyle and entertainment. Joe is an entertainment producer, media entrepreneur, public speaker, and C-level consultant who owns businesses in entertainment, lifestyle, tourism and publishing. He is an award-winning filmmaker, published author, member of the Directors Guild of America, International Food Travel Wine Authors Association, WSET Level 2 Wine student, WSET Level 2 Cocktail student, member of the LA Wine Writers. Email to:
[email protected]
You Might also like
L.A.'s Thoughtfully-Curated & Community-Rooted New Stationary Lifestyle Food Truck
Is A Local Haven for Elevated, High-Quality, Healthy Food That Makes People Happy!

For those who value thoughtful, high-quality food and for those whom eating Is much more than an act; it is an experience,

Malibu native, Founder and Executive Chef Alla Rockwell

introduces Rockwell Kitchen, L.A.'s new thoughtfully-curated and community-rooted local haven for everyday elevated, healthy food that is here and ready to rev up, refuel, and make people happy in 2021!

Rockwell Kitchen is located in a shared space adjacent to Malibu lifestyle and action sports company, Boardriders on California's Pacific Coast Highway right on the point of the historic Topanga Beach, featuring stunning panoramic views of both the Pacific Ocean and the Santa Monica Mountains.

As a Malibu native, Rockwell Kitchen Founder and Executive Chef Alla Rockwell's local roots run deep as can be, but in the food industry, she was both a late bloomer and a wild grower.

Chef Rockwell got her start in Malibu restaurants about nine years ago having spent time as a Pastry Cook at Nobu Malibu, Pastry Cook at Bravo's Top Chef winner Michael Voltaggio's innovative and unfortunately now closed Ink, Executive Pastry Chef at TWIST Eatery La Brea's chic café and bakery, Sous Chef at BOBO Venice in Venice Beach, and then Rockwell jumped in the deep end and created her own catering and craft services company, Rockwell-Venice (which Rockwell Kitchen now handles) she still owns today.

Rockwell also served as the Executive Chef and Partner at Nantucket's first poke food trailer, Nantucket Poke, then leaving that success in the hands of her partner, Chef Rockwell was ready to embark on her next adventure – Rockwell Kitchen.

The Rockwell Kitchen Menu revs right up with MORNING FUEL

which can be enjoyed all day featuring favorites such as the Grilled French Toast Sandwich, a French toast lover's dream prepared with Brioche French toast, fried egg, bacon, and Grade A maple, or the warm Cinnamon Roll Waffle served with Grade A maple, whipped cream, and caramel.

The Shroom Omelette showcases local Malibu mushrooms, parsley, cheddar cheese, onion, garlic, truffle oil, roasted potato with sesame boule, and the Caprese Scramble is a super soft scramble with fresh burrata, baby tomato, basil-pesto vinaigrette, roasted potato, and sourdough boule.

J's Burrito is simply delicious with scrambled eggs rolled in a flour tortilla with Dominican style beans, avocado and rice, and for those craving something from the sea, the Salmon Breakfast Sandwich with wild Alaska smoked salmon, scrambled egg, goat cheese, tomato, mixed greens and dill, served on a brioche bun will never disappoint.

Guests that want a healthy start can kick-off the day with a Granola Bowl filled with coconut, vanilla yogurt, chia, almond granola, seasonal berries, fresh herbs, and honey or create your own Topanga Plate with three eggs any style, bacon, roasted potato, and a sourdough boule.

WITH YOUR HANDS, guests can pick up Rockwell Kitchen's signature Fondue Burger served on a potato bun with beef, cheddar, caramelized onions, and house chips, savor a BLT with bacon two ways, tomato, romaine, a spring mix on a sourdough boule with chive aioli, indulge in the Tuna Burger with sushi grade tuna, wasabi aioli, mixed greens on a brioche bun, enjoy the Avocado Toast with harissa, avocado, EVO, and honey on sourdough boule, or delight in a decadently delicious Lobster BLT with Pacific lobster, bacon, chive aioli, tomato, romaine and mixed greens on a brioche bun.

The Turkey Burger offers something healthy and heartier with turkey, sundried tomato, fresh spinach, onion, garlic, chive aioli caramelized onions, tomato, spring mix and romaine on a brioche bun, taco lovers can cherish the Tacos made with a choice of Chickpeas, Shrimp, or Steak with fire spiced salsa and a radish slaw on grilled corn tortillas, and poke enthusiasts can savor Chef Rockwell's Tuna Poke Bowl with tuna, rice, furikake and house sauce. Rockwell Kitchen also offers up LARGE PLATES featuring four tasty and tempting selections specially prepared daily including Shrimp Scampi, Tuna Steak, Skirt Steak, or a Tofu Steak.

As one of the few female chefs running a restaurant experience in Malibu, Chef Rockwell did not want to tie herself down to any specific menu type.

"As a farm-to-table dining experience, what's fresh, what's in season, what's local is what will drive our menu…

…It's like rummaging through mom's kitchen, but mom's kitchen is the whole of the Malibu food community. Those local ingredients are core to the experience; if the foundation is fresh and delicious, you want to let that shine through rather than overcomplicating it," says Rockwell.

"Simple can still be interesting. If the farmer behind your vegetables really cares about their product, that is definitely going to come through in the taste."

Rockwell Kitchen's BEVERAGES soothe the soul and warm the heart at the very same time.

Rockwell Kitchen's COFFEE BAR thoughtfully presents ethically sourced and organic Peruvian coffee with offerings including an Americano, Espresso, Flat White, Golden Milk, Hot Chocolate, COFFEE ROASTS – Laird Superfood, Cafecita Honduras, Cafecita Mexico, Original Latte, Cacao Latte, Turmeric Latte, Matcha Latte, Pumpkin Spice Latte and Egg Nog Latte. On Tap introduces The Steeping Giant (Han Solo – Nitro Cold Brew), the Bona Fide (Cascara Coffee Berry Tea – Nitro), and Babe Kombucha (Maui Wowie – Watermelon Cucumber) – an ancient tea, reimagined. Rockwell Kitchen also spotlights Sol-ti Wellness Shots Immun-C, Energy, and Hemp + Ginger, Boxed Water, Mexican Coke, and Growler of Kombucha or Cold Brew.

Chef Rockwell knows all too well that offering a sweet selection of wholesome CARBS prepared with the highest quality ingredients is essential to making her guests happy and feeling complete, so she made sure Rockwell Kitchen's daily offerings include Whole Loafs (Sourdough, Multigrain, Olive, Brioche), Croissant (Plain, Chocolate, Almond), Donuts, Muffin (Double Chocolate, Blueberry, Coffee Cake, Monkey Bread), Bagels & Cream Cheese, Toasted Boule with Jam (Sourdough, Multigrain, Olive, Brioche), and Cookie (Chocolate Chip Crispy, Ginger Date Molasses, Peanut Butter, Vegan Double Chocolate), along with additional Daily Inspirations.

Why a truck? Chef Rockwell states, "After COVID started hitting and slowing down film production while simultaneously limiting people's ability to sit-down and dine at restaurants, it seemed like a natural choice to serve food on the roadside here on Topanga Beach. Rockwell Kitchen is not your average food truck experience. Yes, we're in a truck, but my hope is that people can let go of any preconceived notions beyond that and come visit us to enjoy fresh food to feel good about. Even if we have to socially distance, we're still a community; we're still gathered around that metaphorical table — that's what I want our guests to feel like when they are looking into our big glass window on the truck and they can watch our Chefs safely cooking with the freshest ingredients."

So, stop by to refuel and come visit Rockwell Kitchen for thoughtfully curated, wholesome fresh food that you can happily fill up on. Born from the idea that high-quality food should be more accessible, Rockwell Kitchen is bringing the best of Malibu – fresh food, wellness, and warmth all beach-side!

Rockwell Kitchen is open every Tuesday through Sunday from 6:00 am to 6:00 pm. For more information about Rockwell Kitchen, please visit www.RockwellKitchen.net or call Rockwell Kitchen directly at 310.765.1930.

Follow Rockwell Kitchen on Facebook @RockwellKitchenFoodTruck and Instagram @rockwell_kitchen

Rockwell Kitchen
Boardriders Malibu
18820 Pacific Coast Hwy
Malibu, CA 90265
310.765.1930
www.RockwellKitchen.net

Lamo Footwear has been in the news a lot lately, especially throughout the horrific and uncertain five months of Covid-19. And yet, they continue to strive, thrive and give back.

The charitable footwear company, is soon approaching its 25th Anniversary with yet another giving back project,  which the brand is becoming known for.

Based in California and founded by philanthropic businessman Joseph Li, LAMO has more than stepped up in generosity during these hard times.

---

Advertisement

---

The footwear company is fast being compared to TOMS shoes, who came up with the buy one donate one to charity campaign many years ago, which was unheard of at the time.

LAMO have taken a different path in their approach but have had a massive impact in spreading awareness

for causes as they continue to support charities on many different platforms.

For example, a couple of months ago you may have seen  Marketing & Digital Director of LAMO, Mark Sweetser on the news talking about LAMO supporting the overworked nurses in these trying times.

LAMO donated hundreds of pairs of shoes and slippers to grateful healthcare workers

all over the country, simply as a thank you for their service. As news spread of the plight of exhausted healthcare workers, LAMO stepped in and suggested everyone needed a little something to ease their aches and pains.

---

Advertisement

---

They have also been working on creating a few unique styles to benefit pediatric cancer charity 

www.savingsophie.org

The secret, much anticipated new styles will be available in October with a percentage of all proceeds being donated to the charity, which was founded by Tracy & Josh Ryan and named after their brave and vivacious daughter Sophie, who starred in the Netflix documentary, Weed The People. 

About the actual brand?

The LAMO brand has a unique style that is high quality, comfortable and stylish.

They also have styles for every age, and the good news is there is something for every family member. The best news is LAMO are also known for their high quality footwear without breaking the bank. They have managed to keep their prices low and workmanship high, which is welcomed at these uncertain times with unemployment at an all time high.

"We stay focused on the consumer and their needs at all times and do our best to help in anyway we can" said Sweetser.

"These are tough times so we do what we can do to help."

LAMO are also always on the pulse when it comes to being socially aware and conscious, they supported both the Bring Back Retail Campaign and most recently were one of the first companies to support the controversial yet correct 'Stop Hate For Profit' Campaign, joining huge companies such as GAP, Disney & Coca Cola in withdrawing their Advertising dollars from Facebook.

A Time For Celebration!

To celebrate their upcoming 25th August Anniversary, LAMO are gifting to 25 philanthropic individuals who care about a charitable cause as much as LAMO does.

They will feature these individuals in their media platform as a way to thank them for being an asset to their community and charity.

"It's just our way to recognize them with a LAMO thank you gift – although it's technically LAMO's birthday, we like to give more than receive." Said Sweetser.

And who can argue with that?

Brave Sophie Ryan is the inspiration for a couple of new LAMO styles which will donate to pediatric cancer through

www.SavingSophie.Org

Lately we've seen plenty of food prep, food delivery and curated meal services available.  

Does Splendid Spoon deserve to be atop of this list?  Let's find out!

At a normal time (let's say February 2020), what Splendid Spoon offers would be a nice option.  Healthy, convenient, and a great alternative for busy people who are striving to eat healthy.

---

Advertisement

---

But let's be real.  These aren't normal times. We are living through one of the most unique times in world history.  What we eat, how we eat, how we receive food has all become much more in focus.  And these concerns aren't going away any time soon.

Splendid Spoon offers "ready-to-eat, nourishing, plant-based smoothies, soups and grain bowls." 

They share in detail how your food arrives:

Splendid Spoon partners with FedEx to ensure your package is handled properly during transit. Ship your meals with dry ice and recyclable Climacell insulation to make sure your delivery arrives chilled.

So their sample box arrived right to our office with no hassles.  We opened it to find another box inside (that's the Climacell insulation). Inside that box is several bowls and smoothies packed neatly and tightly.  I mention this, because as we pulled out of the items, you realize you're getting alot.

We sampled:

Blueberry coconut smoothie 

Raspberry cacao smoothie

Dragon fruit smoothie 

Green matcha smoothie 

A B & J smoothie 

Wellness shot 

Kabocha Congee Bowl 

Aloo Gobi Quino Bowl 

Brown rice taco bowl 

Moroccan-spiced buckwheat 

Bowl Cuban black bean Bowl

Examining and tasting each item.  We noticed and loved that the ingredient lists on the packaging included clean ingredients.  No multi-syllable chemicals.  Also, everything was vibrantly colored.  In a world of otherwise white styrofoam take-out containers it's a welcomed change.

And then there's tasting

When you're about to eat "healthy food", for some of us there's always that moment of emotional preparation, thinking "how will this taste".  Many of us have tasted 'health food' that tastes like a mouthful of dirt (some people in our office even enjoy that taste).  Sometimes the actual health benefit suffers because the food is covered in sweetener to mask that 'mouthful of dirt'.

---

Advertisement

---

The soups tasted good. Surprisingly good.  Flavorful.  It almost had a home-cooked vibe.  Their plant-based soups and grain bowls take the stress and uncertainty out of choosing a healthy lunch. Ready-to-eat and loaded with veggies, these feel-good meals are filling; which boosts your nutritional intake, and helps curb afternoon snacking. 

Moroccan-spiced buckwheat was my first bite. The spice brings a kick, but not too strong (I don't like too spicy). 

Ingredients: Buckwheat, Butternut Squash, Broccoli, Chickpeas, Water, Scallions, Currants, Extra Virgin Olive Oil, Lemon Juice, Ras Al Hanout (Spice Blend), Garlic, Salt, Ginger

Brown rice taco bowl once again, had a kick, but the tastes were surprisingly layered which for me, didn't let the heat overwhelm my palate.  Again, it felt like home cooking. I'm not someone who tends to order spicy malt, yet I found myself going for return bites.

Ingredients: Black Beans, Organic Kale, Organic Brown Rice, Tomatoes (Tomatoes, Tomato Puree, Basil, Salt), Sweet Potatoes, Onion, Organic Red Peppers, Pumpkin Seeds, Extra Virgin Olive Oil, Lime Juice, Tomato Paste (Tomatoes, Citric Acid), Scallions, Salt, Poblano Peppers, Garlic, Cilantro, Chipotle Pepper, Black Pepper, Paprika, Red Chili Pepper, Oregano, Ancho Pepper

The smoothies were equally delicious.  Their smoothies satisfy hunger, boost nutritional intake, and kick start metabolism. Also, significantly lower in sugar than your standard smoothie, and rich in protein and healthy fats.

Raspberry cacao smoothie.  Wow.  Honestly this was everything you want it to be.  Creamy, fruit-forward, a pleasure for your mouth to enjoy and nutrients to help your bellow smile.  

Ingredients: Purified Water, Bananas, Organic Raspberries, Organic Coconut Nectar, Cashew Butter, Organic Pea Protein, Organic Beet Juice, Organic Rose Water, Organic Vanilla Extract, Organic Cacao, Himalayan Salt

Their full day Reset. 5 light soups designed to reset your digestive system. It's a day of self care in our favorite format: soup. 

Splendid Spoon delivers on taste, nutrition and value. 

Their plans are designed to create healthy routines for breakfast and lunch, so you can reach your health goals. Each meal contains fresh plant-based, gluten-free, and GMO-free ingredients – all clean ingredients.

Today, your health and how your food is delivered is truly more important than ever.  Splendid Spoon understands that remarkably well.

In a world of hungry competitors (pun intended), Splendid Spoon is leading the way and deserves your attention.