Brit Publicist Christine Peake has spent years helping Hollywood and VIPs navigate through media.  But. it took a pandemic to turn her life into comedy gold that Los Angeles and Las Vegas are loving!
Pre-pandemic most of Los Angeles knew Christine Peake as the British Publicist who everyone loved seeing while she escorted VIPs through TV appearances, red carpets and events.
---
Related:
Comic Sensation Chelsea Handler is back on tour
---
A familiar well known and successful publicist in Los Angeles – Christine has spearheaded many charity events where she donates her time for free, and delivers results whether paid or not.
---
Advertisement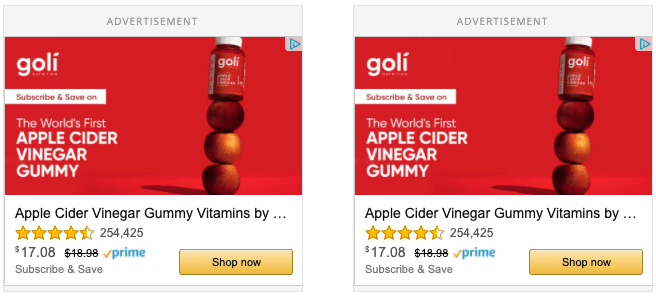 ---
"You are nothing without a cause," she said.
"My friend and client, Jake Kloberdanz, the CEO and co-founder of ONEHOPE wine told me that. So I ran off to work with the American Red Cross and met a friend for life, Marcia Caldirola. An amazing woman who created The Red Cross Run with huge hearted movie star Josh Duhamel. We nailed it."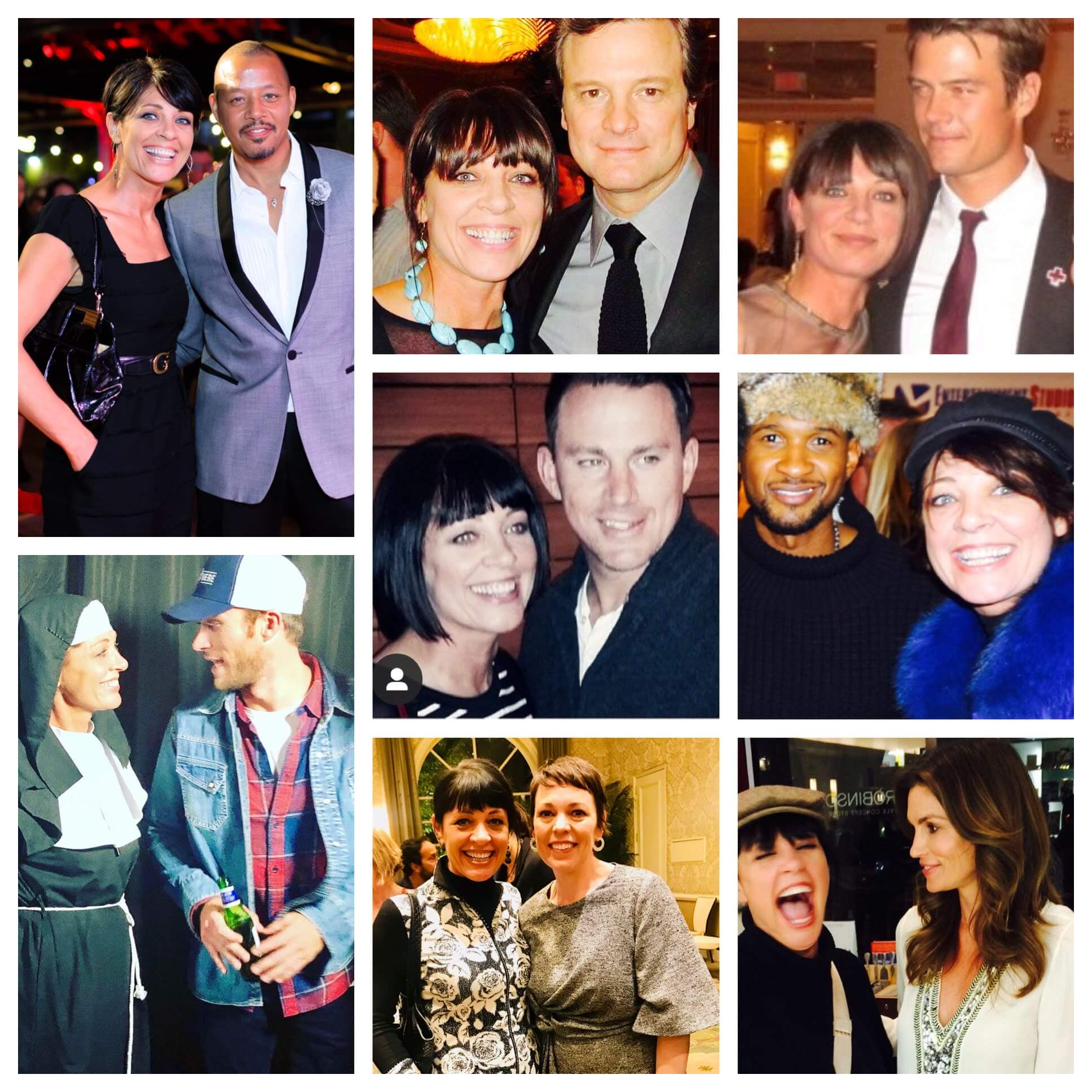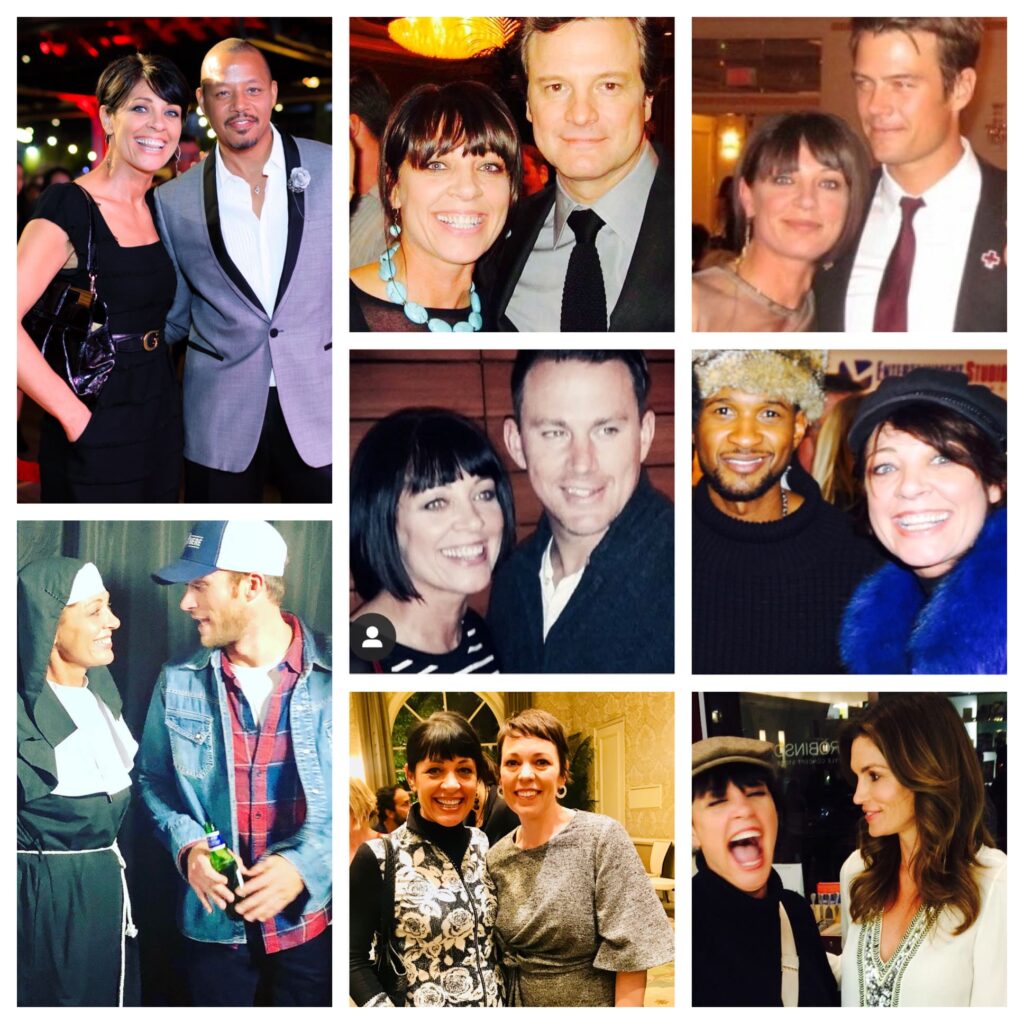 Whether it was the media, celebrities or politicians, she'd make you laugh and smile at the most intense or even chaotic moments.  A celebrity couple once revealed she was their favorite PR flack because she made even the most generic events interesting. She uses her admitted OCD to make things perfect. 
She has produced over 120 red carpet events and catapulted brands and people into the spotlight.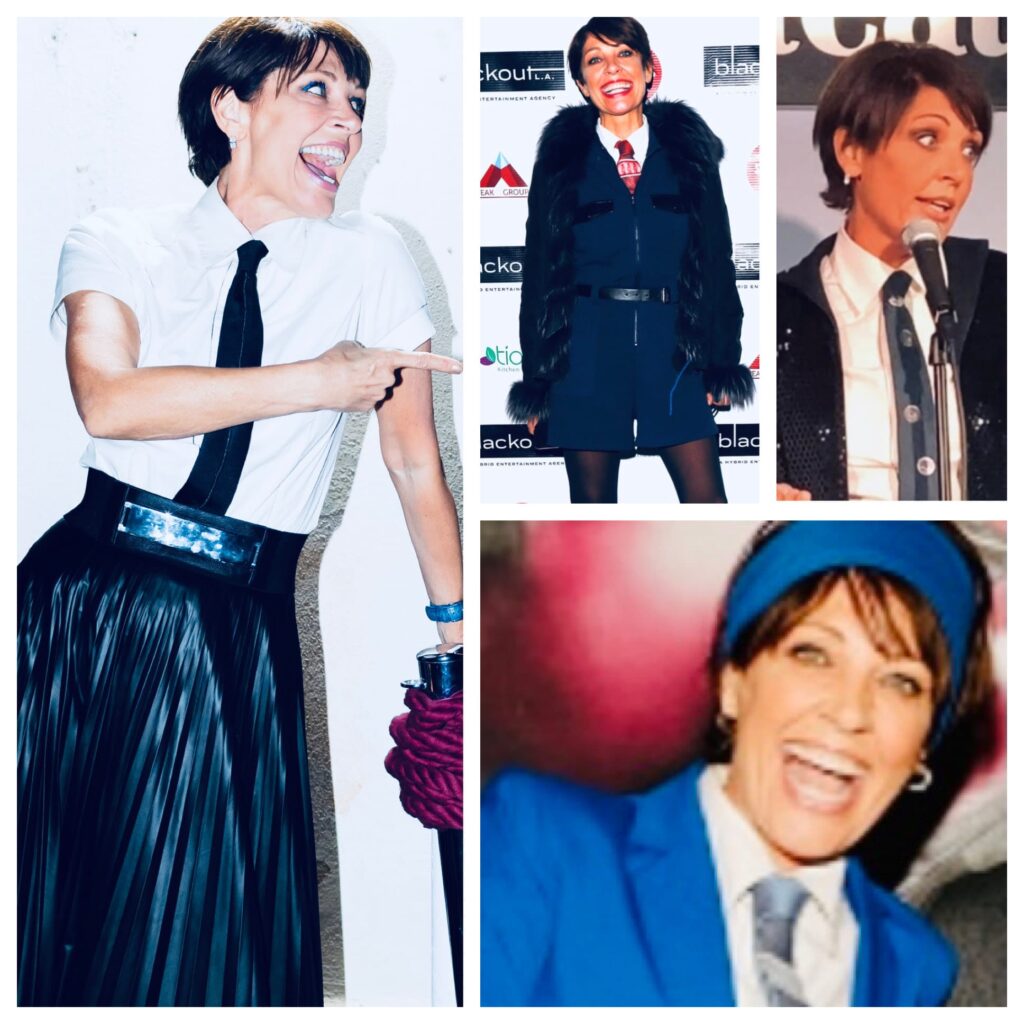 Anyone who knows her is aware she will answer the phone at 6:30am or 11pm at night.
Her motto is "How you do anything is how you do everything! If you commit to do something, then do it. Don't make excuses."
As you can imagine, the pandemic was a hard time for companies like Peake's PR firm, PeakPRgroup, who rely on live events and entertainment for work – both industries darkened during the 2020 shutdown.
"I lost a lot, work, money and my best friend of 30 years died of cancer mid pandemic.

I felt myself having days of depression and loneliness and I have to keep an eye on that.

There was a point where I did not see a person for a month…" Peake revealed.
"…Yes, I saw the odd person at Pavillions or Whole Foods, but even that was unpleasant. People were afraid, they were closed off, they were angry and rude.  I get it, but for fu*ks sake, how much toilet paper do you need? So I turned to comedy, as we say in England, if you don't laugh, you will cry."
---
Related:
Celine Dion performs at Las Vegas Resorts World
---
Aware that the pandemic was not ending she continued to bring news stories to our attention and worked with nurses and doctors to get their stories out there. She was also working with actress/ comedian Eugenia Kuzmina and worked couple of socially distanced comedy shows as her publicist.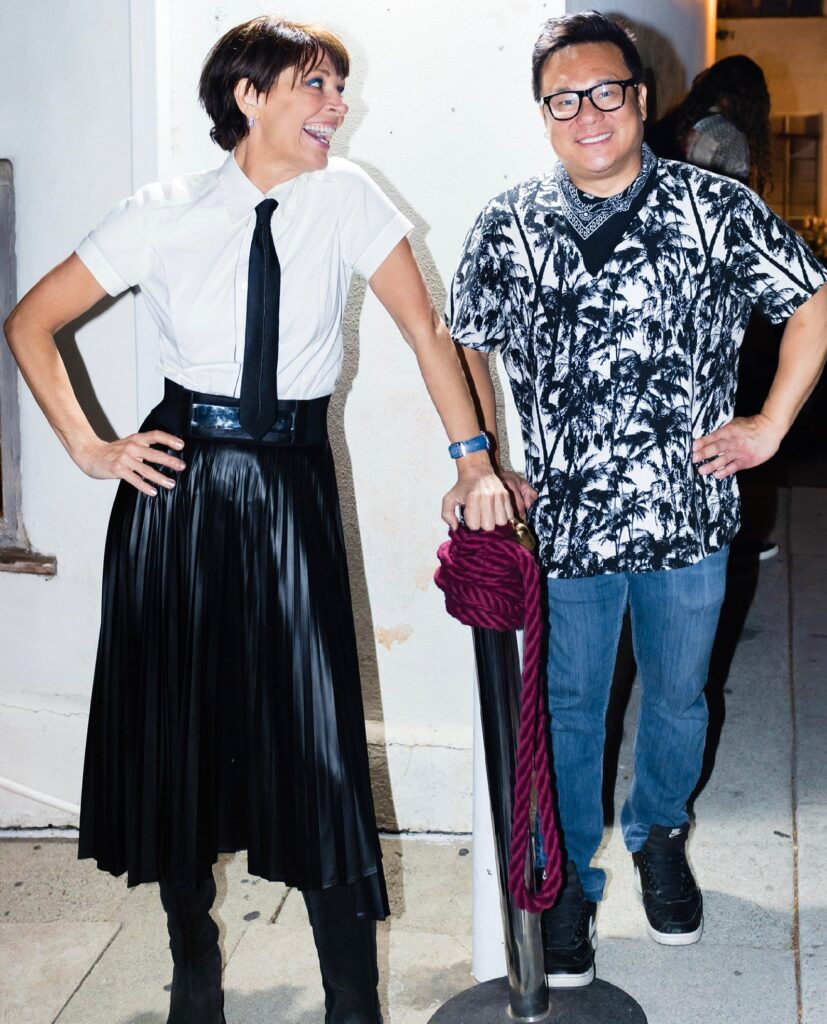 Eugenia introduced Peake to seasoned comedian and show producer Jimmy Shin and they partnered to do an event together, with Blackoutla and produced a sold-out, socially-distanced, live comedy event at Tiato in Santa Monica. 
This was her first step on the stage as a performer, and she rose to the challenge, despite her nerves, she held her own with A-list comics such as the great Kirk Fox. She brought the house down.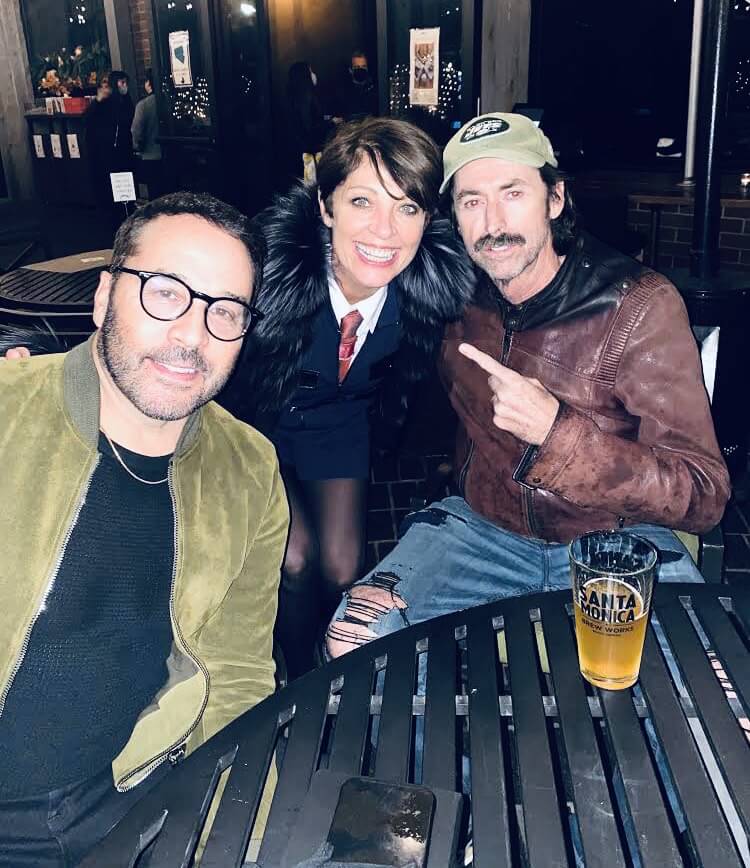 I was there to support her as a friend on her debut. 
Her material was a mix of British humor, Mom jokes (she's a Mom to 22 year old chef Oliver), and Kardashian-inspired comedy.  "Kris Jenner, a dedicated Mom, did a deal to help sell her daughter's sex tape, now that's commitment"
And she killed it! Not polite laughs, but genuine belly laughs and applause.
That night her performance brought more than enough applause and good energy so she kept getting invited back to perform on more shows.  
Jimmy Shin and comedian Jessica Winther (comic and Producer of sold-out shows) have been two loyal supporters of Peake. 
"Jimmy and Jessica have got my back, both have shown a loyalty to me and in return I am loyal to them. It's old school, " Peake continues.
"…The comedy world is tough, I am new, I am not young, but I bring years of professional experience and I am aware of what makes a great show, I show up. I won't let them down. I do my best. They deserve that. When someone puts their faith in you, don't take it lightly or abuse it.I have a lot to learn, and I mean a lot, But I am a quick study."
Week after week, show after show, Christine grew as a comic and so did her comfort and stage presence.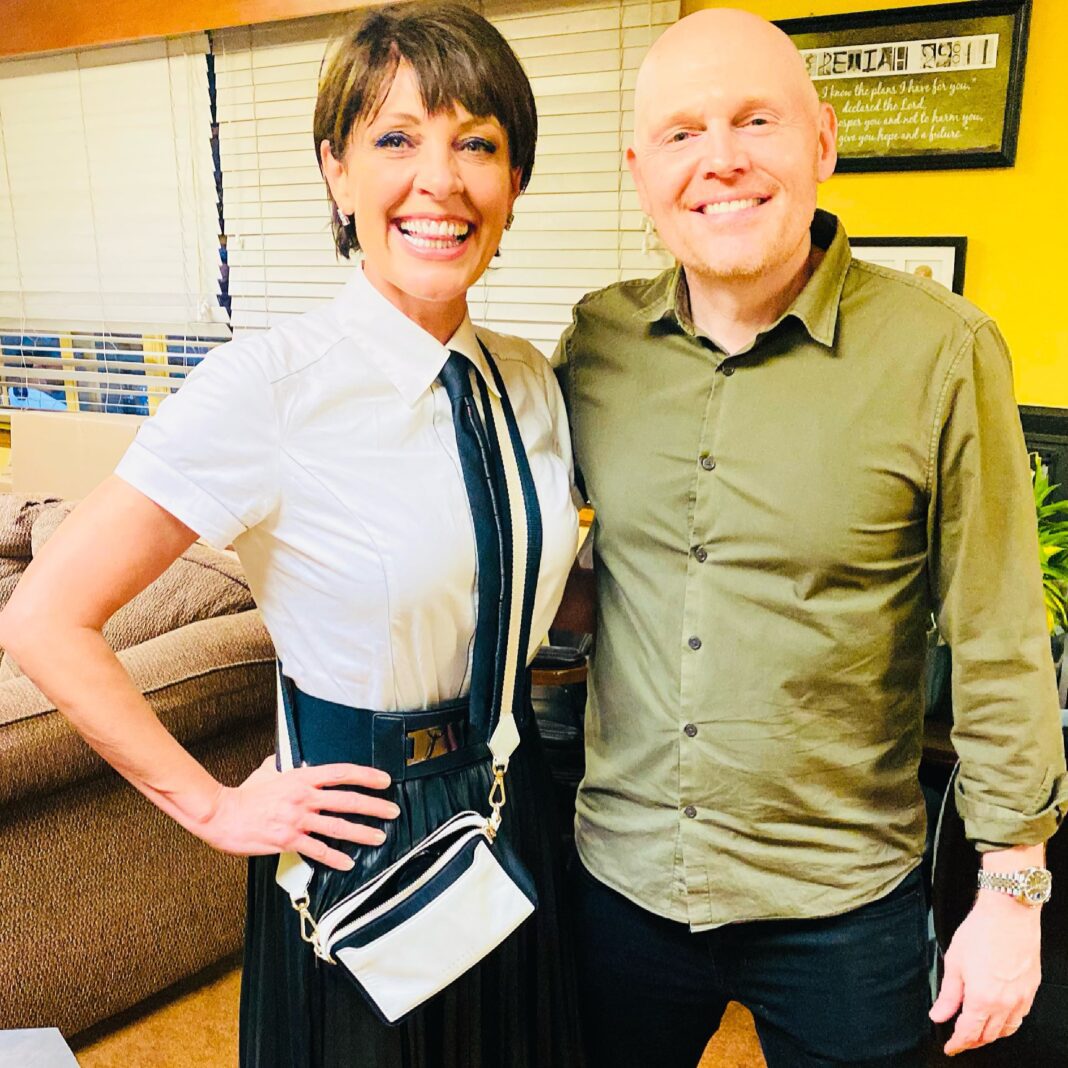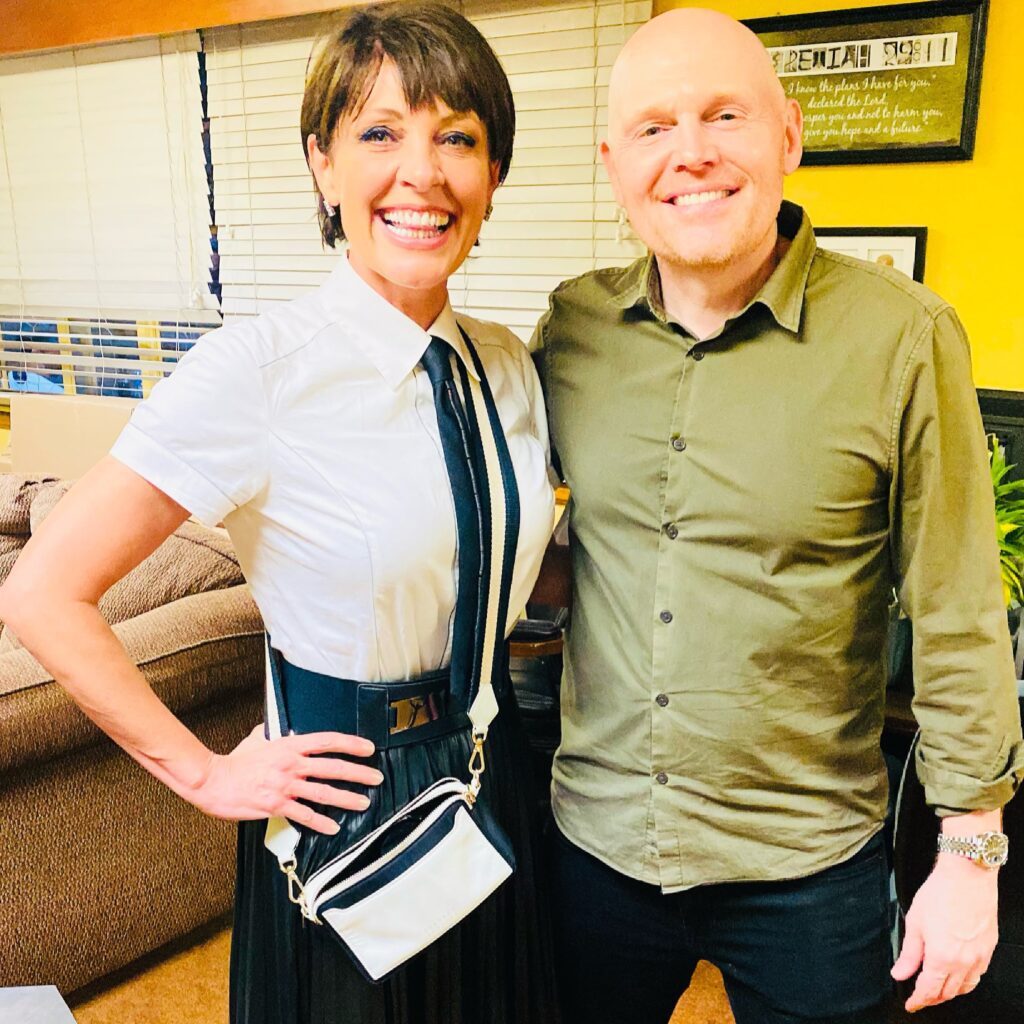 Since her first show she has appeared on stage with…
comic legend Bill Burr, (her bucket list)  SNL's Darrell Hammond, Max Amini,

Iliza Schlesinger, Entourage's Jeremy Piven, Jay Mohr, Parks & Rec's Kirk Fox,

Jamie Kennedy, Dean Delray and more. 
Christine also breaks tradition with her style.  When we think of the stereotypical stand-up comic, we often think of casual clothes; sometimes wrinkled, rumpled, nothing that stands out.  Whereas Peake, (a former model) brings her runway-ready look to the stage.  Striking colors, put-together outfits.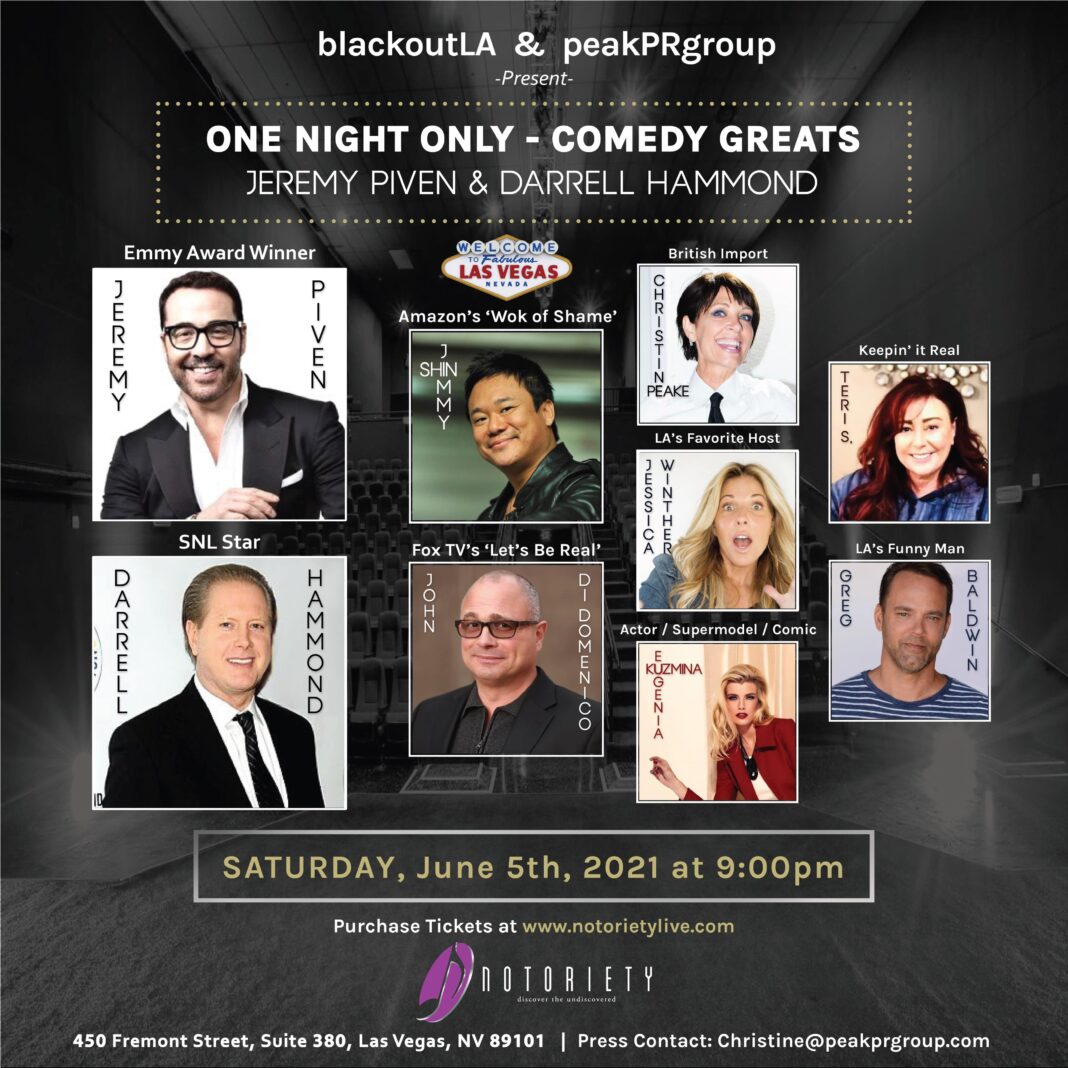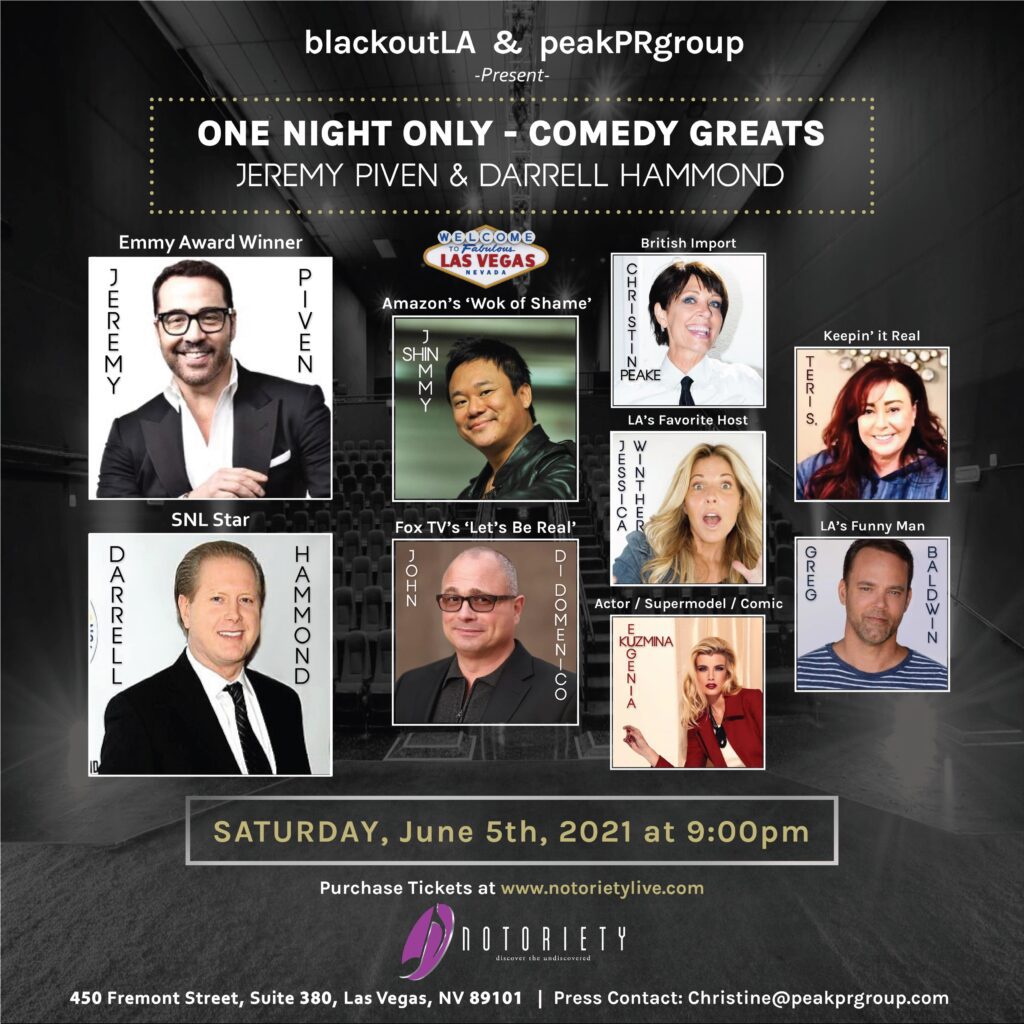 In early June, Christine Peake and her close friend, Cindy Wolfe, Co- Founder of Blackoutla partnered again to produce comedy shows. "Cindy and I worked together in LA on the Tiato event, I love her as a person, she is a class act. She was my first and natural choice to work with moving forward.
---
Advertisement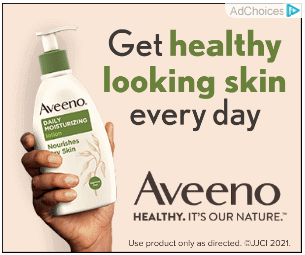 ---
And they did it BIG. 
They held their first comedy show in Las Vegas at Notoriety Live. The lineup was stellar. SNL star Darrell Hammond, "love him- such a talented legend") Jeremy Piven, Fox TV star of 'Let's Be Real', John Di Domenico ("wow, just wow, John is an incredible talent and a wonderful sharing human being") Jimmy Shin, ("of course we had Jimmy, he smashed it, he was hilarious, I call him and Greg Baldwin, my comedy brothers. Greg is newer to comedy than Jimmy, and the pair of them are best friends, they are like family. Greg might also be in danger of being the sweetest man in comedy.
Jessica Winther hosted for us and did a great job, John Di Domenico was on stage as Trump and Eugenia Kuzmina walked on as Melania. It was hilarious. Teri S. also performed, her comedy is darker and makes me laugh, my son's friends always get a kick out of her. The show was amazing, my partner Cindy was so on her game controlling things backstage, it gave me the time to breathe and focus on being a performer. I am so grateful for that. Together we crushed it."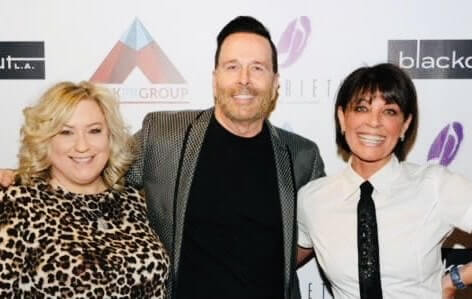 We reached out to her partner Cindy for a comment:
"Why did I partner with Christine? Have you met her?" She laughed.
"Her energy level and enthusiasm is off the charts, she can also be tough, but she delivers. I calm her down. She admits that. Together we are an amazing team. A great fit, we are also both honest, loyal and talk things through. We are friends also, so there is a bond that is unshakable."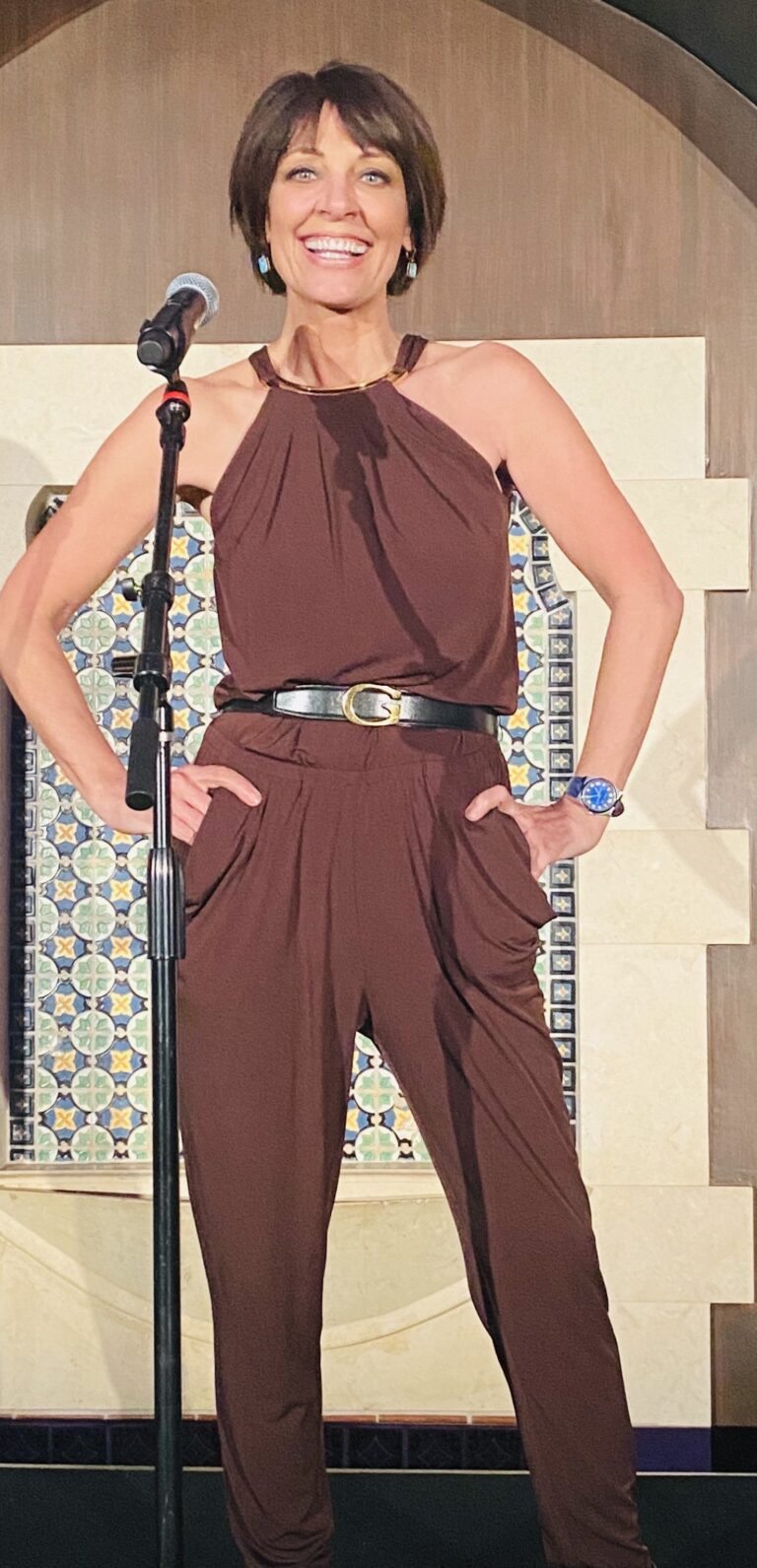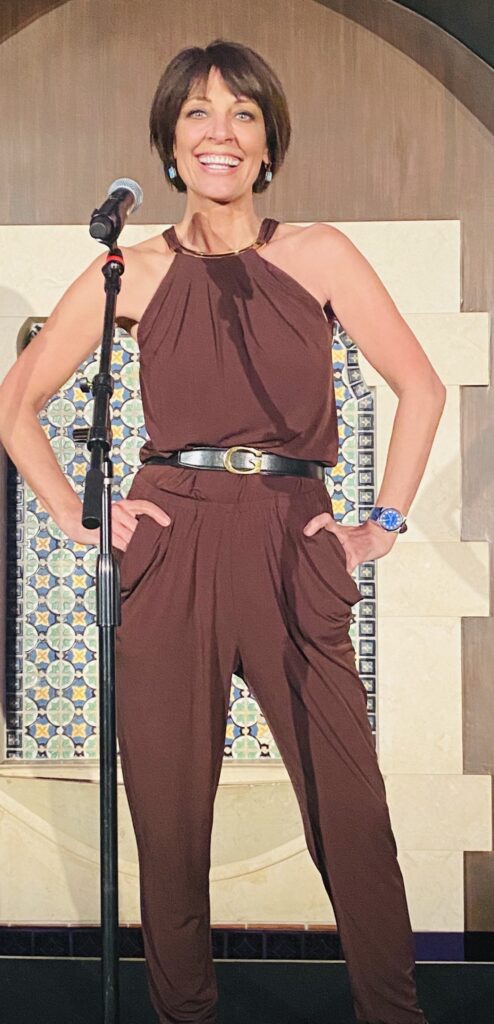 Her comedy set is a killer mix of fun, outrageous humor and her over-the-top personality.  She also focuses on current affairs and brings her intellect to the table as to the way she sees the world. "stop apologizing for sh*t you didn't do. Stop canceling Mr Potato Head and focus on what really matters!" 
She brings an infectious joy that the audience can feel and they love it.
At a recent show, her work was compared to several female comics including Joan Rivers who ended up as enormous TV stars, igniting rumors of what might be next in Peake's career. 
For now, Christine Peake is back in Los Angeles and announcing more shows and back at work as a publicist too.
"I love peakPRgroup, I love being a publicist- comedy is a hobby for me that I will work really hard at, I will do both, I am an insomniac, high energy and to be quite frank, I am not a young beginner, so I have to work hard and fast!" She laughed. 
If you're looking for a fresh voice in comedy, check out her next show and get ready for a night of laughs.