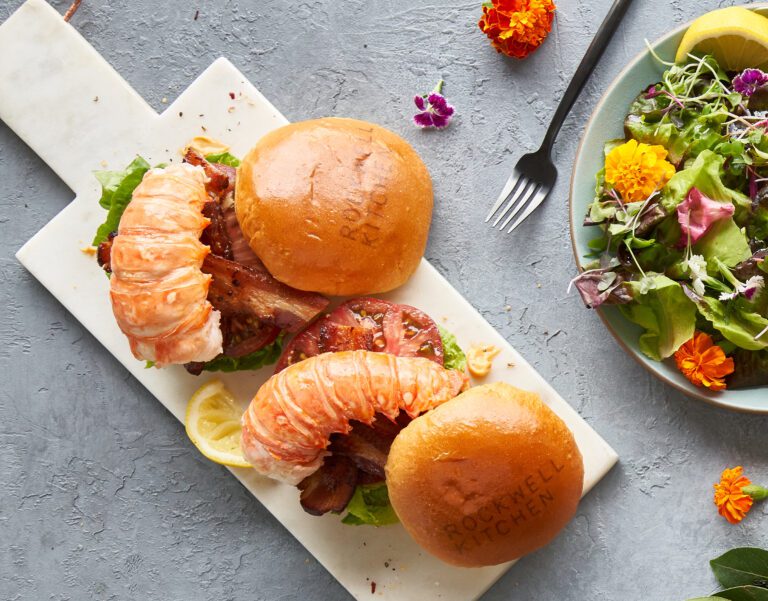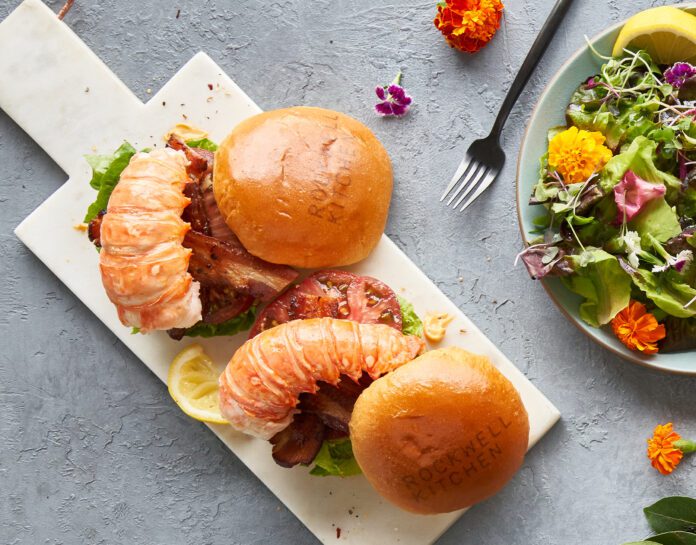 Get ready to receive and let Rockwell Kitchen be your game time 'go to' this Super Bowl Sunday!
Executive Chef All Rockwell is refueling and revving up by serving up some Morning Fuel with super selections like the Shroom Omelette which showcases local Malibu mushrooms, parsley, cheddar cheese, onion, garlic, truffle oil, roasted potato with sesame boule;
J's Burrito is simply delicious with scrambled eggs rolled in a flour tortilla with Dominican style beans, avocado and rice, and for those craving something from the sea,
the Salmon Breakfast Sandwich with wild Alaska smoked salmon, scrambled egg, goat cheese, tomato, mixed greens and dill, served on a brioche bun will never disappoint. Rockwell Kitchen's signature Fondue Burger served on a potato bun with beef, cheddar, caramelized onions, and house chips is definitely a winner, or fans can delight in a decadently delicious Lobster BLT with Pacific lobster, bacon, chive aioli, tomato, romaine and mixed greens on a brioche bun.
Taco lovers can tackle a choice of Chickpea, Shrimp, or Steak Tacos served with fire spiced salsa and a radish slaw on grilled corn tortillas. Rockwell Kitchen is also serving up house-made Whole Loafs so the team can make their own game day subs with a choice sourdough, multigrain, sesame, and brioche ($10 each),
along with a full selection of Carbs including the Croissant (Plain, Chocolate, Almond), Kougin-Amann Danish (Berry + Cream Cheese), Muffin (Bran, Double Chocolate, Blueberry, Coffee Cake, Monkey Bread), Scone (Maple, Apricot Pistachio, Strawberry Oatmeal), Toasted Boule, Jam + Butter (Sourdough, Multigrain, Olive), Brownie (Salted Caramel, Triple Chocolate), and Cookie (Chocolate Chip Crispy, Ginger Date Molasses, Peanut Butter, White Chocolate Cashew, Vegan Double Chocolate, and a couple Daily Inspirations. And what better way to savor Super Bowl LV? Run the ball with one of Rockwell Kitchen's Original, Turmeric, Cacao, Matcha, Pumpkin Spice or Eggnog Latte (iced or hot, non-alcoholic), and let the game begin!
Rockwell Kitchen will be open on Super Bowl LV, Sunday, February 7th, 2021 for Takeout and Delivery from 6:00 am to 6:00 pm; Boardriders Malibu – 18820 Pacific Coast Hwy, Malibu, CA 90265; 310.765.1930; www.RockwellKitchen.net