Disneyland is making quick changes so their Jungle Cruise ride can be more inclusive following years-long complaints of racism.
Disneyland's Jungle Cruise has been sailing in the park's Adventureland area consistently since 1955, and is one of the few remaining opening day attractions overseen by the legend Walt Disney himself.
But culture moves fast.
Now The Walt Disney Co. announced it's embarking on a long-overdue course correction for the Jungle Cruise. Many changes will be made to make the attraction feel more modern, inclusive and less racially insensitive.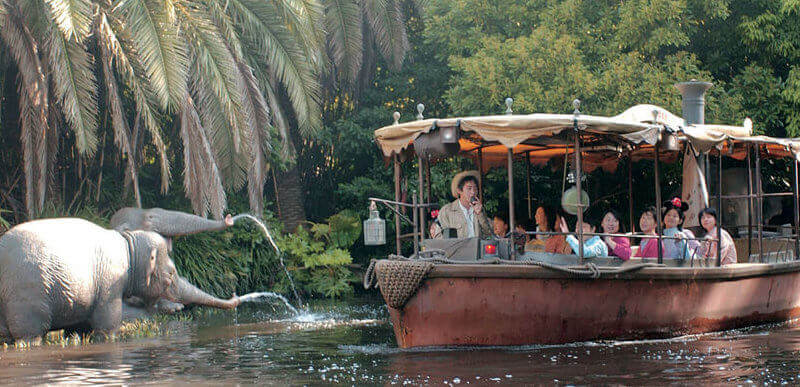 This move is speeding along as it will receive global attention with the release of Dwayne Johnsons and Emily Blunt starrer Disney's "Jungle Cruise" comes out later this year.
In recent years, other older attractions such as Splash Mountain and Pirates of the Caribbean have also been modernized removing now-outdated items that can be cringe inducing at best and racist at worst.
You Might also like
Foodies! Casita Del Campo is ready for you wish a special treat: traditional and iconic Mexican dish, Chile en Nogada, a large Poblano Chile stuffed with beef picadillo and more.  Come visit for a taste!

Fall is upon us, the leaves are falling and the crispness all around is bringing us some much-needed fresh air to take a deep breath, exhale and reflect on the past year and everything we have all had to endure.

People are ready to celebrate life, the holidays and enjoy each other's company since many have been isolated for quite some time. Casita Del Campo, a Silverlake institution, which will be celebrating their 60th Year Anniversary in May of 2022 brings joy and haven this season with some delightful specials and lots of love!

---

Advertisement

---

For a limited time, Casita Del Campo is offering the traditional and iconic Mexican dish, Chile en Nogada, a large Poblano Chile stuffed with beef picadillo, served with a walnut-based cream sauce, topped with pomegranate seeds and parsley, and accompanied by Mexican rice and frijoles de la olla.

This unique and flavorful dish is both satisfying and festive, and will be offered every Friday and Saturday from 4:00 pm to closing for the months of November and December.

---

Related: SoCal's newest sports bar Five55 is open and ready for the big game

---

Another tradition and delicious Mexican favorite during this time of year are Tamales, and Casita Del Campo offers handmade Chicken, Beef and Sweet Corn Tamales all year round that are sure to make you feel warm and fuzzy inside.

Pair these merry dishes or any of the mouthwatering entrees with a Pomegranate Margarita, a classic Casita Margarita made with Tequila, triple sec and freshly squeezed lime juice, topped with a splash of pomegranate juice and fresh pomegranate seeds.

Of course, the festivities continue on in the Mezalita, a Classic Casita Margarita served with Mezcal instead of Tequila for a pinch of smokiness and the Gingerita, a Classic Casita Margarita made with fresh Ginger syrup.

All of these libations provide a refreshing and gleeful way to balance the savory with something that reminds us what season we are in, since that can be a little confusing here in Los Angeles.

Dessert is always a must, especially during this time of the year and James's Buñuelos are consistently a hit, crispy flour tortilla chips dusted with cinnamon and sugar.

Casita Del Campo is not just a restaurant, it is an experience filled with color, art, love, excellence and consistency for almost 60 years that will be celebrated in 2022.

The Del Campo family pride themselves on the hard work that has allowed this business, even during Covid and other hard times to endure, to continue on and to offer that same feeling the restaurant provided to their patrons when the doors first opened in 1962.

This season, it is not only important but it is crucial to spread the love, the cheer, the merriness and the good food and drink all around, and Casita Del Campo is ready to welcome you to this oasis in the heart of Silverlake for a little slice of Mexican heaven!

---

Related: Love trying new wine?  Check out this wine-lover's guide

---

You can come for some delicious food and drinks, and possibly even some entertainment at the theater located downstairs which is famous for the "Fruit Cake Follies" which is a Christmas Spectacular show and an experience for the whole family during December.

For more information on the holiday shows and schedule for the Cavern Club Theater located at Casita Del Campo, please visit cavernclubtheater.com.

The doors are open, the smiles are flowing and the warmth abounds at Casita Del Campo where the nostalgia brings you back to happy memories and provides a place where you can make new ones with your loved ones!

Viva la Vida!

Casita Del Campo is open for restaurant dining and delivery and takeout every Monday through Thursday from 11:00 am to 10:00 pm, every Friday and Saturday from 11:00 am to 11:00 pm and every Sunday from 11:00 am to 10:00 pm. For more information please visit www.CasitaDelCampo.net or call 323.662.4255. 

It's hard to miss the Tokyo Skytree (Tōkyō Sukaitsurī), a 634-meter-tall observation tower that lifts out of the city's Sumida district Minato cityscape like a formidable rocket ship.

The country's tallest structure (and the world's tallest freestanding tower), the Tokyo Skytree opened in 2012 and quickly became one of the city's most visited tourist attractions.  It gushes incredible panoramic views from its restaurant and observation decks.

---

Advertisement

---

With a base created like a gargantuan tripod, the tower includes several cylindrical observation levels, including one at the 350-meter mark, and another at the 450-meter point, with a unique glass spiral walkway where visitors can ascent to an even higher viewpoint with — yikes — glass floors for those with strong stomachs.

Enjoy the panoramic view seen through the SKYTREE's dynamic steel frameworks.

Feel the real breeze, light and sound of Tokyo that are different from seeing through the glass window.

Dedicated guides offer a tour of "SKYTREE TERRACE" located 155 meters above the ground.

---

Complimentary subscription enters you into weekly luxury giveaways

---

There's more than just the view from the observation deck!

There are all kinds of things to enjoy at TOKYO SKYTREE.

Official Shops are located on 1F, 5F, and the Tembo Deck Floor 345.

These shops offer a wide selection of fine goods that will make beautiful mementos of your TOKYO SKYTREE visit. 

Tembo Deck Floor 345

Japan's highest elevation gift shop, this TOKYO SKYTREE Official Shop features a selection of Observation Deck Shop limited-edition goods that make perfect souvenirs for remembering the magnificent scenery. 

TOKYO SKYTREE 1F Group Floor

The largest TOKYO SKYTREE Official Shop in the Tower has Japanese and Western desserts, general goods, stationery, fashion items, and more, as well as a wide selection of TOKYO SKYTREE limited edition goods.

TOKYO SKYTREE 5F Exit Floor

Experience the same thrilling ambience as the Observation Deck in this spacious 5F shop filled with premium Japanese brand names and limited- edition goods created in collaboration with TOKYO SKYTREE.

A.O.C. Presents Rare Evening with Winemaker Raul Perez and his Spanish Wines

Critically Acclaimed Perez Wines Curated by Caroline Styne are Paired with End-of-Spring Menu by Suzanne Goin

A.O.C. by Chef Suzanne Goin and Business Partner / Wine Director Caroline Styne, 3rd Street, Los Angeles, California, and Winemaker Raúl Pérez, Bodegas y Viñedos Raúl Pérez.

A.O.C., Los Angeles' ground-breaking small plates restaurant at the forefront of the city's best dining since 2002, presents an extraordinary evening celebrating the wines of the revered Raúl Pérez on Thursday, June 15, 2023. The wines are curated by Caroline Styne and paired with Suzanne's end-of-spring menu which is inspired by her love of the Pérez collection. Raúl Pérez will be in attendance to meet and greet guests.

Raúl Pérez Pereira is highly regarded as one of the world's most visionary winemakers. He gained recognition for his winemaking skills and innovation from an early age. Born in Valtuille de Abajo, a village in the Bierzo region of Spain, Pérez comes from a family with a long history of winemaking. He produced his first vintage for his family's winery in 1994 when he was just 22 years old, showcasing his talent and passion for the craft.

In 2005, Pérez decided to venture out on his own and established Bodegas y Viñedos Raúl Pérez, a winery that quickly became renowned within the Bierzo appellation. Bierzo, located in northwestern Spain, is known for its distinctive and high-quality wines, particularly made from the Mencía grape variety. Pérez's wines gained critical acclaim for their unmatched quality, capturing the essence of the Bierzo terroir. Over the years, Pérez expanded his winemaking activities beyond Bierzo to other appellations in Spain. He ventured into Rías Baixas, known for its Albariño wines, Ribeira Sacra, recognized for its steep vineyards along the Sil River, and Tierra de León, an emerging wine region. Despite his expansion, Valtuille de Abajo remains close to his heart and serves as his home base.

Pérez's winemaking approach is characterized by a deep respect for the land, a commitment to organic and sustainable practices, and a focus on expressing the unique qualities of each vineyard and grape variety. His wines are often described as terroir-driven, showing a sense of place and reflecting the distinct characteristics of the regions where the grapes are grown.

With his innovative techniques and dedication to quality, Raúl Pérez Pereira has significantly impacted the Spanish wine scene. His wines continue to be highly sought after by wine enthusiasts and collectors worldwide, cementing his reputation as a visionary winemaker.

Caroline is enthusiastic about introducing these exceptional wines to their guests. "I discovered Raul's wines when opening Caldo Verde, and I haven't turned back," states Caroline. "His wines are so well made and diverse with a through-line of beautiful minerality and balance."

Pricing for the four-course dinner with paired wines is $150 per guest, excluding tax and gratuity. Guests dining à la carte can experience a flight of three Raúl Pérez wines to pair with their dinner selections. Prepaid reservations can be secured via OpenTable Experience; limited availability for this exclusive event.

A Celebration of Raúl Pérez

June 15, 2023

kanpachi & bay scallop ceviche, stone fruit, urfa & pistachios

endive, radishes, meyer lemon cream & oil-cured olives

2021 la vizcaina, la del vivo, godello, bierzo

***

spring greens, broccoli kibbeh, avocado, favas & feta

spanish fried chicken, romesco aïoli & chili-cumin butter

2022 los arrotos del pendón, rosado, leon

***

scottish salmon, fennel-potato gratin & beet chutney

sugar snap peas, pea shoots & green butter

2020 castro candez, mencia, ribiera sacra

***

grilled hanger steak, braised leek butter & fried leeks

italian broccoli, green harissa & douro almond dukkah

2020 la vizcaina, las gundiñas, bierzo

***

bittersweet chocolate torta

pecan cookie brittle & coffee syrup

$150 per person, including wine pairing

WHEN:

Raúl Pérez Winemaker Dinner at A.O.C.

Thursday, June 15, 2023

5:00 p.m. – 10:00 p.m.

Pricing for the four-course dinner with paired wines is $150 per guest, excluding tax and gratuity. Guests dining à la carte can experience a flight of three Raúl Pérez wines to pair with their dinner selections. Prepaid reservations can be secured via OpenTable Experience; limited availability for this exclusive event.

WHERE:

A.O.C. 3rd Street

8700 W. 3rd Street, Los Angeles, CA 90048 – 310.859.9859

ABOUT RAÚL PÉREZ

In addition to numerous other accolades, Raúl was named "Winemaker of the Year" by German publication Der Feinschmecker in 2014 and "Best Winemaker in the World" in 2015 by the French publication Bettane+Desseauve. In the February 2018 Decanter, Master of Wine Pedro Ballesteros wrote, "Raúl Pérez is the archetype of the intuitive winemaking genius." A picture of Raúl in that same article is captioned, "Is this the best winemaker in the world?" Raúl would certainly not self-apply any of these superlatives. His humility and generosity of spirit far exceed his genius, and that humility comes through in his wines. These are not "winemaker" wines so much as they are unadulterated expressions of the villages and vineyards they hail from.

ABOUT THE LUCQUES GROUP:

With the opening of Lucques, their flagship restaurant, in 1998, James Beard Foundation award-winning Chef/Author Suzanne Goin and award-winning Restaurateur Caroline Styne planted the seeds for The Lucques Group, a Los Angeles hospitality company that comprises two fine dining restaurants – A.O.C. in both Los Angeles and Brentwood. Along with these culinary enterprises, the company also owns the Larder Baking Company and oversees Hollywood Bowl Food + Wine, which curates all the food and beverage outlets at L.A.'s iconic music venue. The duo also operates two new restaurants – Caldo Verde and Cara Cara, and the new Dahlia cocktail bar at the Downtown L.A. Proper Hotel. The Lucques Group is dedicated to seasonally influenced cooking and focuses on sourcing local, organic produce from which Goin creates soulful dishes that are bold in flavor, vibrant, layered and complex.