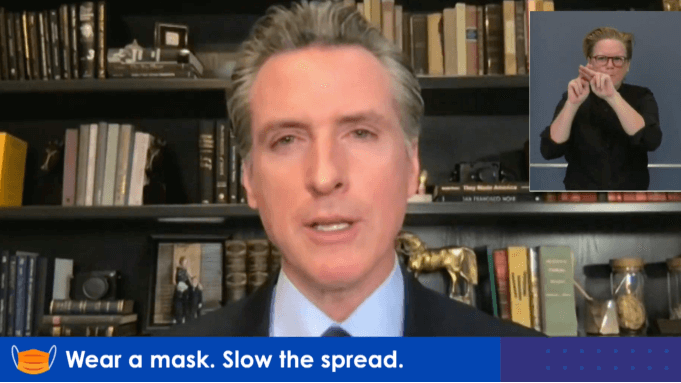 "Red flags are flying," said California Governor Gavin Newsom at the starts of his Monday COVID-19 press conference.
Newsom reviewed the state's dismal coronavirus numbers warning that:
"If these trends continue we're going to have to take much more dramatic, arguably drastic action…"
…If these trends continue, the potential for a stay at home order for those areas in the Purple…more in line with the stay at home order that folks were familiar with at the beginning of the year."
With Monday's updates, more than 99% of California's population was in the Purple, most severe, tier of Newsom's reopening order.
In the timing of the orders,
"Those are being assessed in real time"
said Newsom before emphasizing that we should not think in terms of weeks, but days.
As to what key points could trigger further action, "We are looking at intensive care capacity as the trigger for further action," California Director of Health and Human Services Dr. Mark Ghaly.
The governor went through overviews that indicated the number of COVID patients in CA hospitals could double or triple in the next month.
Even worse, he indicated that state models show that California ICUs will be overwhelmed. In Los Angeles, that tipping point is estimated for mid-to-late December.
Watch Newsom's Monday presentation below.