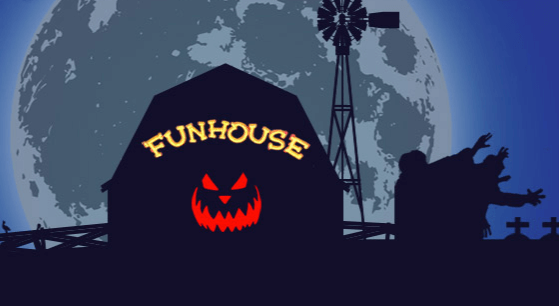 Drive through their interactive terrifyingly haunted barnyard of nightmares!
See if you can escape from the Funhouse, journey through their Zombie Infested Graveyard, take caution entering the Insane Asylum, find your way out of the Haunted Woods, navigate the Ghostly Maze, and a few surprises that will scare your socks off.
The Haunted Barnyard concept…
is an exciting immersive drive-thru experience in Santa Clarita curated by a team of designers including a film and themed park set designer, set dressers, costume designers and makeup artists from Universal Studios Horror Nights, Knott's Scary Farm and Six Flags Fright Fest.
Your unsuspecting passengers or (victims) will get the scare of a lifetime in The Gentle Barn's transformed land of nightmares. Wind your way through a multitude of ghastly scenes while being guided by a ghostly audio with sound effects in the safety of your own vehicle!
Event details and location will be forwarded after registration and closer to the event.
HIGHLIGHTS
Drive through a variety of scary scenes
Funhouse Escape
Zombie Infested Graveyard
Insane Asylum
Haunted Woods
Ghostly Maze
Drive Towards the Light
Immersive audio recordings
Sound Effects and Stories
A COVID safe Halloween Experience
Drive to The Gentle Barn's Haunted Barnyard: Land of Nightmares and experience an all new Halloween concept, brought to you by The Gentle Barn's Founders and staff and curated by a team of haunted experience professionals. This experience and sets are being storyboarded and conceptualized by Jim Hewitt, a film and themed park set designer who has designed many of the maze experiences at Universal Studios Horror Nights as well as movie sets such as: The Hunger Games franchise, The Mandalorian, Life of Pi and many others. The different experiences are being brought to life by a team of professional designers, dressers, painters and special effects artists from Knott's Scary Farm.
*This experience is a nighttime event that requires driving through some basic obstacles and turns. The paths will be clearly marked and will be staffed should you have any questions. There will be use of flashing lights which could affect visitors who may have photo-sensitivities. For the safety of you and the cast members, there will be times where you will be asked to turn off your vehicle and restart.
**No animals will be adversely affected by this event by any of the sound or lights used and are The Gentle Barn's number one priority.
*** This experience was designed with measures in place to mitigate the risk of spreading COVID-19. All cast members and guests are required to have masks on when interacting in any way with anyone through the window of your vehicle etc.
****Smoking of any kind or vaping is prohibited at all times on The Gentle Barn's property, inside or outside of your vehicle. Please wait until you have left.
*****No pets are allowed and we recommend not bringing service dogs into the scary environments for their safety and that of our cast members. However service dogs will be permitted should you still decide to bring them.
******In the off chance of adverse weather or other need for cancellation, the event will be rescheduled and you will be notified of the alternate date. The venue is primarily outdoors and therefore would have to close in adverse weather, all times and dates are subject to change.
The Haunted Barnyard is a fundraising event to raise funds for The Gentle Barn, its rescued animals, and mission of connecting animals with children in need.