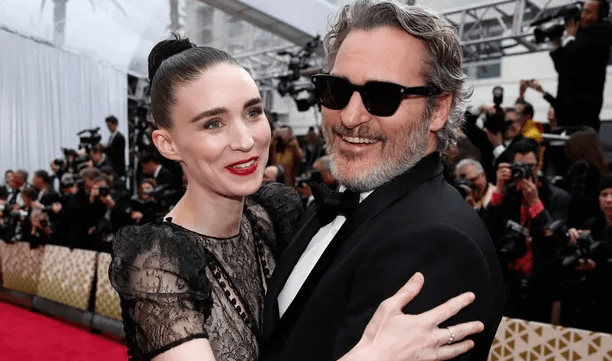 Joaquin Phoenix, who won an Oscar this year for his role in the film Joker, has welcomed his first child with fiancee Rooney Mara.
They named the baby boy after Phoenix's late brother, River, who died of a suspected drug overdose in 1993.
Speaking recently to Anderson Cooper on the TV show 60 Minutes, Joaquin Phoenix reflected on his bond with his brother and how media attention after his death affected them.
"River was a really substantial actor and movie star, and we didn't really know it,"

Joaquin said.
Phoenix and Mara co-starred in the films Don't Worry, He Won't Get Far on Foot and Mary Magdalene. They are prominent campaigners for animal rights, with Phoenix devoting much of his awards acceptance speeches to advocating for a vegan lifestyle.
Two days after his Oscar win, Phoenix rescued a cow and a calf from an abbatoir.
In July, a hostage siege in Ukraine ended after the president ceded to kidnappers' demands to urge people to watch Earthlings, a 2005 eco-themed film narrated by Phoenix.