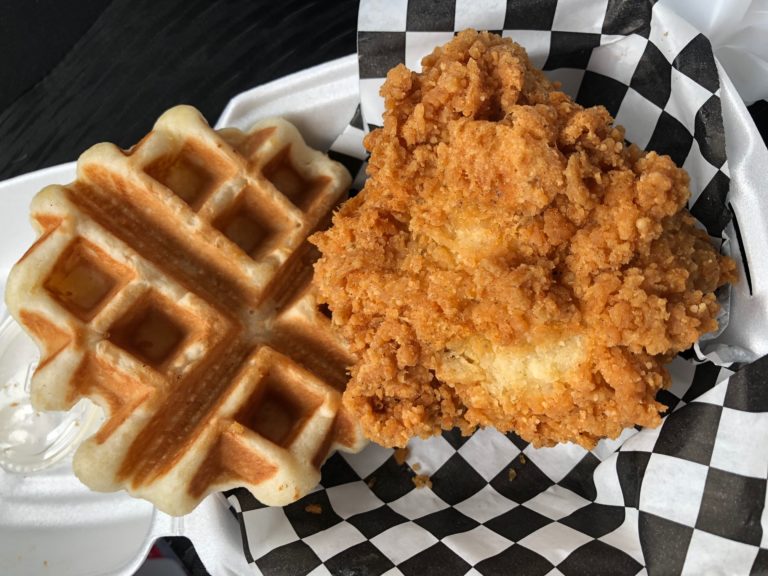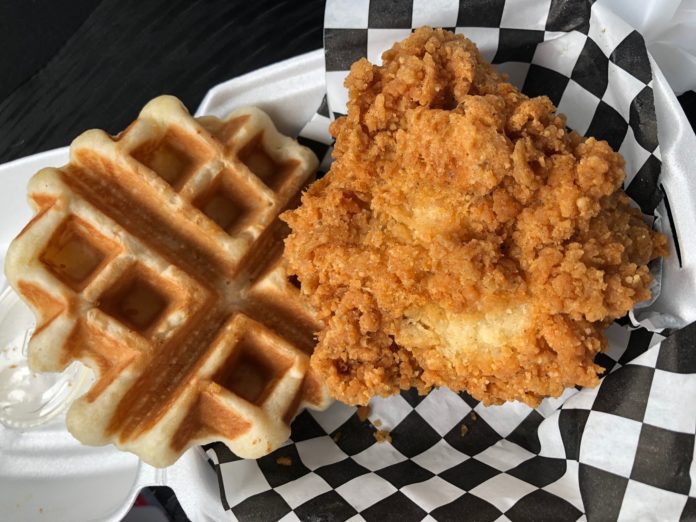 Let's talk about Doomie's.
I found this place when I went to Cocobella's for brunch back in February. I kept saying I wanted to go back and had made plans too, but with everything that has been happening never made it.
So the other day I decided I needed to get out, I needed a drive. So I masked-up and gloved-up and I figured that it would be a good time to support another local vegan place.
Now Doomie's doesn't sound like a very uplifting place, but the food they served sure sounded good.
They actually have two restaurants. They have the Doomie's Home Cookin' and next door they have the Doomie's Next Mex. I decided I wanted to try the Home Cookin.'
Since the times have changed so has the atmosphere, but I can tell the customers are loyal. There were people coming in and out of the restaurant. Always keeping the six feet apart distance. The tables were all stacked up except a few, which had the menus laid out, which had signs that said "DO NOT TOUCH. LOOK ONLY PLEASE."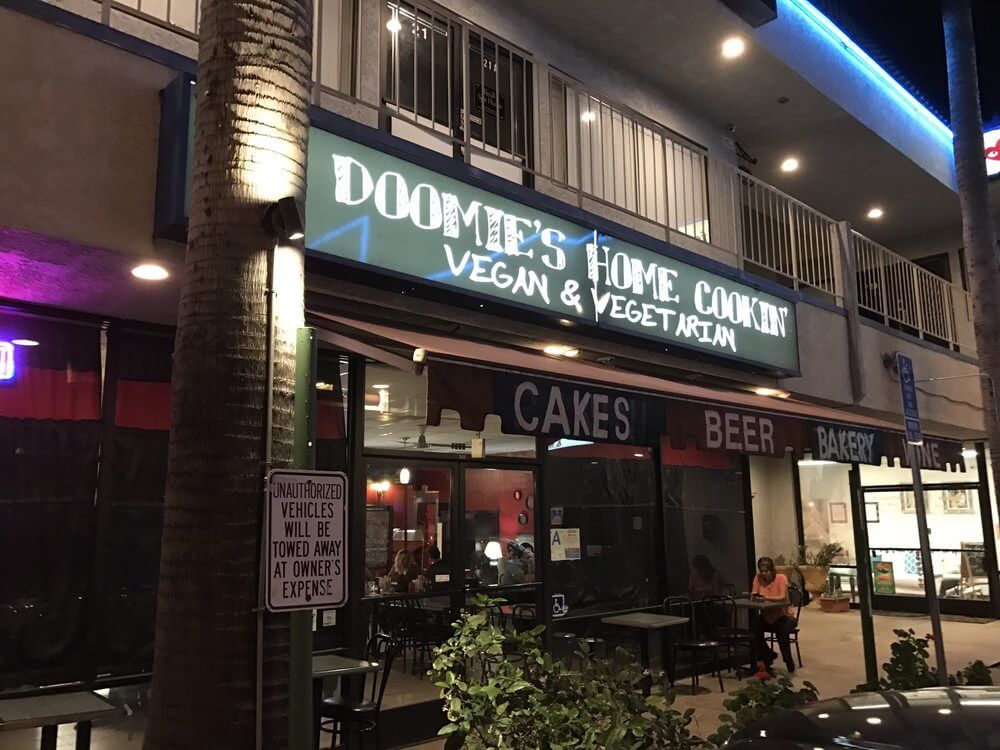 It also said you could order online if you would like. So I viewed everything. They had breakfast till 3pm and then the regular menu still. I asked for their opinion and was given The Crispy Chicken Sandwich. Which sounded good, however wasn't really in the mood for a sandwich.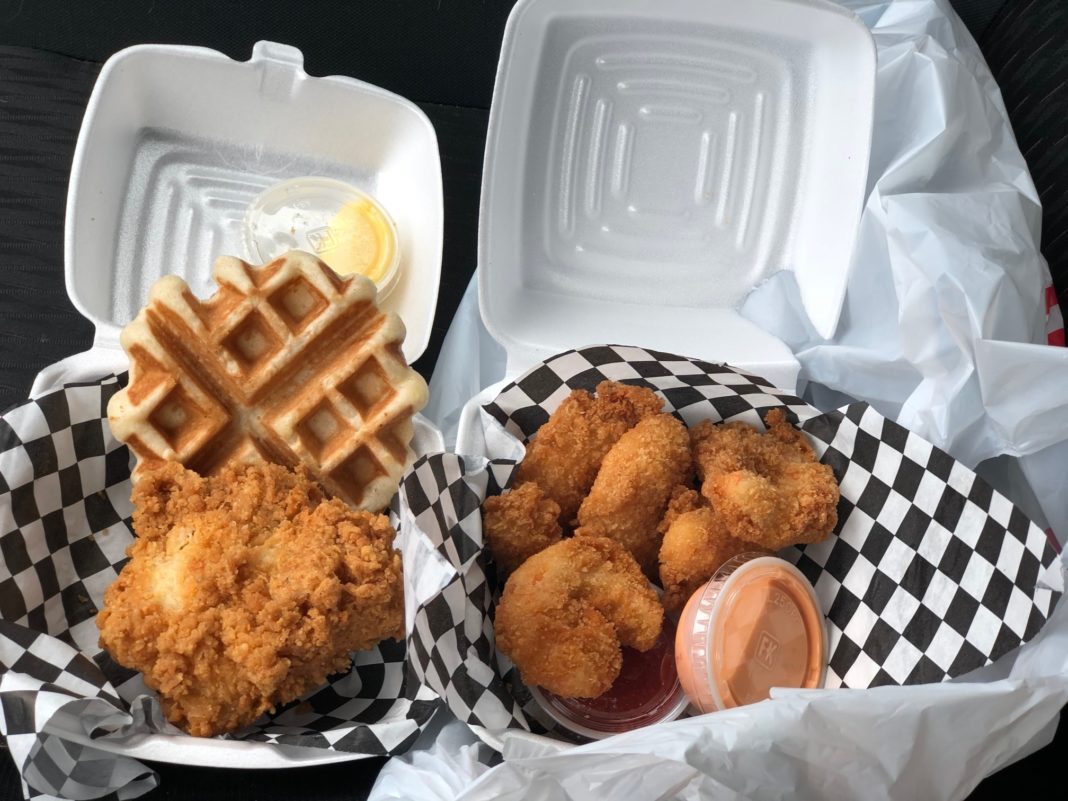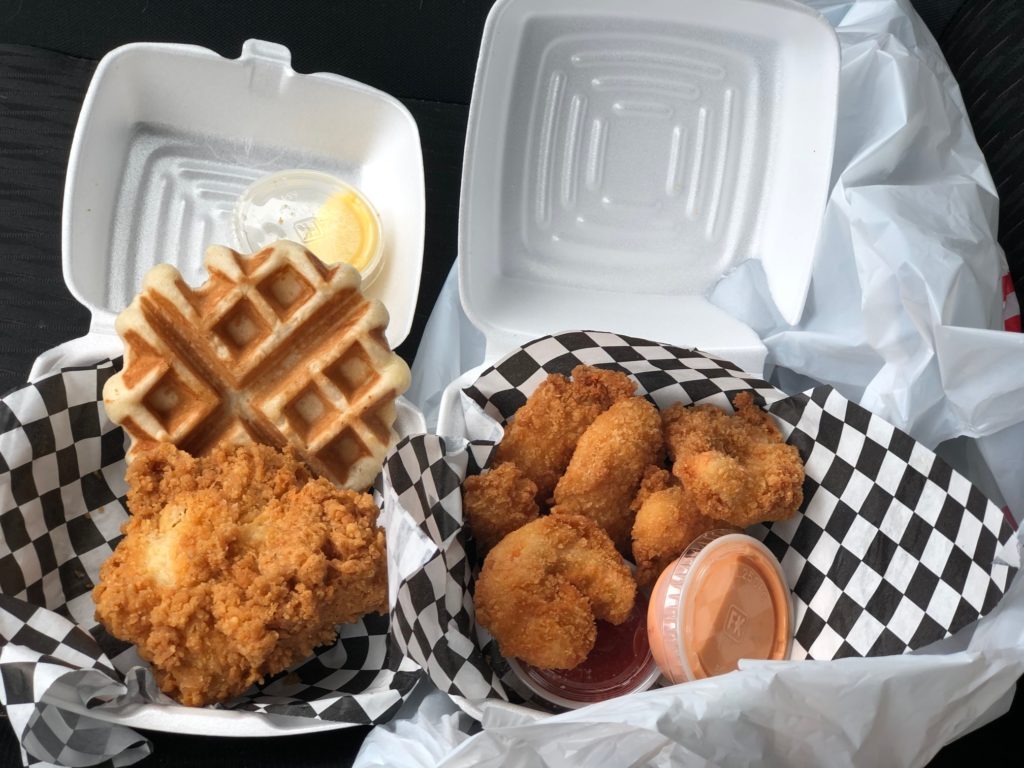 I mean they had so much to choose from.
Just for breakfast the options were everything from Bacon, Cheese, Egg & English Muffin, a Monte Cristo Sandwich, California and Country Bowl, "Steak and Eggs" Breakfast Burrito, Waffle and Chicken Breast (their version of Chicken and waffles, and of course French Toast, Waffles and Pancakes, ALL VEGAN.
I decided to try the Waffle and Chicken. I also decided to try the Fried Shrimp from the regular menu in the starters section. I figured I would need to come back another day for some more food to try.
After they took my order I waited outside in my car and they text messaged me when my order was ready. The safest way to do things these days. When I got my food I was a little shocked as it was in these two small to go boxes, but I just said thank you and left.
The aroma was so tantalizing that I couldn't wait to get home.
I can only imagine how good it must smell when they are a full running restaurant with customers and food cooking all the time. Mmmm. So I pulled over and decided to try the food in the car. Yes it smelled that good and yes I was that hungry. I started with the fried shrimp.
They were so crispy and tender and if I hadn't known I just ordered vegan shrimp I would have never known they were fake. They tasted just like the fried shrimp I would get the Sizzler or Outback, etc.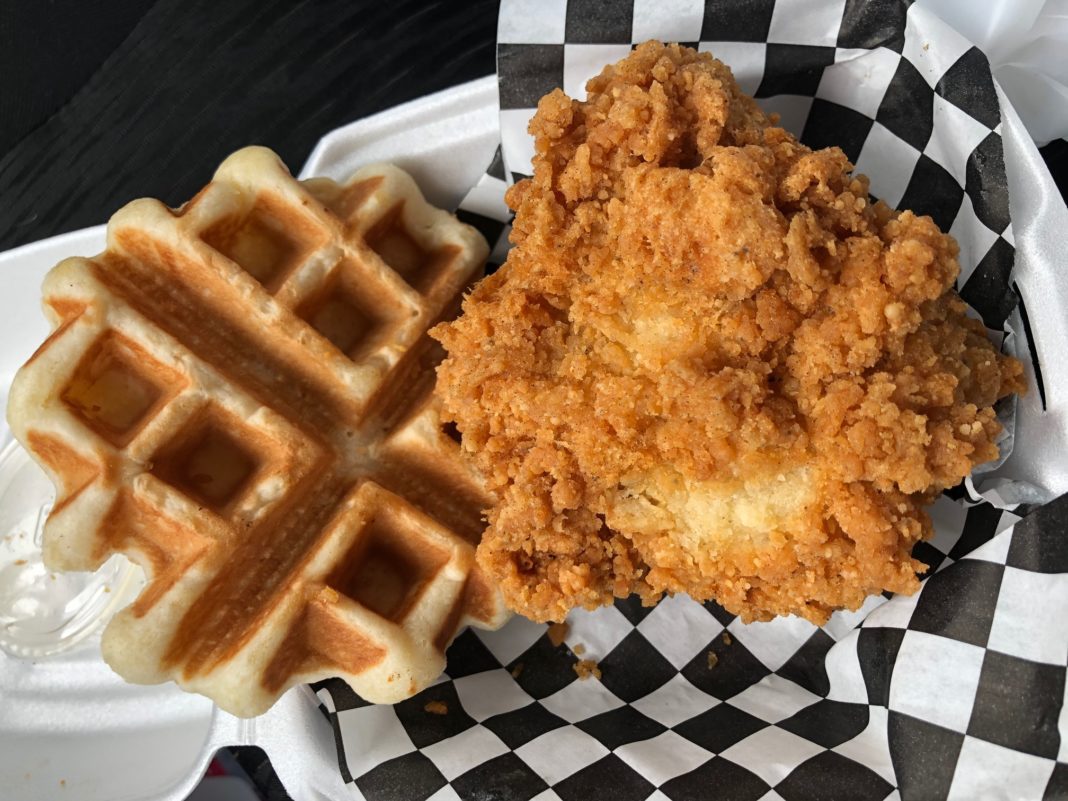 I got 6 full succulent shrimp with a cocktail sauce and a remoulade that they made. The remoulade that they made seemed like a thousand island type dressing with a kick. Both were very good and I dipped the shrimp in each.
You know you had a good fried shrimp or anything good fried when you have crumbs all over you and I definitely did have crumbs over me.
Now I was pretty full just eating those fried shrimp and those were under starters so definitely would need to share those with someone or get it just as a meal next time.
However, I still had the chicken and the waffle.
Now when you think of chicken and waffles you think of a couple of pieces of chicken and big Belgian waffle or just a big waffle. So again when I saw the two small containers I was a bit confused.
When I opened the container my confusion was clarified. As I said on their menu they offer a "Chicken and Waffle." Not chicken and waffles.
What I got was a fried chicken and a tiny waffle. At first I laughed because it was exactly what the menu said so I couldn't really protest anything.
The chicken looked gorgeous. Thick and juicy, deep-fried…
something you would get from a good fried chicken place. The waffle I couldn't tell if it was home made or out of a box, however, because it wasn't totally perfect and round I am going to say it was homemade.
In either event it was a good vegan waffle. So with the little bit of room I still had left in my tummy I took a bite into the fried chicken and it was amazing.
Now I get why everyone loves Chicken and Waffles.
Before I never got why everyone was all about Chicken and Waffles, just like Steak and Eggs. Now I get the craze and thanks to Doomie's Home Cookin' I was able to try it.
Next time I am thinking a Shrimp Po Boy or a Philly Cheesesteak. These are two on their regular menu that sound so good and something I have never tried and then again there is still Doomie's Next Mex.