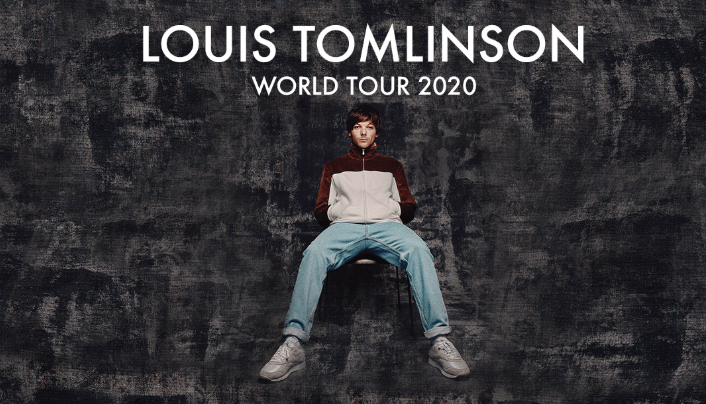 Louis Tomlinson dropped his newest single, "We Made It" via Syco/Arista Records. GLouis debuted the single with an exhibition at a SiriusXM fan event. This is the third track off his exceptionally solo album, WALLS, which was reported yesterday with a video from Louis on his socials. WALLS will be accessible on January 31st, 2020 yet is accessible for pre-order now.
Louis will be setting out on his first solo world visit in 2020.
Louis' 43-date visit commences on March 9th in Barcelona, Spain and hits areas all over the world including Paris, Berlin, Amsterdam, London, Dubai, Jakarta, Sydney, Tokyo and Rio De Janeiro, among others before hitting North America. The North American leg of the visit, displayed by Live Nation, starts on June 9th in Minneapolis and will hit urban communities like Chicago, Toronto, Nashville, New York, and Los Angeles.
Tickets are accessible to the overall population beginning November first at 10am nearby time. To buy tickets and for more, visit https://www.louis-tomlinson.com/.
Louis premiered the music video for "We Made It" to the single.
The video, which was coordinated by Charlie Lightening (Paul McCartney and Liam Gallagher), is a continuation from his "Kill My Mind" video in September. The week paving the way to "We Made It," Louis started prodding the new music on his socials. On Sunday, he prodded the single's sound, trailed by a mystery trailer of the "We Made It" music video on Tuesday. To increase the expectation, Louis additionally shared an digital scavenger hunt the previous morning for fans to uncover the collection workmanship.
WORLD TOUR DATES:
| | |
| --- | --- |
| Monday, March 9, 2020 | Barcelona, Spain |
| Wednesday, March 11, 2020 | Milan, Italy |
| Saturday, March 14, 2020 | Stockholm, Sweden |
| Monday, March 16, 2020 | Berlin, Germany |
| Wednesday, March 18, 2020 | Paris, France |
| Thursday, March 19, 2020 | Amsterdam, Netherlands |
| Tuesday, March 24, 2020 | London, UK |
| Thursday, March 26, 2020 | Glasgow, UK |
| Friday, March 27, 2020 | Doncaster, UK |
| Saturday, March 28, 2020 | Manchester, UK |
| Saturday, April 18, 2020 | Dubai, UAE |
| Monday, April 20, 2020 | Jakarta, Indonesia |
| Thursday, April 23, 2020 | Auckland, New Zealand |
| Saturday, April 25, 2020 | Sydney, Australia |
| Monday, April 27, 2020 | Melbourne, Australia |
| Thursday, April 30, 2020 | Tokyo, Japan |
| Friday, May 01, 2020 | Osaka, Japan |
| Saturday, May 09, 2020 | Rio De Janeiro, Brazil |
| Sunday, May 10, 2020 | Sao Paulo, Brazil |
| Wednesday, May 13, 2020 | Asuncion, Paraguay |
| Friday, May 15, 2020 | Buenos Aires, Argentina |
| Tuesday, June 09, 2020 | Minneapolis, MN |
| Wednesday, June 10, 2020 | Chicago, IL |
| Friday, June 12, 2020 | Toronto, ON |
| Saturday, June 13, 2020 | Pittsburgh, PA |
| Monday, June 15, 2020 | Boston, MA |
| Wednesday, June 17, 2020 | New York, NY |
| Friday, June 19, 2020 | Washington, DC |
| Saturday, June 20, 2020 | Philadelphia, PA |
| Monday, June 22, 2020 | Atlanta, GA |
| Tuesday, June 23, 2020 | Nashville, TN |
| Thursday, July 02, 2020 | Detroit, MI |
| Monday, July 06, 2020 | Indianapolis, IN |
| Tuesday, July 07, 2020 | St. Louis, MO |
| Thursday, July 09, 2020 | Houston, TX |
| Friday, July 10, 2020 | Austin, TX |
| Saturday, July 11, 2020 | Dallas, TX |
| Monday, July 13, 2020 | Denver, CO |
| Tuesday, July 14, 2020 | Salt Lake City, UT |
| Friday, July 17, 2020 | Los Angeles, CA |
| Tuesday, July 21, 2020 | Portland, OR |
| Wednesday, July 22, 2020 | Seattle, WA |
| Thursday, July 23, 2020 | Vancouver, BC |