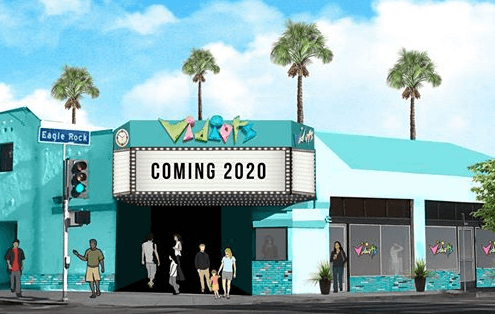 Vidiots, the famous L.A. video store-turned-film charity, will relaunch in Fall of 2020 as an extended division, social, and network space at its new home, the noteworthy Eagle Theater in Los Angeles' lovely Eagle Rock neighborhood.
Re-establishing the 90-year-old, 200-seat Eagle Theater to its unique need as a free venue with "best in class" sound and projection (35mm and DCP), Vidiots will offer a full program of repertory titles, new independents, elusive gems, adored works of art and network driven projects. A broad contiguous retail front will house Vidiots' 50,000+ DVD, BluRay, and VHS library for rental. The area will likewise have a multi-reason, cutting edge second screening space for film programs, instructive workshops, and unique occasions. Vidiots will work together with the best neighborhood food and beverage to give an energizing and regularly changing culinary menu.
Vidiots is now fundraising and recognizing Cornerstone Donors and Corporate Partners for naming rights. Vidiots is additionally welcoming First-In Founding Members to join the Vidiots family. Founding Members to date incorporate Katie Aselton and Mark Duplass, Jess Wu Calder and Keith Calder, Emily Cook, Mackenzie Davis, Rian Johnson and Karina Longworth, Phil Lord, Nate Moore, and Morgan Neville. Vidiots companion and supporter Jason Reitman is benevolently donating a 35mm projection system.
"Vidiots relaunching on the cusp of our 35th birthday is a triumph for Los Angeles film history and cements the legacy of Vidiots Founders Patty Polinger and Cathy Tauber as innovators in L.A. film culture. Bringing the Eagle Theatre back and providing L.A. with a long-needed new film space is thrilling. We're deeply grateful for our valued programming partners present and future, our expert advisors, and especially our First-In Founding Members whose generosity and passionate belief in our mission have made this relaunch possible. Vidiots at the Eagle is a community space created by and for film lovers and filmmakers. We welcome and encourage everyone who believes in our mission to join us as we work towards opening in Fall 2020!" — Maggie Mackay, Executive Director
"We're thrilled that Vidiots is moving into this next chapter and that our unique library of films will once again be made available to the public, especially in this era of streaming where choices are increasingly limited. Vidiots at the Eagle Theatre is a truly exciting and ambitious plan that revolves around our commitment to archival preservation, education, and accessibility, while maintaining and growing our passionate community of film lovers." — Patty Polinger + Cathy Tauber, Vidiots Founders
"When we first moved in together and merged our belongings, we became a two-VCR family — and this was in 2013. VHS and video stores were integral to both of us becoming who we are, and we couldn't be happier to support the evolution of Vidiots and its media library. In a world remade by streaming, it's never been more important to preserve access to physical media for all." — Karina Longworth and Rian Johnson
"Los Angeles should have more movie theaters, not fewer, and Vidiots has come to give all us punch drunk film lovers another place to call home where we can roam the racks. Thank you! So grateful to be a small part of this evolving institution." — Jason Reitman
"Their efforts towards creating community and preservation made Vidiots legendary in L.A. and I'm so excited to see their philosophy and energy reincarnated in a brick-and-mortar film space on the East Side. I can't wait to spend all my time there." — Mackenzie Davis
As of late, Vidiots propelled a programming organization with Alamo Drafthouse L.A. with the arrangement "Stories From the Video Store." Vidiots is at present showing a month to month 16mm series with Projections at the Bootleg Theater. New programming partners with The Black List, The Bob Baker Marionette Theater, and Cinema Eye Honors will dispatch late 2019/mid 2020.
Future programming and associations are Art House Convergence, Film Independent, Los Angeles Film Critics Association, Outfest, Oxy Arts and the Occidental Media Arts and Culture Department, Sundance Institute, UCLA Film and Television Archive, Women in Film, and Vidéothèque.
Jeffrey Birkmeyer and his company Analog (www.analog-la.com), a multifaceted real estate and construction company, is Vidiots' development partner and will provide support throughout the project.
The Vidiots Board of Directors is Patty Polinger and Cathy Tauber, Vidiots Founders; Executive Director Maggie Mackay; Danièle Neuharth, Director of Development, RAND Corporation; Rachel O'Connor, President of Film and Television, Pascal Pictures; Claudia Puig, President, Los Angeles Film Critics Association; and free movie and TV maker Mary Rohlich.