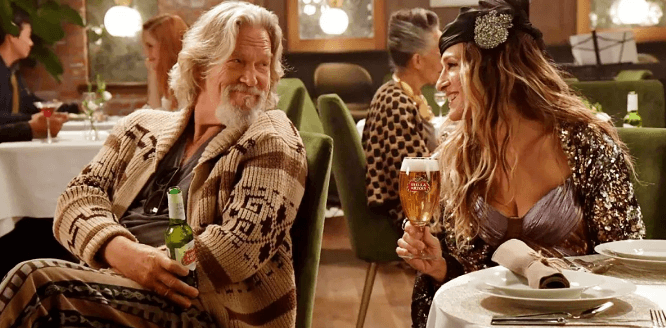 Superbowl LIII is less than a week away.  Audiences are being teased and thrilled with previews of what to expect from the biggest advertisements of the year.
Stella Artois just gave us the '90s character team up that literally no one was asking for. In their newest Super Bowl commercial advertising their clean water initiative, Stella Artois has created the oddest pairing of pre-2000s icons: Jeffrey "The Dude" Lebowski and Carrie Bradshaw.
Last week, Bridges posted a teaser to the ad on social media that left us hoping for the best and anticipating the worst when he walked into a bar dressed as The Dude. Was this the long awaited sequel to the Coen brother's classic, or more likely a Super Bowl commercial? The Feb. 3 date featured at the end led us to guess the latter. While our suspicions were correct, we are left wishing The Dude stayed in the '90s.