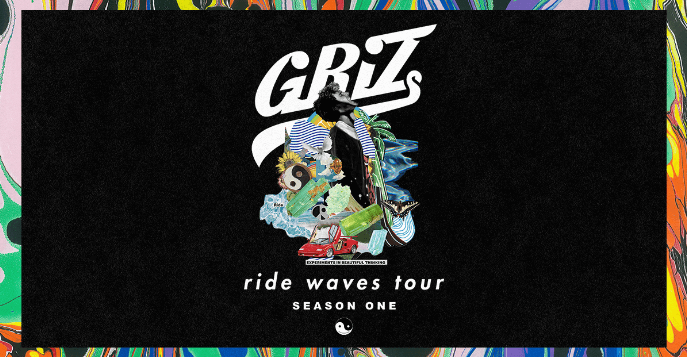 Every time GRiZ puts his mind to something, it's a moment. It's a fleshed out idea, a fruit of commitment and passion, not an idea thrown at a wall and moved on from. Today, multi-instrumentalist, artist, producer, philanthropist and LGBTQ advocate, GRiZ, announces his sixth studio album, Ride Waves, along with a US headline tour, and releases a new single, "I'm Good.
Ride Wavesis the culmination of the last two years for GRiZ––a period pillared by his own creative exile, high impact socio-cultural issues, and a slew of communities and relationships in which he has embedded himself.
Gift Ideas Music-Lovers Need:
The 14-track LP sees Grant being immersed into the environments that have inspired his carefully curated sound. He tapped hip-hop favorites like Wiz Khalifa on "Find My Own Way," and DRAM for "It Gets Better." His sonic journey touched down in New York's urban core to record with the Harlem Gospel Choir, stepped into Chicago's South Side to collaborate with Chicago Children's Choir, and spanned across many sessions in New Orleans. Snoop Dogg even sent in a verse from his studio in Long Beach.
There's truly something for everybody in the record. Each song tips a hat to Grant's personality, and many parts of this represent moments of reflection. GRiZ and Matisyahu were in the studio just days after February's Parkland shooting, and a song about gun violence, "A New Day," became of it. The album parallels Grant's core as a human; it's about love and a need for peace. It's just another piece to the puzzle that represents GRiZ becoming the positive force that mainstream electronic and popular culture need.
Ride Waveswill be paired with a US album tour titled Ride Waves Tour: Season One, which kicks off in March and will be touching down in Brooklyn, Philadelphia, St. Augustine, Minneapolis, and more. Tickets go on sale to the general public starting Friday, January 25that 10am local time at mynameisgriz.com. He will also be performing at a number of festivals this year including New Orleans Buku Music & Arts Project, Miami's Ultra Music Festival, and more. Full itinerary below.
GRiZ is a youth culture hero; he lives and breathes to better the communities around him. This year marked the five-year anniversary of his charitable event series 12 Days Of GRiZMAS – which to date has raised over $100,000 towards Detroit public school students. Adding to this, he released his own GRiZMAS coffee blend this year, which donates all of its proceeds to the same cause. This year in celebration of Giving Tuesday, he partnered with Dan Savage's foundation It Gets Better which aims to empower, uplift and inspire the nation's youth members of the LGBTQ community.
In recent years, GRiZ has become a rare voice for the LGBTQ community in contemporary electronic music, a world which largely left its gay roots behind with the emergence of EDM. It was his very open and transparent coming out via a HuffPost op-ed in 2017 that started this dialogue, which led to him being named Michigan's Face of Pride in 2018 by USA Today, and even recent praise from The Guardian for his philanthropic efforts for GRiZMAS.
Ride Waveswill mark the beginning of the next chapter for GRiZ – one that sees him not only persevere as a solo artist, but also step up to the plate as he joins the ranks of the producers outside of the electronic world that inspire him. This is the most evolved version of GRiZ—and one that will continue to grow.
Fans can pre-order and pre-save Ride Waves HERE and instantly download album singles "It Gets Better (feat. DRAM)," "Can't Get Enough," and "I'm Good".
Stream 'I'm Good': http://smarturl.it/ImGoodGRiZ
Pre-Order Ride Waves: http://smarturl.it/RideWavesGRiZ
Buy tour tickets at: http://www.mynameisgriz.com
Ride Waves Tracklist
01. Can't Get Enough
02. I'm Good
03. My Friends and I Pt. 2 (feat. Snoop Dogg & Prob Cause)
04. Cruise Control (feat. BXRBER)
05. A New Day (feat. Matisyahu)
06. The Prayer
07. It Gets Better (feat. DRAM)
08. Bustin' Out (feat. Bootsy Collins)
09. Caught Up (feat. Muzzy Bearr)
10. Maybe (feat. Yoshi Flower)
11. The Escape
12. Mercy (feat. Valentina)
13. Barrel Of A Gun (feat. Leo Napier)
14. Find My Own Way (feat. Wiz Khalifa)
GRiZ 2019 Tour Dates
March 2 – Puntarenas Province, Costa Rica – Envision Festival*
March 23 – New Orleans, LA – Buku Music + Arts Project*
March 29 – Miami, FL – Ultra Music Festival*
April 5th – Sun Peaks, BC – Snowbombing Canada*
May 3rd – St. Augustine, FL – St. Augustine Amphitheatre+
May 4th  – Raleigh, NC – Red Hat Amphitheater+
May 6th – Worcester, MA – Palladium+
May 8th – Albany, NY – Palace Theatre+
May 9th – Buffalo, NY – Buffalo Riverworks+
May 10th – Brooklyn, NY – Kings Theatre+
May 11th – Philadelphia, PA – The Met Philadelphia+
May 14th – Louisville, KY – Iroquois Amphitheater+
May 15th – Columbus, OH – Express Live+
May 16th – St. Louis, MO – The Pageant+
May 17th – Minneapolis, MN – The Armory+
May 17th – Gulf Shores, AL – Hangout Fest*
May 18th – Kansas City, MO – Crossroads*
June 14th – Manchester, TN – Bonnaroo*
June 23rd – Dover, DE – Firefly Music Festival*
*Festival date
+Ride Waves Tour: Season One date