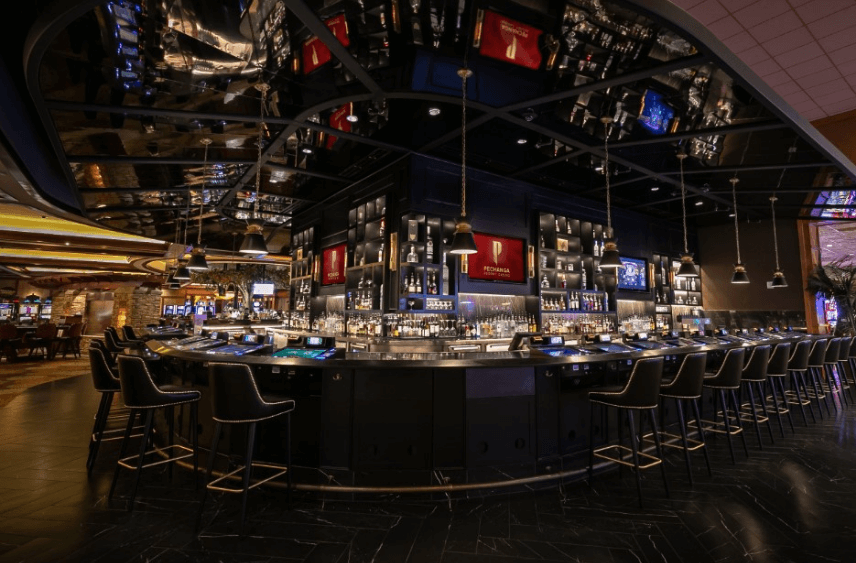 For a bon vivant to an occasional bourbon drinker and everyone in between, the new Corner Bar at Pechanga Resort Casino offers cocktail sophistication with a prime location looking onto the casino's 24-hour excitement. Opened just before New Year's Eve, the Corner Bar is Pechanga's latest guest enhancement after the March 2018 opening of its $300 million resort expansion.
The 30-seat bar anchors the existing high limit gaming area and wraps around to be visible from the property's Theater Box Office. The space, which previously housed a casino gift shop, takes inspiration from classic, turn of the 20th century dining and entertainment establishments.
Designers used darker, heavier materials including dark stained oak, black granite with gold veining, and a shimmering black glass overhang above the bar to reflect the dazzle of the casino lights. Each element contrasts with plush mohair and textured walls. The materials evoke the lustrous finishes of the often-exclusive restaurants and music halls of yesteryear.
"The vibe of the Corner Bar is different than any other at Pechanga," said Jared Munoa, Pechanga Development Corporation President. "We incorporated a new motif with materials that aren't so common throughout the property, giving it a very sophisticated, yet casual, feel. It's a great place for people-watching and the guests are loving it so far."
"There's extensive and tasteful use of brass at the Corner Bar," said Adel Smith-Chapman, Director of Interiors for Delawie. "This came from our thoughts of jazz and its heavy use of horn instruments that came into vogue in the early 1900s. It became a natural extension of the theme and one that organically fit."
The Corner Bar stands on aesthetics alone, though Pechanga's mixologist was tapped to amalgamate a craft cocktail menu hearkening to the "Golden Era" of spirits.
"That was a time when bartenders really started to show their creativity," said Nick Hirsch, Mixologist for Pechanga Resort Casino. "In addition to higher-tier, quality ingredients with its proximity to the high limit gaming area, we are crafting ingredients that just aren't available at other bars in the region or in California unless they make them themselves."
Hirsch points to homemade Earl Grey tea and pear-infused bourbon, smoked apple rye whiskey, and in-house made bitters. The four-cocktail specialty drink menu includes the Warden made from the Earl Grey and pear-infused bourbon, honey syrup and lemon juice; the Corner Club with gin, blackberry syrup, lemon juice and an egg white; the Horizon Sour using the smoked apple rye whiskey, lime juice, simple syrup and a floater of Cabernet Sauvignon; and lastly, the Tex-a-Cola mixing Reposado tequila, bourbon, cola syrup, lime juice and bitters.
For more information on the Corner Bar or any of the other extensive guest amenities at Pechanga Resort Casino, visit Pechanga.com.