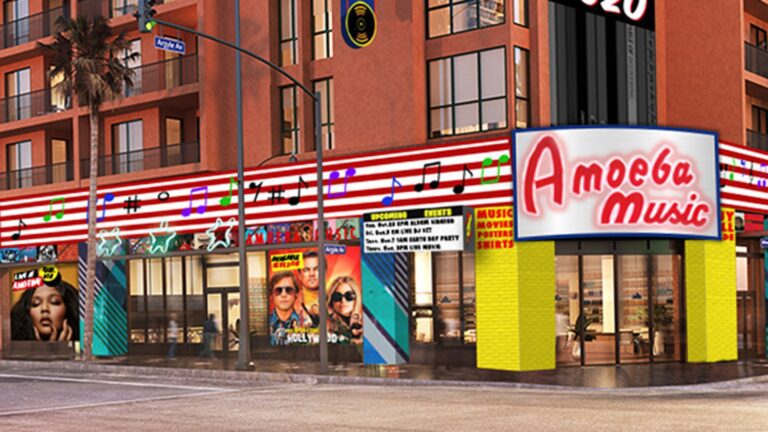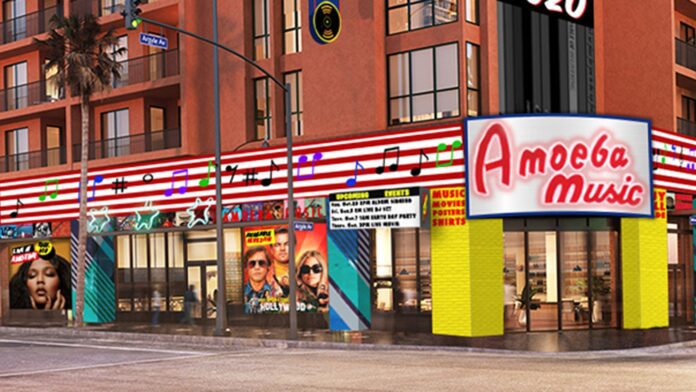 Mask up, music's back!
Los Angeles-area music geeks and vinyl-shoppers: Amoeba Music is about to be back
You already know it'll be a new location, but there's also some opening date razzle dazzle:
The opening date for the transplanted store, slated in pre-COVID conditions for last fall, will be April 1.
For opening day, "the line to enter the store will form on Argyle Blvd.," Amoeba's announcement says.
Only on opening day Amoeba is giving away a special poster designed by L.A. artist Ivan Minsloff as well as offering $10 T-shirts silk-screened on site sporting Minsloff's same design.
The new location is in the El Centro complex at Hollywood and Argyle (6200 Hollywood Blvd.), with the Pantages Theatre replacing the ArcLight Cinemas as the nearest major landmark.  And Yes, there is an indoor garage and validations.
Temporary hours at for opening will be from 11 a.m.-8 p.m. every day, with the buy counter closing an hour earlier.
Trade-in counter will have its own entrance line upon opening for anyone bringing in 10 items or more.