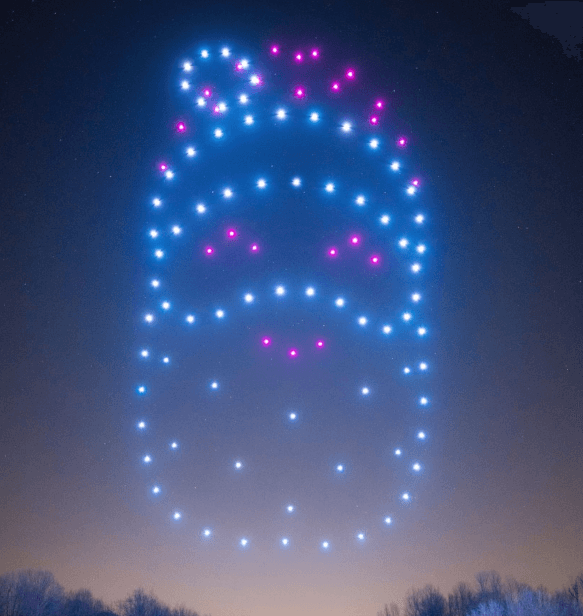 Get ready! Holiday spirits will be sky high this season, only in Solvang!
Disregard firecrackers or the house with 5 million holiday lights. Rather, think drones, a sky full of them, forming pictures of Santa's sleigh and reindeer, candy canes and a Christmas tree.
Amazingly and uniquely, this is Southern California's only drone show and will happen Dec. 21 in the Danish-themed town of Solvang in the Santa Ynez Valley as a feature of its Julefest (articulated "Yule-fest") 2019 festivities.
---
---
It's a first for the city, which is lighting up $50,000 for the one-night light show. "The drone show is very sustainable and doesn't produce any noise," Mayor Ryan Toussaint stated, contrasting it and firecrackers shows.
The show, called "Aurora Dronealis," flies for 15 to 20 minutes in a delightful presentation most in the area will be able to enjoy complimentary.
Be that as it may, a perfect seat and the best spot to hear the music is available. Tickets cost $15; VIP seating (initial five rows, and a T-shirt) is $100, and the VIP Experience, which includes saying hello to the drone pilot and a closer review of the drones, is $500.
One pilot will be "flying" all 100 equipped with LED lights that will create the visuals 100 to 400 feet up. You'll have the option to see them a from afar, yet standing or sitting inside 1,000 to 3,000 feet offers the best scene.
Hmm… What do drones have to do with the town's Scandinavian vibe? Nothing, aside from they offer something new and extraordinary. "We want to establish Solvang as the Christmas destination in California," said Scott Shuemake of IDK Events, which is creating the Julefest.
The show is one of many seasonal festivals the town hosts. The city will have a tree-lighting service on Dec. 6, a Julefest Parade on Dec. 7, a light march with floats honoring Saint Lucia Day on Dec. 13 and candlelight strolling visits at 5 p.m. on Sundays in December.
And, family fun! Children who play along, find and take photos of twelve Danish Christmas elves (known as Yule nisse) hidden up around town can win a prize at the visitor center.
Danish Americans established Solvang in 1911, however the town wasn't incorporated until 1985. You'll discover a lot of Danish-style architecture in this beloved tourist hotspot