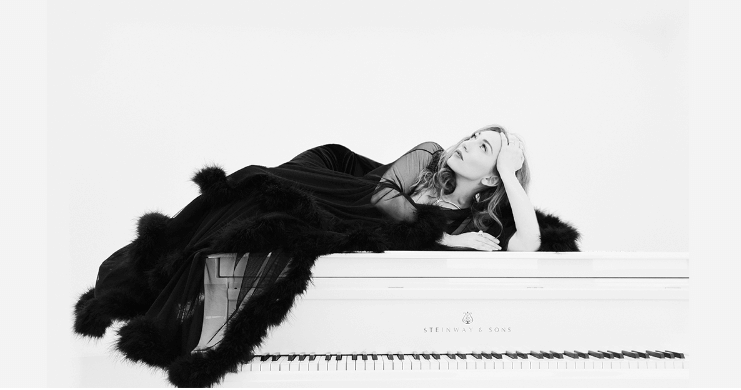 Critically acclaimed singer-songwriter Regina Spektor is making her Great White Way debut with a series of shows at the Lunt-Fontanne Theatre. Regina Spektor: Live On Broadway will see performances on June 20, 21, 22, 25 and 26.
Pre-sale begins March 26 at 10 am ET and ends on Thursday, March 28 at 10 pm ET. The general on-sale begins at 10 am ETon Friday, March 29. Pre-sale tickets can be purchased at ticketmaster.com/reginaspektorbroadway.
"I am so inspired as I plan these five nights on Broadway at the Lunt-Fontanne, a beautiful old theater with a rich history. One of the things I'm most excited about is the chance to explore theatrical elements within my concert show. This isn't a 'Broadway Show,' and yet it's not a tour concert, either. I'm revisiting all the songs I've ever written, to see how some of them might group together and connect into a show. I am thinking up some fun ways to incorporate special guests as well. I'll be rotating the solo songs quite a bit between the dates, and I'm finding ways to reimagine many of them. Some haven't been played since my days of playing bars, cafes and open mics. So far the plan is to set up at the Lunt-Fontanne, and in my own small way, pay homage to Broadway!"
The shows are in conjunction with In Residence On Broadway, produced by Live Nation, The Arca Groupand EBG (Entertainment Benefits Group). For tickets and more information you can call 877-250-2929.
Spektor's most recent album, Remember Us To Life, is the subject of extensive critical praise from the likes of NPR, Entertainment Weekly, New York Magazine, People and many more. Esquire both hail her as "our generation's Joni Mitchell," while Rolling Stonealso calls her "a pop eccentric [who] wraps underdog storytelling in brilliant songcraft." In support of Remember Us To Life, Spektor performed sold-out shows across the U.S. to rave reviews, with The Santa Barbara Independent praising her "impeccable storytelling and whimsical piano playing," while the Portland Press Herald calls her performance "soul-moving," saying that Spektor "delivered a stunning performance."
Born in the Soviet Union, Spektor first saw commercial success with the gold-certified LP Begin to Hope which includes singles "On the Radio" and "Better," as well as "Fidelity" which climbed the Billboard Hot 100 singles chart. Spektor's fifth album, Far (2009), and sixth album,What We Saw From the Cheap Seats (2012), both debuted at number three on the Billboard 200 albums chart. Involved in projects spanning music, theatre, TV and film, Spektor's work has appeared on the Hamilton Mixtape and Netflix's hit show Orange Is The New Black, leading the NY Post to declare Spektor a "key reference point in American pop culture."
PERFORMANCE SCHEDULE
Thursday, June 20, 2019
Friday, June 21, 2019
Saturday, June 22, 2019
Tuesday, June 25, 2019
Wednesday, June 26, 2019
ABOUT IN RESIDENCE ON BROADWAY
In Residence On Broadway features a variety of iconic performers up close and on stage in the most intimate and spectacular setting of all: Broadway. Each artist will take the stage for a limited engagement creating a once in a lifetime experience.