Saturday Night Live's Darrell Hammond will headline a comedy benefit, "A Tribute to Lost Laughs, An Evening of Awareness and Entertainment" to draw attention to the...
Once again it's time for white wine fans to rejoice as the 2016 Chardonnay Symposium takes place May 12-15 at various Pismo Beach locations...
Honda is back with 'Happy Honda Days' using augmented reality to help deliver the "Ultimate Get Well Card", a mystical card filled with messages...
Cardi B will co-host  The Tonight Show Starring Jimmy Fallon on Monday, April 9.  After chatting with host Fallon, and performing, in support of the April 6 debut of album,...
June 8th witnesses the release of the complementary OST to the new Eric Clapton documentary, Life In 12 Bars. From Showtime Documentary Films and directed by Oscar-winner, Lili Fini Zanuck, the...
With nearly 13 million subscribers, PBS Digital Studios has a global audience of enthusiastic teachers and learners in the creative space of YouTube EDU....
Looking for things to do this 4th of July weekend in the L.A. area? Take advantage of the holiday and embark on a relaxing getaway...
Remember the curiosity that was sparked by an interesting school project? Recall the excitement at unearthing a new way to solve a problem? Starting...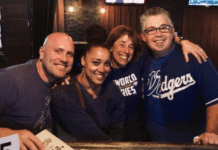 The Santa Clarita Valley, just 45 minutes north of LAX, had been known as Awesometown for many years and for many reasons. Home to...
[td_block_social_counter facebook="envato" twitter="envato" youtube="envato"]
Nordaq wants to revolutionize water and they believe they have with FRESH Water.  In their words: "The water that we serve together with wine...
Atlantic recording artist Melanie Martinez announces plans to present a unique theatrical performance on a major world tour, produced by Live Nation. "The K-12 Tour"...
Singapore Airlines and Panasonic Avionics Corporation have joined forces to deliver a broadband-connected, personalized, immersive entertainment experience across the airline's entire 787-10 fleet and A350...
From Thurs Sept 22 through Sunday Set 25, the area behind Jimmy Kimmel Live's studios in Hollywood are converted for the Italian Feast of...