They almost taste like the real thing.
Going vegan sounds pretty great…right until you remember the whole "no ice-cream" thing. Talk about a bummer.
Thankfully, your sweet tooth doesn't have to suffer just because you're dairy-free. Brands are churning out (get it?) non-dairy ice creams faster than you can, well, scream for them.
But just because they're vegan or dairy-free doesn't automatically make them better for you, says Toby Amidor, R.D. and author of The East 5-Ingredient Healthy Cookbook. "These ice creams tend to also have a lot of stabilizers, additives, and sweeteners and aren't usually lower in calories compared to cow's milk ice cream," she says. Because it's tough to find non-dairy ice creams with a simple ingredient list (read: no preservatives), you're better off treating them as treats instead of health foods, she says.
Another caveat: Lactose-free is not the same as dairy-free, so vegans and those with a lactose intolerance shouldn't be browsing the aisles the same way. "Dairy-free ice creams do not contain any trace of milk," says Amidor. However, lactose-free ice creams do still have milk and other dairy (just with the lactose enzyme broken down), so they're not vegan-friendly.
That said, check out the eight best non-dairy ice creams out there to satisfy every kind of sweet tooth:
1
Halo Top Dairy-Free Vanilla Maple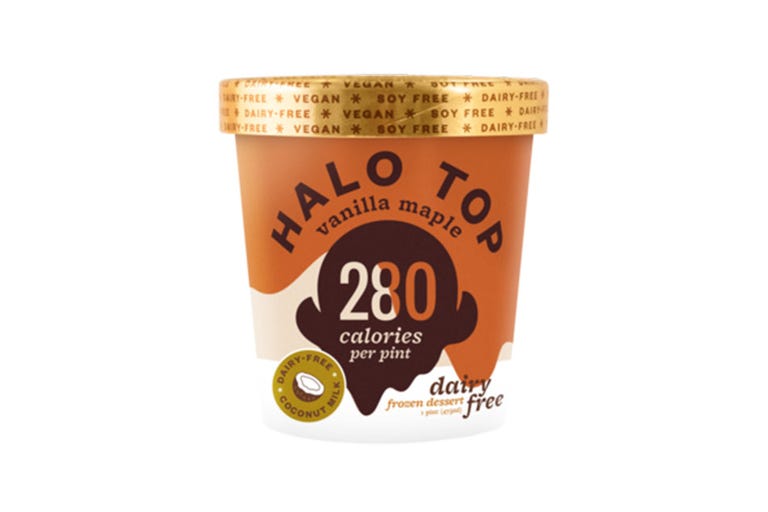 Being low carb AND dairy-free just got way better: Halo Top just started making vegan flavors with a coconut milk base. But don't just down the whole pint in one sitting, says Amidor.
"To displace the fat and sugar, it uses sugar alcohol and supplemental fiber," Amidor says. Eating large amounts of these ingredients could mess with your tummy, she says.
Per 1/2 cup serving: 70 cal, 2.5 g fat (2 g sat), 15 g carbs, 4 g sugar, 75 mg sodium, 5 g fiber, 3 g protein
2
Breyers Non-Dairy Oreo Cookies & Cream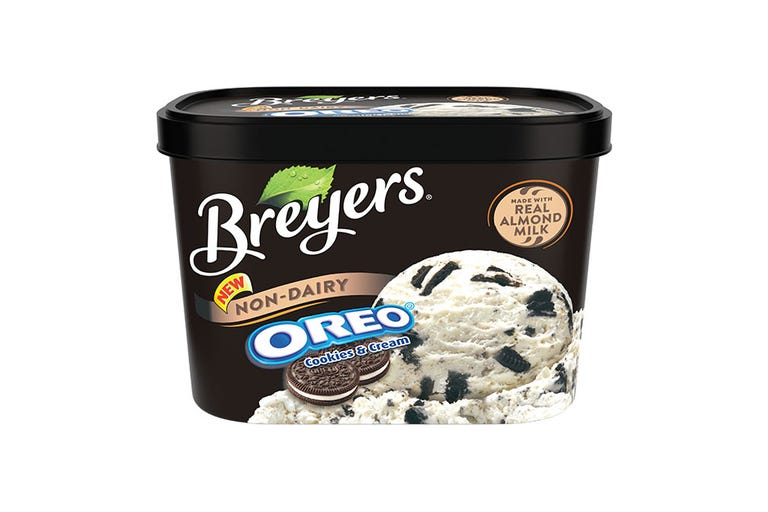 The calories in this classic option are quite reasonable (and you don't even have to shlep to Whole Foods to find it!), according to Amidor, but stick to the half-cup serving size to avoid a sugar crash. It uses almond milk as the base, so avoid this if you have a nut allergy.
Per 1/2 cup serving: 140 cal, 7 g fat (4.5 g sat), 19 g carbs, 14 g sugar, 45 mg sodium, 0 g fiber, 1 g protein
3
Talenti Peanut Butter Fudge Dairy-Free Sorbetto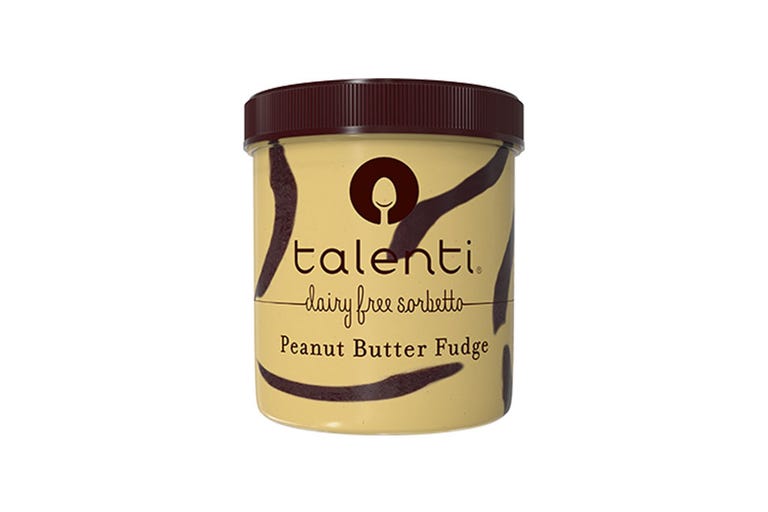 Want to truly #TreatYoSelf? This insanely rich option from Talenti is so good, you won't know that it's dairy-free. Note: this has the highest calorie count per serving (we said it's rich!), so don't overd0 it.
Per 1/2 cup serving: 310 cal, 15 g fat (3.5 g sat), 37 g carbs, 31 g sugar, 160 mg sodium, 2 g fiber, 6 g protein